A torte is not a cake and thus, cannot be expected to behave as such. It will not, no matter how much you will it, bake with a sustainable dome or at best, even top. It rises rather impressively, then, nearing the end of the baking time, but most certainly as it cools, take a disappointing but to be expected, dip in the centre. This, in the realm of sponge cakes, would be deemed failure. No bakers badge, just a  straight out, leave the tent, ticket. If however you steady yourself for the deflation, it's safe to say, you're en route to a classic chocolate torte. With its meringue like crust and dense fudgy interior, this chocolate torte with triple chocolate mousse is nothing short of otherworldly. And fearlessly rich.
The torte is pretty straight forward, really. Good chocolate, better butter, fresh eggs. With no other raising agents other than eggs, a decent beating and gentle folding are the secret to success. For this recipe I've used a combination of dark and milk chocolate. Together they create a convincingly dark flavour without being cloyingly rich. Torte purists will be happy with a light dusting of cocoa, or not, a dollop of fresh cream and strong coffee alongside. Unadorned, it is already heavenly, but what say we take it up a notch?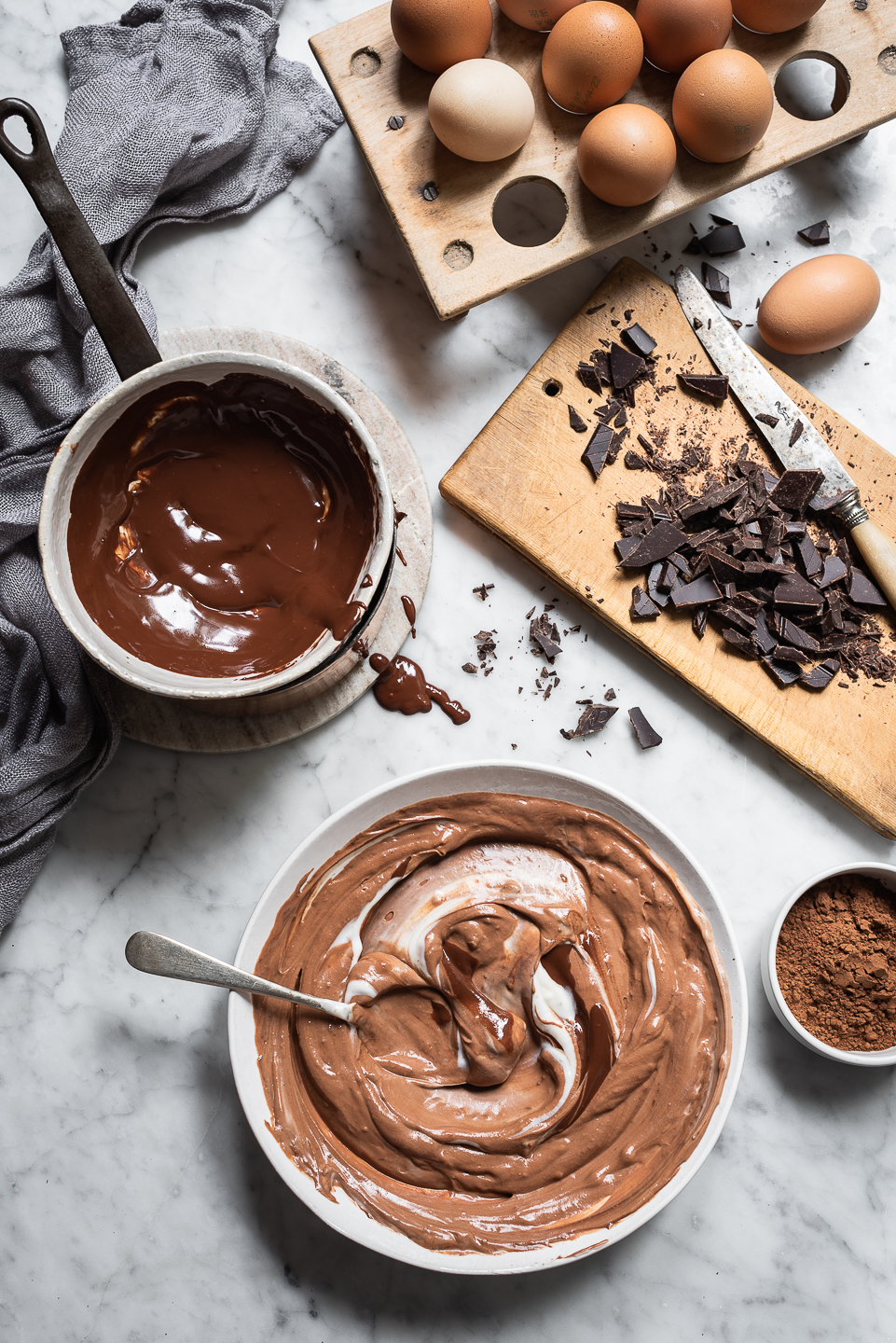 Sensory eating is about contrasts. Here, a triple chocolate yoghurt mousse is the elevator that makes this chocolate torte unforgettable. I've used Danone Divine's new Triple Chocolate Flavoured Yoghurt as the mousse base. Their Double Cream yoghurt is lusciously thick with just the right amount of tang to contrast the sweet darkness of the torte. The recipe makes plenty, which in and of itself is a stroke of luck, rather than problematic. I serve any extra mousse separately in little pots as a light dessert. Some fresh berries and a drizzle of chocolate ganache is all it needs.
Cook's Note: Refrigerate the torte for an hour to two. The flavours deepen and mellow, and the mousse sets just enough to accommodate neat slices. Best served at room temperature so remove from the fridge about 20 -30 minutes before you want to serve. Chocolate torte keeps well for several days making it an ideal make ahead dessert.
Chocolate Torte with Triple Chocolate Mousse
Serves 10-12
Chocolate Torte
200g dark (70%) chocolate, roughly chopped
100g milk (30-50%) chocolate, roughly chopped
100g butter
4 eggs, separated
160g castor sugar
75g cake wheat flour
pinch of fine salt
Triple Chocolate Mousse
150g milk chocolate (or dark chocolate, if preferred), roughly chopped
375ml (1 1/2 cups) fresh cream
375ml (1 1/2 cups) Danone Divine Triple Chocolate Yoghurt
Preheat the oven to 160° C. Grease and line a 23cm round spring-form cake tin with baking paper.
Place the chocolate and butter in a bowl set over a pan of simmering water. Stir gently until smooth and glossy, then set aside to cool slightly.
Add the egg yolks one at a time, whisky well between each addition.
In a separate bowl, whisk the egg whites until frothy. Add the castor sugar gradually and whisk until glossy and holds a good peak.
Sift the flour and salt into the chocolate mixture and mix gently to combine.
Add a third of the egg whites to the chocolate mixture and mix in to loosen the batter. Add the remaining egg whites and fold through gently.
Scrape the filling into the baking tin and tap lightly to remove air pockets. Bake for 32-35 minutes. Cool in the tin before un-moulding.
For the mousse, place the chopped chocolate and 125ml cream in a heat-proof bowl set over a simmering pan of water. Stir gently until the chocolate is melted. Remove from the heat and cool to room temperature.
Place the Danone Divine Triple Chocolate Yoghurt in a bowl and scrape in the cooled chocolate. Mix to combine.
In a separate bowl, whisk the  remaining cream to soft peak stage, then fold gently into the yoghurt mixture.
Dollop the yoghurt mousse over the torte and swirl over the top. Dust lightly with cocoa powder and shaved chocolate, if you like.
For more yoghurt inspired recipes, you make like to pop in here. PS, the yoghurt flatbreads are a must. Super easy and versatile.
Persian Pavlova with Vanilla Yoghurt Cream
Lemon curd yoghurt creams with syrupy summer berries