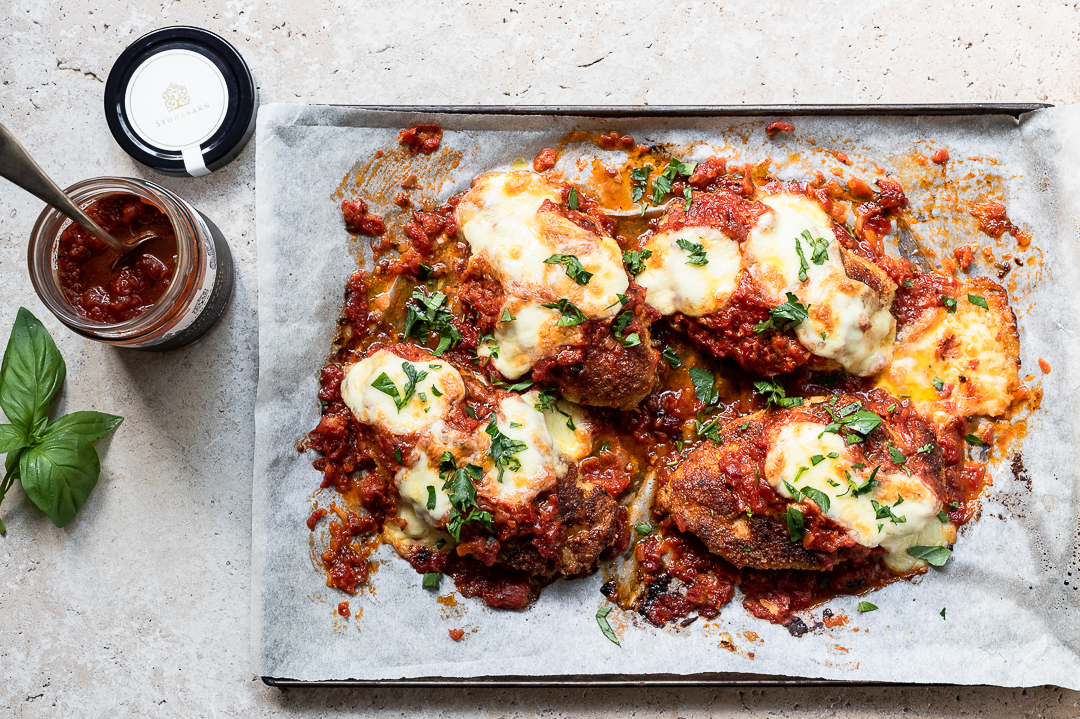 If there's one dinner recipe you should try this year, let it be this Chicken Parmigiana with truffle tomato sauce. According to my critics, who are ruthlessly frank, it's in the running for best chicken dinner ever! If the sound of Parmesan crusted chicken smothered in a rich tomato sauce with melty mozzarella and basil sounds like your kind of delicious, I think this chicken parmigiana is going to be a winner.
The secret ingredient that elevates this Chicken Parmigiana with truffle tomato sauce to the next level is  The Truffle Lady's  tomato sauce. Blended with black winter truffles from the pristine paradise of Manjimup Western Australia, the Truffle tomato sauce is sublimely intense with an earthy fragrance and unique umami flavour. The sauce is available online from The Truffle Lady, select Super Spars, Pick and Pay and good delis. If you make this Chicken Parmigiana, do let us know by tagging @bibbyskitchen.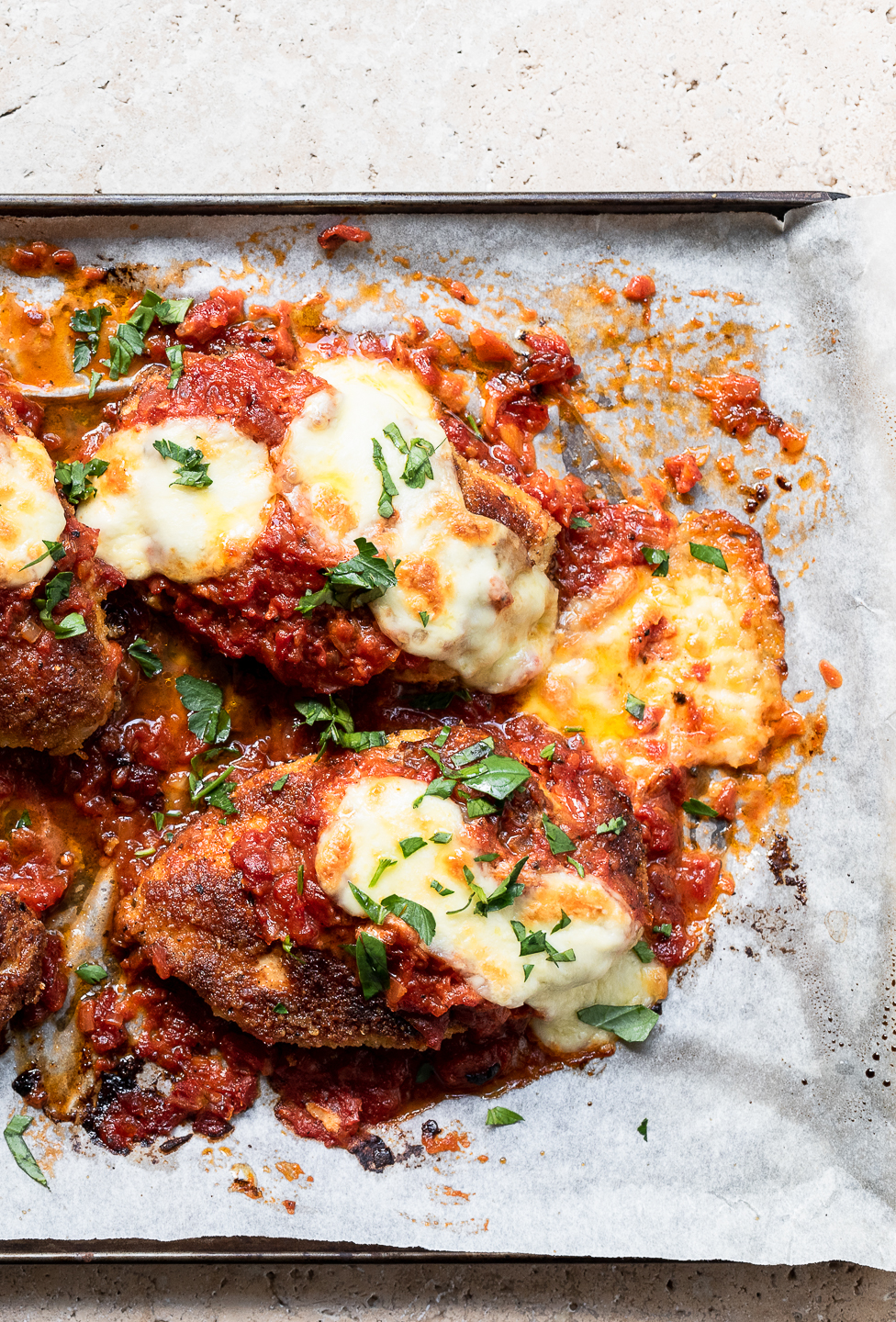 Chicken Parmigiana with Truffle Tomato Sauce
 Serves 4
olive oil, for cooking
4 chicken fillets, butterflied and lightly pounded
1 egg, lightly whisked
1 cup dried breadcrumbs
½ cup grated Parmesan
salt and freshly cracked black pepper
Truffle Tomato Sauce
15ml (1 tablespoon) olive oil
1 small brown onion, finely diced
2 garlic cloves, minced
400g tin chopped tomatoes
125ml (1/2 cup) Truffle Sauce
salt and freshly cracked black pepper
To finish the Chicken Parmigiana
150g or bocconcini or mozzarella
fresh basil and Italian parsley, finely chopped
For the sauce, heat the olive oil in a deep saucepan. Add the onion and sauté until softened, about 8 minutes. Stir in the garlic and cook for another minute or two.
Add the chopped tomatoes. Season with salt and black pepper and simmer for about 20 minutes. Stir through the Truffle sauce and cook for a further 5 minutes.
Preheat the oven to 200 C. Line a baking sheet with parchment paper,
In a shallow dish, whisk the egg. In a second dish, combine the bread crumbs and Parmesan. Season the crumb mixture with salt and black pepper.
Season the chicken lightly, then dip in the egg. Dredge each fillet in the breadcrumbs, coating both sides evenly.
Heat two tablespoons oil in a heavy based pan. Place the chicken carefully in the hot oil. Cook over a medium high heat until golden, about 4 minutes per side.
Spread half the Truffle Tomato Sauce onto the baking sheet. Arrange the chicken on top and cover with the remaining sauce. Top with top with torn bocconcini. Bake for 10-12 minutes.
Place under the grill until the mozzarella is bubbling and golden.
Scatter with chopped herbs and serve while the cheese is melted and hot.
For more quick and easy chicken dinners, you may like to browse here:
10 Minute pan fried Greek chicken breasts
Tarragon cream chicken with pink peppercorns