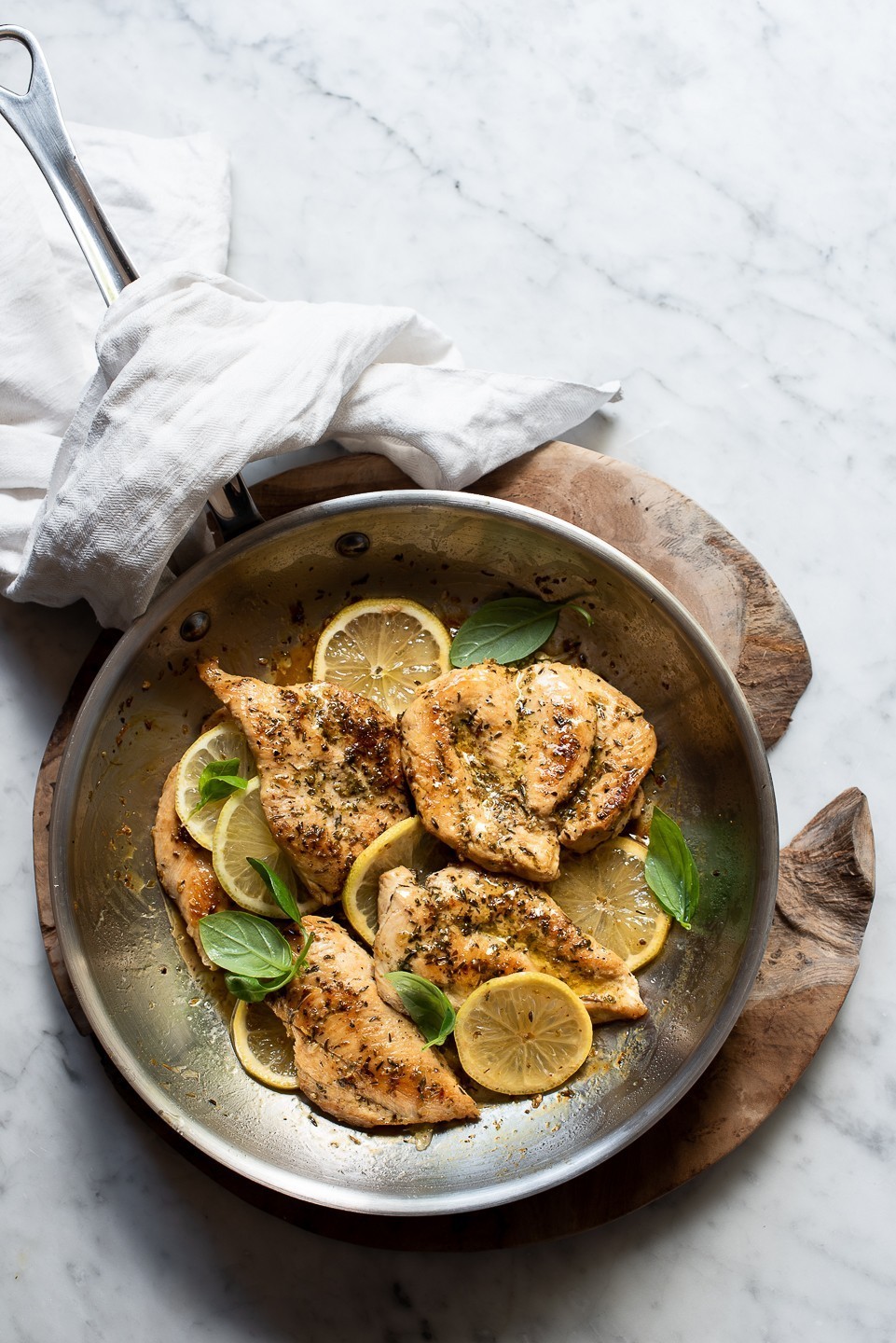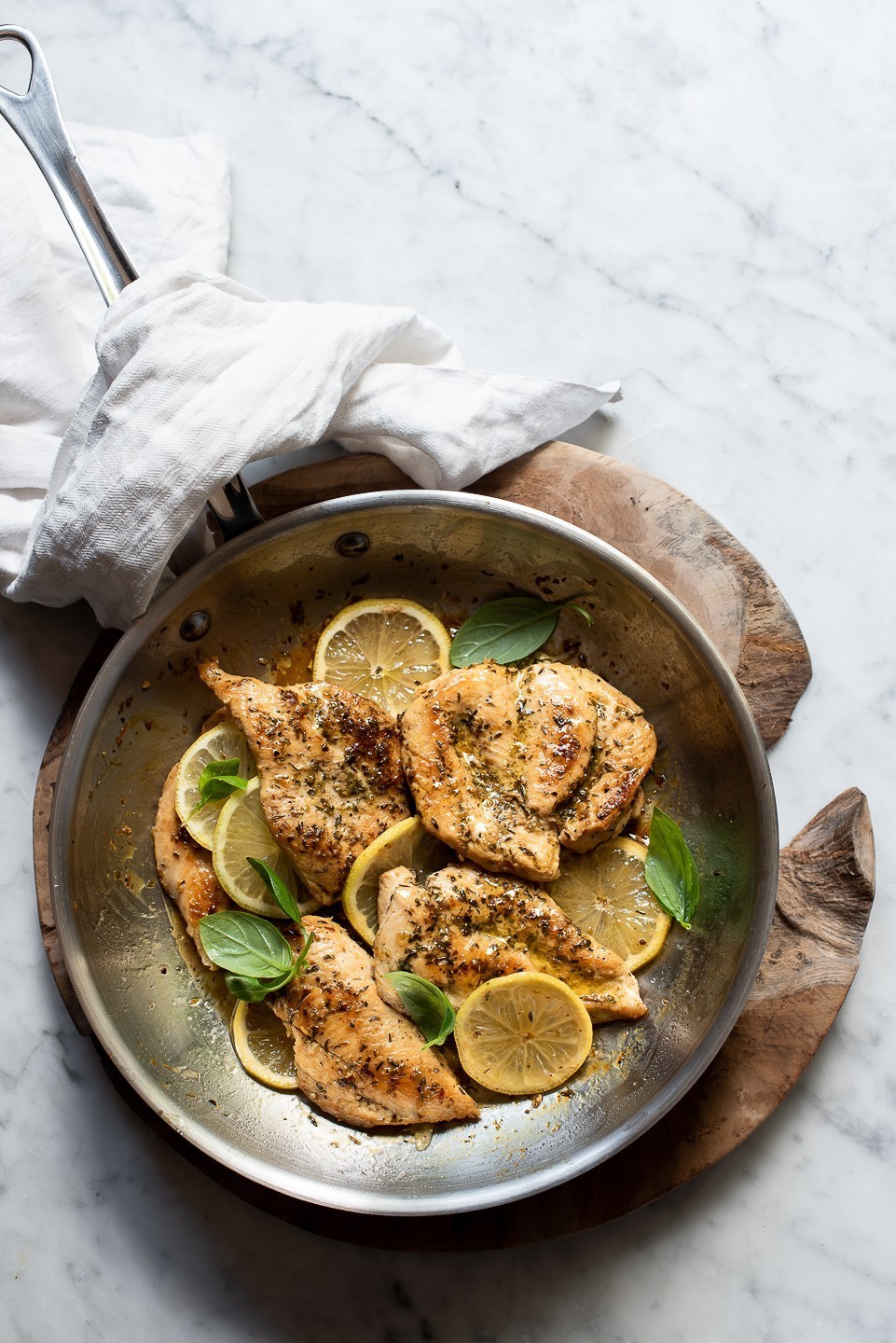 Here is how this Quick Lemon and Herb chicken came to be. Last week I posted a Q&A on my Instagram stories along with a box of Lemongold seedless lemons. Given the choice, I asked which you'd prefer –  a savoury or sweet recipe with lemons being the heroes. Savoury won. Personally, I thought it would be sweet, like lemon meringue, maybe a lemon and poppy seed loaf, even lemon bars? Ninety percent chose savoury. So here it is then, a flash in the pan chicken recipe that relies on kitchen staples. Dried herbs, lemons and olive oil. A characterful trio that are in fact, magic makers. All in all, I think you're going to be very happy with this easy lemon chicken.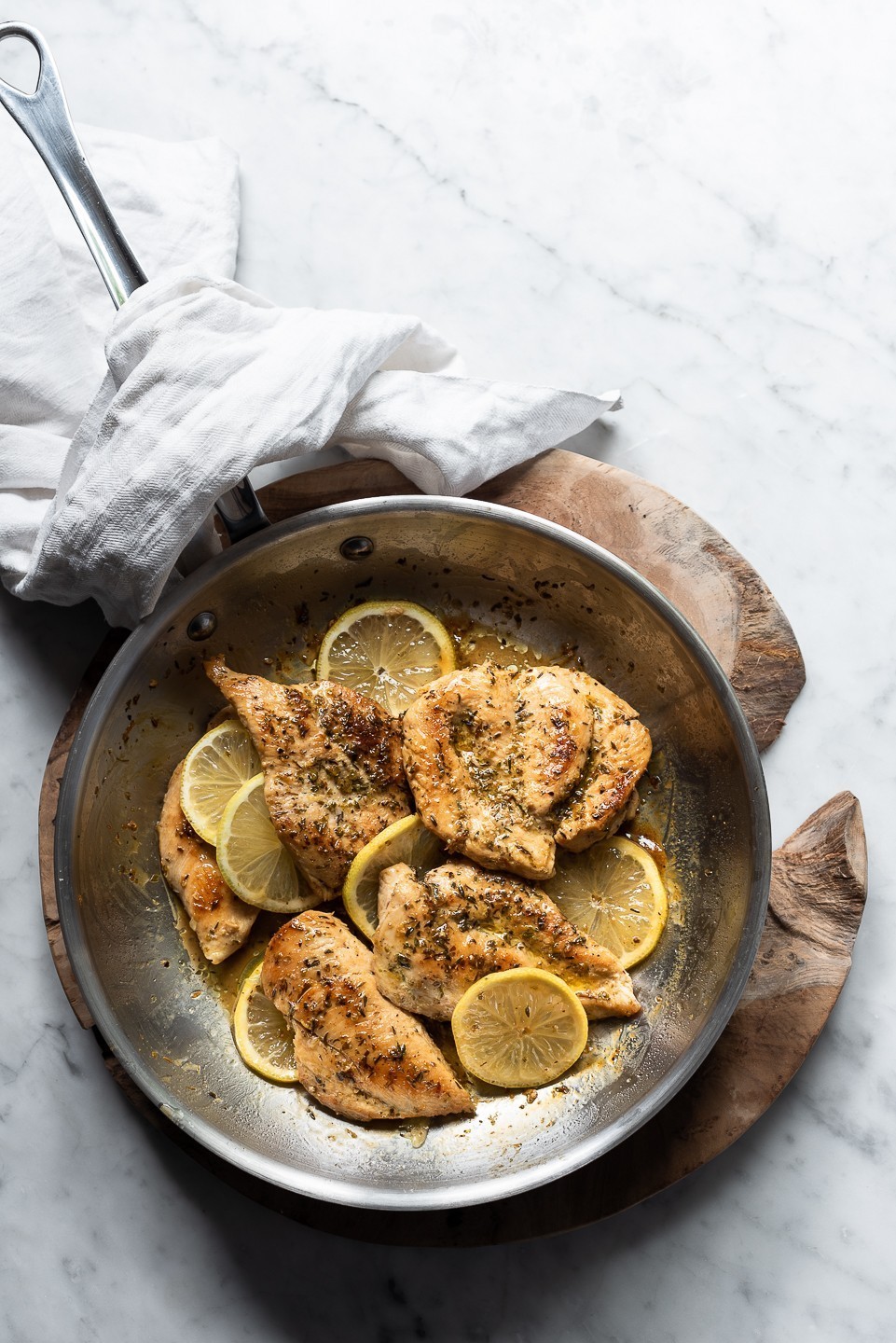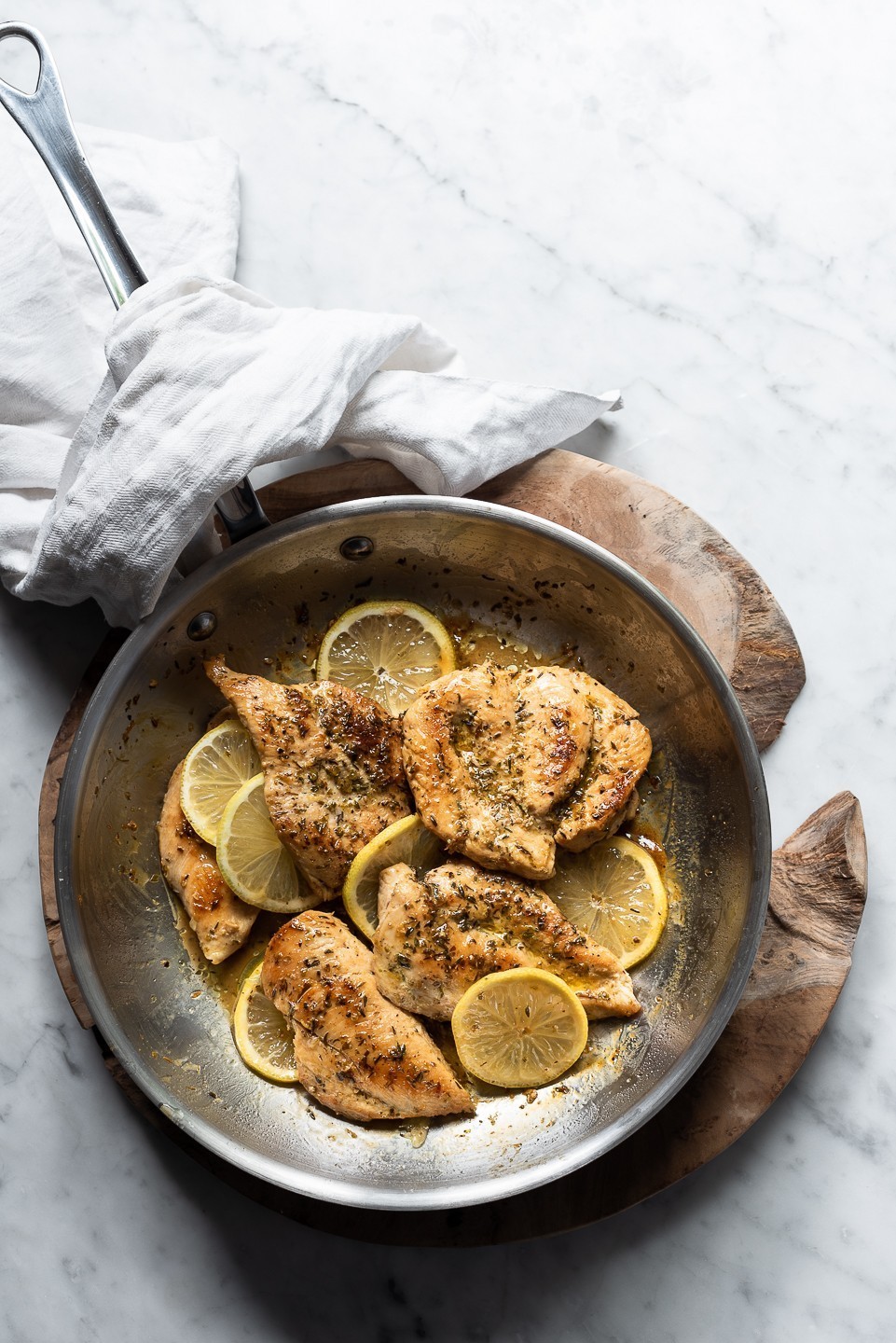 As a recipe developer, food blogger and stylist, my pantry cupboard needs to be well-stocked. Some ingredients are more weird than they are wonderful. If I had to whittle it down to bare bones, there are a handful of essentials I couldn't do without. Decent olive oil, lemons and Maldon salt. Nothing fanciful, just honest flavourings that can take a dish from average to great. When cooking with fewer ingredients, those that do participate, need to pull their weight. For this chicken recipe, lemons are the heroes. They're bright, vibrant and fresh. They're also seedless, a real boon if you're over picking out the strays. When I need a simple supper recipe, this is the way I like to cook.
Side note: I've added a splash of white wine to the pan juices. If you'd prefer to leave it out (or save it?), replace with weak chicken stock.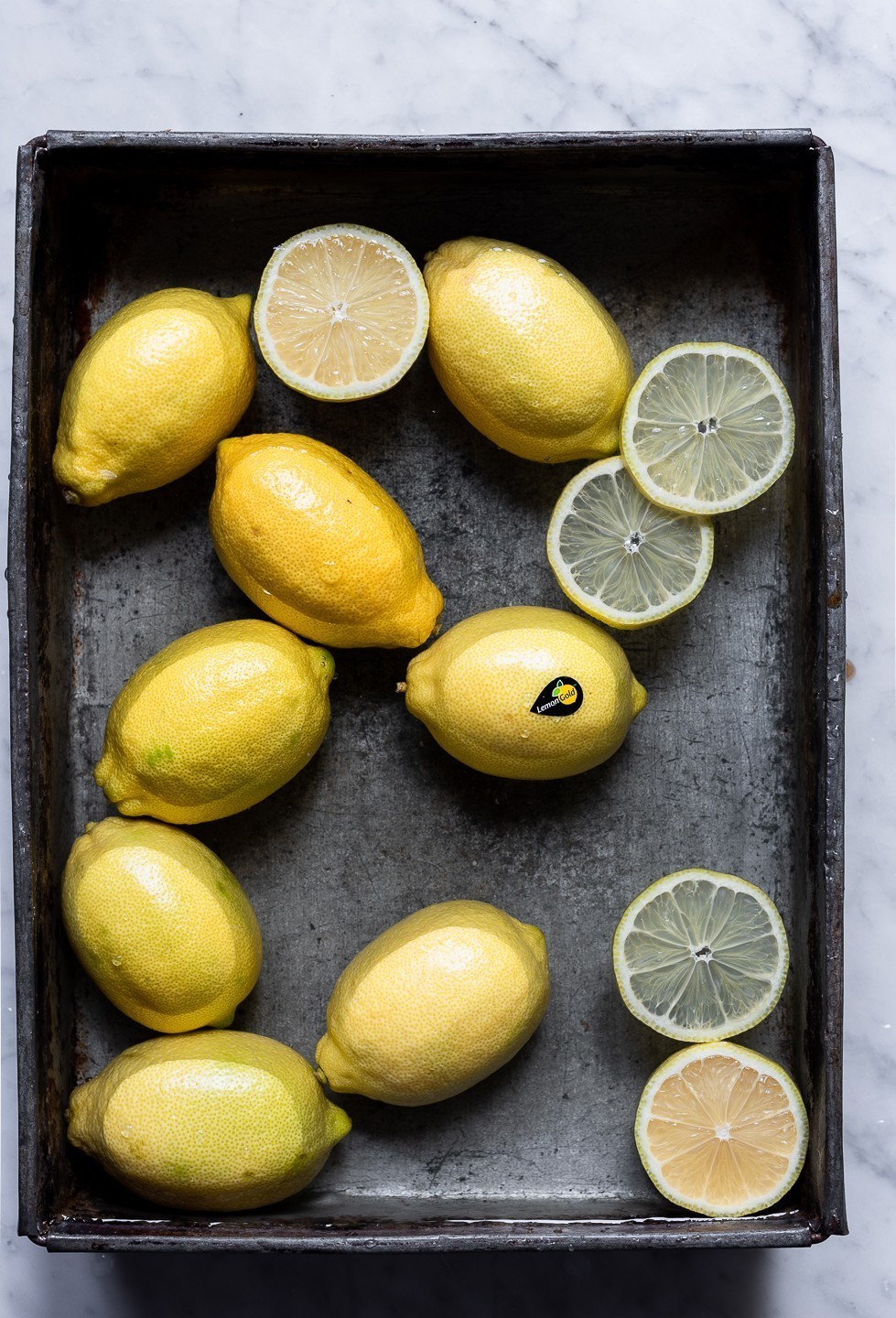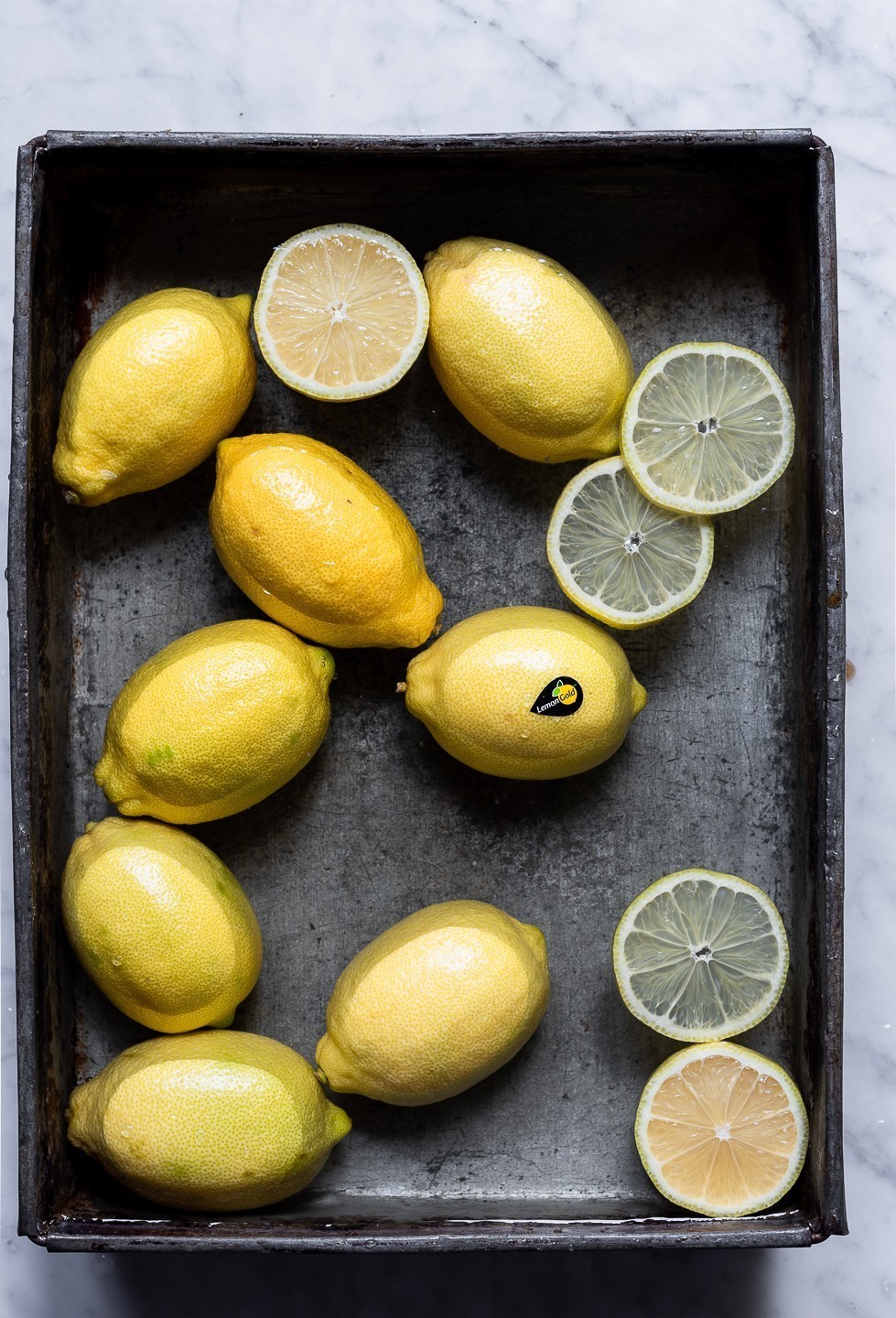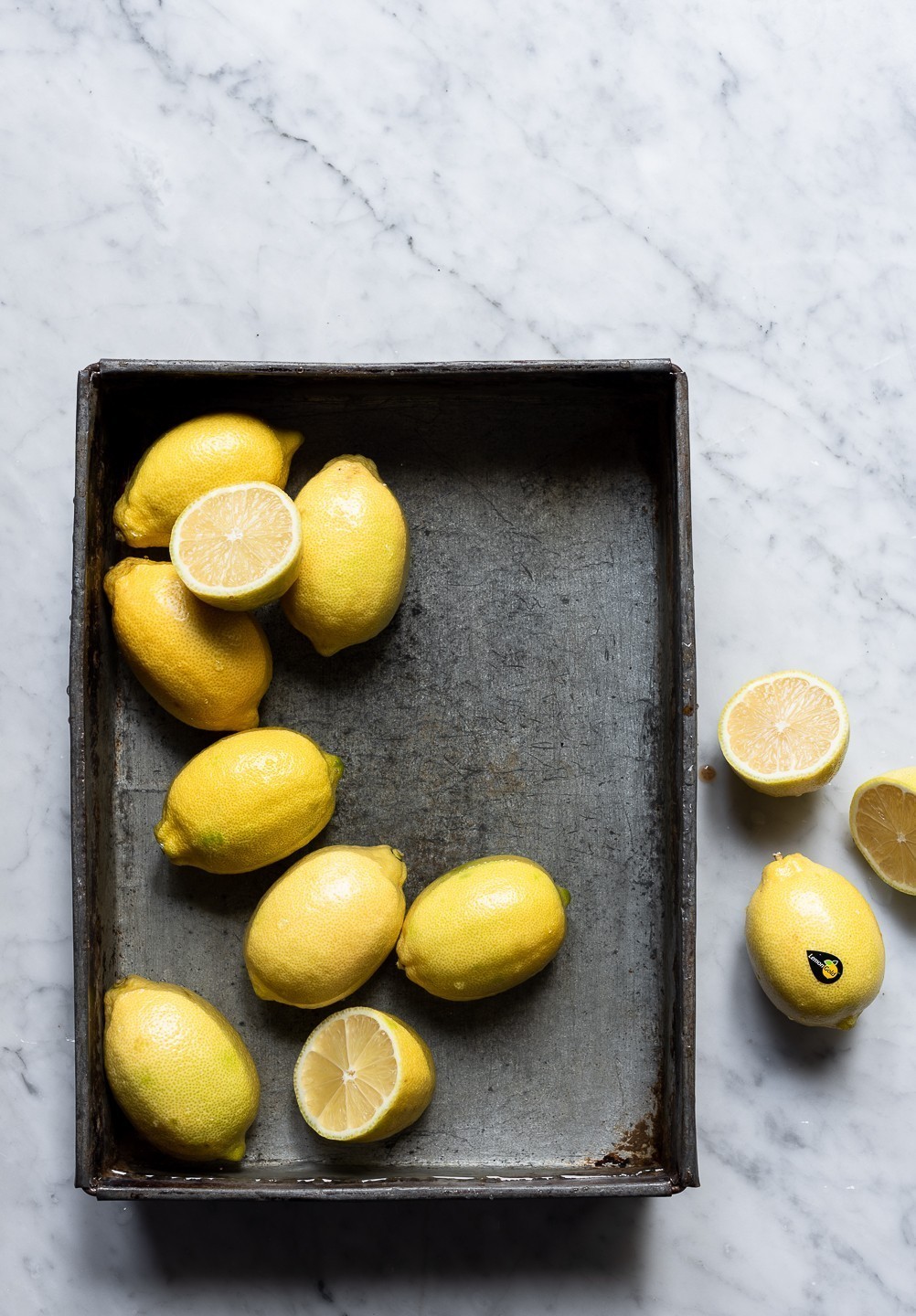 Quick lemon and herb chicken
Serves 4
Lemon herb salt
zest of 1 Seedless Lemongold lemon
5ml (1 teaspoon) dried thyme
5ml (1 teaspoon) dried oregano
sea salt flakes and freshly ground black pepper
olive oil, for cooking
4 free range chicken fillets, butterflied
45ml (3 tablespoons) lemon juice
60ml (1/4 cup) white wine (Chenin Blanc or Chardonnay)
1 Lemongold Seedless Lemon, thinly sliced
fresh basil to serve (optional)
Combine the lemon zest, thyme and oregano in a small bowl. Add a generous pinch of salt and freshly ground black pepper, then rub together, almost like working butter into flour. The texture will be slightly damp. Rub the lemon salt over the chicken on both sides.
Heat 15ml olive oil in a wide-based pan until hot. Lay the chicken in the hot oil and cook for about 5 minutes until golden. Turn and cook for a  further 4-5 minutes until cooked through. Drizzle the lemon juice over and toss to coat both sides. Add the wine and reduce by half.
Add the lemon slices and heat through. Serve immediately with fresh basil.
This post was sponsored by Lemongold. As always, opinions and comments are based on personal experience and remain transparently honest. Lemongold is exclusive to Woolworths SA. 
For more easy supper recipes, here are a handful of blog favourites:
10 Minute pan fried Greek chicken breast
Chinese mandarin chicken tray bake