Chewy no-bake mini donuts
27 September 2017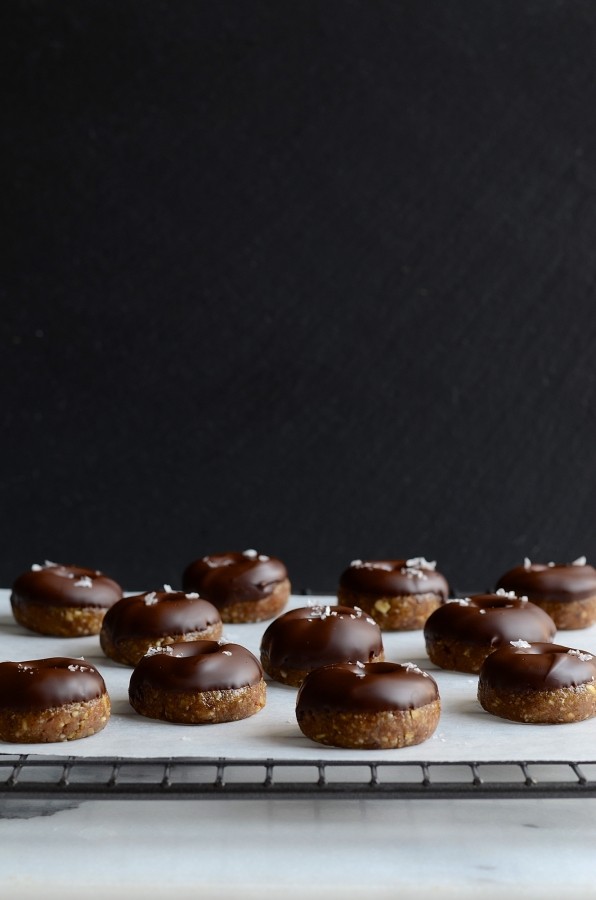 I love how a handful of ingredients can turn into something so exquisitely delicious. If you're even vaguely obsessed with donuts but can't quite get yourself to deep-fry, these chewy no-bake mini donuts are the bees knees. I made a test batch last week and they disappeared before you could say, hole in the middle.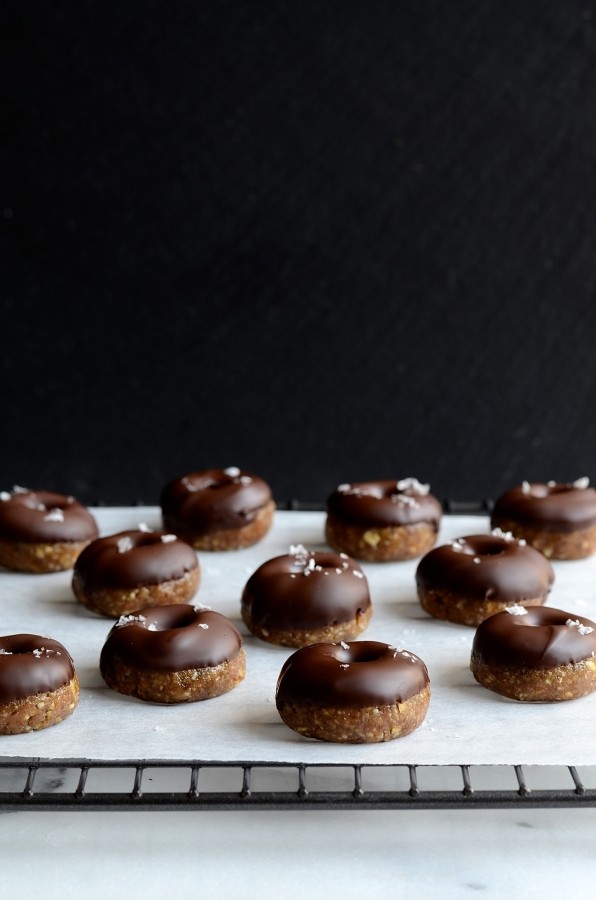 Some of the most popular posts on the blog have been no-bake recipes, like this Caramel and walnut chocolate tart. It is chocolate nirvana and clearly devoid of reservations. These wholesome mouthfuls however, I will get rave reviews from anyone with a healthy sweet tooth. Packed with nutrient dense whole foods, you'll be hard pressed to find a more indulgently good-for-you sweet treat with benefits. The easy blender recipe means you're a mere blitz and roll away from sweet gratification.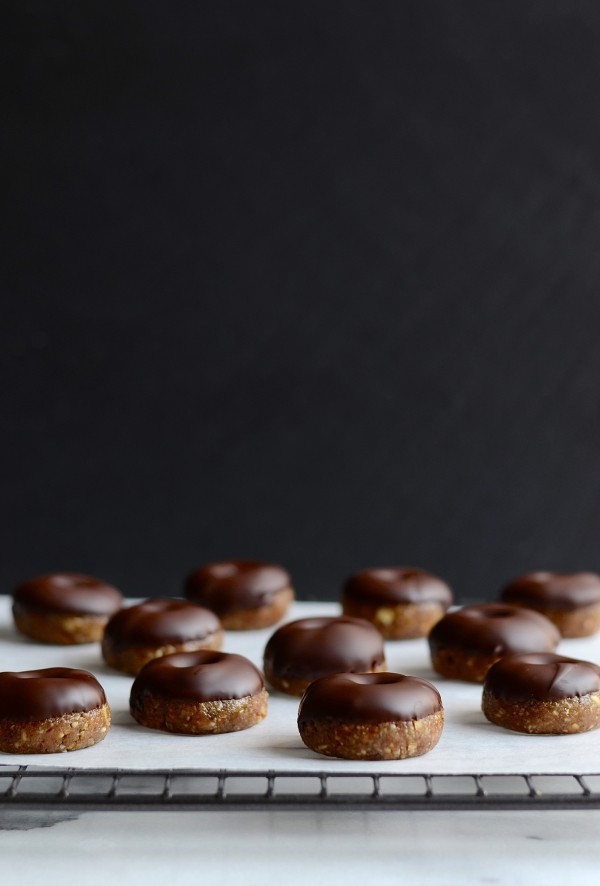 As a self-confessed chocolate lover, I couldn't resist giving them a chocolate bath. I used Afrikoa chocolate, a locally produced range of bean to bar chocolate that upholds the principles of fair trade and ensures the cocoa beans don't leave African shores. Their 55%, 70% and 80% chocolate bars are also vegan-friendly. I found the fruity flavour of the 70% a perfect match for these chewy date nuggets. Before the chocolate sets completely, I sprinkle over a pinch of sea salt. For variation, top with cocoa nibs, finely chopped pistachio nuts or goji berries.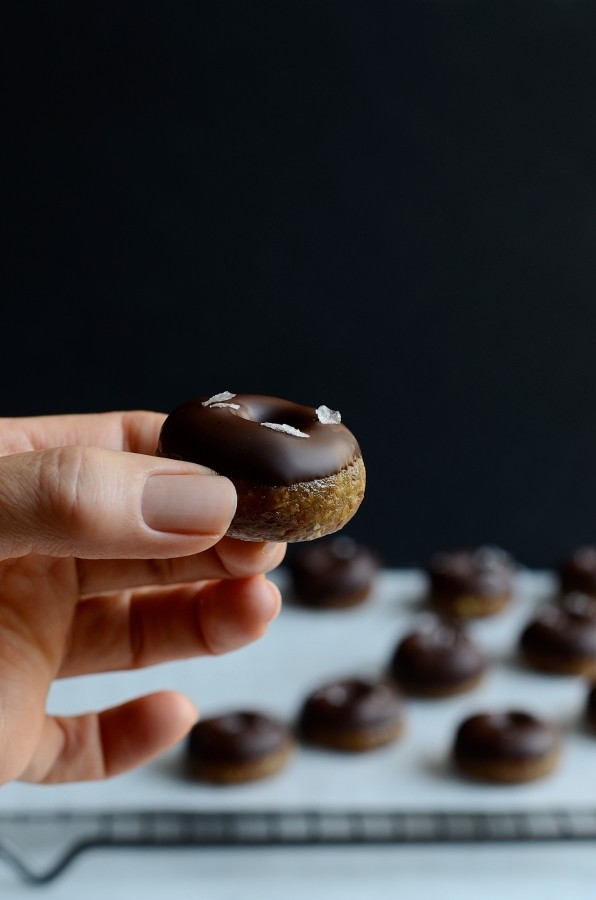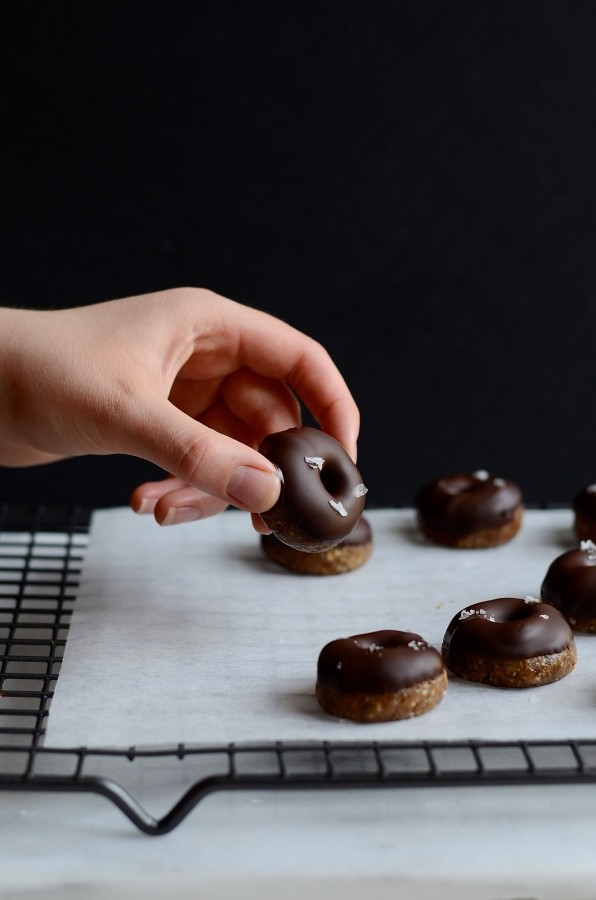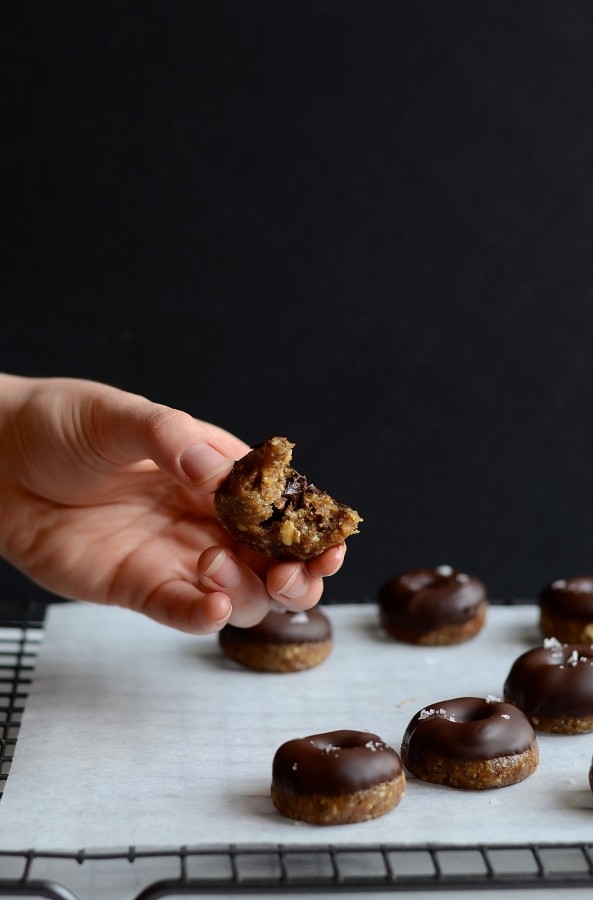 Chewy no-bake mini donuts
1/2 cup raw walnuts
1/2 cup raw cashew nuts
1/4 cup gluten-free whole rolled oats
1 cup (about 10) Medjool dates, pitted
1 tablespoon maple syrup
1 teaspoon ground cinnamon
pinch of sea salt
2 teaspoons coconut oil
1 tablespoon water
1/2 teaspoon vanilla extract
1 heaping tablespoon almond nut butter
100g 70% dark chocolate, melted (Afrikoa)
Maldon sea salt flakes, for finishing (optional)
Place the walnuts, cashew nuts and oats in processor.
Pulse until the nuts and oats are broken down and quite fine.
Add the dates, maple syrup, cinnamon, salt, coconut oil, water, vanilla and nut butter.
Pulse to combine and the mixture comes together in a ball.
Roll teaspoon amounts into evenly sized balls.
Using the handle of a wooden spoon, press a hole in the centre of each.
Place the donuts on a lined baking sheet and freeze for 2 hours.
Dip the donuts in the melted chocolate and sprinkle with sea salt, if using.
Store in a sealed container in the freezer or fridge if you prefer a softer texture.
More sweet temptation recipes with chocolate:
Coconut cream chocolate truffles