Blueberry semolina tea loaf with lemony drizzle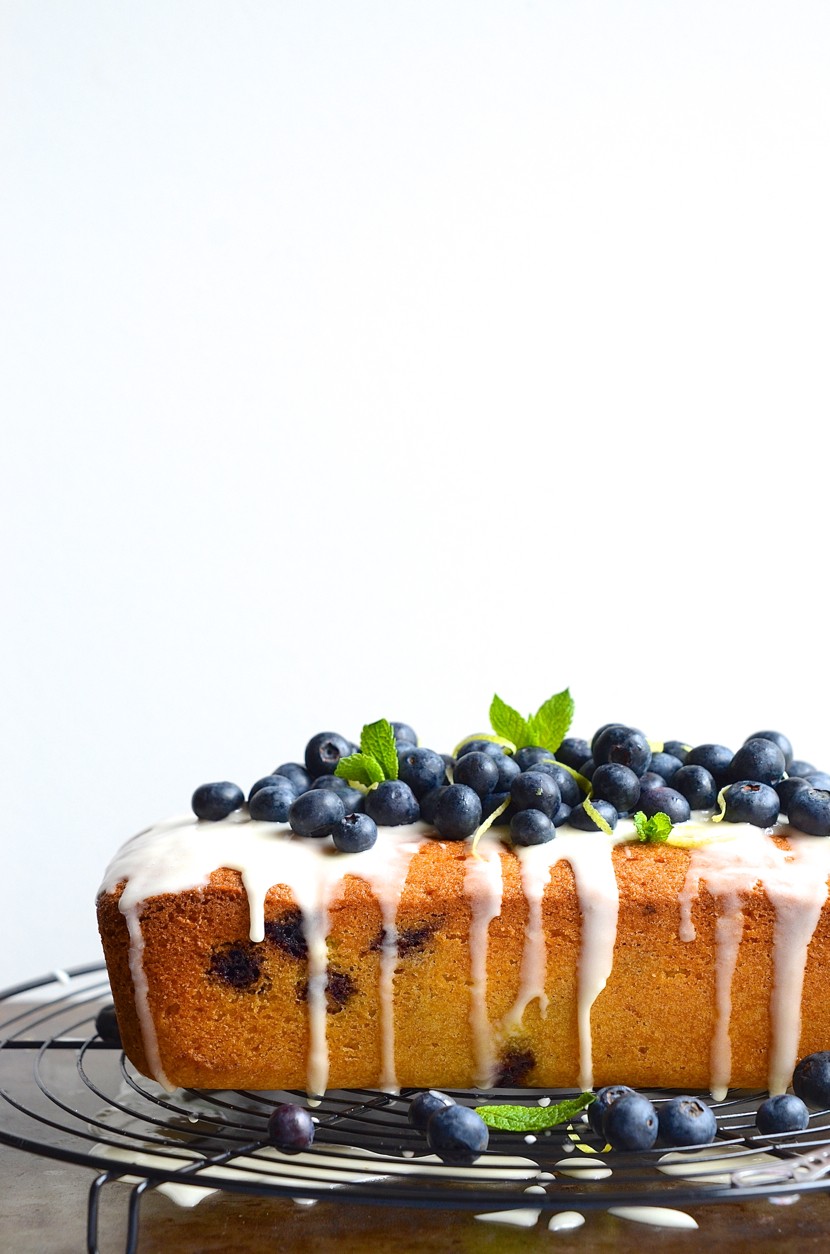 At the risk of sounding dramatic, this is a Top class semolina cake! A rich buttery tea loaf with bursts of blueberries drenched in a lemony crème fraîche drizzle. Cake Friday is looking awfully good.
A loaf can sound quietly domestic in a rustic sort of way and not too exciting really. But, let's not be too quick to judge…. A good tea loaf is a baker's classic that when done well, is pure comfort. Admittedly that's a big ask for a loaf to deliver on, but my lemon and blueberry semolina tea loaf will not disappoint. In fact, when I cut into this loaf, I near wept from relief and excitement. When developing recipes from scratch, it's very rare that the first bake works perfectly. This one did, unlike numerous other baking concoctions thad to be abandoned prematurely.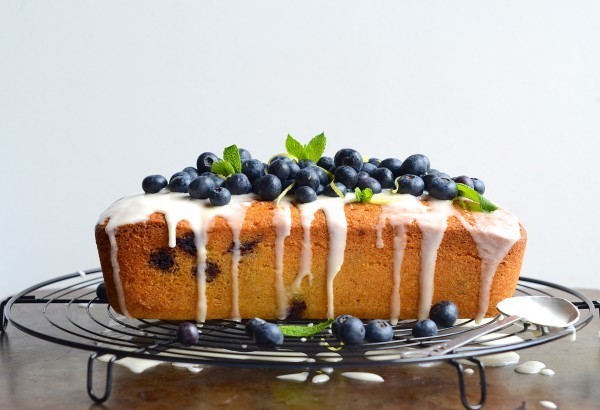 For this tea loaf I used a combination of cake flour and semolina, which adds a toothsome texture, characteristic of many Middle Eastern bakes. So while it's not strictly a Middle Eastern recipe, the semolina will transform it into something quite special. Seldom do I use all butter when baking. I prefer to divide the fat content between butter and a vegetable oil, such as coconut or olive oil. This cake however is all about the rich, buttery-yellow crumb, so it's an all-butter bake. Adding blueberries to the  batter will release their purplish hue when baked. I also feel my conscience easing knowing I've added fruit!
One more word on this. EVERY good woman needs a good loaf and this is a very good loaf. It's fuss-free, un-flopable. I'd make it this weekend and serve it for Sunday afternoon tea. Alternatively, a glass of champagne would be fitting to celebrate your new baking success that would hopefully impress Mary Berry, not Paul Hollywood though, 'cause we all know it's impossible to impress him. Happy weekend baking.



Blueberry semolina tea loaf with lemony drizzle
Makes 1 x 22cm loaf
For the loaf
200g butter, at room temperature
180g castor sugar
3 eggs
1 teaspoon vanilla extract
zest and juice of 1 lemon (40ml juice)
200g all-purpose cake flour
80g white semolina
1/4 teaspoon salt
2 teaspoons baking powder
150g blueberries
Drizzle
30ml lemon juice
100g confectioner's sugar, sifted
2 tablespoons crème fraîche
125g blueberries
lemon zest
baby mint sprigs
Preheat the oven to 180º C. Grease and line a 22cm loaf tin with parchment paper, extending the paper over the sides to create a 'handle'. This will help to lift the cake out when baked. Beat the butter and castor sugar together until light and fluffy. Add the eggs, one at a time, beating well after each addition. Mix in the vanilla extract, lemon zest and juice. At this point the mixture will appear to curdle, but will correct after the addition of flour.
Sift together the flour, semolina, salt and baking powder. Add the dry ingredients to the butter mixture, beating on a low speed just until the flour is incorporated. Fold the blueberries in and spoon the batter into the baking tin. Smooth over with the back of a spoon and tap firmly to settle the batter. Bake for 50-55 minutes. Before removing the loaf from the oven, test with a skewer to ensure it is baked through.
Rest in the tin for at least 20 minutes before turning out and allowing to cool completely. To make the drizzle, whisk together the lemon juice, confectioner's sugar and crème fraîche. Drizzle over the cooled cake and pile on the  remaining blueberries. Finish with lemon zest and mint sprigs. As Jamie Oliver would say, ' happy days'.