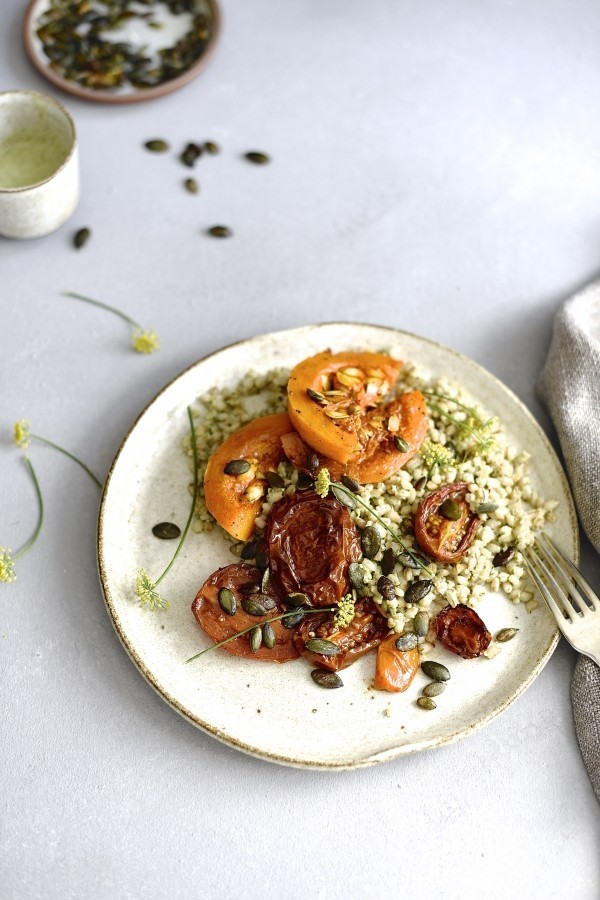 Each day I'm grateful for the work that I get to do. It's a dream job, really. Dream food, cook, shoot, eat and repeat. There's no other creative space I'd rather be in than food. There are however days when I need to get in and out of the kitchen as fast as possible. I'm sure most of us are face with trying to balance too many things with not enough hours. To make midweek meals a little simpler, I make sure the fridge and pantry are well stocked with handy spice pastes, pestos, vegetables, nuts grains and seeds. If one ingredient can do double duty, all the better.
This week I added my vegan celery leaf pesto to the list of super useful fridge staples. After the avo toast story on Monday, I whisked it into kefir, to make a tangy dressing for this Barley salad with sumac roast butternut. And it was delicious.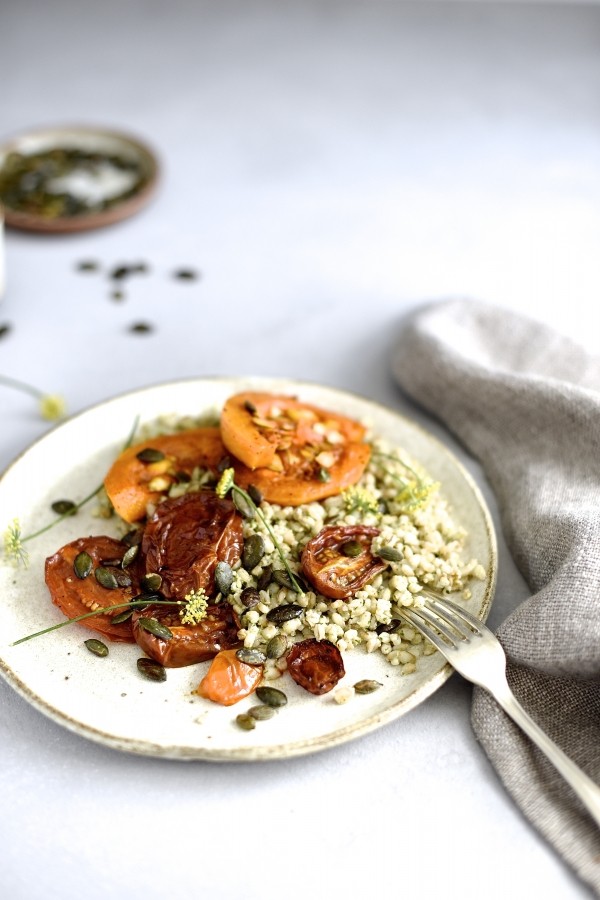 In between recipe testing and shooting, I often cook several different grains and store them in the fridge for wholesome salads. On the weekend I cooked a batch of black rice, quinoa and barley. With that done, it's was onto the vegetables. I never get bored of butternut or tomatoes. They're like old faithfuls. Always showing up and making themselves useful.
Roasting adds bags of flavour and a concentrated stickiness which I just love. I roast the vegetables on separate trays as the tomatoes need slightly longer to caramelise. The butternut gets sprinkled with Sumac, a Middle Eastern spice made from tart little berries. I know Woolworths now stocks it, as does local brand, Nomu. Alternatively, zest half a lemon or orange peel over the butternut before roasting.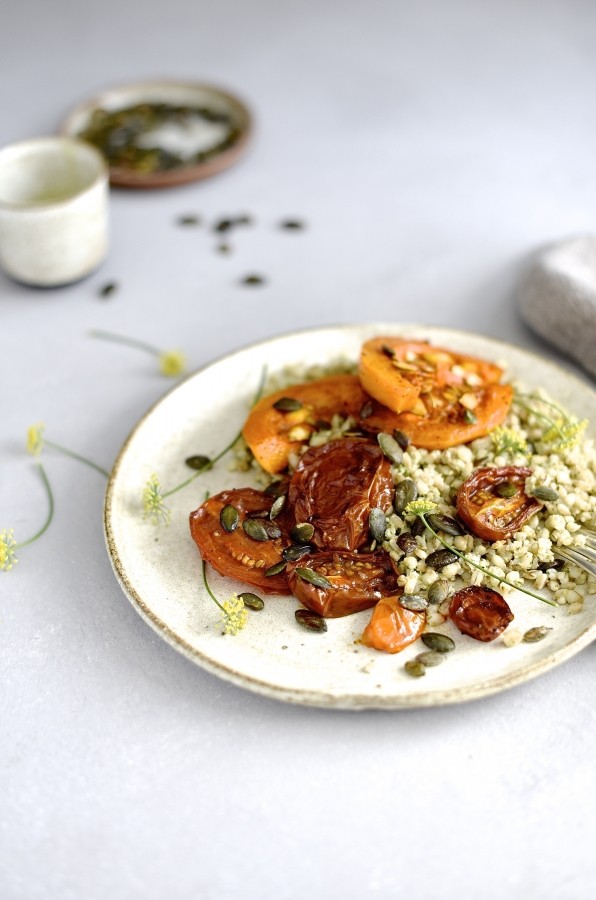 The Dressing is made with kefir, a cultured fermented goat's milk, olive oil and lemon juice. To this I whisk in several tablespoons of the magic celery leaf pesto. The flavour of the dressing is bright and zesty. Coated it the seeded pesto dressing, the chewy nuttiness of the barley shines through. This salad also makes a great side for barbecues or pack for take to work lunches.
Side note:  The consistency and flavour of kefir is very similar to buttermilk. Slightly tart, yet creamy. Packed with Vitamin B and gut healthy probiotics, it's definitely worth adding to your shopping list. If I didn't have Kefir in the fridge, I would've grabbed the buttermilk. If you're going to make it vegan, use coconut milk in place of kefir.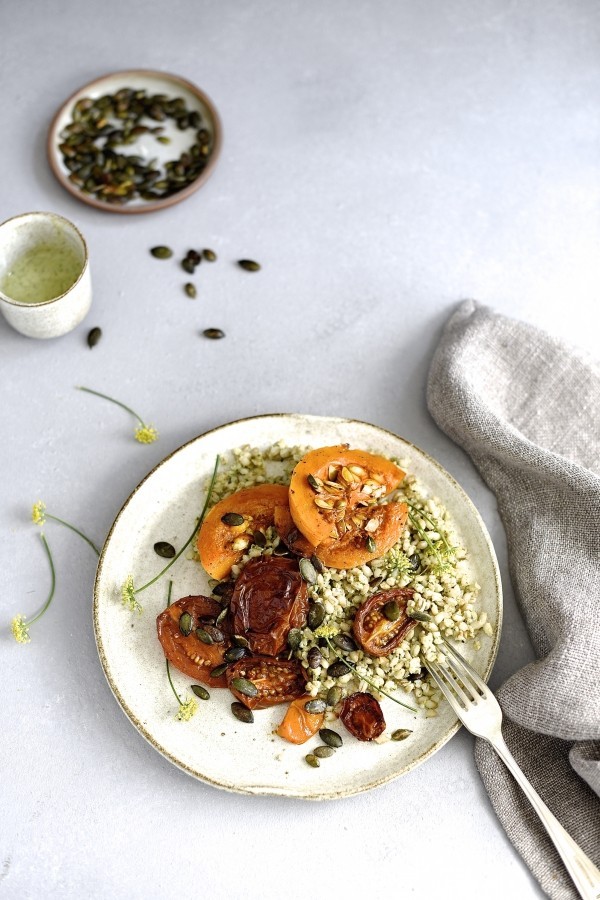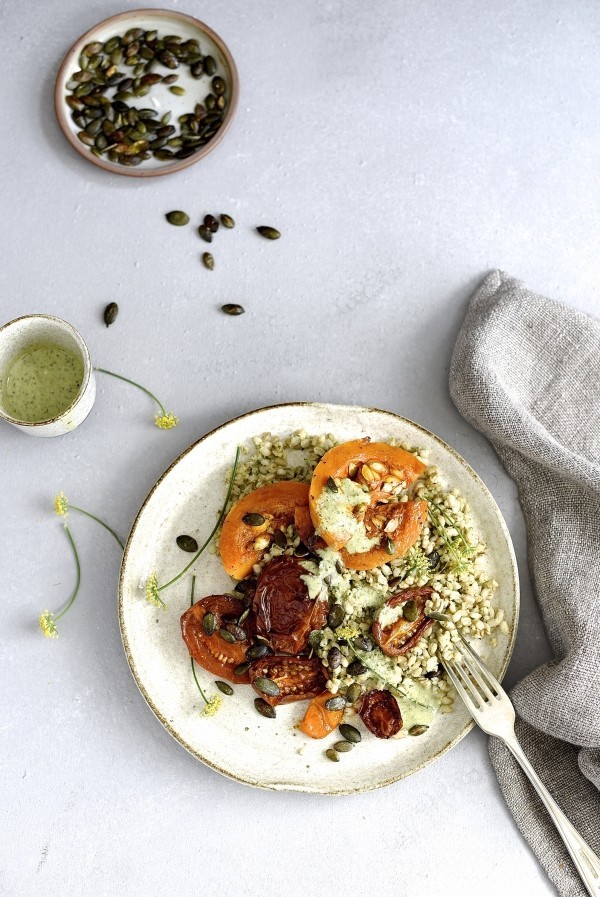 Barley salad with sumac and roast butternut
Barley salad with sumac roast butternut
2 tablespoons olive oil
1 large butternut, skin on and cut into half moons
1-2 teaspoons sumac
500g (about 3 cups) Roma tomatoes, halved
1/2 teaspoon dried oregano
salt and freshly cracked black pepper
2 cups cooked barley
1/4 cup toasted pumpkin seeds
Dressing
1/4 cup coconut milk
3 tablespoons celery leaf pesto ( or a good store-bought pesto)
2 tablespoons olive oil
1 tablespoon lemon juice
salt and black pepper, to taste
Preheat the oven to 200º C. Line and grease two roasting trays. Spread the tomatoes onto one and the butternut on the other.
Drizzle with olive oil and season with salt and black pepper. Sprinkle the sumac over the butternut and the oregano over the tomatoes.
Roast for 45-55 minutes until caramelised and cooked through. The tomatoes will possibly take longer than the butternut.
To make the dressing, whisk all the ingredients together. Adjust seasoning if needed.
Pour half the dressing over the barley and toss to coat.
Top the barley with the warm roast vegetables and scatter over the pumpkin seeds.
Serve with remaining dressing on the side.
Being a general butternut enthusiast, here are two other stellar recipes:
Roast butternut barley risotto with Swiss chard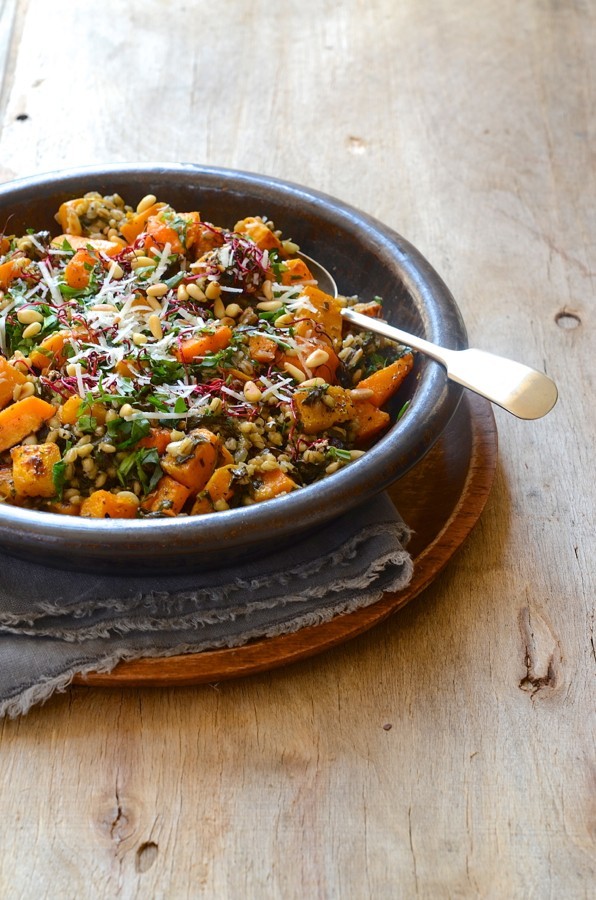 Roast butternut crustless quiche with feta and pine nuts