Baked blueberry oatmeal with seeded crumble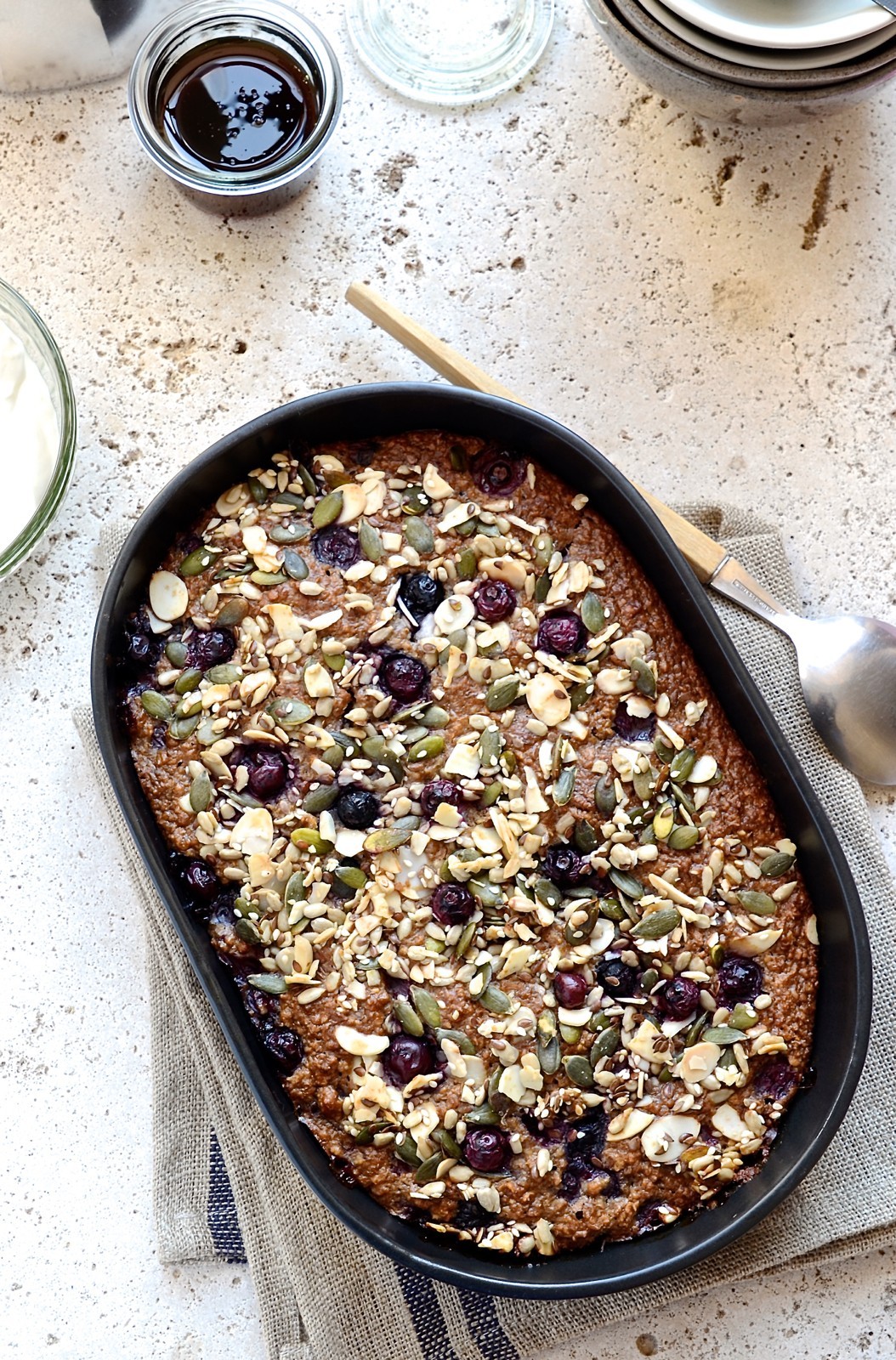 Currently, this Baked Blueberry Oatmeal with Seeded Crumble is my favourite breakfast. Right now, there's nothing I'd rather be eating. It's almost like cake for breakfast, but wholesome and filling.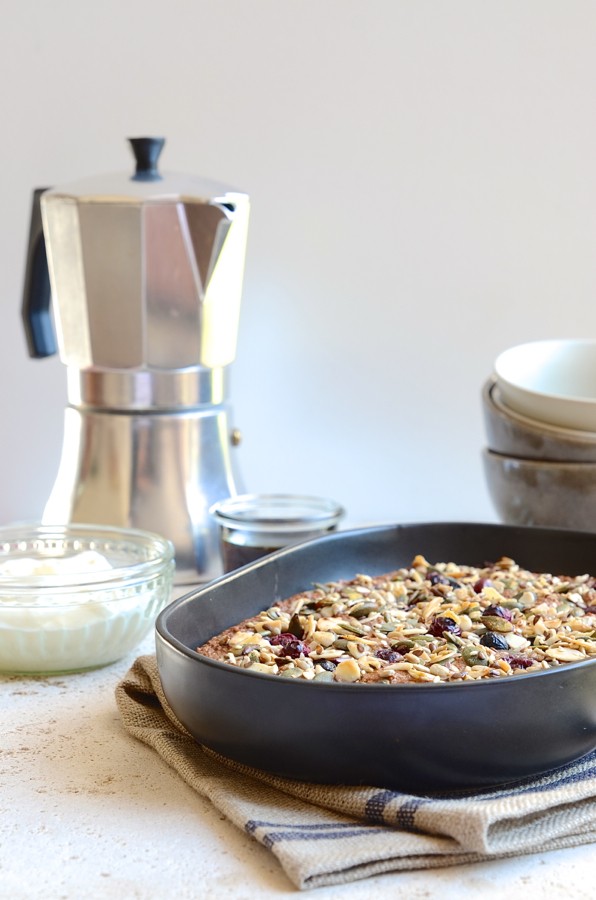 Most of last week was taken up with my cooking classes. Our theme was baking using healthier alternatives. More specifically, how to include fruits, vegetables, nuts and seeds into delicious bakes. The discussion around the table veered towards breakfast options free from refined carbs and low in sugar. Here's where this baked oatmeal comes in. It's low GI, packed with antioxidant-rich blueberries and topped with a seeded crunch.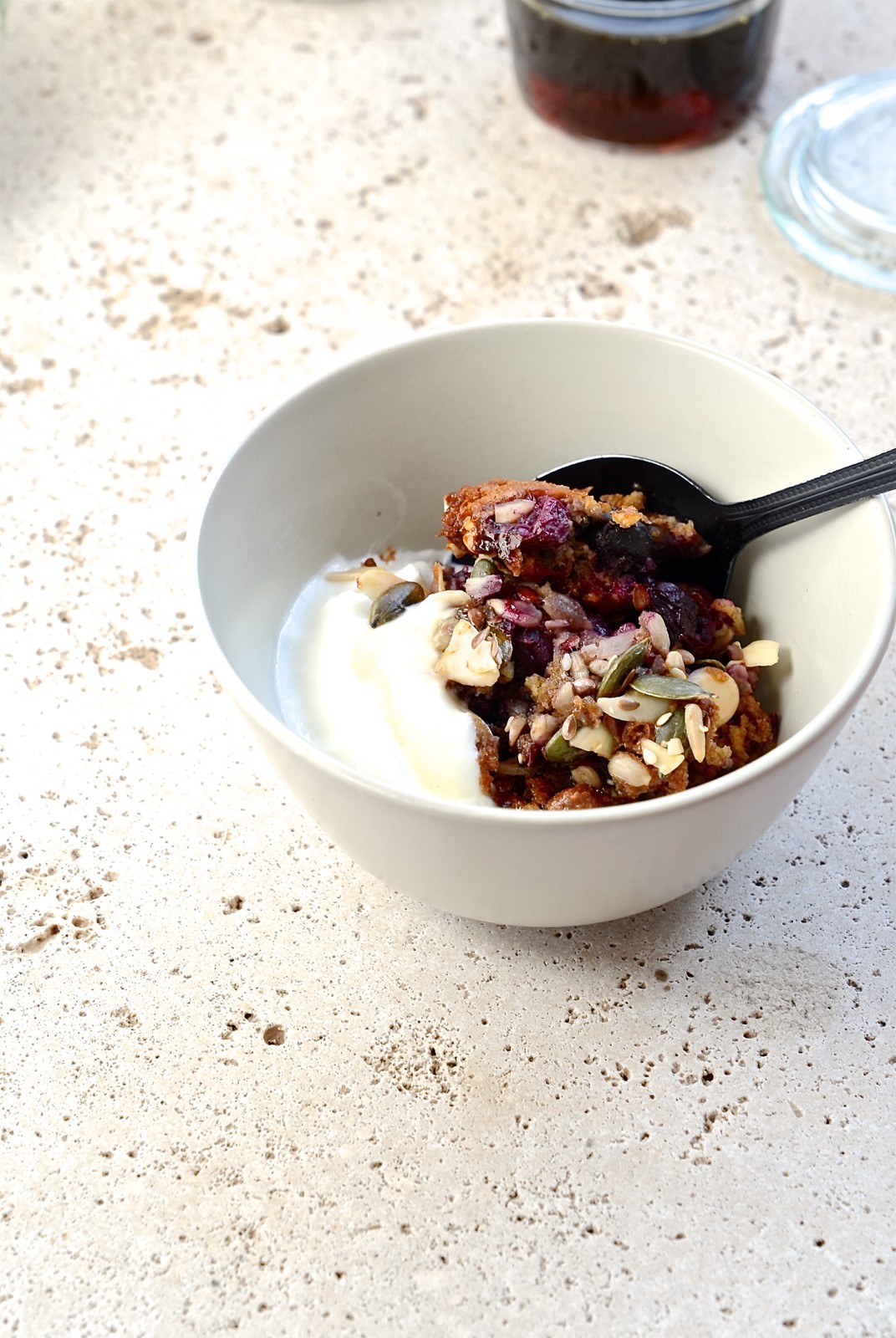 The key to achieving a cake-like texture, is to soak the oats overnight in buttermilk. You'd never guess that there's no flour in this bake. When using only a few key ingredients, natural flavourings are all-important. I've added lemon zest, which works really well with the blueberries, as well as cinnamon and vanilla. I prepare the oat mixture the night before and bake it off in the morning. Once cooked, the oatmeal can be refrigerated and reheated in the microwave when needed. If you like, bake in individual bowls or in muffins tins and pack for healthy lunch box fillers. I serve my oatmeal crumble warm, with Greek yoghurt and a drizzle of honey or maple syrup.
Baked blueberry oatmeal with seeded crumble
Serves 4
3/4 cup porridge oats
1/2 cup buttermilk
3 tablespoons honey or xylitol
1/2 teaspoon vanilla extract
1/4 teaspoon bicarbonate of soda
1/4 teaspoon salt
1/2 teaspoon cinnamon
1 egg
1 tablespoon coconut oil
zest of half a lemon
1 cup fresh or frozen blueberries, plus a handful for the topping
Seeded crumble
1 tablespoon of each, sunflower seeds, pumpkin seeds and almond flakes
2 teaspoons sesame seeds
1/2 teaspoon coconut oil
1 teaspoon honey
Place all the oatmeal ingredients, except the blueberries, into a mixing bowl and stir to combine. Cover with cling film and refrigerator overnight.
Preheat the oven to 180º C. Grease a 1 litre baking dish. Fold the blueberries into the oat mixture and spoon into the dish. In a small bowl, mix together all the ingredients for the seeded crumble. Scatter the crumble over the top and press the remaining blueberries into the batter. Bake for about 45-50 minutes or until a skewer comes out clean. The bake should be slightly more moist than a sponge cake texture. Serve warm with Greek yoghurt and a drizzle of honey.
For more healthy and delicious breakfast recipes, here are some of the blog's most favourite:
Creamy Overnight Bircher Muesli
Chocolate yoghurt breakfast toasts
Apple and carrot spelt breakfast muffins