Baked blueberry oatmeal with seeded crumble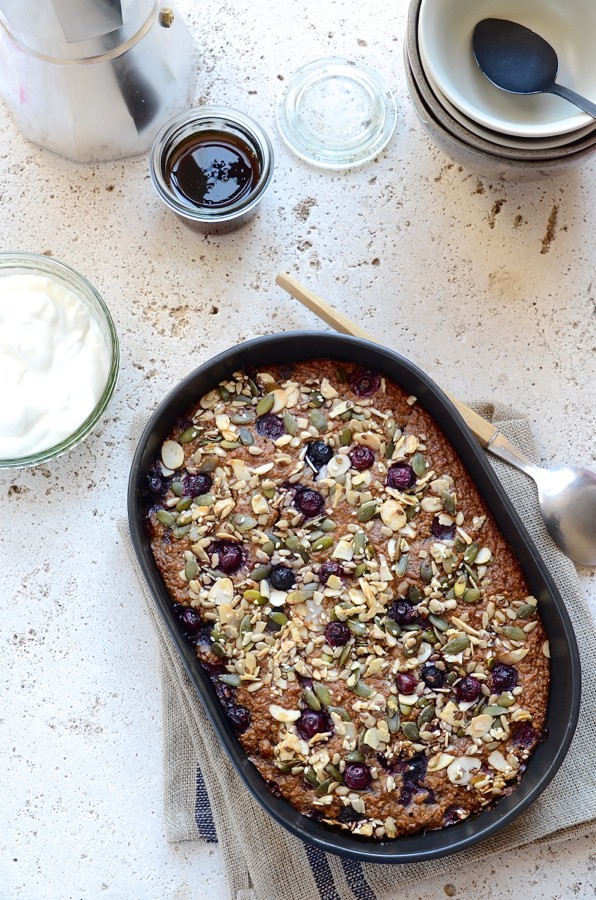 As of right now, this is my new favourite breakfast – Baked Blueberry Oatmeal with Seeded Crumble topping. Yes, my affections are likely to change as they're clearly linked to our chilly winter mornings, but at this point, hand on my heart, this oatmeal is the equivalent of a cosy, good morning food hug. And, when you see the list of good for you ingredients, dull and dreary winter breakfasts will cease to exist. If I owned a breakfast bar or coffee shop, this would be on my Breakfast Specials menu.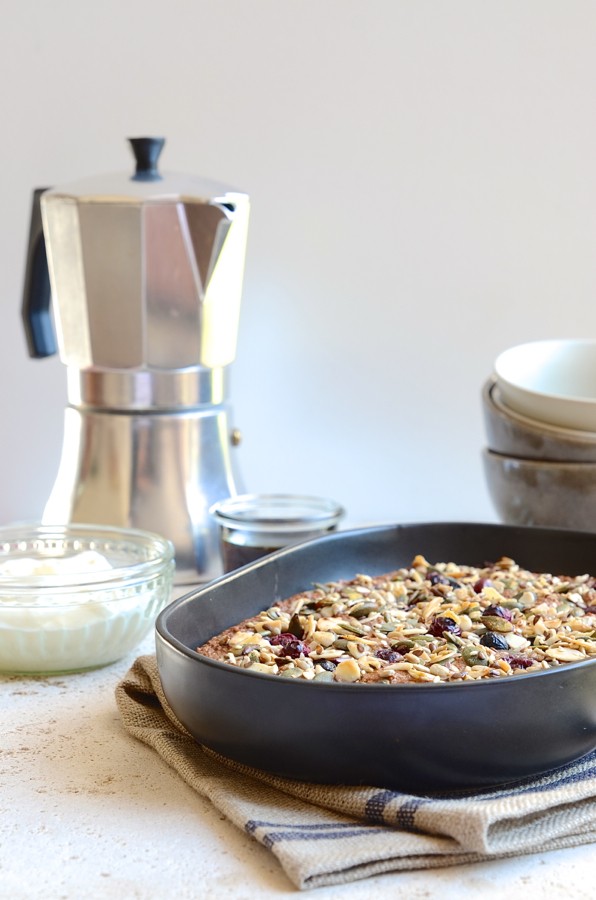 Most of last week was taken up with my cooking classes. Our theme was baking using healthier and alternative ingredients, but more specifically, how to include fruits, vegetables, nuts and seeds into delicious bakes. Thankfully the availability of alternative flours, sweeteners and oils means that now, everyone can have their cake and actually eat it too. The discussion around the table veered towards breakfast options, especially warming, wintery bowls of goodness that were free of refined carbs and low in sugars. Here's where my baked oatmeal comes in. It fits the criteria perfectly, is low GI, packed with antioxidant-rich blueberries and topped with crunchy seeds and almond flaked crumble. This recipe is for a special friend, whom I hope will also love it and feel fabulously energised for the rest of the day!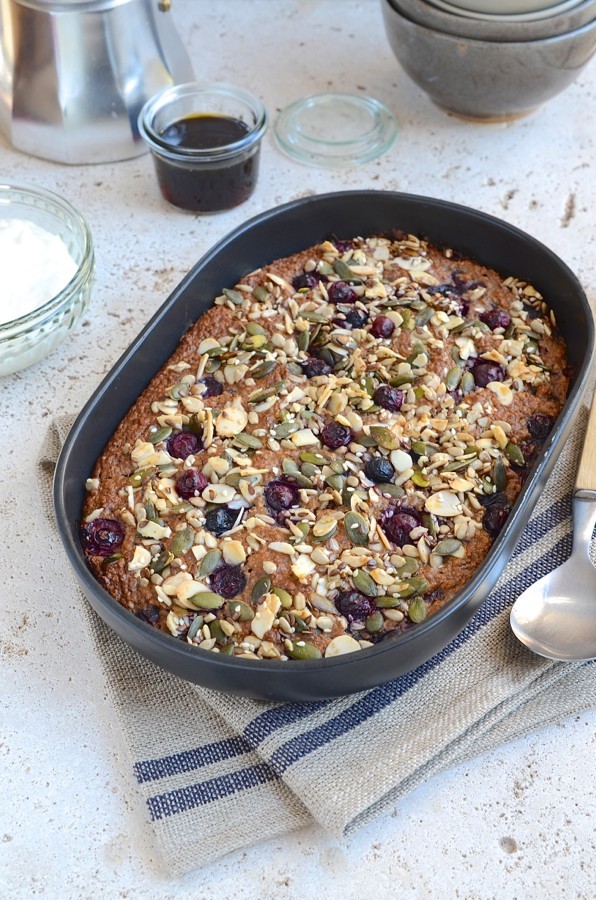 The key to achieving a baked pudding type of texture, is to soak the oats overnight in buttermilk. You'd never guess that there's no flour in this bake. When using only a few key ingredients, natural flavourings are all-important. I've added lemon zest, which works really well with the blueberries, as well as cinnamon and vanilla. I like to use honey or xylitol for sweetness but this can be substituted with agave or maple syrup. Another huge plus with this baked blueberry oatmeal is that all the prep is done the night before, so baking it in the morning is simple and effortless. Once baked, the oatmeal can be refrigerated and reheated in the microwave when needed. If you like, bake in individual bowls or in muffins tins and pack for healthy lunch box fillers. Score so far: Boring 0 Deliciously healthy 1.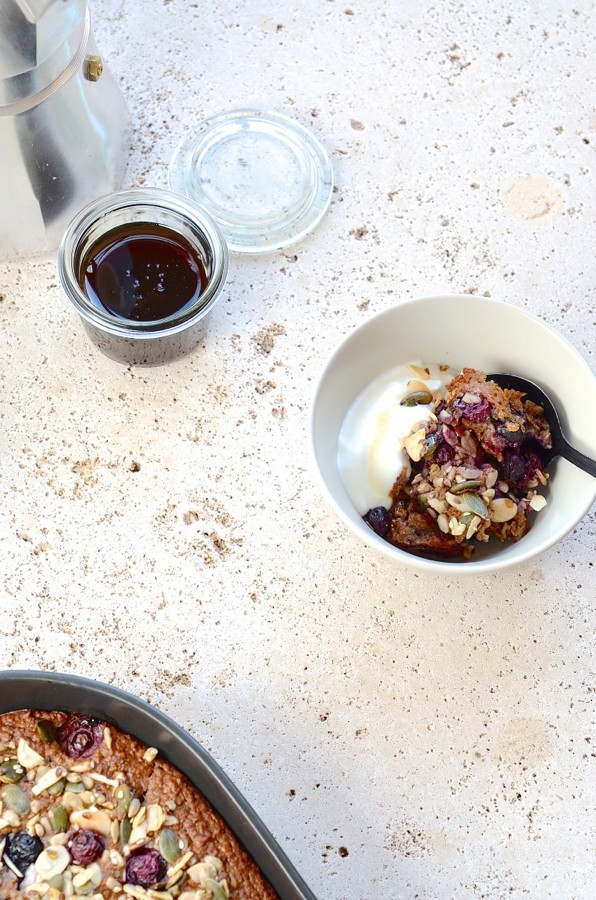 I serve my oatmeal crumble warm, with Greek yoghurt and a drizzle of honey or pure Canadian maple syrup.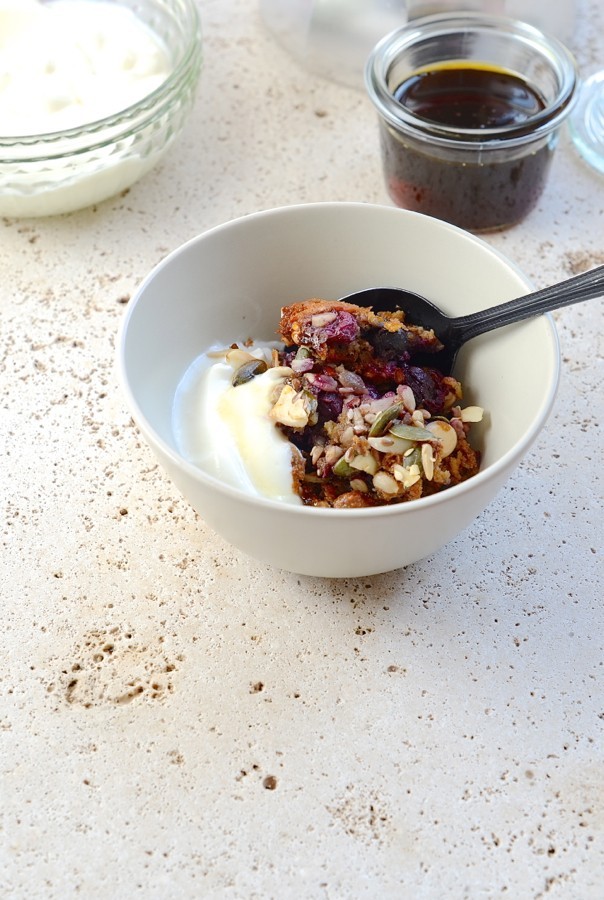 Baked blueberry oatmeal with seeded crumble
Serves 4 (generous portions)
3/4 cup porridge oats
1/2 cup buttermilk
4 tablespoons honey or xylitol
1/2 teaspoon vanilla extract
1/4 teaspoon bicarbonate of soda
1/4 teaspoon salt
1/2 teaspoon cinnamon
1 egg
1 tablespoon coconut oil
zest of half a lemon
1 cup fresh or frozen blueberries, plus a handful for the topping
Seeded crumble
1 tablespoon of each, sunflower seeds, pumpkin seeds and almond flakes
2 teaspoons sesame seeds
1/2 teaspoon coconut oil
1 teaspoon honey
Place all the oatmeal ingredients, except the blueberries, into a mixing bowl and stir to combine. Cover with cling film and refrigerator overnight.
Preheat the oven to 180º C. Grease a 1 litre baking dish. Fold the blueberries into the oat mixture and spoon into the dish. In a small bowl, mix together all the ingredients for the seeded crumble. Scatter the crumble over the top and press the remaining blueberries into the batter. Bake for about 45-50 minutes or until a skewer comes out clean. The bake should be slightly more moist than a sponge cake texture.
Serve warm with Greek yoghurt and a drizzle of honey.