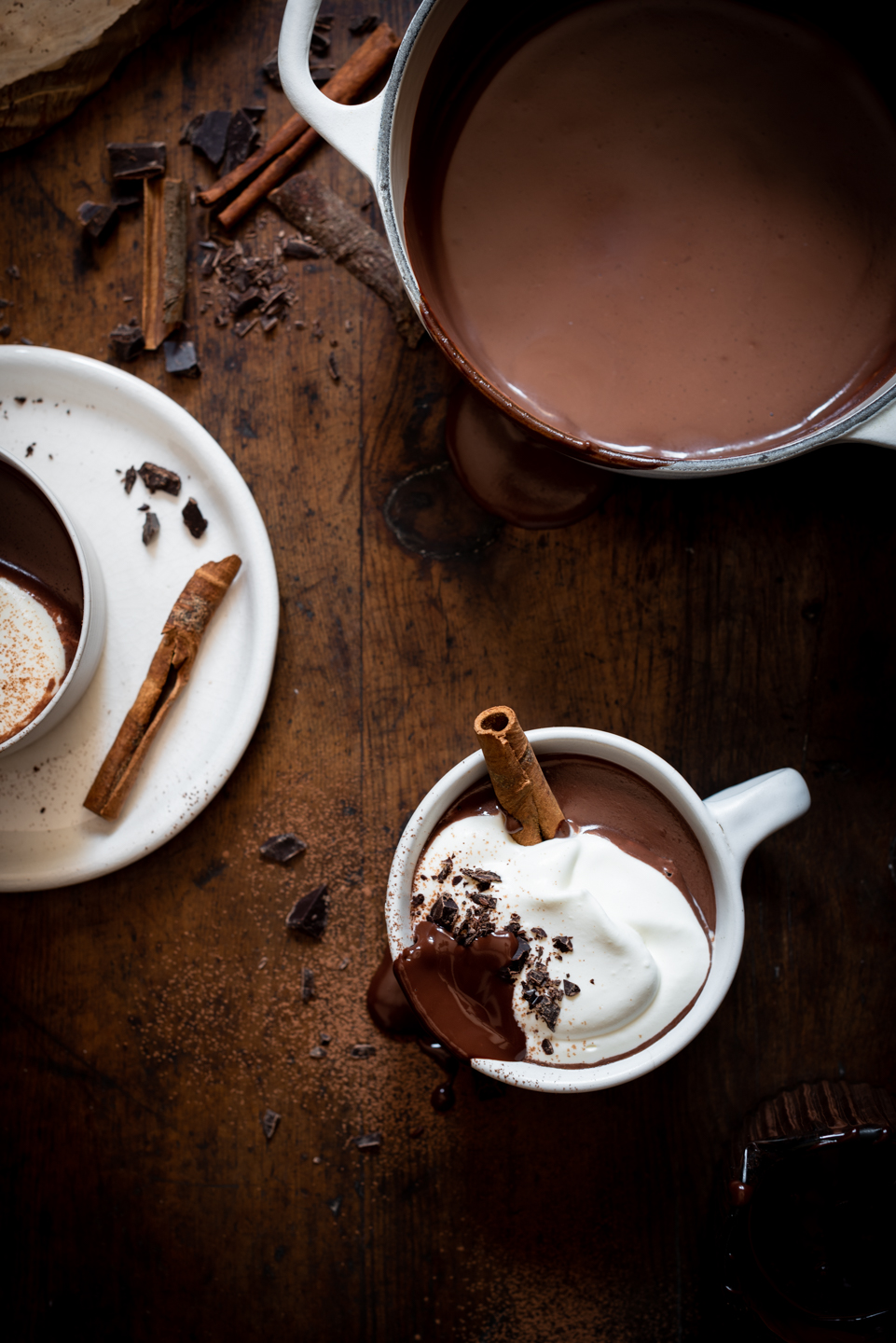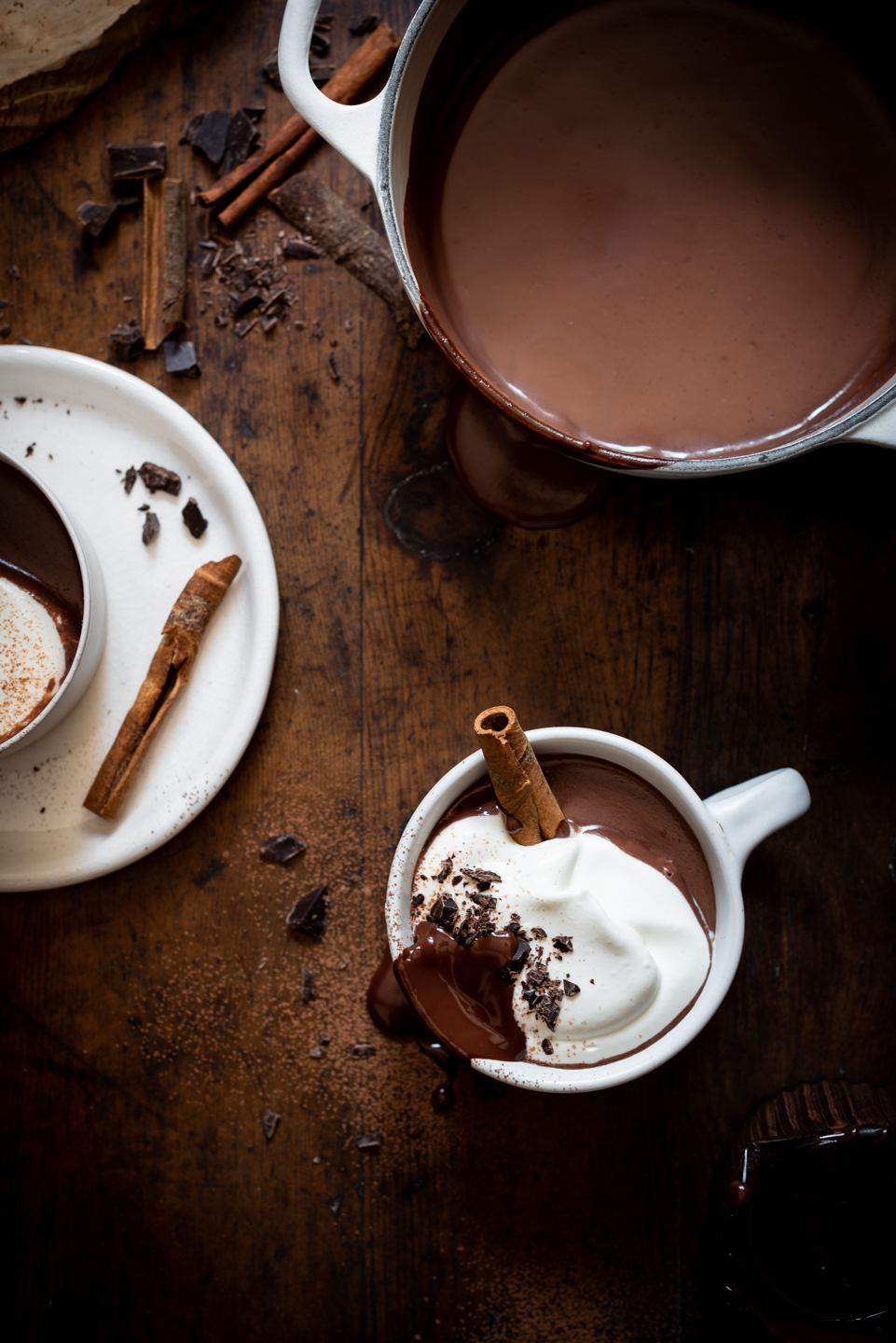 The best hot chocolate I've had was at Angelina's in Paris, the famous tea shop on Rue de Rivoli. They're famous for the richest hot chocolate, served in polished silver coffee pots, a bowl of whipped cream on the side and, a glass water to restore balance. And if you're brave, you quietly whisper your order for their signature pastry too, a domed Mont Blanc that will leave you weak. So then, what is the secret to the best homemade hot chocolate?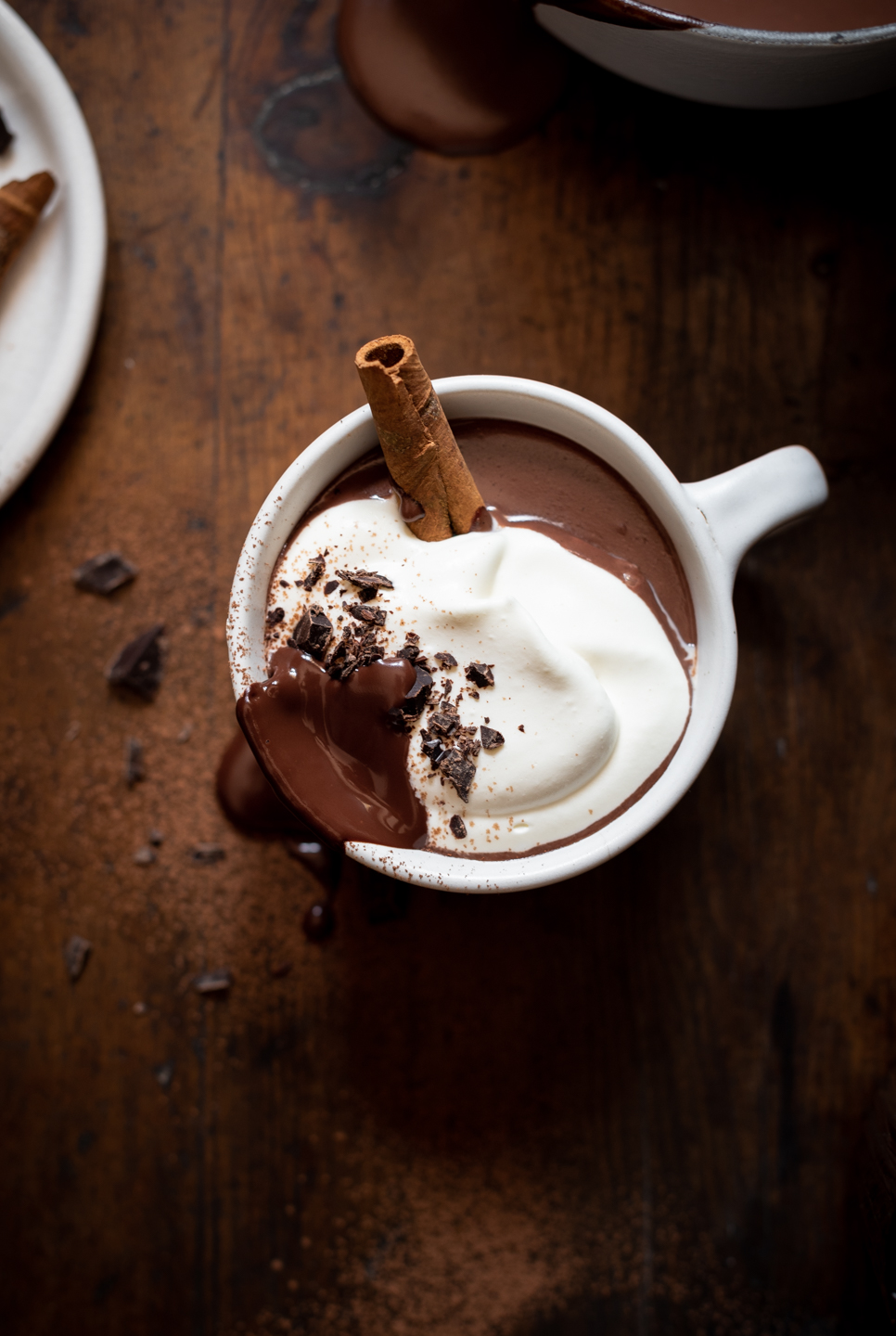 Chocolate, of course. And consistency. Skinny versions can feel a bit more like cocoa than actual hot chocolate. Because chocolate is the hero ingredient, it needs to be decent. Use the best you can afford, and dark, 70% cocoa solids, at least. The milk needs to be substantially rich, full cream, that is. This is not the time for reduced fat anything. It's winter and cozy sweater weather, after all. To ensure your hot chocolate is lusciously thick and creamy, a cornflour slurry will do the trick. From here, you can veer off in different directions. I love the mellow warmth of earthy spices, so I've add a harmonious trio – cinnamon, mixed spice and nutmeg. For a more heated situation, I add a pinch dried red chilli flakes, omitting the former flavourings. If it's an adult only affair, a splash of amber-liquor, is a wicked, but rather marvellous.

Cook's Note: Although completely unnecessary, I sometimes offer a ganache drizzle on the side. Basically, it's a liquid chocolate truffle. Melt 50g chopped dark chocolate with 60ml full cream milk and whisk until smooth. 
Ebook update: Yes, it's finally done. Thank you for being so patient! Load-shedding has done little to support publishing deadlines. But, it'll be worth the wait. I'm beyond excited for you to see what's been cooking in the kitchen. And yes, the Focaccia made it into the book!

The Best Homemade Hot Chocolate
Serves 3-4
375ml (1 1/2 cups) full cream milk
80ml (1/3 cup) fresh cream
30-45ml (2-3 tablespoons) castor sugar
3/4 teaspoon ground cinnamon
1/2 teaspoon mixed spice
a scant pinch of nutmeg
100g dark chocolate (70%), roughly chopped
1  1/4 teaspoon cornflour combined with 30ml milk
whipped cream, to finish
mini marshmallows, to serve
roughly chopped chocolate, for finishing (optional)
In a saucepan, heat the milk, cream, sugar and spices. Stir gently until the sugar is dissolved. Turn the heat down to low, then add the 100g chopped chocolate. Whisk to combine.
Once the chocolate is completely melted, add the cornflour slurry. Whisk gently over a medium heat until the mixture thickens.
Divide the hot chocolate between tumblers. Finish with softly whipped cream, marshmallows and chopped chocolate. Serve immediately.
For more wintery, chocolate comfort, here's where to go:
Blueberry chocolate cobbler pudding
Bibby's Chocolate and Pear Malva pudding
Christmas pudding chocolate sauce