Sweet Chilli Tomato Jam
6 December 2016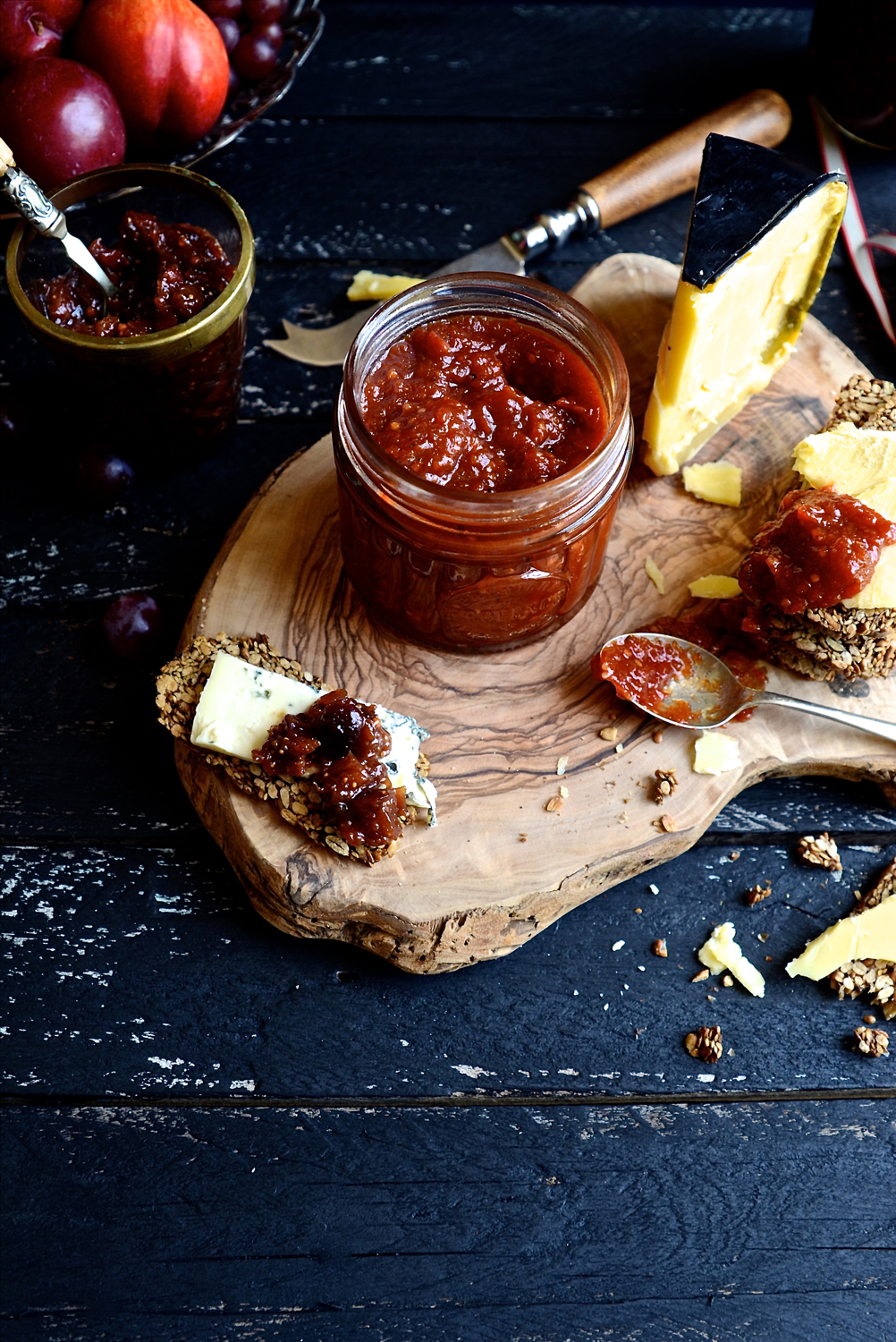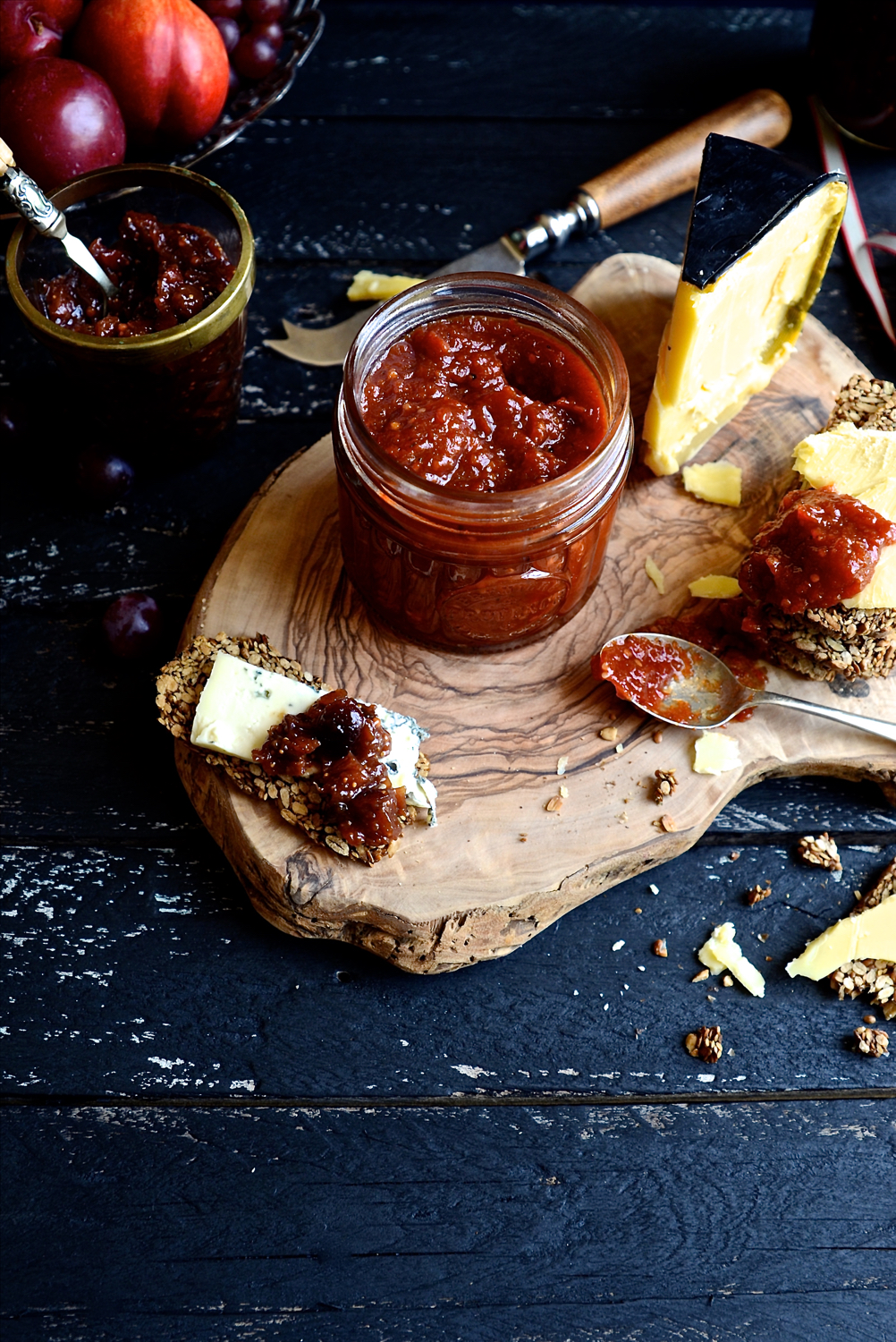 Besides the obvious reward of stocking the larder, preserves are the perfect edible gift. This year I plan on bottling the recipe for my Sweet chilli tomato jam and new favourite, a Spicy fig and plum Chutney. Preserves capture the essence of a season. For me, there is nothing more nostalgic then preserving ripe summer fruits to enjoy in the long winter months ahead. While this practice might seem old school, the reward is truly satisfying. Besides the obvious reward of stocking the larder, preserves are the perfect edible gift.
The chutney is a sumptuous mix of sweet figs, dates, fresh plums and tart cranberries. Bursting with  festive flavours, it is particularly good heaped onto sourdough with thinly sliced cured meats. As for the Sweet chilli tomato jam, there are very few places that won't benefit from add heaping spoonful's of this spicy relish –  scrambled eggs, a juicy beef burger or sweet chilli chicken wraps.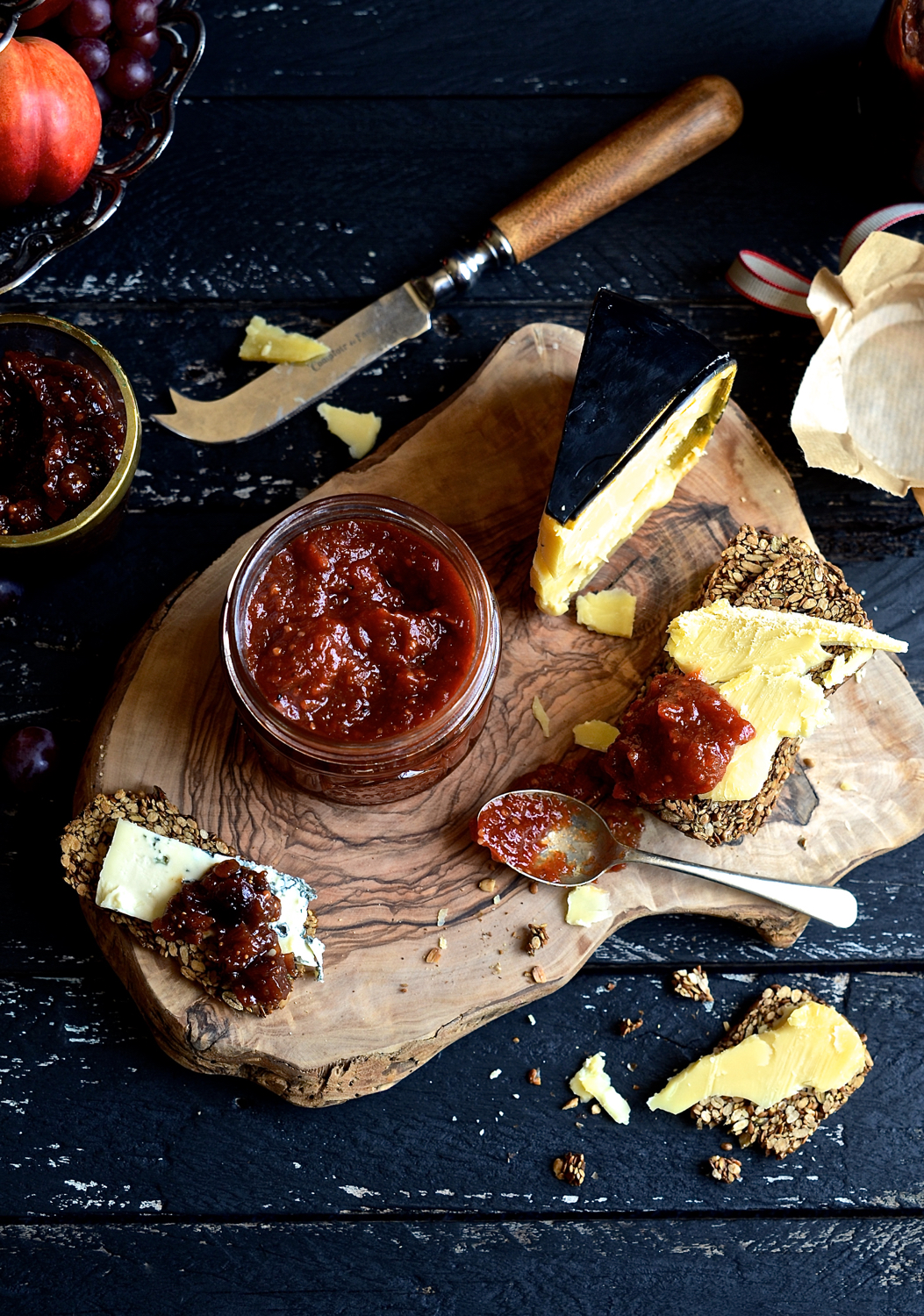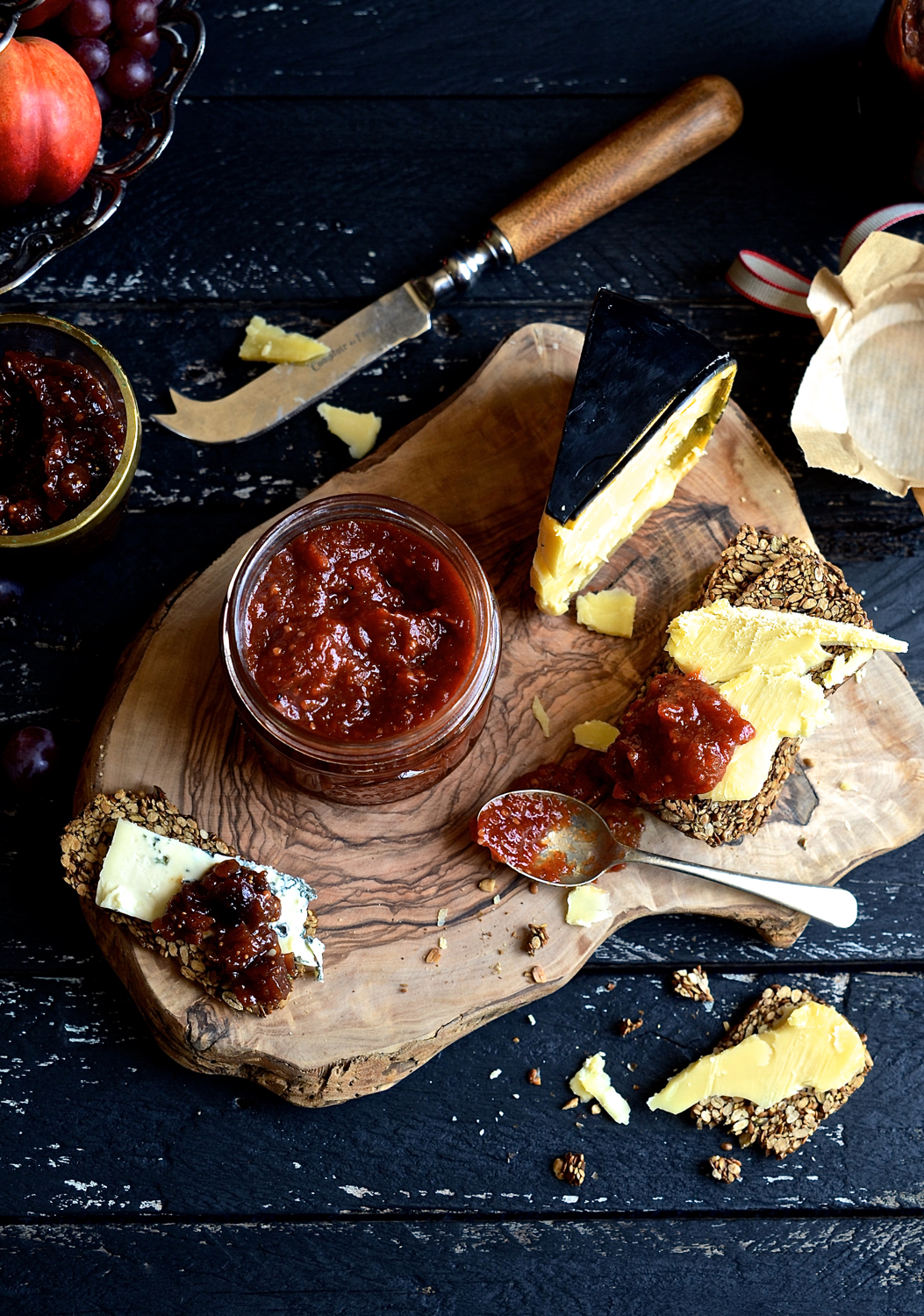 The secret to making really great jams and chutneys boils down to several key factors. Best seasonally ripe fruit for jams and balance between acid (vinegar), savoury and sweetness for chutneys. As always, I have my sterling range of truly unrefined sugars on hand from Natura Sugars. The natural caramely taste of these molasses-rich sugars adds wonderful depth of flavour, particularly when making jams and preserves. Although it might seem a little daunting at first, I've simplified the methods to completely doable and easy. Even little hands can get involved in this holiday gifting project. I hope these recipes will inspire you to haul out your granny's old cast iron pot and get the fruit sputtering merrily away to one of life's simplest pleasures – preserving.
For a host of creative ideas of how to serve jams, jellies and preserves, Feedfeed/JamJellies have put gathered up the best bottles of deliciousness. Savoury or sweet, they've got you covered.
Sweet chilli tomato Jam
500g cherry tomatoes, halved
200g rosa tomatoes
1 tablespoon freshly grated ginger
1 red chilli, deseeded and roughly chopped
140g (3/4 cup) Natura Soft Light Brown Sugar
125ml (1/2 cup) red wine vinegar
¼ – ½ teaspoon dried red chilli flakes
¾ teaspoon salt
freshly ground black pepper, to taste
Spicy fig and plum chutney
1 tablespoon vegetable oil
1 shallot or small brown onion, finely diced
5ml (1 teaspoon ) brown mustard seeds
10ml (2 teaspoons) ground coriander
15ml (1 tablespoon) freshly grated ginger
125g (1 cup) soft dried figs, finely chopped
3 preserved figs, roughly chopped (in sugar syrup)
35g (1/4 cup) raisins
35g (1/4 cup) dried cranberries
5 fresh plums, stones removed and finely sliced
3 Medjool dates, pitted and roughly chopped
50g (1/4 cup) Natura Dark Muscovado Sugar
180ml (3/4 cup) apple cider vinegar
375ml (1 ½ cups water)
¼ teaspoon salt
freshly ground black pepper
To make the sweet chilli tomato jam, place the tomatoes, ginger and fresh chilli in a food processor and blitz until the tomatoes are broken down.
Pour the tomato puree into a saucepan and add the remaining ingredients.
Bring up to the boil, stirring all the while. Boil on a medium-high heat for about 40-45 minutes, stirring from time to time to prevent burning on the base. Skim off any scum that rises to the surface. The consistency should be jammy and sticky but still slightly loose.
Pour the hot chilli jam into sterilized bottles and seal with a tight fitting lid.
Spicy fig and Plum Chutney
For the spicy fig and plum chutney, start by heating the oil and sauté the shallot until softened. Add the mustard seeds, coriander and grated ginger. Cook for a further 2 minutes.
Add all the remaining ingredients. Bring the mixture up to the boil over a medium high heat, stirring all the while.
Turn the heat down slightly, cover partially with a lid and simmer for 40-45 minutes. Stir the chutney from time to time to ensure the base doesn't catch. The chutney should be sticky and relatively thick.
Spoon into hot sterilized jars and seal immediately.
What to serve with your sticky Sweet chilli tomato jam:
Roast butternut and blue cheese frittata