Zucchini ricotta slice with candied tomatoes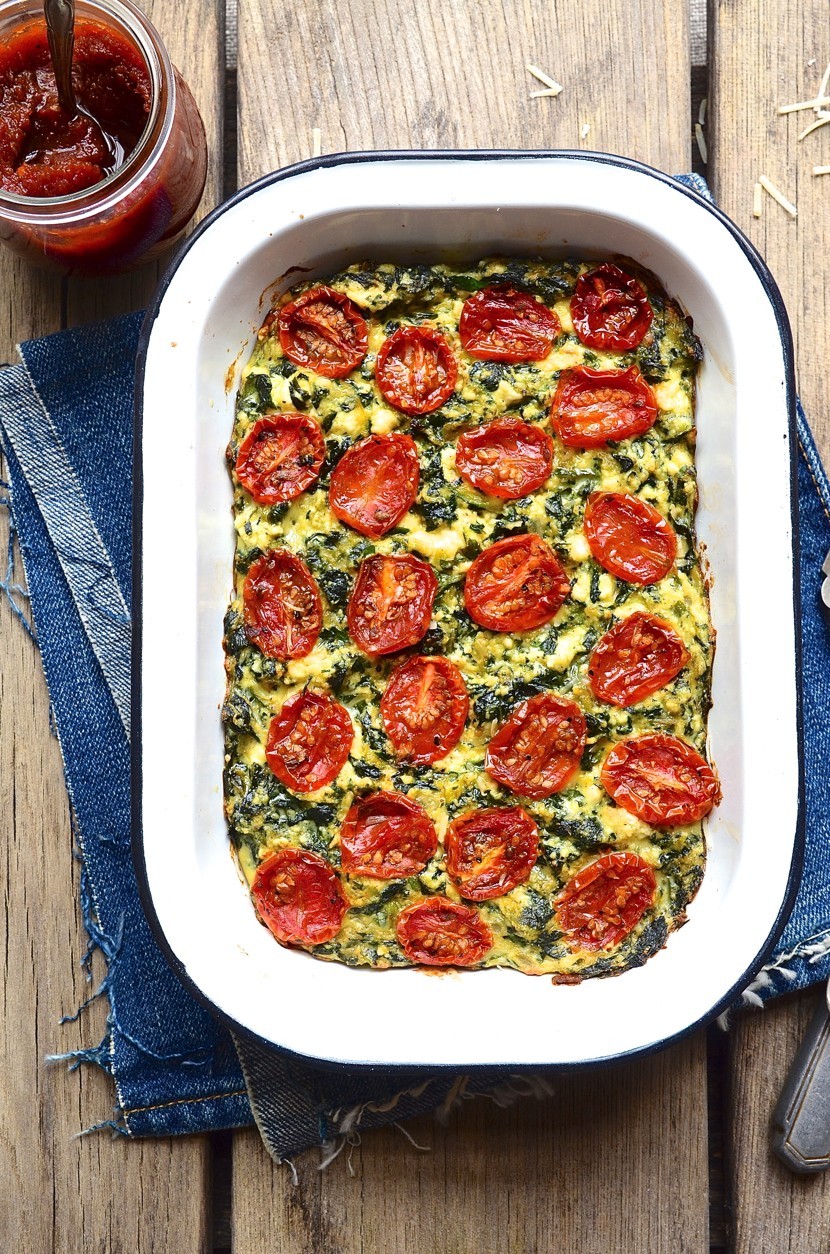 Giving thought to the food that we put into our bodies and partnering to create an awareness for a sustainable future, is made slightly more doable when meatless tastes this good. By adopting a practise as simple as one meat-free day per week, we can collectively make a difference whilst simultaneously doing our bodies a huge, healthy favour. In the mix tonight we have spinach x 2, courgettes, spring onions, feta, ricotta and salty-grained parmesan cheese, all packed into one pie! For a piquant contrast, I've topped the pie with candied rosa tomatoes and served it with a ginger and sweet chilli jam. I'm not kidding, I can eat this entire pie by myself. 
There are a couple of steps to making this pie, but once the tomatoes are candied, you're on the home stretch. Also, bear in mind that these little red flavour jewels are perfect for a host of other dishes. For a quick and easy pasta, use in place of a classic napoletana sauce and top with creamy ricotta or bocconcini. Add them to salads or use as an omelette filler. The flavour is intensely sweet and concentrated. It's interesting to note that cooked tomatoes are in fact more beneficial for your health than raw or fresh tomatoes. Lycopene, the red carotenoid pigment present in tomatoes, is restructured when cooked, making it easier for the body to absorb. Although lycopene itself is not an essential nutrient, it is believed to assists in the prevention of certain types of cancer.
Versatility is probably one of the key factors that I look for when making any dish. It's helpful to know that one recipe can be adapted to create several other time saving meals. This is one of those recipes. The pie filling can also be used to make individual frittatas for school lunches. It's also surprisingly good cold, which makes for ideal picnic food.


Zucchini ricotta slice with candied tomatoes
For the candied tomatoes
2 tablespoons olive oil
250g rosa or cherry tomatoes, sliced in half
salt and black pepper
2 tablespoons balsamic vinegar
2 teaspoons castor sugar
Preheat the oven to 200º C. Line a small baking sheet with parchment paper or foil and spray with non-stick cooking spray. Spread the tomatoes out onto the tray and drizzle with the olive oil and balsamic vinegar. Season with salt, pepper and castor sugar. Roast for 35-40 minutes until all the liquid has evaporated and the tomatoes are sticky. Set aside while you get on with the spinach filling.
Spinach and courgette filling
2 tablespoons olive oil
1 garlic clove, minced
1 shallot or brown onion, finely diced
3-4 courgettes (200g), coarsely grated
1 bunch fresh spinach, centre stalk removed and finely shredded
80g pack sweet baby spinach, chopped (the baby leaves are more tender and slightly sweeter, which gives a more balanced flavour)
2 spring onions, diced
zest of 1 lemon
a pinch of nutmeg
1/2 teaspoon dried oregano
250g ricotta
80 g feta
1/4 cup parmesan cheese
3 eggs
Heat the olive oil in a pan and sauté the shallot and garlic for several minutes. Add the courgettes, spinach and spring onions to the pan. Cook until wilted down. Season with salt, black pepper, lemon zest, nutmeg and oregano. Set aside to cool for several minutes.
Preheat the oven to 200º C. Grease a 25 x 15 cm baking dish. Crumble the ricotta and feta into the spinach mixture. Add the parmesan and eggs. Stir to combine. Try to keep some of the ricotta and feta whole as it creates little pockets of creaminess when baked.
Top with the candied tomatoes, cut side facing upwards. Bake for about 30-35 minutes, until the top is just starting to colour. Serve hot or at room temperature with toasted sourdough bread or an avocado, pine nut and rocket salad.