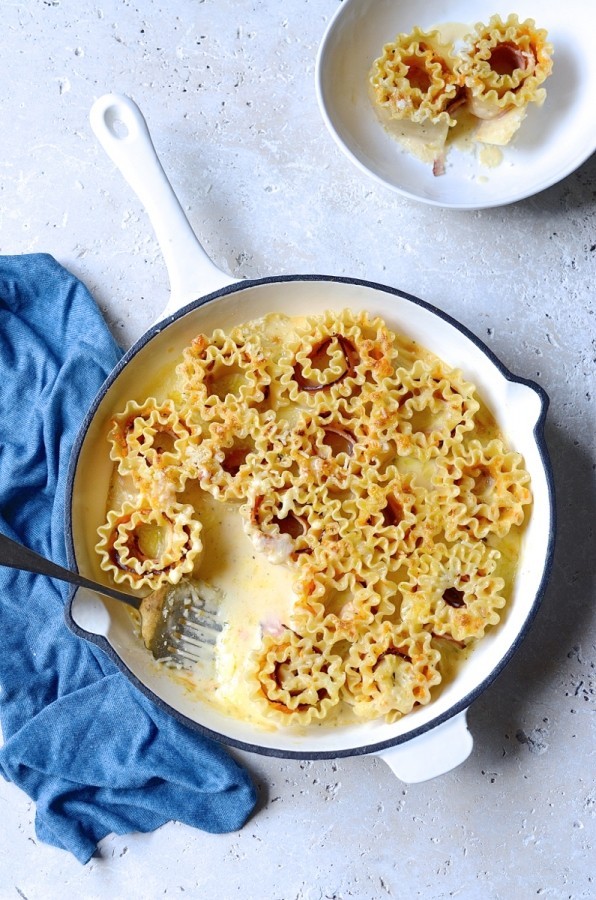 As part of an informal research for a recent food blogger's challenge, I conducted a quick Q & A with kids to find out what's their all time favourite food. No surprises here. Pasta won hands down. With this in mind I think it's time for another pasta recipe. Tonight we're rose-rolling it with these smoked ham and cheese pasta roll ups, 'cause any pasta worth its wheat should have more not less, cheesiness!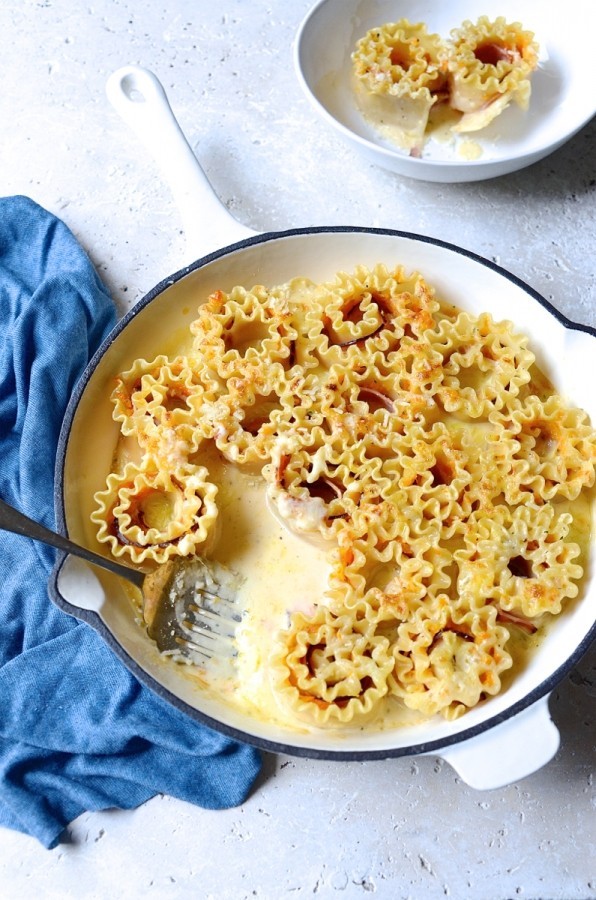 Wrapped snugly between frilly edged pasta sheets is a layer of roast butternut and smoked country ham, all neatly nestled side by side in a creamy cheese sauce. Could there be anything more comforting? As with most recipes, even pasta, I try to include vegetables. My pasta roll ups get the roast butternut treatment. Butternut adds great flavour to the dish, its sweetness providing a subtle contrast to the saltiness of smoked ham. To make the sauce I've used my béchamel recipe from this roast cauliflower mac and cheese post and added heaps more cheese to make it seriously cheesy. Why not?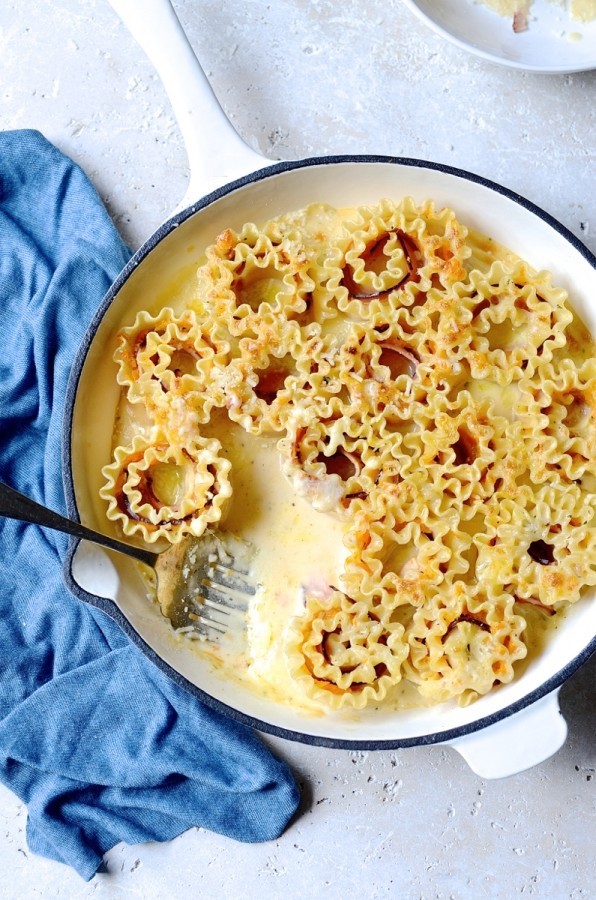 For the roll ups to hold their shape, durum wheat pasta is ideal. I pre-cook the pasta sheets in well salted water until al dente. It needs to be firm enough to roll but just shy of completely cooked through. I've used lacy-edged Rummo Lasagna Riccia pasta sheets, which I cut in half lengthways once cooked. Straight edged pasta sheets work equally well but are without the fanciful frills. All this happiness is then baked with mozzarella and sharp pecorino until the cheese is blistered and golden. Carb cravings satiated!
 

Smoked ham and cheese pasta roll ups
olive oil, for roasting
500g butternut, roughly chopped
12 lasagna sheets
150g (about 8 slices) smoked country ham,
1 quantity (3 1/2 cups) bechamel sauce
1/2 cup mozzarella cheese, grated
1/4 cup pecorino or parmesan cheese, grated
Preheat the oven to 200º C. Line and grease a baking sheet. Arrange the butternut on the tray, drizzle with olive oil and season with salt and freshly ground black pepper. Roast for about 4o minutes until fork tender and golden on the edges.
In the meanwhile, cook the lasagne sheets in well-salted boiling water until al dente. Drain under cold water to stop the cooking process and set aside to cool.
Lay the pasta sheets out on a board and cut in half lengthways. Slice each piece of ham lengthways into 3cm wide strips.
With a fork, mash the cooked butternut. Spread a heaped teaspoon of butternut onto the pasta sheets and top with ham.
Roll the pasta into rose shaped rounds.
Grease a casserole dish with butter and spread 1 cup of cheese sauce over the base. Place the pasta rolls ups in the sauce. Pour the remaining cheese sauce over the top. Scatter the grated mozzarella and pecorino over the pasta and cover with foil.
Bake for 30-35 minutes. Remove the foil and place under the grill for several minutes until bubbling and golden.