Roasted peanut hummus with cocoa nib chilli oil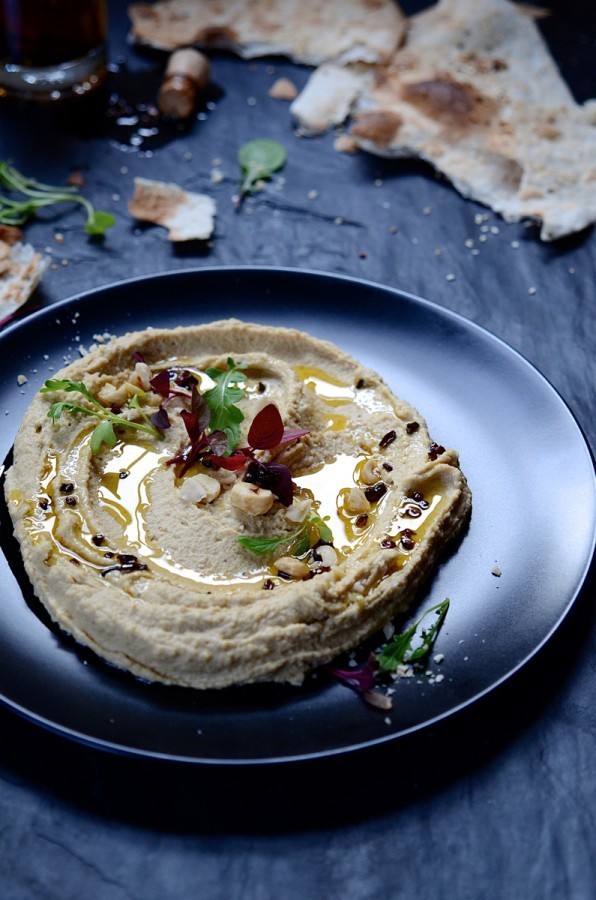 Peanuts aren't nuts. They belong to the legume family but they taste like nuts to me.  I'm completely obsessed with anything that has the word 'peanut' in it. Peanut satays, peanut butter bliss balls, peanut butter power smoothies… you get where I'm going. And then, just when you thought you've seen hummus in all its guises, here comes the another nutty version. It's addictively good! Roasted peanut hummus with cocoa nib chilli oil. If you're a flavour junkie, this recipe is for you.
Hosting monthly cooking classes is one of my greatest food pleasures. I get to share what I love most – people and food. Guaranteed, there'll be at least one dish or ingredient on the menu that's unfamiliar to someone. Fortunately I'm not deterred by raised eyebrows or hushed whispers of,  'I'm definitely not eating THAT!' Experimenting with new flavours is similar to fear factor. Class rule is, you have to try everything at least once. In most instances, preconceived notions are swiftly replaced by surprised delight. Speaking from experience, I recently ate pigs ears cleverly 'disguised' by Masterchef man, George Calombaris at the GFWS. Never thought I'd like it, but it was rather fantastic!
Food is a palatable adventure that exposes us to new flavours and cultures. This hummus recipe melds a Middle Eastern staple, hummus, with cocoa bean nibs, an ancient Inca discovery. Cocoa beans were prized for their hidden powers that perked energy levels and alerted the senses. Cocoa was in fact considered a savoury flavour, that is before some genius added cream and sugar. Hello and welcome, chocolate! Back to this cocoa nib chilli oil.
I love books. All books, but more specifically cookbooks. No longer are they stiff-columned Emily Post instruction manuals. Generally, writing styles have become less formal and more relaxed. Recipes are woven around the author's personal experiences intertwined with food and culture. One such book is Hotel Chocolat. Can you imagine a better hotel? This book was a gift from a fellow food enthusiast and good friend who obviously knows my penchant for the dark roasted cocoa bean. Hidden between the stories are chocolate recipe gems that I cannot wait to explore. This cocoa chilli oil jumped out and had me rushing off to buy yet another bag of raw cocoa nibs.
The recipe itself is a doddle to make – warmed extra virgin olive oil, chilli for heat and roasted cocoa nibs. Into a bottle it goes for a get-to-know you infusion session and we're done. Complex yet simple layers of flavours. Great for drizzling over scrambled eggs, roast chicken, salads and of course, this peanut hummus. Locally, you can buy cocoa nibs from health food stores like Fruits and Roots or Dischem stores under the Faithful to Nature brand.
Following this post, I'm off on an food adventure of a lifetime, so things will be a little quiet on the Bibbyskitchen page. No doubt, after being saturated with inspiration from spectacular Nice, I'll be back with flavours drenched in Mediterranean sunshine. Until then, happy Spring day and au revoir!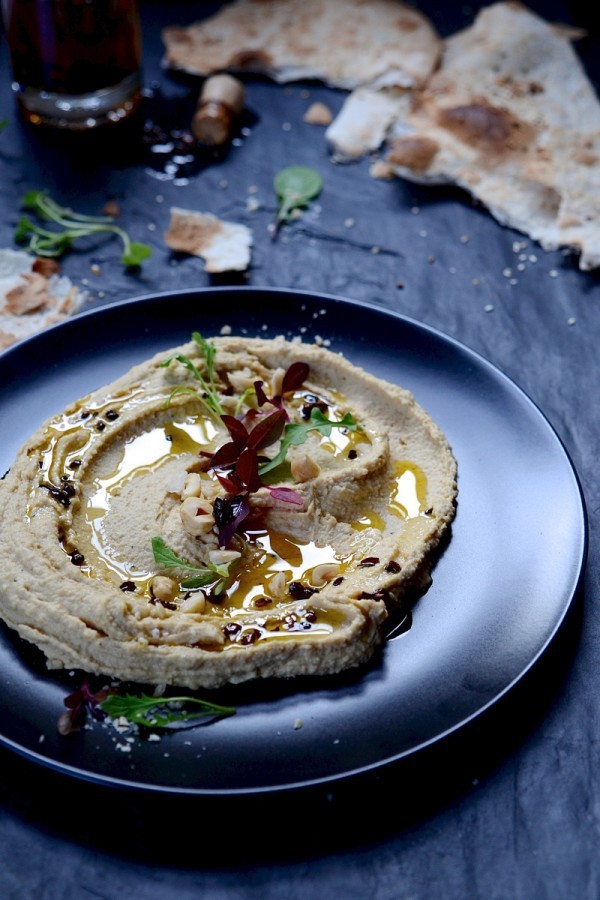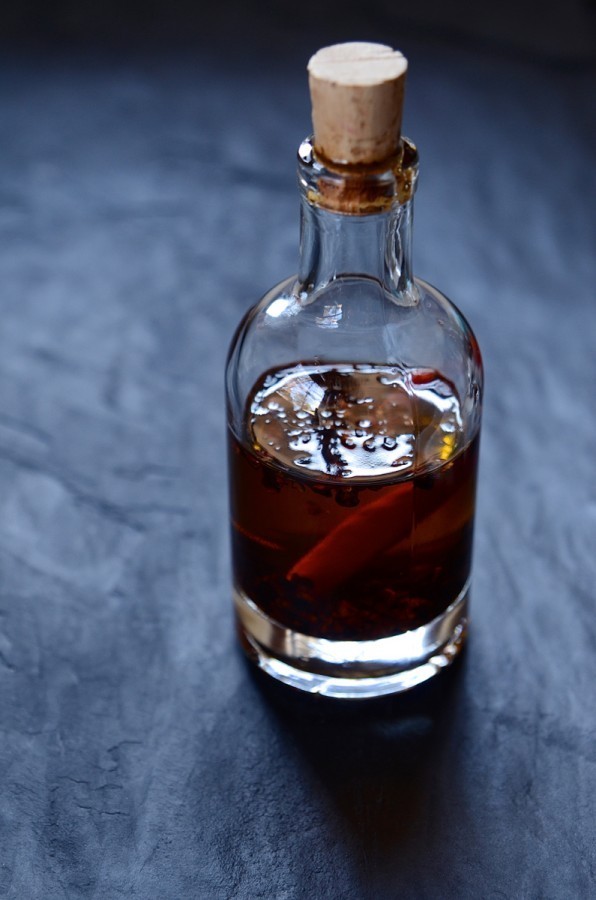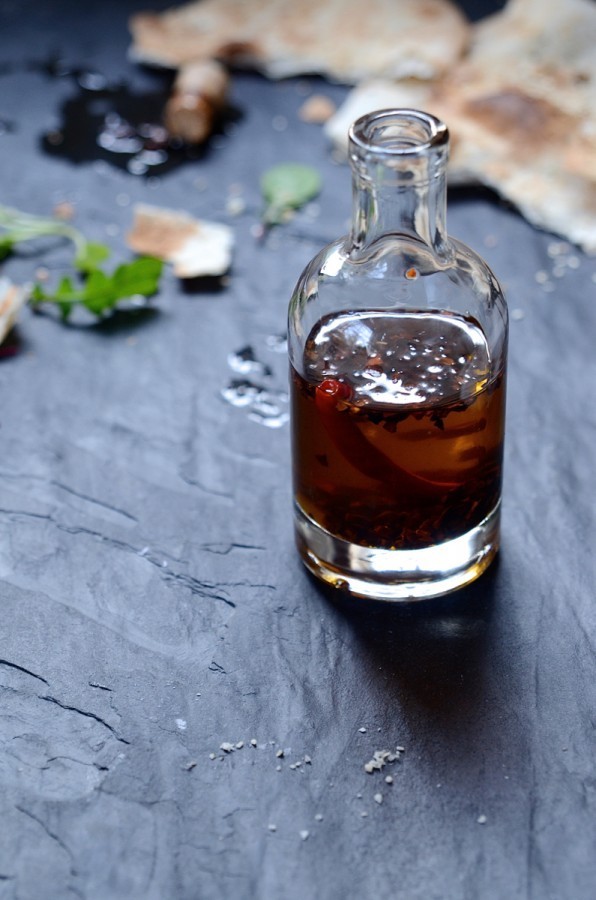 Roasted peanut hummus with cocoa nib chilli oil
400g tin chickpeas
50g roasted and salted peanuts
1 clove garlic, roasted (preferable) or raw
3 tablespoons tahini paste
2 tablespoons extra virgin olive oil
2 teaspoons lemon juice
3-4 tablespoons cold water
pinch of smoked paprika
1/2 teaspoon ground cumin
1/4 teaspoon salt
freshly ground black pepper
Cocoa nib chilli oil
200ml extra virgin olive oil
2 tablespoons raw cocoa nibs
1 whole small fresh or dried red chilli
1/4 teaspoon dried red chilli flakes
Instructions
Drain and rinse the chickpeas thoroughly. If you prefer a smoother hummus, rub the chickpeas together as if rubbing butter into flour to remove the outer skins.
Place the peanuts in a food processor and pulse until the nuts are completely broken down, almost like peanut butter.
Add the remaining ingredients and pulse again until the hummus is completely smooth.
In a small saucepan, heat the oil over a very low temperature until hot to the touch but not boiling.
Place the cocoa nibs in a frying pan and toast for several minutes. Be careful not to burn the nibs or they'll become bitter.
Transfer the cocoa nibs, chilli flakes and whole chilli to a sterilised jar and top up with the hot oil.
Seal and set the oil aside for at least a week. Shake the bottle daily to encourage the flavours to infuse and intensify.
Drizzle a generous glug of cocoa chilli oil over the hummus. Top with micro herbs and crushed hazelnuts. Serve with Turkish flatbreads or warm pitas.