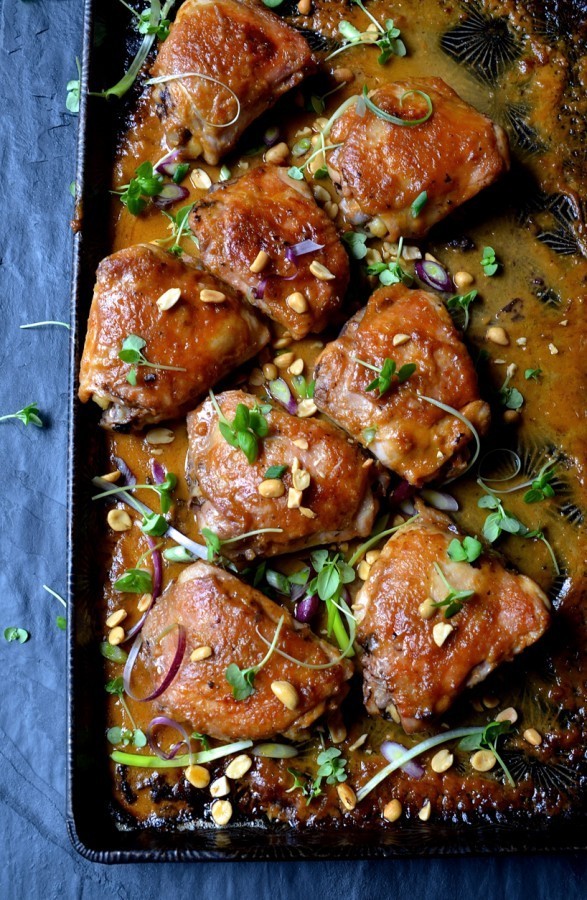 Marinated in a peanut butter curry paste these Oven-roasted chicken satays are everything you'd expect from your best Thai take-out. With salted peanuts for extra crunch, it's addictively good. Deviating slightly from the traditional 'chicken on a skewer' satay, these chicken thighs are oven-roasted until golden and sticky. No dipping bowl required.
So what exactly is a cheat sheet, you ask? In a nutshell, it's a simple, hands-free dinner, oven-roasted on a baking sheet. It's the kind of dish you'd want to make when you're short on time but not quite desperate enough for eggs on toast. I first heard of cheat sheets on The Food Network, the Kitchen. I'm all for midweek short cuts, especially when it involves roast chicken.
There are a couple of things I really love about cheat sheets.
Rule no 1 . There are no rules!
Rule no 2. If someone else can make a great curry paste, grab several.
Rule no 3. Turn up the heat and let the oven do the work.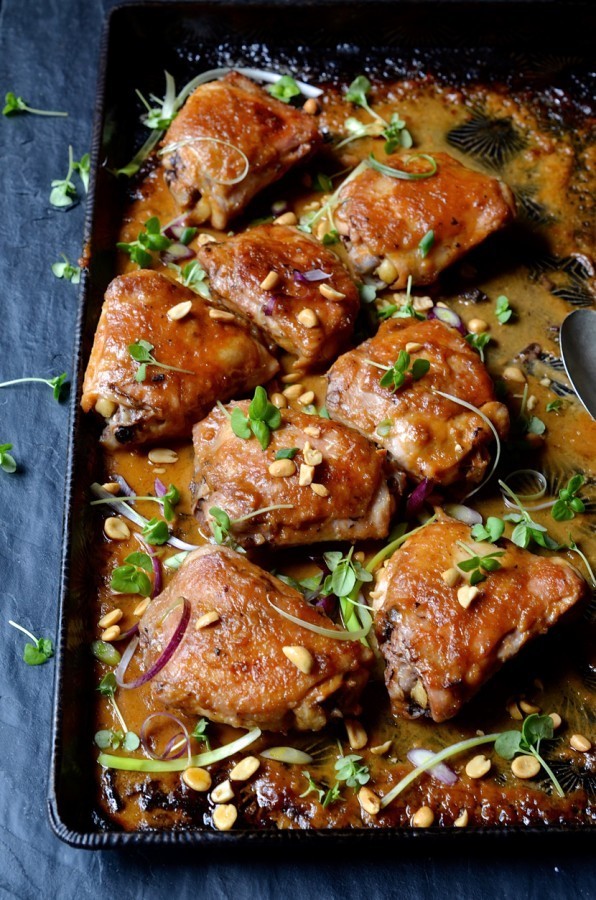 A quick word on marinating. Overnight is always best as the flavours have plenty of time to get to know each other. If time is not on your side, you can get away with 15 minutes. As the chicken roasts, the marinade reduces and renders a rich, sticky sauce. The sides turn dark and caramely. Pan scrapings are really the best bit.
Roasting the chicken with the skin on prevents the meat from drying out. If you're eating the skin, make sure it's crispy. you choose to eat the skin or prefer it without, chicken skin has to be CRSIPY. I like to serve the satays with sticky rice and steamed green beans.
Oven-roasted chicken satays
8 free-range, bone-in chicken thighs
3 tablespoons peanut butter, smooth or chunky
1 heaping tablespoon Red Thai curry paste
3 tablespoons lime or lemon juice
3 tablespoons light soy sauce
2 teaspoons sesame oil
1 teaspoon honey
1 tablespoon freshly grated ginger
2/3 cups coconut milk
a handful of roasted, salted peanuts, roughly chopped
several stems spring onions, diced
basil (optional)
Preheat the oven to 180º C.
For the marinade, combine the peanut butter and curry paste. Add the lemon juice, soy sauce, sesame oil, honey, ginger and coconut milk. Mix until smooth.
Place the chicken in a non-metallic bowl and pour the marinade over. Cover with cling film and set aside to marinate for 15 minutes or over-night.
Transfer the chicken (skin side down), onto a greased baking sheet and season lightly. Keep the remaining marinade aside for later.
Roast the chicken uncovered for 30 minutes. Turn the chicken pieces and pour the reserved marinade over.
Turn the oven up to 200º C and roast for a further 30 minutes.
Scatter with roasted peanuts, diced spring onions and basil. Serve with your choice of sides.