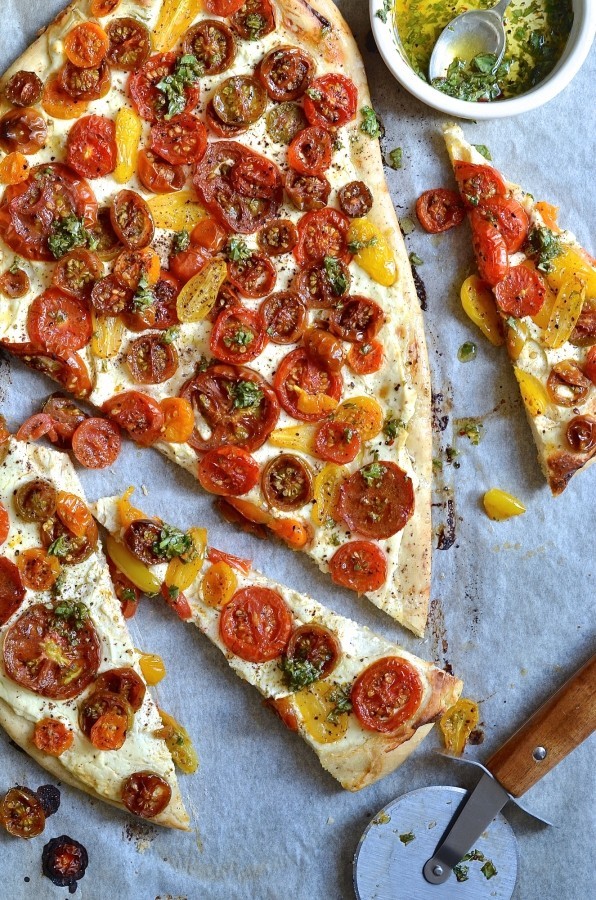 Flatbreads are the best casual food carriers. With summer comes a bounty of vividly red tomatoes. I simply had to share the recipe for this Ricotta and tomato flatbread. I serve it with sumac and herb oil. The crust is crisp with a lemony ricotta cream and roast heirloom tomatoes. Once the tomatoes are blistered and puckered, it's time to pour the wine.
I made this flatbread base with a yeasted recipe but if kneading and rolling isn't your thing, a good store bought puff pastry will do the trick. What is essential to the success of this flatbread, is salting and draining the tomatoes prior to cooking. Drawing the water out will prevent excessive seeping and intensifies the flavour. To the ricotta, I add grated lemon zest, sea salt flakes and some olive oil. The tomatoes are seasoned with Sumac, a Middle Eastern spice made from wild berries. It's tart and lemony and definitely worth seeking out. Locally, it's available from Nomu. If you're wondering what else to do with sumac, whisk it into salad dressings or sprinkle over Turkish eggs. It's also delicious mixed into a spicy lamb tagine.
A bright herb oil drizzled over is really delicious. It's also a useful way to use up left over herbs. Chop them finely and whisk with lemon juice, some extra virgin olive oil and that's it. Simple food made good.
Ricotta and Tomato flatbread with sumac and herb oil
Makes 1 large flatbread
Ricotta and tomato flatbread with sumac and herb oil
125g cake wheat flour (all-purpose white flour)
125g whole wheat flour
1 teaspoon instant dry yeast
3/4 teaspoon salt
160ml tepid water
1 tablespoon olive oil
Ricotta spread
300g (1  1/4 cup) soft ricotta or cream cheese
zest of half a lemon
1 tablespoon olive oil
salt and pepper, to taste
2 cups multi-coloured heirloom tomatoes, sliced
1 teaspoon sumac
Herb oil
a handful of each, oregano, thyme and basil
1/2 teaspoon dried red chili flakes
zest of half a lemon plus the juice
2 tablespoons olive oil
Start by making the flatbread dough. Combine the flours, yeast and salt in a mixing bowl.
Add the water and oil and combine. Once the dough comes together, turn out onto a floured board and knead for 6-8 minutes.
Place the dough in an oiled bowl, cover and proof until doubled in size.
Season the tomatoes with a generous pinch of sea salt flakes and place in a colander to drain for 20 minutes.
Preheat the oven to 200º C.
Turn the dough out onto a floured board and roll into a long oval. Transfer to a lined baking sheet. Cover with a clean tea towel and set aside to proof for 20 minutes.
Combine the ricotta, lemon zest, olive oil, salt and pepper in a bowl. Spread evenly over the flatbread base.
Blot the tomatoes with kitchen paper to remove excess water. Lay the tomatoes on the ricotta and sprinkle with sumac. Drizzle a little olive oil on top and bake for 30 – 35 minutes. The crust needs to be crisp and golden.
Whisk together all the ingredients for the herb oil and drizzle over the flatbread. Serve warm.
Tomatoes are a cook's staple. Here are a handful of recipe to make use of summer's glut: