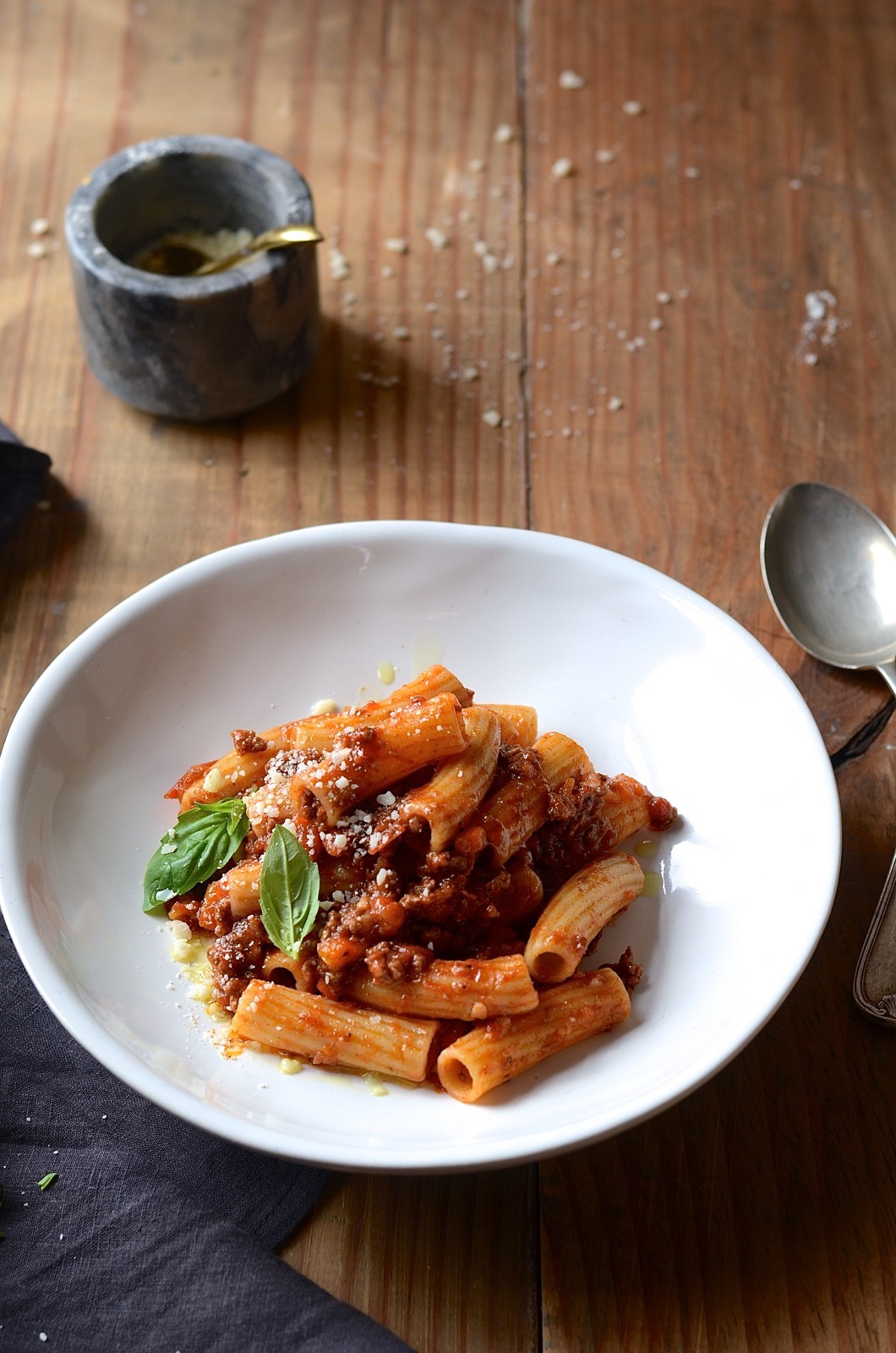 In September we'll be kicking off our Summer cooking classes with food that synonymous with conviviality. Of course, it can only be Italian. I'm taking inspiration from my recent visit to Bologna. You can read about it HERE. In preparation for the classes, there's a fair amount of recipe testing, (and eating) involved. Only the best recipes make it onto the menu. With our recent spate of grim weather, we headed indoors, lit the fire and poured the wine. We also made pasta. Here's the recipe for my red wine ragu with rigatoni.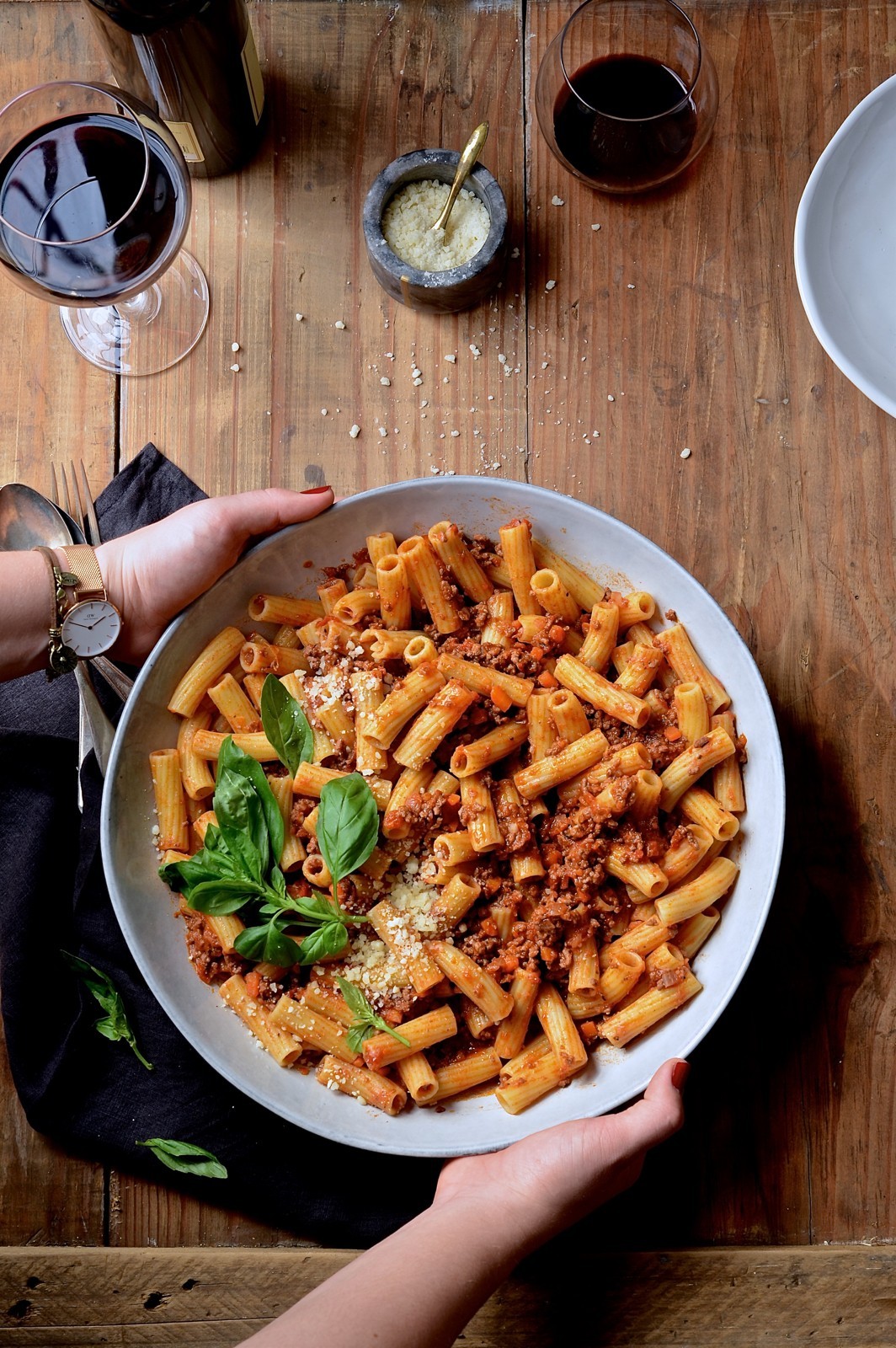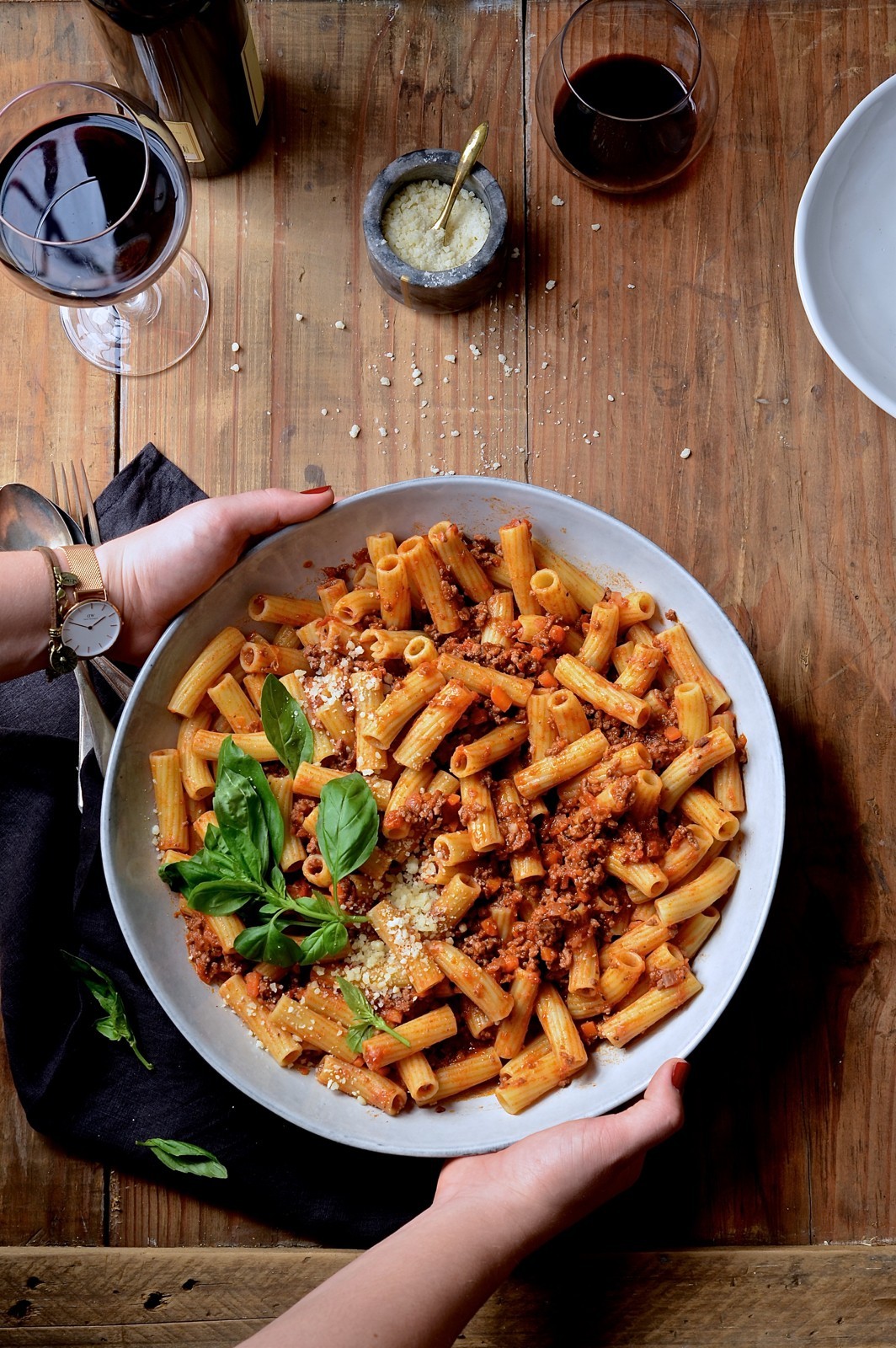 The success of a good pasta hinges on the sauce. This meaty sauce is my take on the classic Bolognese. I've based it on the countless versions we ate in Bologna. As with most successful Italian dishes, it's made with simple ingredients and lots of love. As to the definitive recipe, each family has their own. I think this might be ours. It's the kind of recipe you can put in your back pocket. It's dependable and always delivers. I usually make double, using one and freezing the other for nights when I don't feel like cooking.


Red wine Ragu with rigatoni
2 tablespoons olive oil
1 large onion, finely diced
2 carrots, peeled and finely diced
1 garlic clove, minced
500g lean, free-range beef mince
1 stem fresh rosemary, finely chopped
1 teaspoon dried oregano
1/4 teaspoon mixed spice
1 teaspoon salt
freshly cracked black pepper
3/4 cup red wine (I used a good Merlot)
2 tablespoons tomato paste
800g tinned tomatoes, chopped
1 teaspoon sugar
1/2 cup beef stock
3 bay leaves
400g rigatoni pasta
freshly grated parmesan, to serve
fresh basil, to finish
Heat the olive oil in a deep saucepan and sauté the onion and carrots until softened.
Add the garlic and cook for a further 2 minutes.
Now add the mince cook on a high heat until well browned. Add all the herbs and season with salt and pepper.
Deglaze the pan with the wine and reduce by half.
Add the tomato paste, tinned tomatoes, sugar, stock and bay leaves.
Simmer for 1 hour until the liquid is reduced and the sauce is thickened.
In the meanwhile, cook the pasta in plenty of well-salted, boiling water.
Reserve 1 cup of pasta cooking water before draining.
Tip the pasta into the sauce and toss to coat.
Finish with fresh basil and parmesan cheese.
This post was sponsored by Daniel Wellington. To qualify for 15% discount check out the summer campaign at www.danielwellington.com where you get a free strap when you buy a watch. Use my code "BIBBYS" for additional 15% off your purchase! Free worldwide shipping is included!"