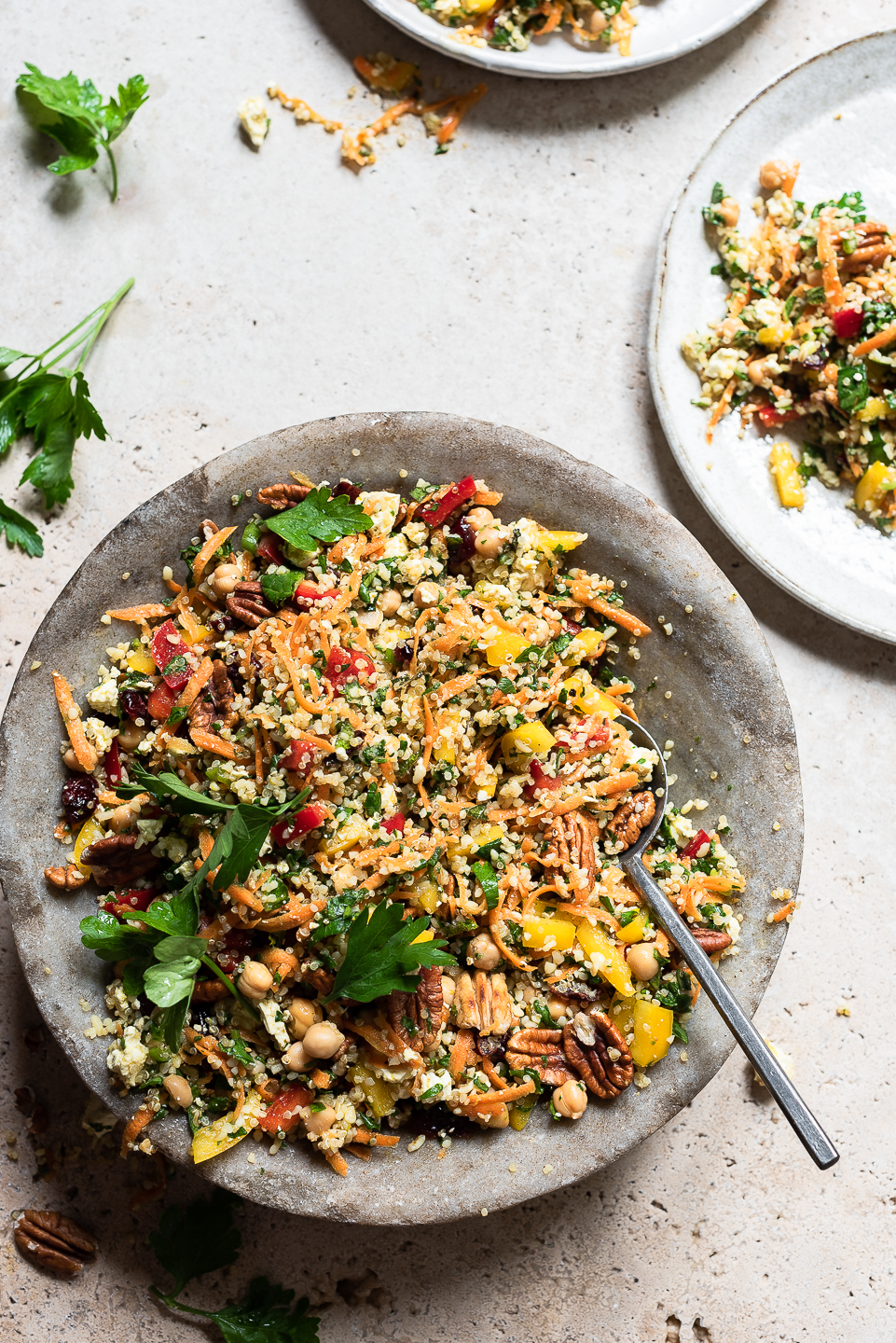 This is how I love to eat. Flamboyantly colourful food with convincing flavours and lively personality. Whether you choose to serve this quinoa detox crunch bowl alongside grilled kebabs hot off the coals, or as part of a vegetarian main, good salads are  summer essentials. Proof that healthy and delicious coexist. The success of whole bowl food hinges around gutsy flavours and interesting combinations. This recipe will not disappoint.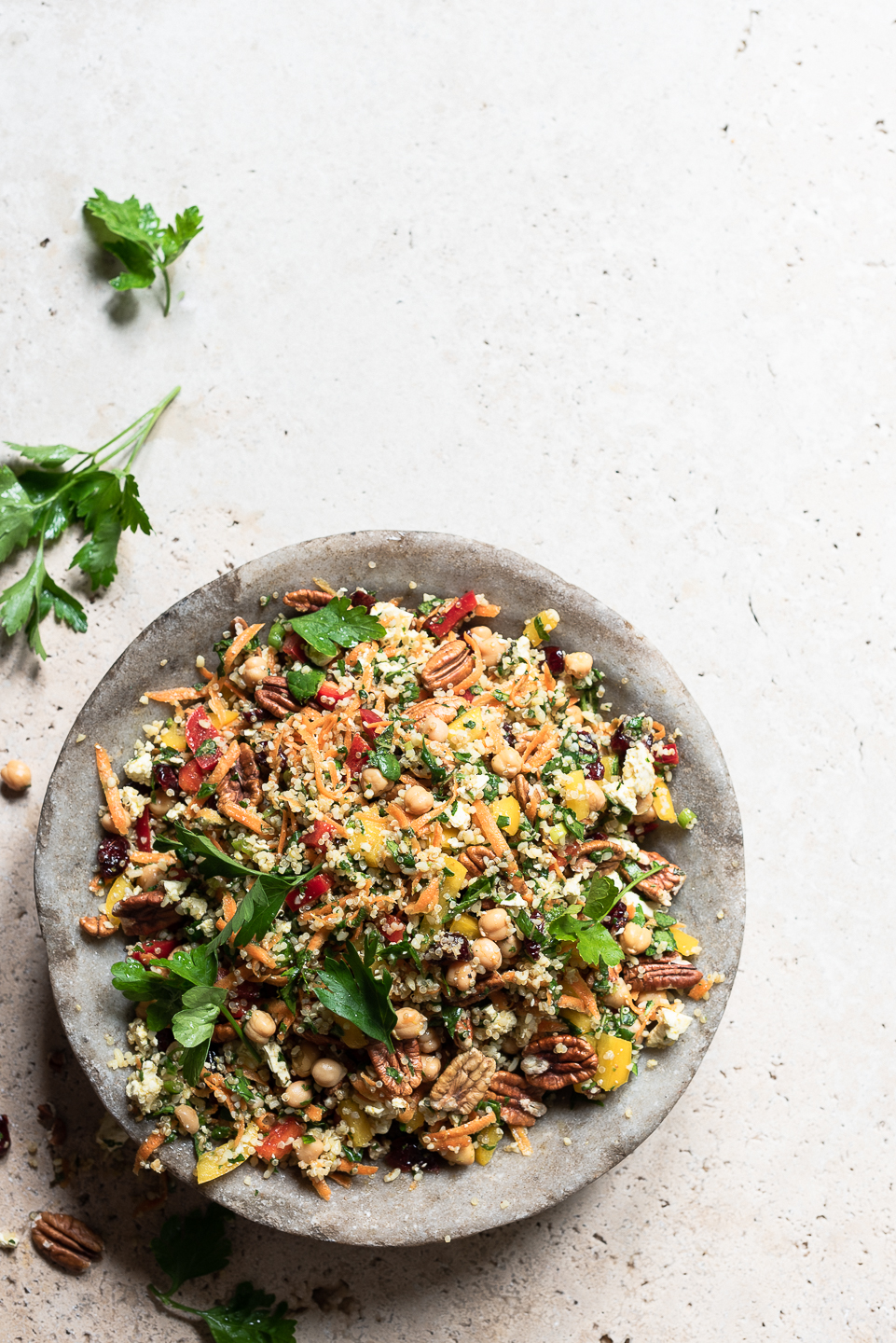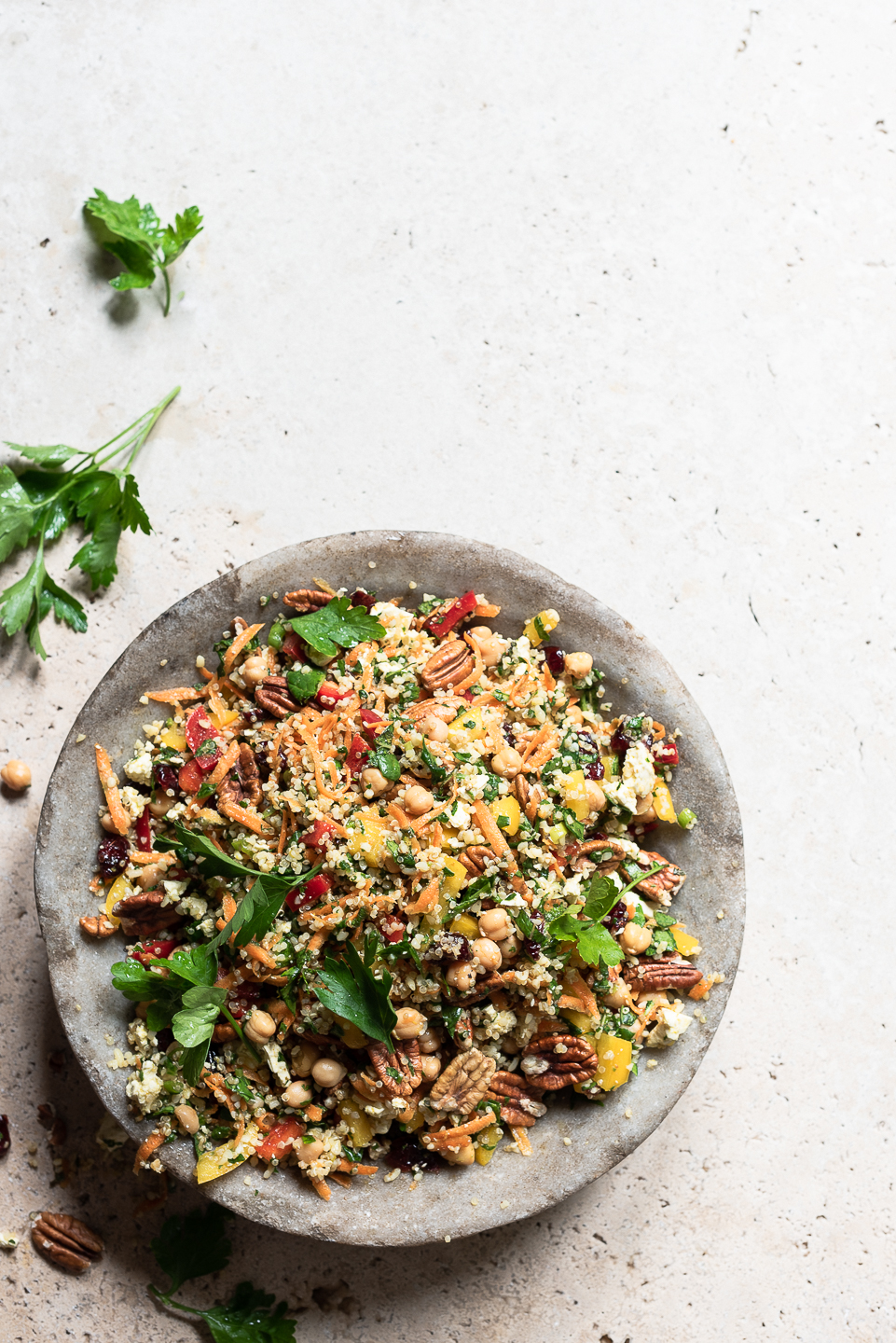 Some of the best recipes begin with what we have in the fridge and pantry cupboard. For the salad I've used quinoa and bulgur wheat. You can use whichever grains you have on hand, though. Wild rice, brown basmati, even barley or couscous will do. It's about having something starchy to absorb the dressing and giving the salad substance. As far as nuts and seeds go, once again, use what you have or prefer.
A couple of things to bear in mind when making grain bowls:
Ensure the grains are properly air-dried before combining with other ingredients
Lemon and orange zest add intense citrusy flavour without bitter acidity, so include both in the dressing
A squidge of honey balances the salt and subdues acidity
Always toast nuts and seeds for flavour. Add these to the salad just before serving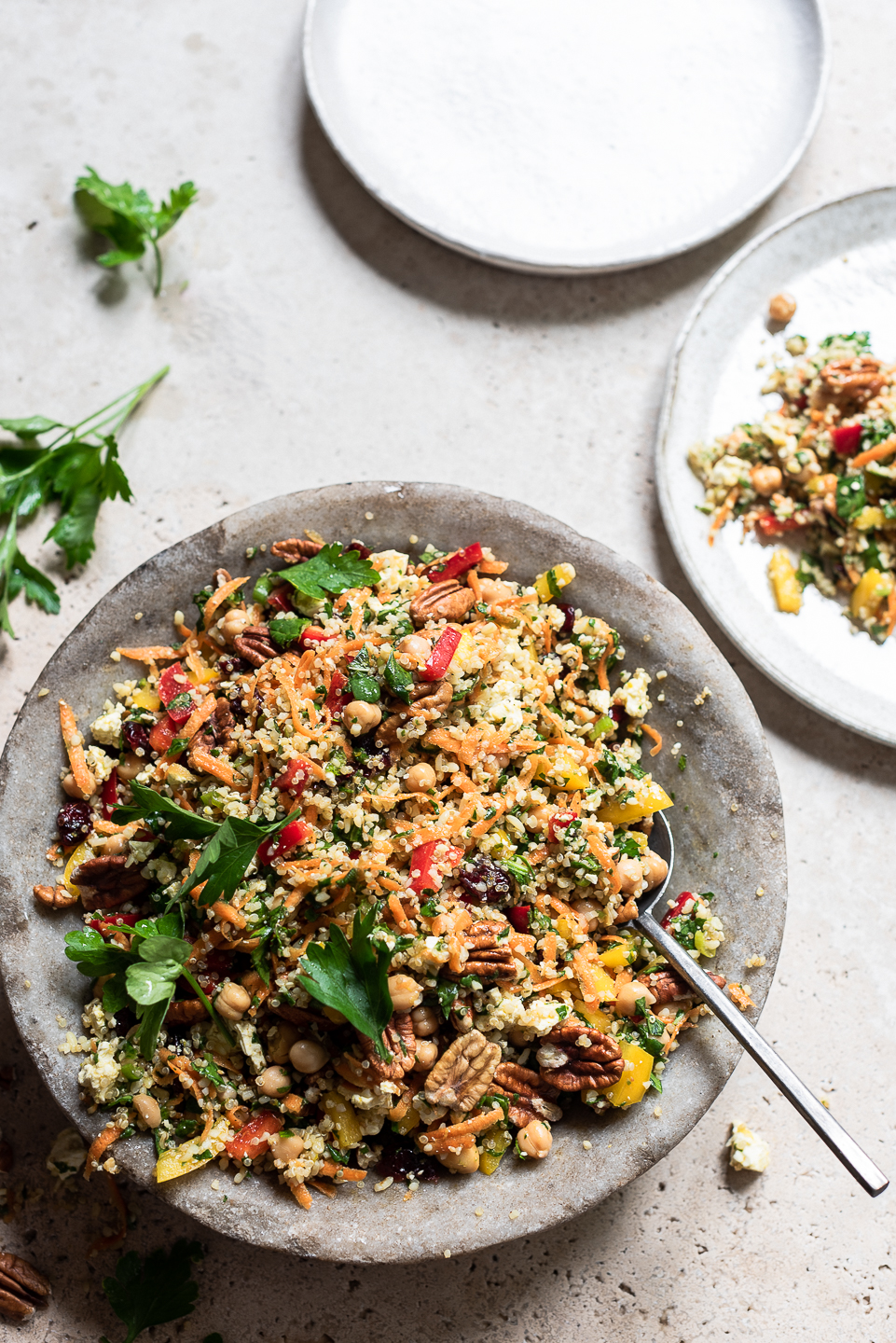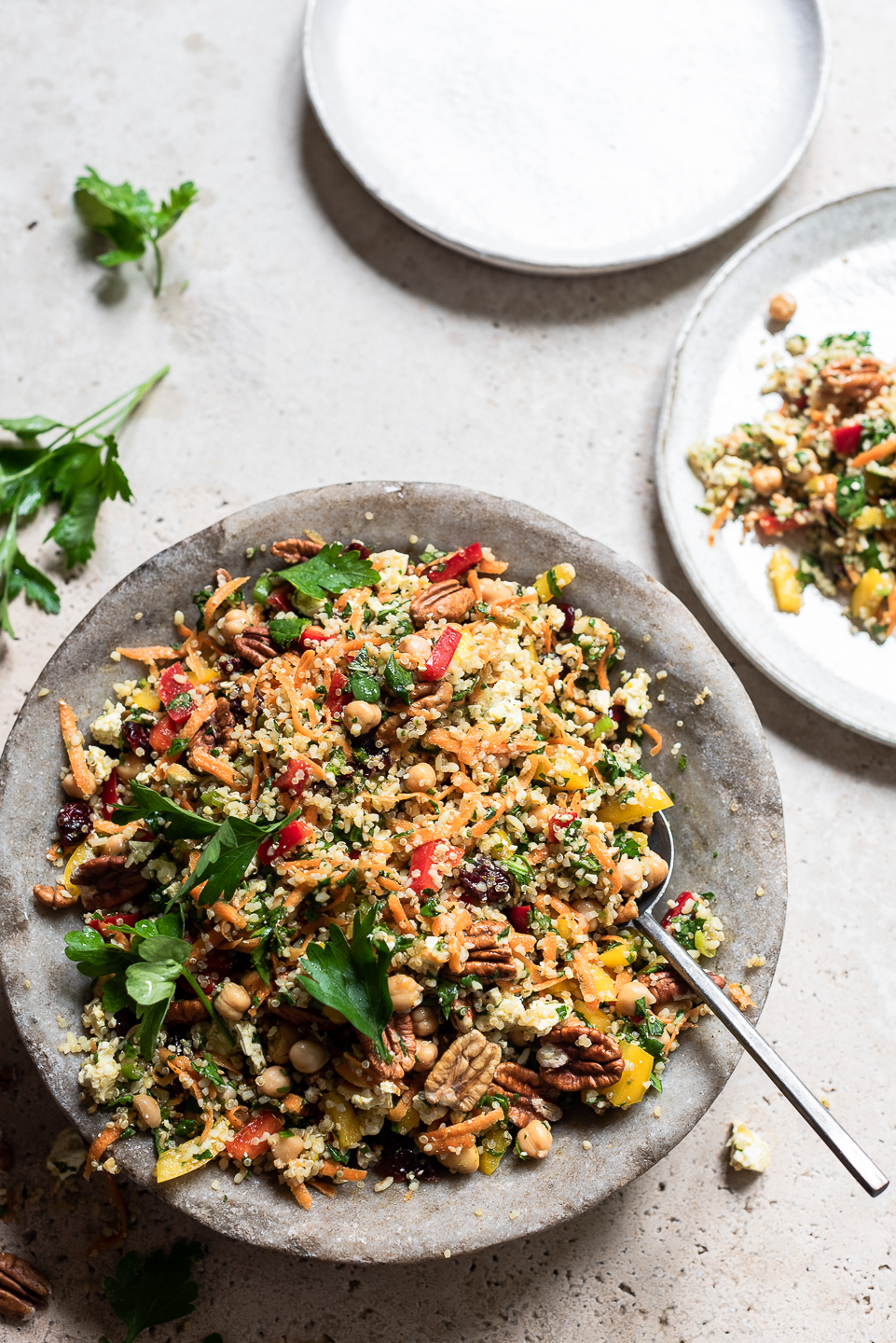 Quinoa Detox Crunch Bowl
Serves 8-10
1/2 cup quinoa
1/2 cup bulgur wheat
2 large carrots, scrubbed and grated
1 of each, red and yellow sweet peppers, deseeded and diced
generous handful baby spinach leaves and rocket, roughly chopped
a handful flat leaf parsley and mint, leaves picked and roughly chopped
400g tin chickpeas, rinsed and drained
1/4 cup dried cranberries
1/3 cup pecan nuts, toasted
100g feta, crumbled
Dressing
60ml (1/4 cup) extra virgin olive oil
zest of 1 lemon
45ml (3 tablespoons) lemon juice
zest of 1 orange plus juice of half (about 45ml)
1 1/2 teaspoons ground coriander
10ml (2 teaspoons) honey
sea salt flakes and freshly ground black pepper, to taste
Cook the quinoa as per the manufacturers instructions. Do the same for the bulgur wheat.
Place the cooled quinoa and bulgur wheat in a large mixing bowl. Add all the remaining salad ingredients and toss lightly together.
For the dressing, place all the ingredients in a jam jar and shake to combine.
Pour the dressing over the salad and toss to coat. Transfer to serving plate and scatter with extra pecans just before serving.
More textural grain bowls we love:
Wild rice salad with sweet peppers