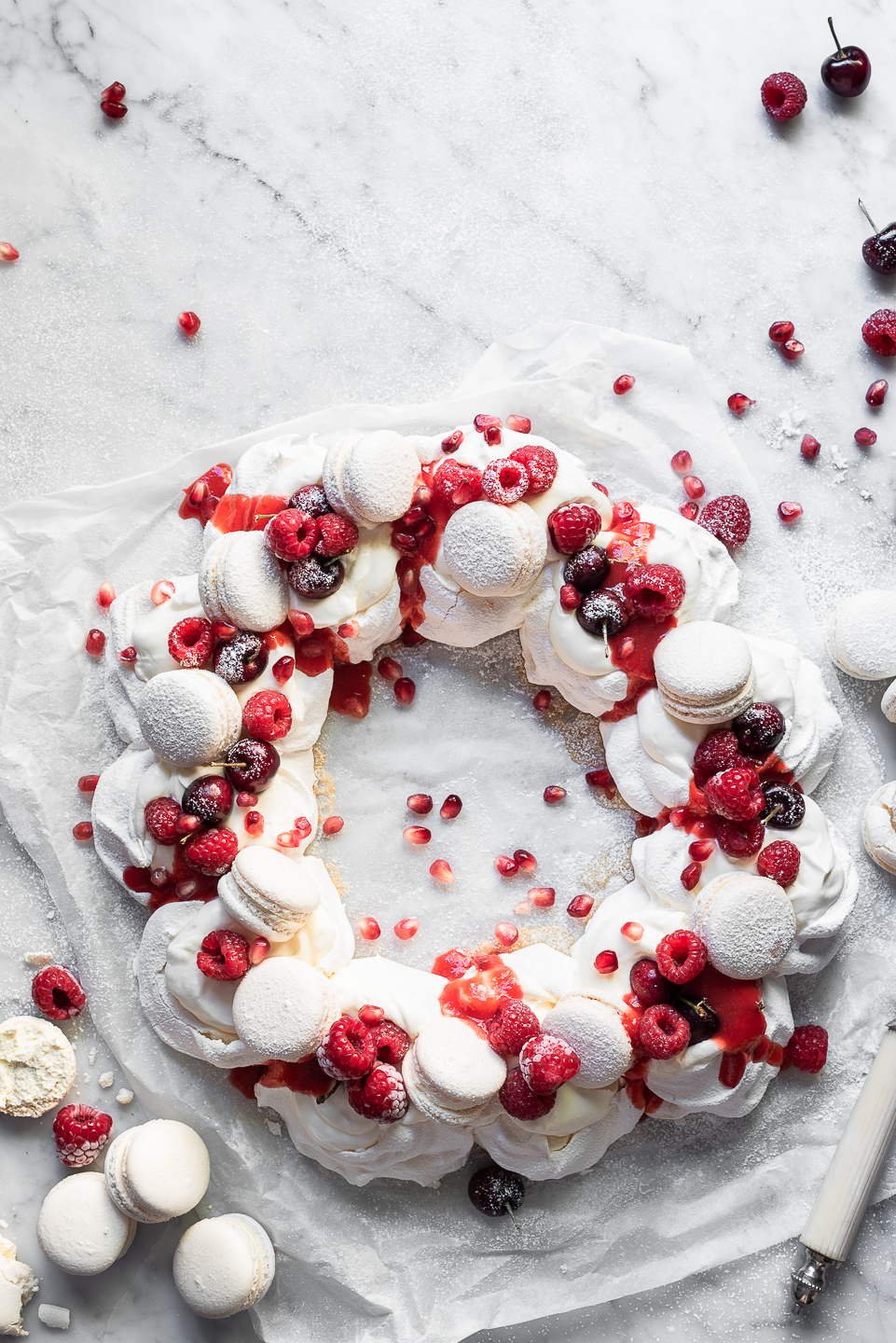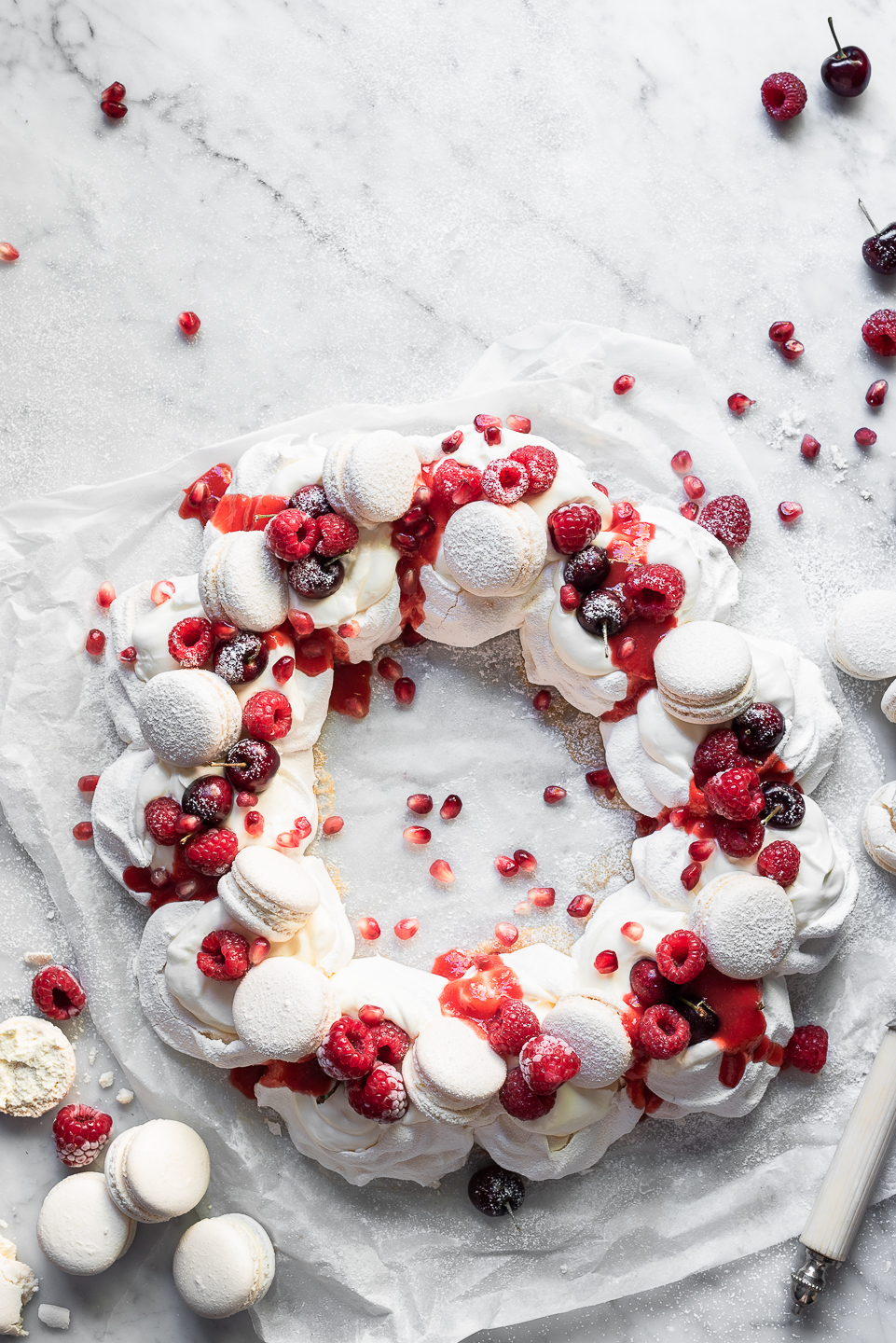 Deciding on a dessert or, as is most often the case, the plural there-of,  is for me the most challenging part of the festive menu. Which is why I make several, maybe more? For traditionalists, there's always a warm baked pud, a corrupt chocolate tart and, something light and fruity. As wreathing food is customary, I'll be making a Pavlova and Macaron Wreathe. Besides being one of the easiest desserts to make ahead, it's also the dessert of choice if you are gluten-intolerant .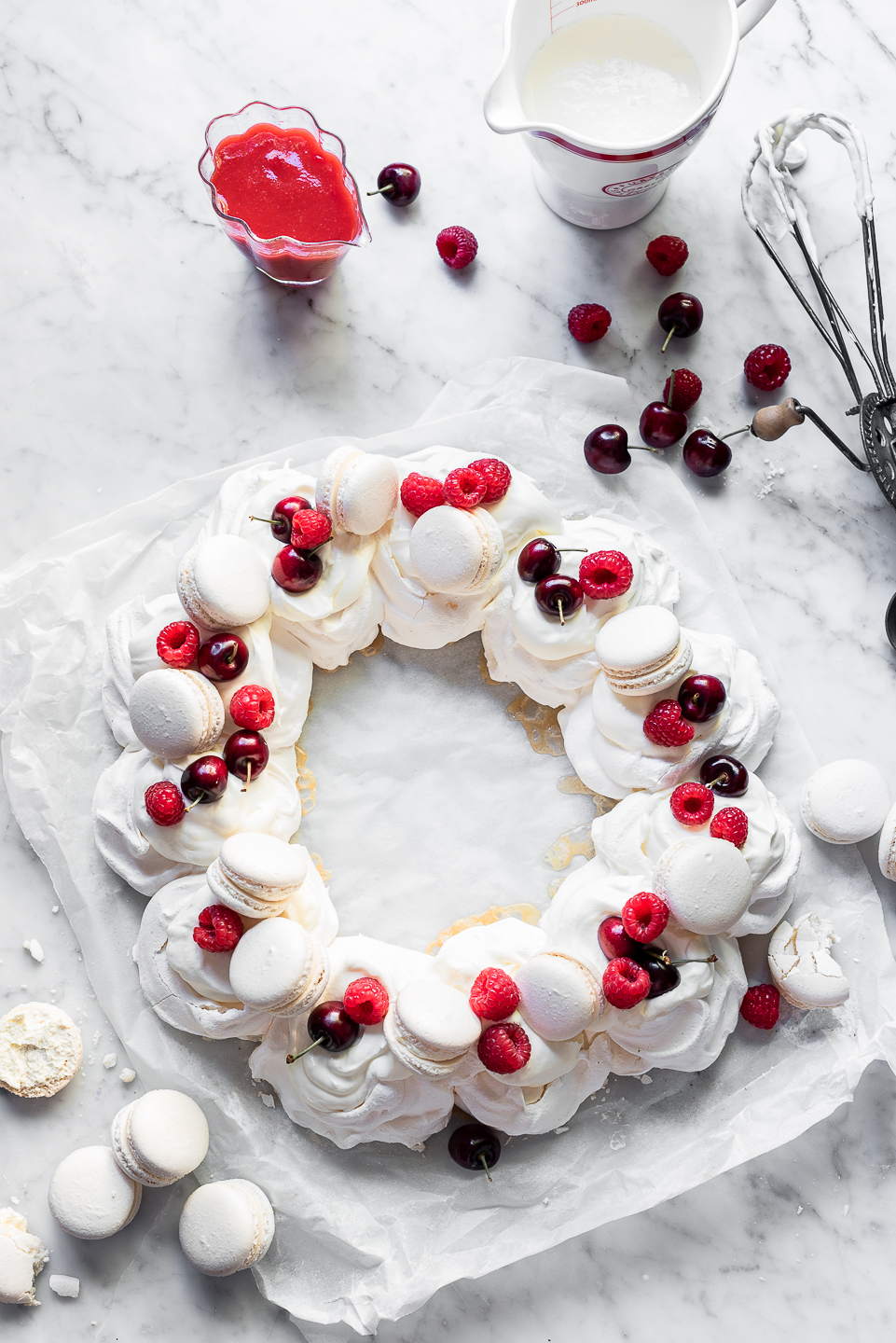 Pavlovas need not be precise or fussy. Their free-spirited nature will see them pouf-ing up in the oven before deflating slightly before relaxing into a somewhat craggy crisp shell. To shape the wreathe, huddle the meringue nests side by side to form a white garland. Once baked, make sure it is completely cooled before festooning with coconut macarons and ruby red embellishments.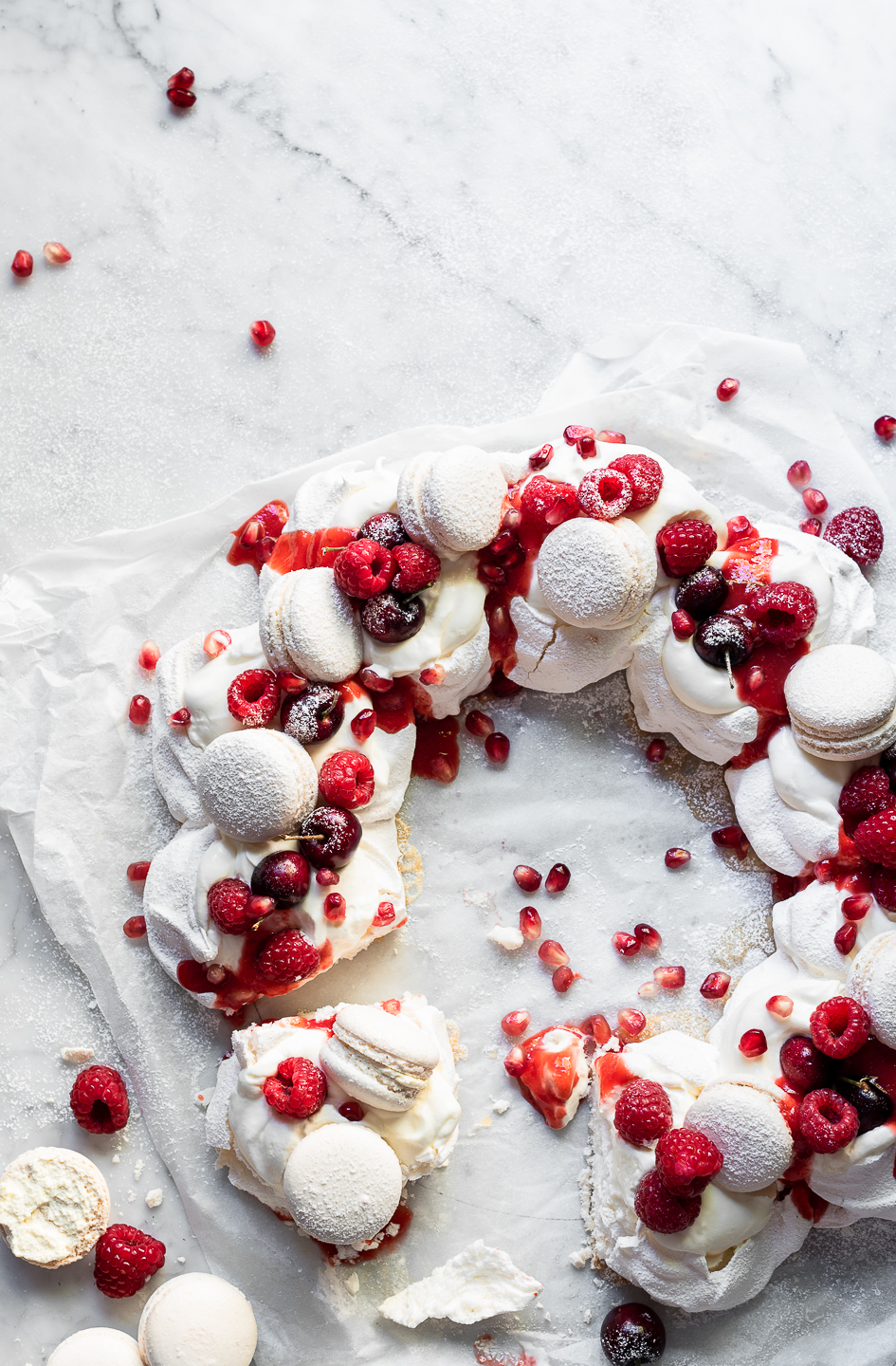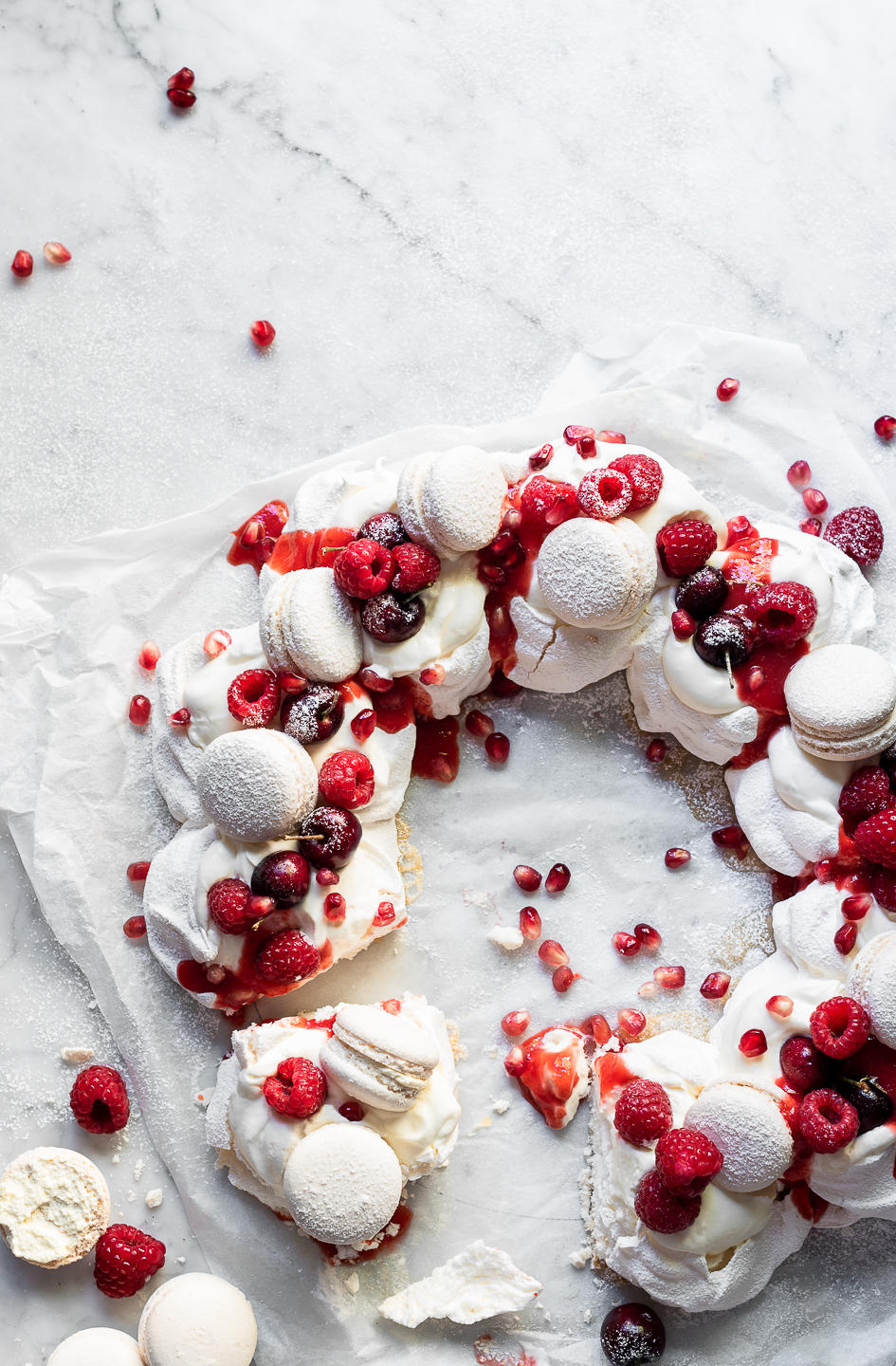 How to avoid pavlova calamity:
Make sure the mixing bowl is squeaky clean and grease-free
Cold, fresh egg whites make the best meringue foam
Adding a pinch of fine salt to the whites before whisking together
Vinegar and cornflour stabilise the meringue and aid a chewy interior
Add the castor sugar slowly, one tablespoon at a time
Baking at a lower temperature ensures a pale meringue colour
Cool completely in the oven with the door slightly ajar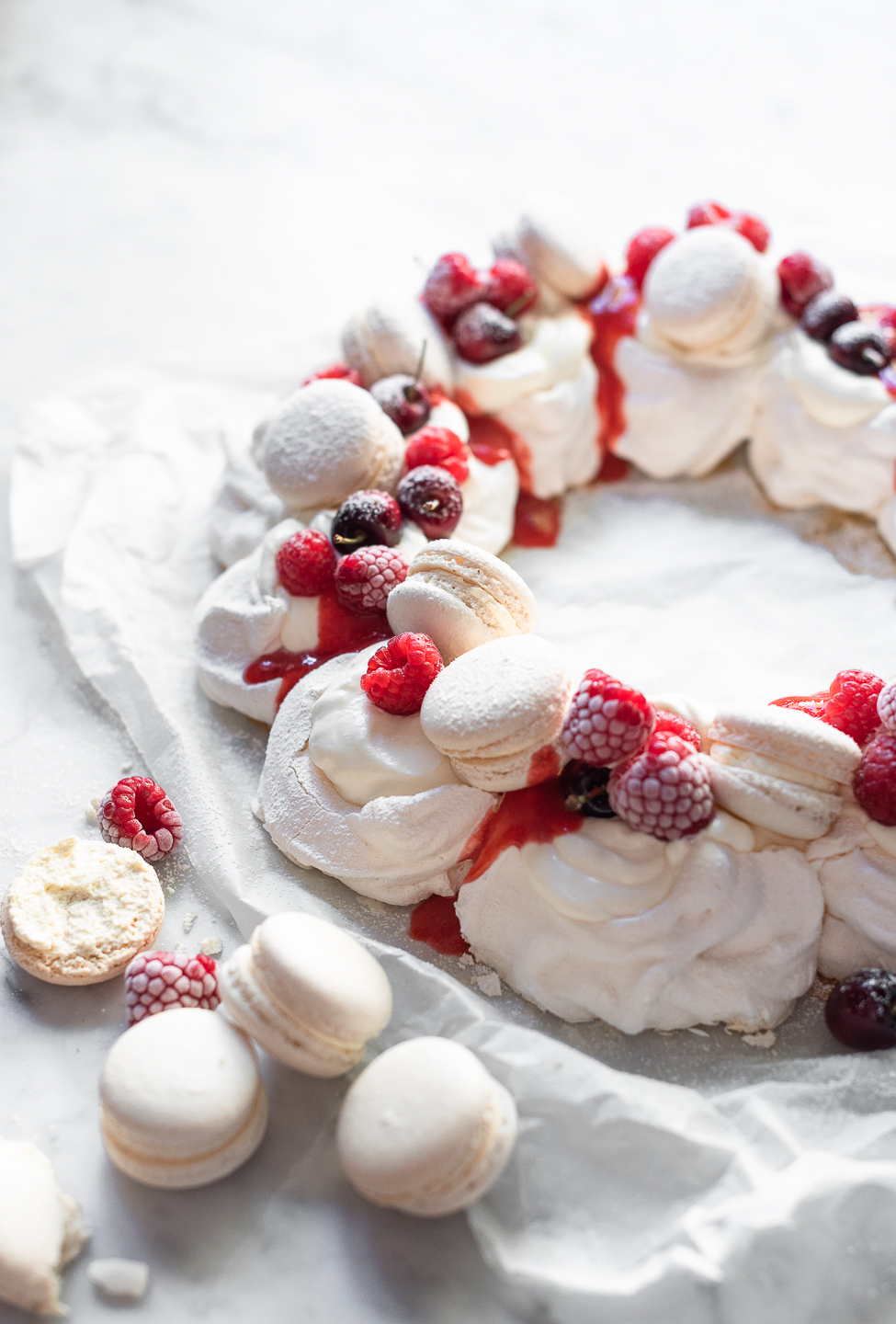 Pavlova Macaron Wreathe 
Serves 10-12
Pavlova
6 egg whites
a pinch of salt
300g (1 1/2 cups) castor sugar
5ml (1 teaspoon) vanilla extract
5ml (1 teaspoon) red wine vinegar
10ml (2 teaspoons) cornflour, sifted
To finish
500ml (2 cups) fresh whipping cream
5ml vanilla extract
10-12 white macarons
1 1/2 cups raspberries and cherries combined
250ml (1 cup) fresh berry coulis ( see notes )
pomegranate arils (optional)
icing sugar, to finish
Preheat the oven to 150º C. Line a large baking tray with parchment paper. Trace a large circle (23-25cm) on one side of the paper.  Turn the paper over with the pencil tracing now on the underside.
Place the egg whites and salt in a large grease-free mixing bowl.  Whisk until frothy, then slowly add the castor sugar, one tablespoon at a time, beating well between each addition. Once the sugar is completely dissolved and the mixture glossy,  add the vanilla and whisk lightly to combine.
Add the vinegar and cornflour and fold through gently.
Dollop heaped spoonful measures onto the baking paper following the circle outline. Swirl to shape, making a slight hollow in the centre of each nest.
Turn the oven down to 110º C and bake for 1 hour 45 minutes. Cool in the oven with the door slightly ajar. Lift the paper carefully from the tray and place on a wire rack to firm up.
Whisk the cream and vanilla together to soft peak stage. Transfer the pavlova to a serving large serving plate or board. Spoon generous amounts of cream into each hollow. Dust with sifted icing sugar. Drizzle over about a third of the coulis, serving the remainder alongside.
Finish with macarons, berries and shower with pomegranate arils, if using.
Cook's note: The macarons are not essential but rather fabulous. I'd love to say I made them myself, but I didn't. These delicate dainties were made by talented macaron-er, Annette Stonal. If you'd like to order from Annette in future, please contact me via email. 
How to make a simple strawberry coulis.
Place 1 cup of sliced strawberries in a saucepan. Add a squeeze of lemon juice and a 1/3 cup castor sugar. Bring up to a boil and simmer for 3-5 minutes. Transfer to a blender and blitz until smooth. Strain to remove seeds. Cover and chill until ready to serve.
For pavlova lovers:
Hot cross bun pavlova with red wine figs
Persian Pavlova with Vanilla Yoghurt Cream