Hot cross bun pavlova with red wine figs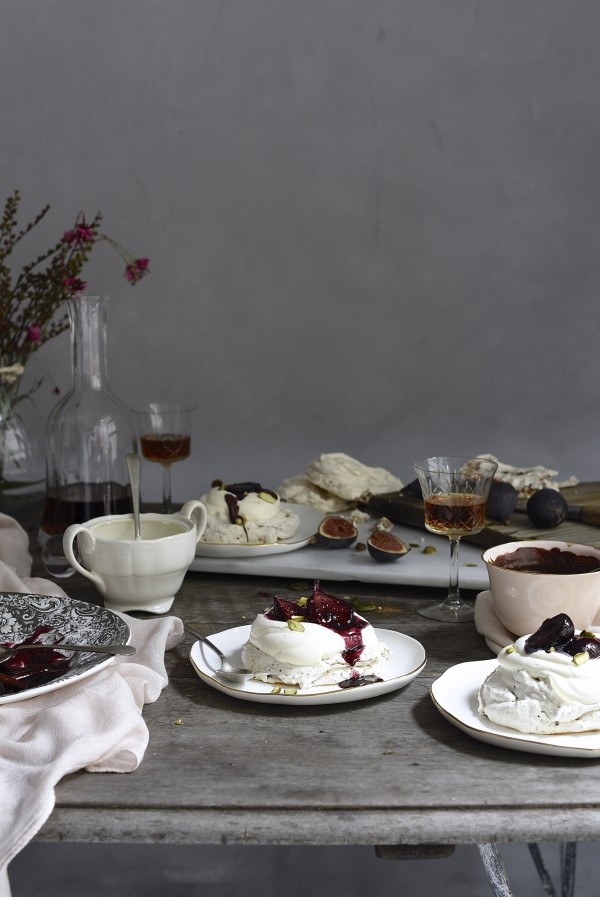 Some might say that a good hot cross bun needs little else other than a thick smear of butter and a hot cup of tea. And that would be true. But why stop there when Hot cross bun pavlova with red wine figs are in the offing? Crispy meringue clouds with a soft cinnamon bun chewy centre. Dollop over some loosely-whipped cream and crimson-stained red wine figs. Who can resist such sweet seduction? Not me, for sure. If you're looking for an impressive yet easy recipe to floor your guests this Easter, this unforgettable pavlova is it.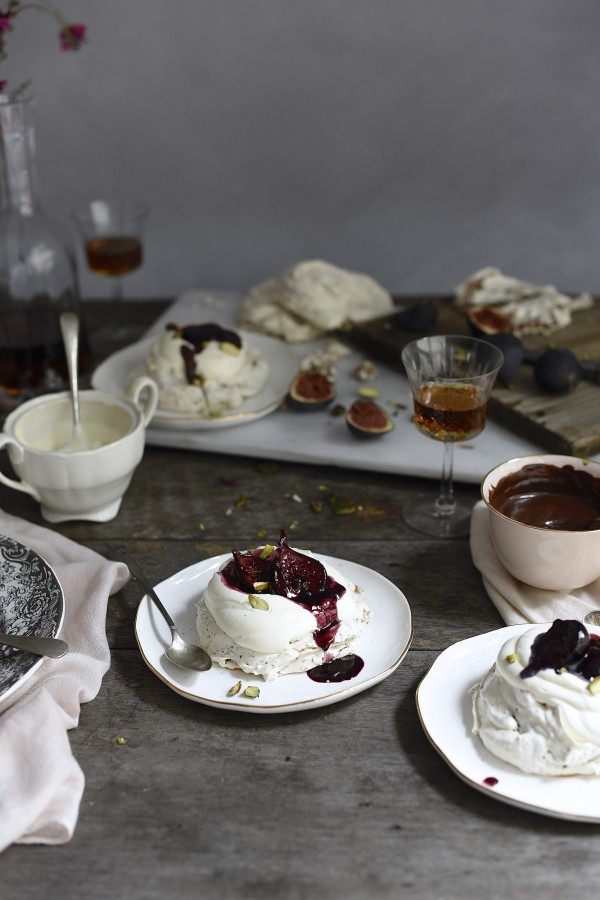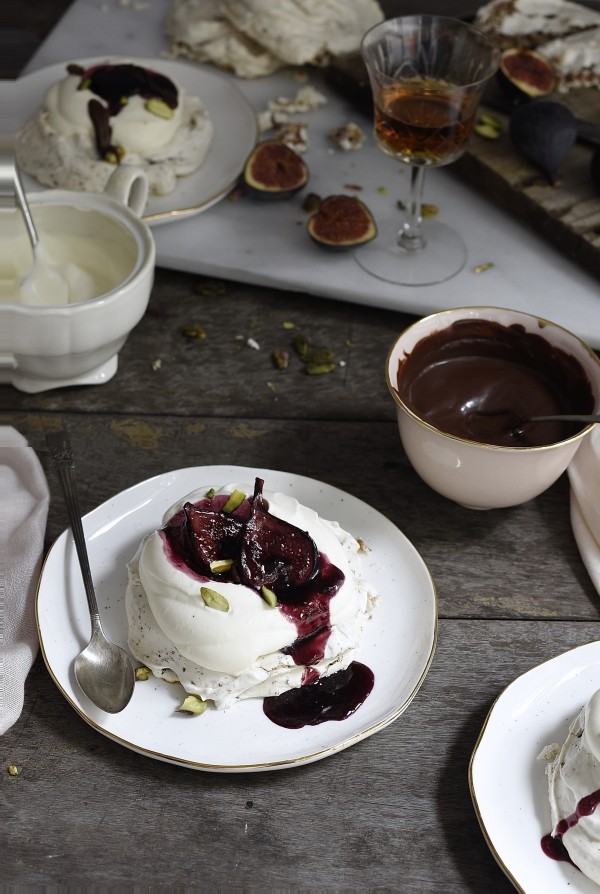 My measure for deliciousness is when I can't wait to wrap up a shoot so I can swoop in for a taste. And this is exactly what happened here. Deciding on which I loved more, the chewiness of the hot cross bun meringue or the sultry spiced figs, was a tough call. In the end it's less important where favour falls, except to say that it's a blissful union of textures and exotic tastes. It's these unusual combinations and explorations that make food unforgettably memorable.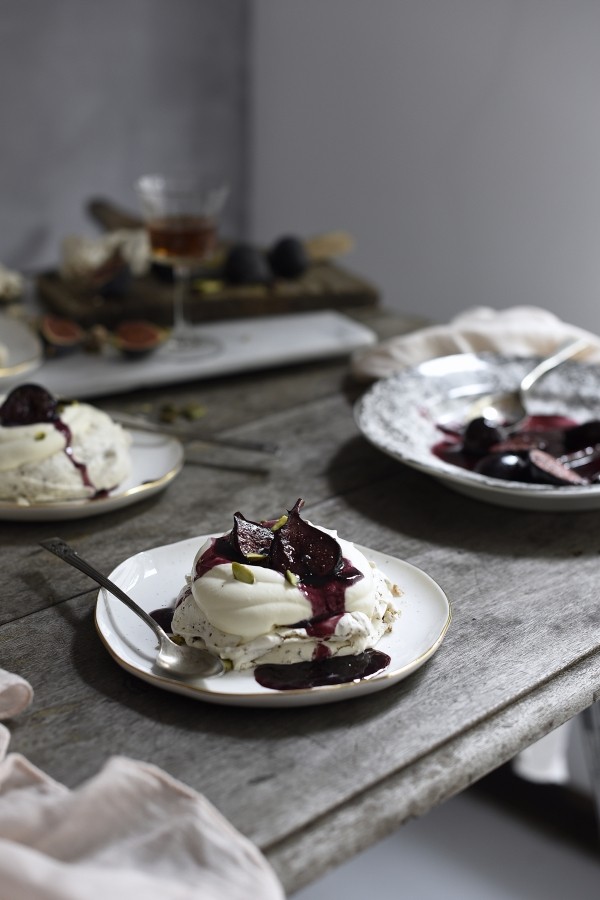 This recipe comes in very handy should you find yourself with two odd hot cross buns looking for a purpose. Think of it as up-cylcing. One day a common bun and the next day, parading around like the bees knees, being impossibly tempting as the Easter showstopper. I think it's the kind of cooking our grandmothers were particularly good at. Making much out of kitchen sparsity and leftovers. If you're wondering how we go from bun to pav, read on……..
BK handy hint: Because the hot cross buns contain a degree of moisture, the pavlova texture will be slightly softer than what you'd expect from a classic meringue. They also need to  be lifted gently to prevent breaking. Cracking is the nature of meringue so don't fuss too much. Nothing a blanket of snowy cream can't disguise. As far as the figs are concerned, you can swap them for pears, nectarines or grapes if you prefer. For children, pomegranate juice or orange juice syrup is a good substitute to the red wine. I hope you love this dessert as much as we do. A blessed Easter to you all.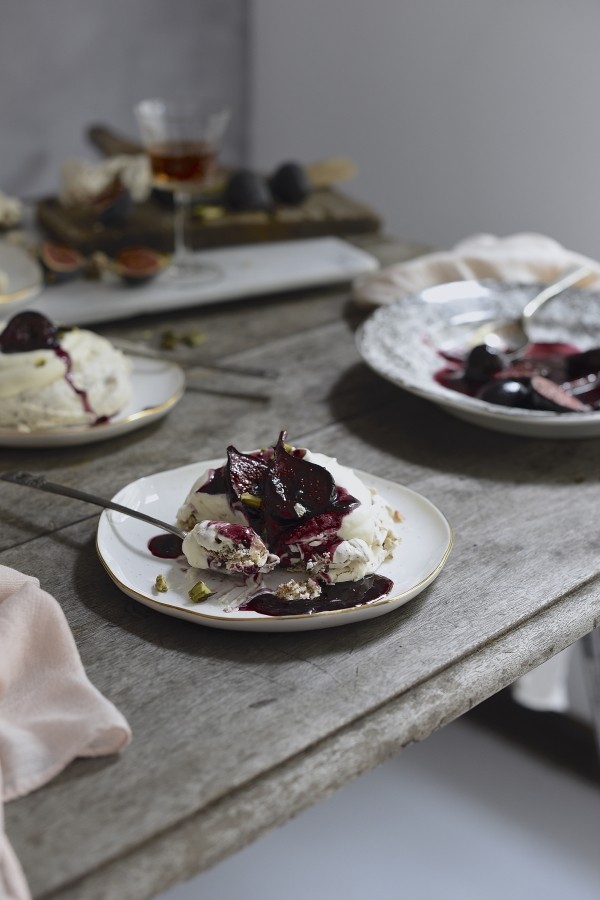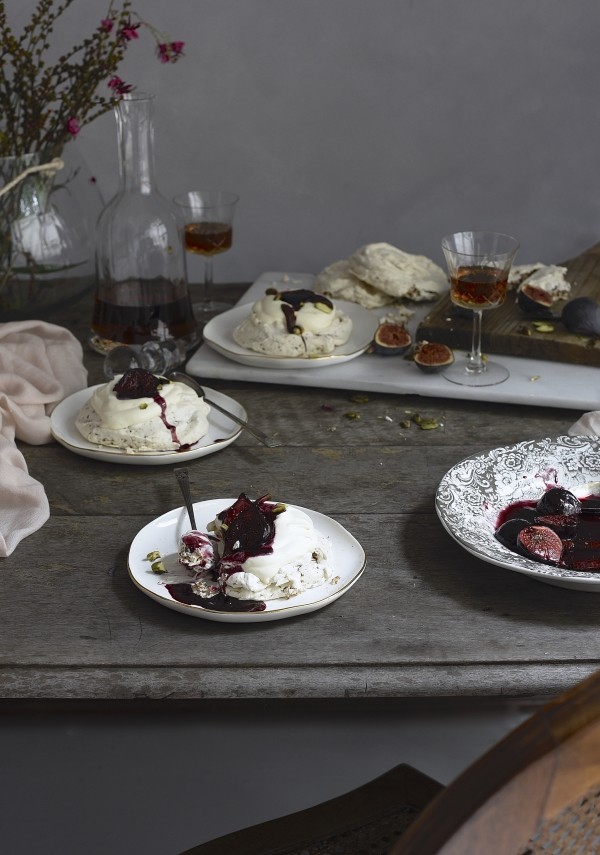 Hot cross bun pavlova with red wine figs
Serves 8
2 hot cross buns, centre cross strip removed
5 egg whites
a pinch of fine salt
1 cup castor sugar
2 teaspoons (10ml) cornflour
1 teaspoon ground cinnamon
2 teaspoons (10ml) red wine vinegar
10-12 firm, but ripe figs, halved
1/4 cup demerara sugar
3/4 cup red wine (Merlot)
2 sticks cinnamon
a handful of toasted pistachio nuts, roughly chopped
250ml fresh cream
Preheat the oven to 150° C.
Line a large baking sheet with parchment paper and spray with non-stick cooking spray.
Place the hot cross buns in a processor and blitz until fine breadcrumb stage.
Beat the egg whites and salt in an electric mixer until frothy.
Slowly add the castor sugar, one tablespoon at a time, until the meringue is glossy and stiff.
Sift in the cornflour and cinnamon and then add the red wine vinegar. Fold through to incorporate.
Add the hot cross bun crumbs to the meringue and fold through lightly.
Spoon onto the baking sheet, allowing plenty of space for spreading. This mixture should make at least 8 nests.
Turn the oven down to 120º C and bake for 1 hour 30 minutes.
Allow to cool in the oven.
To make the figs, scatter the sugar into a pan, add the cinnamon sticks and red wine. Bring up the boil. Over a high heat, reduce by two thirds or until syrupy and thick.
Place the figs, cut side down, in the hot syrup and cook for a further 3-4 minutes. The figs should soften but not be falling apart. Set aside to cool.
Whip the cream until it holds its shape.
To assemble the pavlova, dollop generous spoonfuls of cream onto each nest, top with cooled figs, red wine syrup and pistachio nuts. Serve immediately.
For more easy Easter baking, be sure to skim through these….
Chocolate Easter egg surprise cake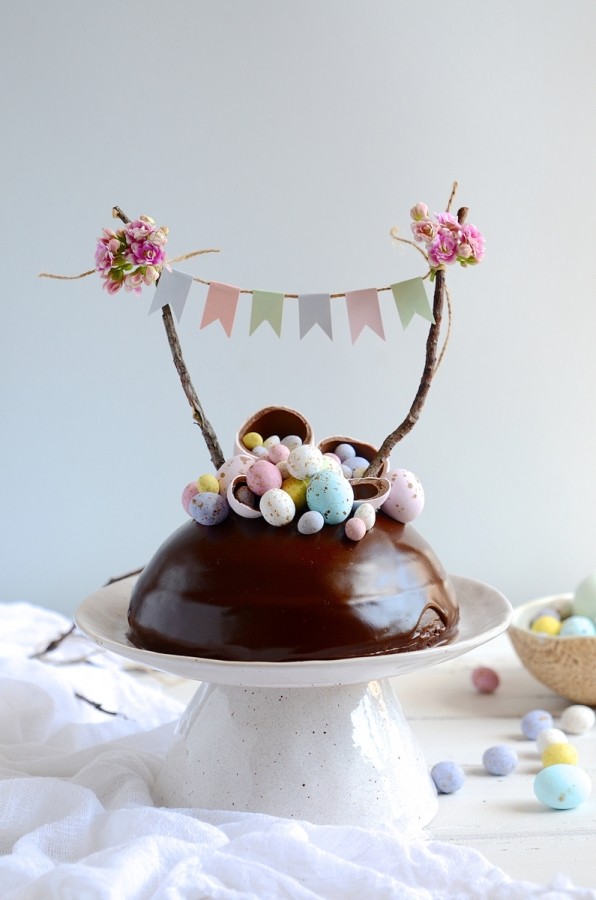 Easter egg cups with white chocolate mousse and lemon curd yolks + Baked Nutella chocolate mousse torte