North African Lamb Tagine with chickpeas and apricots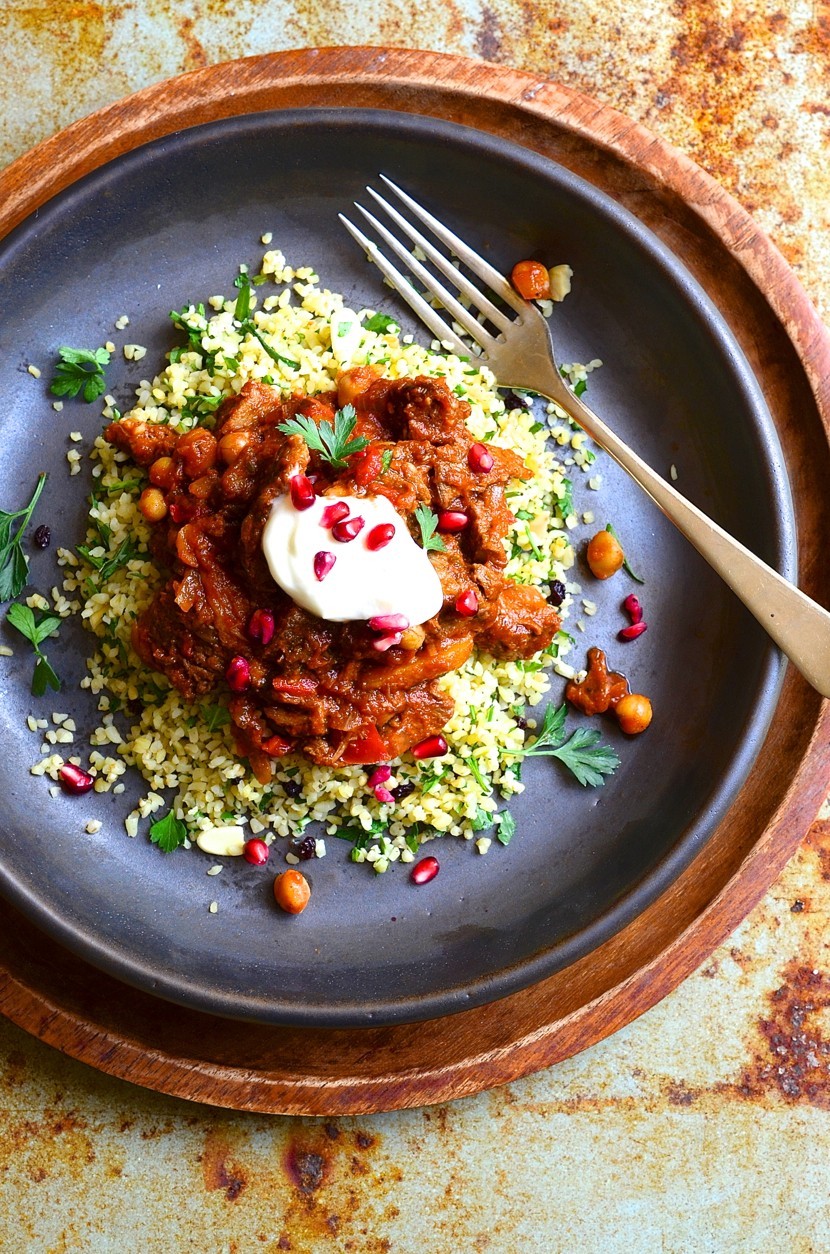 You might want to consider making a lamb roast for Sunday lunch, with the sole purpose of leftovers. For my North African Lamb Tagine, leftovers become the hero of the dish. It proves once again that frugality can give rise to some of the most creative and mouth-watering meals. This North African hotpot of succulent lamb with earthy spices, sweet peppers and chickpeas is loosely inspired by the famed Moroccan Tagine. It reflects the bold and colourful flavours of Marrakech.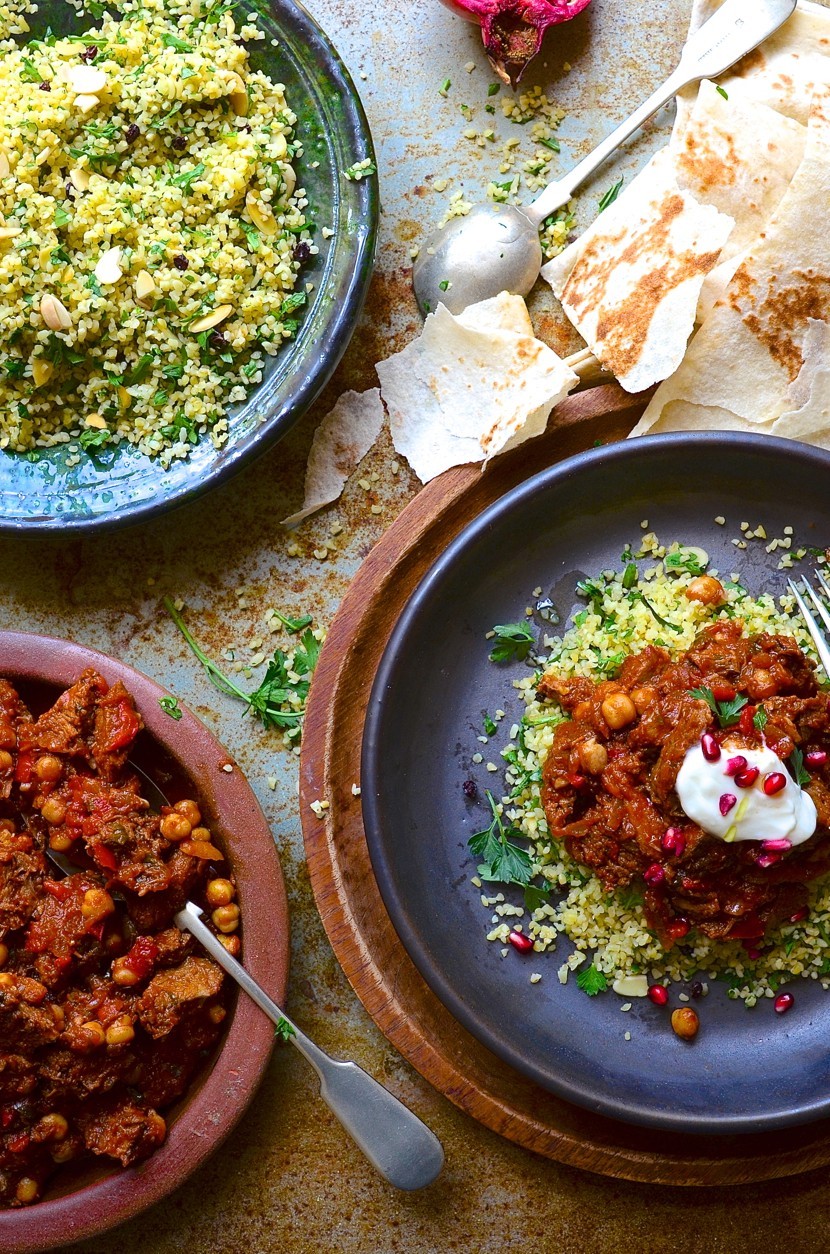 Scrolling down you'll probably waver for a moment as you take stock of the rather extensive list of ingredients. A further look-in should settle any uncertainty when you see the shortest of cooking methods. All this flavour with very little effort. Fortunately most are pantry staples and readily available. As with a good curry, the flavour of this tagine will improve if made the day before and left to intensify and mature overnight. That's to say, if you can resist tucking in zealously with the aim of immediate gratification.
Tagines are centred around communal sharing. I serve this warming lamb stew with a currant and herbed couscous salad, Turkish flatbreads and some thick, creamy yoghurt. This versatile carrot and cranberry bulgur wheat salad is standby that I return to time and again. If you want to go for an epic, all-in-street-food kinda vibe, layer everything up into the flatbread and roll up. Awesomeness!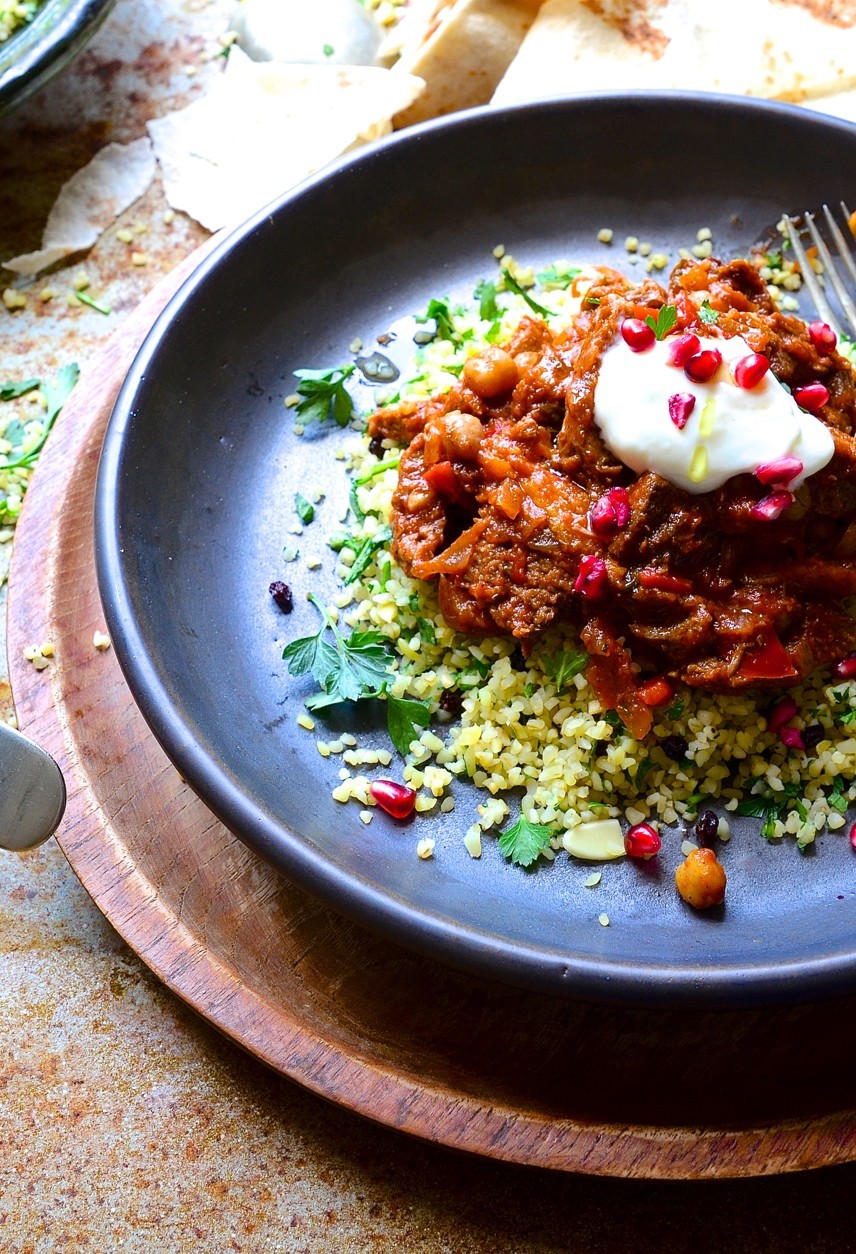 North African lamb tagine with chickpeas and apricots
Serves 4-6
2 tablespoons olive oil
1 red onion, diced
1 clove garlic, minced
1 red pepper, deseeded and roughly chopped
1 teaspoon ground cumin
1 teaspoon ground coriander
1/2 teaspoon all-spice
1/4 teaspoon dried red chilli flakes
zest of half a lemon, or preserved lemon, if you prefer an intense hit of salty-sour
2 tablespoons harissa paste
1 teaspoon brown sugar
400g left-over, cooked lamb pieces
375ml tomato passata
500ml weak chicken stock
400g tin chickpeas, rinsed and drained
50g Turkish apricots, roughly chopped
a spritz of lemon juice
1/4 teaspoon salt
handful fresh coriander or flat leaf parsley, roughly torn
Greek yoghurt and pomegranate arils, to serve
Sauté the the onion in the olive oil until soft and slightly caramelised. Add the garlic and red pepper and cook for a further 5 minutes. Now add the cumin, coriander, all-spice, chilli, lemon zest, harissa paste and sugar. Dry fry the spices for a minute or two. This will meld and intensify the flavours. Add the lamb pieces and stir to coat in the spice mix. Add the passata, chicken stock, chickpeas and apricots. Place the lid on and simmer for approximately 40-45 minutes until the sauce is reduced and thickened. Taste and adjust the seasoning if necessary. Freshen the flavours up with a squeeze of lemon juice. Serve with currant and almond bulgur wheat salad and roughly torn coriander or flat leaf parsley, if you prefer. Spoon over some cooling Greek yoghurt and pops of sweet pomegranate arils.