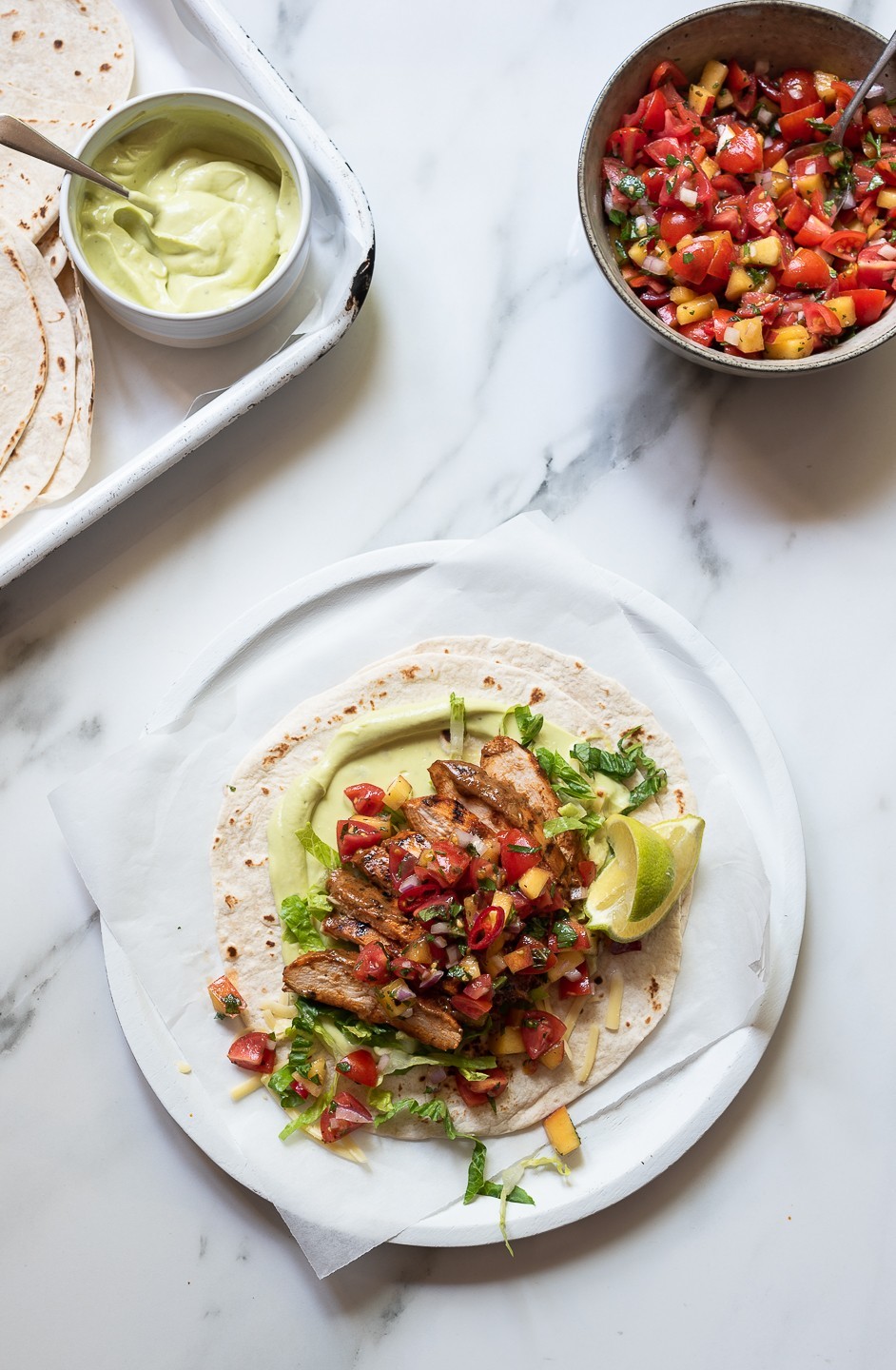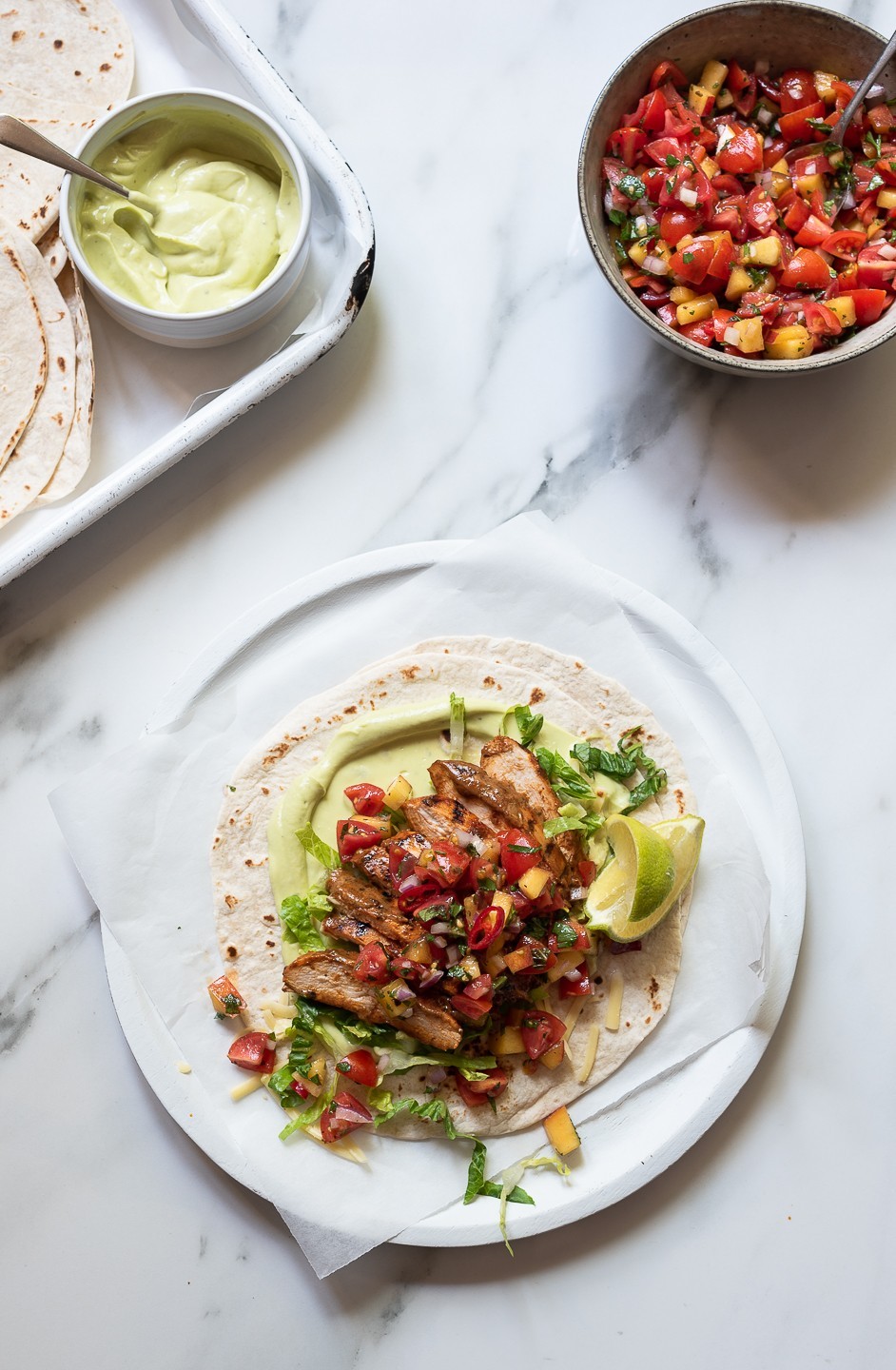 Tacos are summer's best food parcels. They happily accept a host of flavourful fillings. Slathered with avo cream, crunchy lettuce and a zingy salsa, these Harissa chicken tacos are best eaten, poolside, with something icy to wash them down. With all this deliciousness wrapped in warm tortillas, it's easy to see why Mexican food continues to hold course as the best way to get a serious flavour fixing.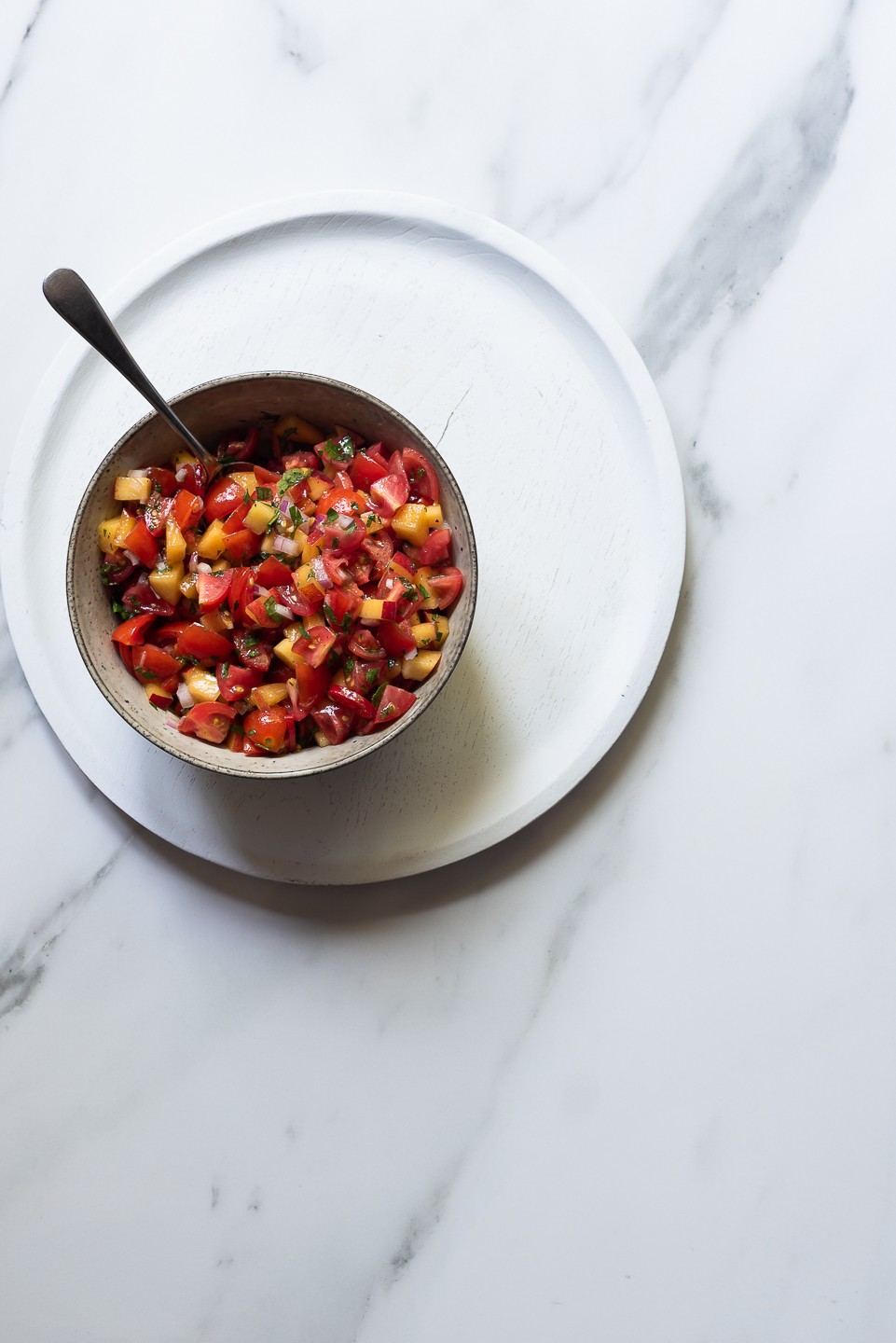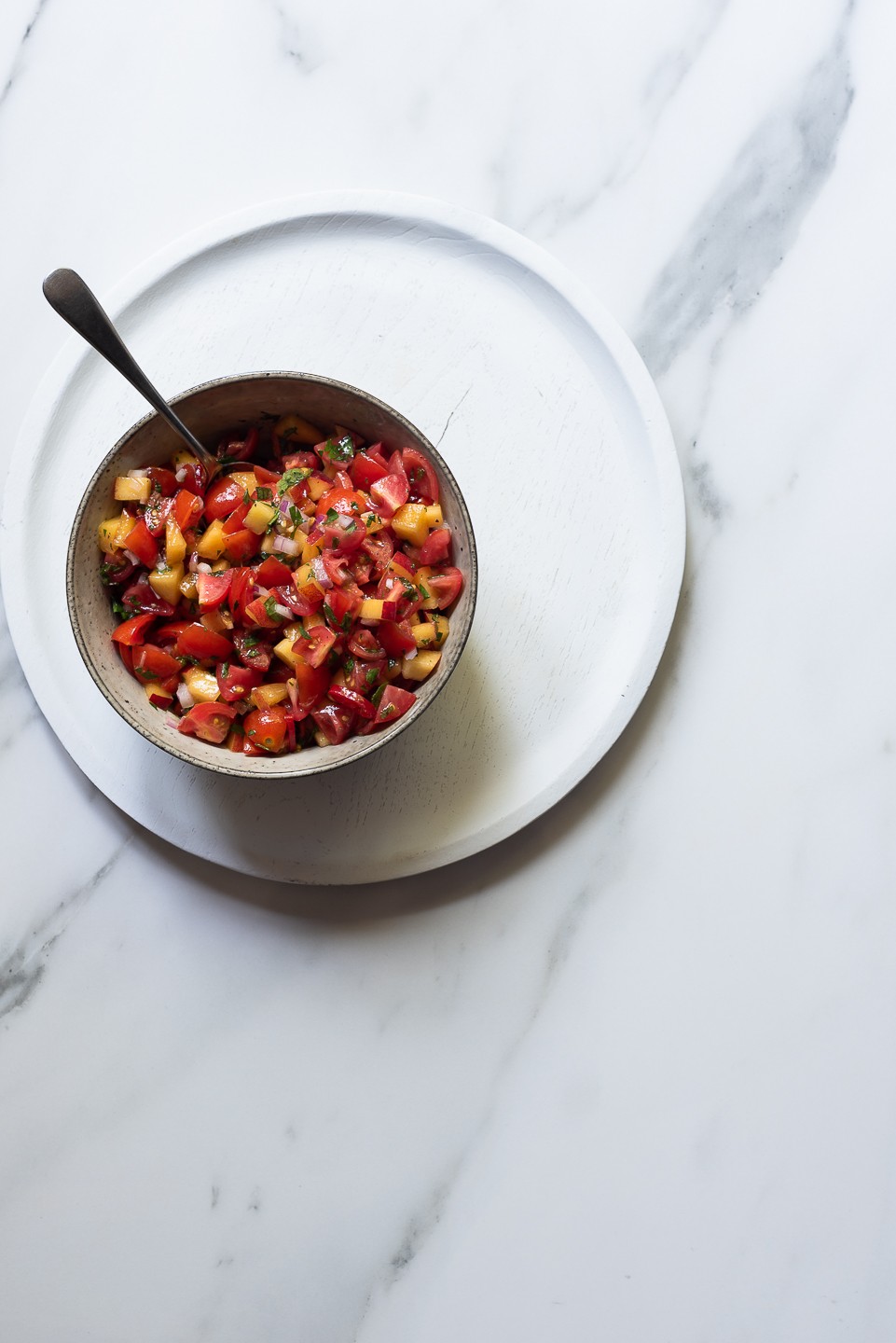 There's nothing dull or lifeless about these tacos. They scream summer. It's the kind of food you want to eat in the week and again on Saturday. Brimful of vibrant colour and heaps of fresh ingredients, I can't but help get excited about them. Over the next couple of weeks, I'll be sharing four slightly unusual but completely delicious ways to cook with ZZ2's Romanita tomatoes, besides the more obvious like say – a salad. In my kitchen, they're hard working – think pasta sauces, preserves, roasted toast toppers, omelette fillers and of course, soups and stews.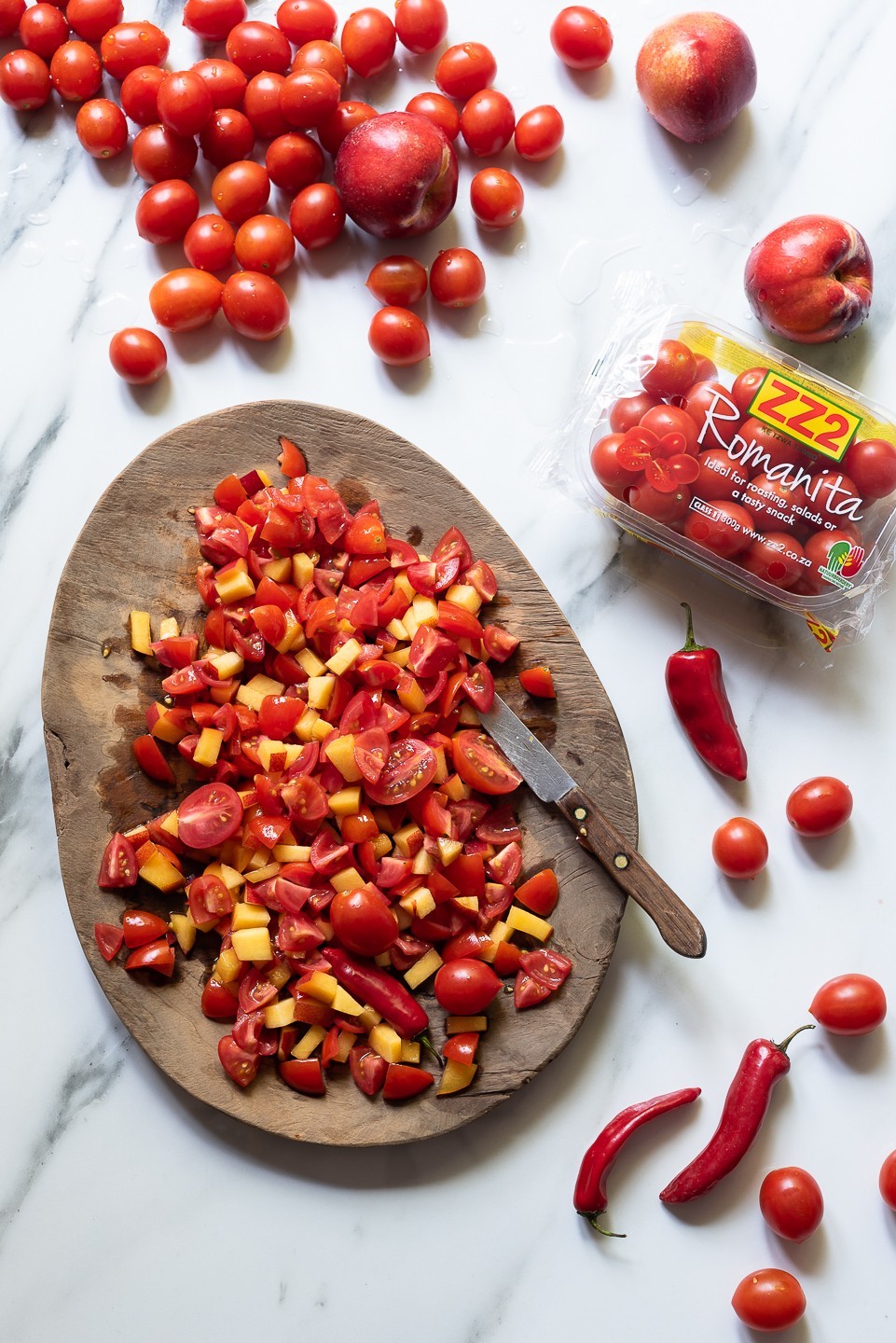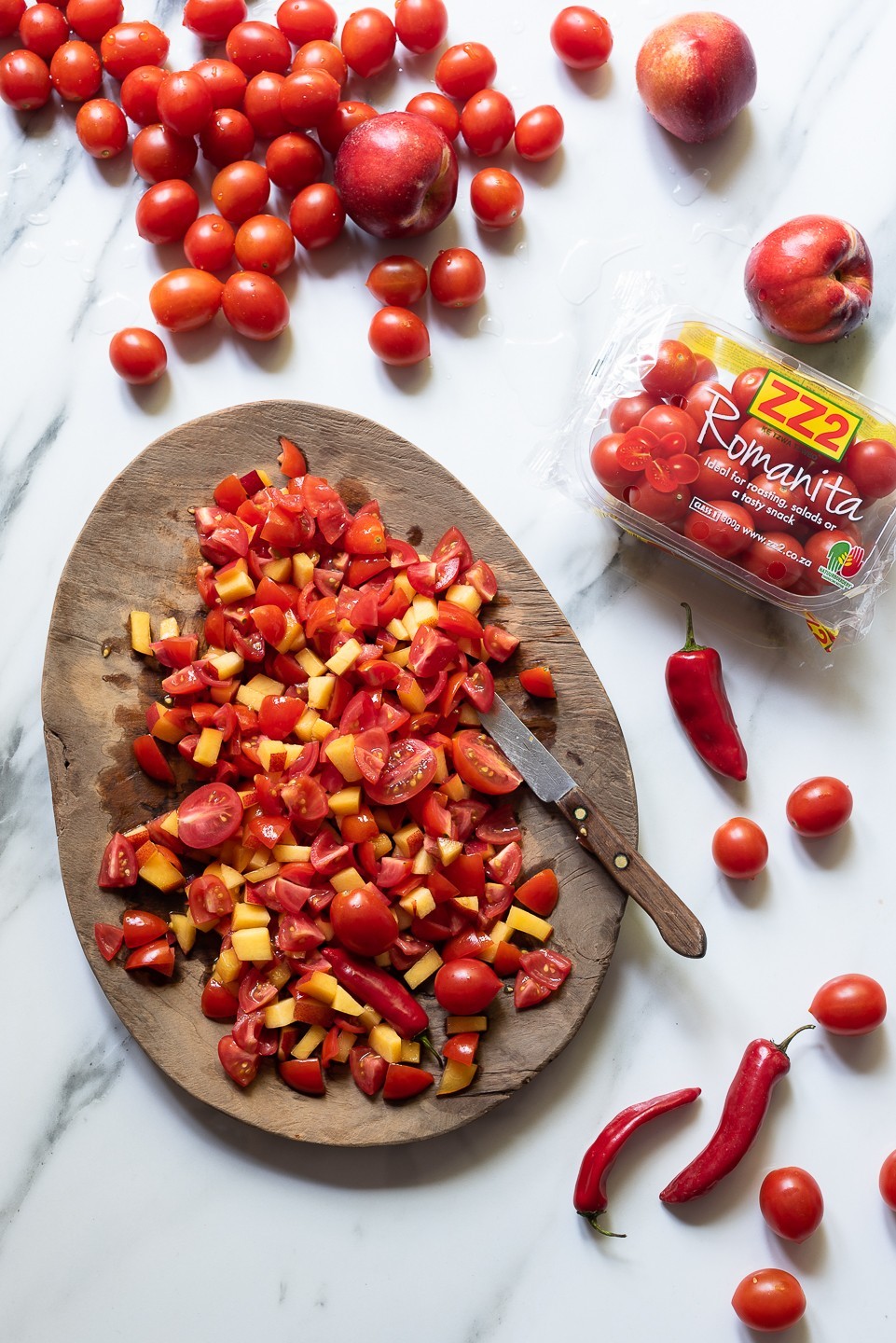 For the salsa, I've paired the tomatoes with yellow-fleshed nectarines, soft leaf herbs and scallions, for a gentler oniony taste. If you're a busy cook, like most of us are, it's always a good idea to get your recipes to do double-duty. I take this salsa to other places, too. If I'm making curry, it fills a cooling raita's shoes. Serve it with Greek yoghurt and a generous spoonful of tomato salsa. It'll lift the flavour of any curry, particularly chicken and beef.
Onto the avocado. You can't possibly have tacos with the creamy smoothness of avo. In place of guacamole, I've made an easy avo cream. It's like your favourite green smoothie, but savoury. I love this stuff! If Monday's night's summer seemed a little bleak before, hopefully these tacos will perk up the mood and remind you of long lazy days at the beach.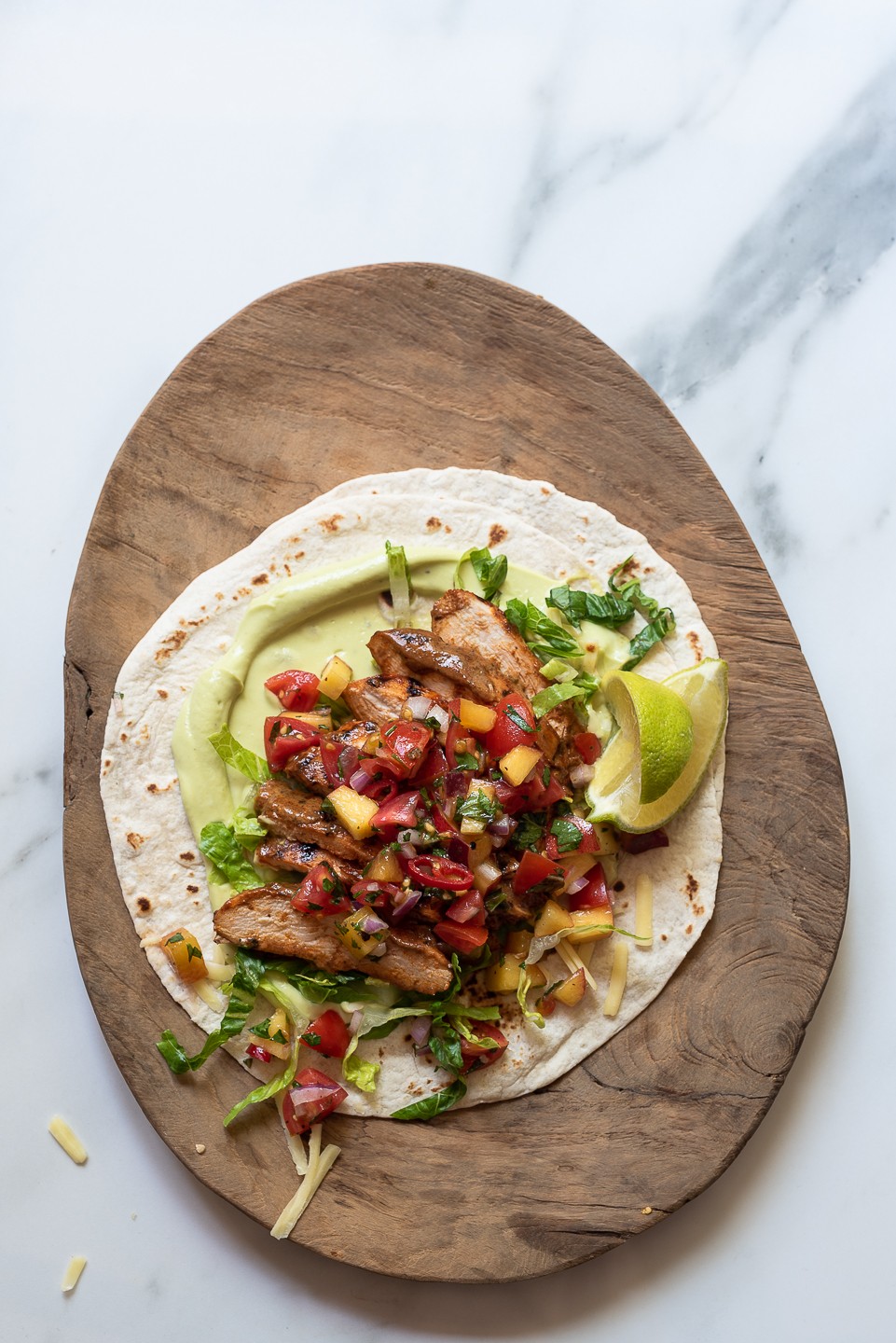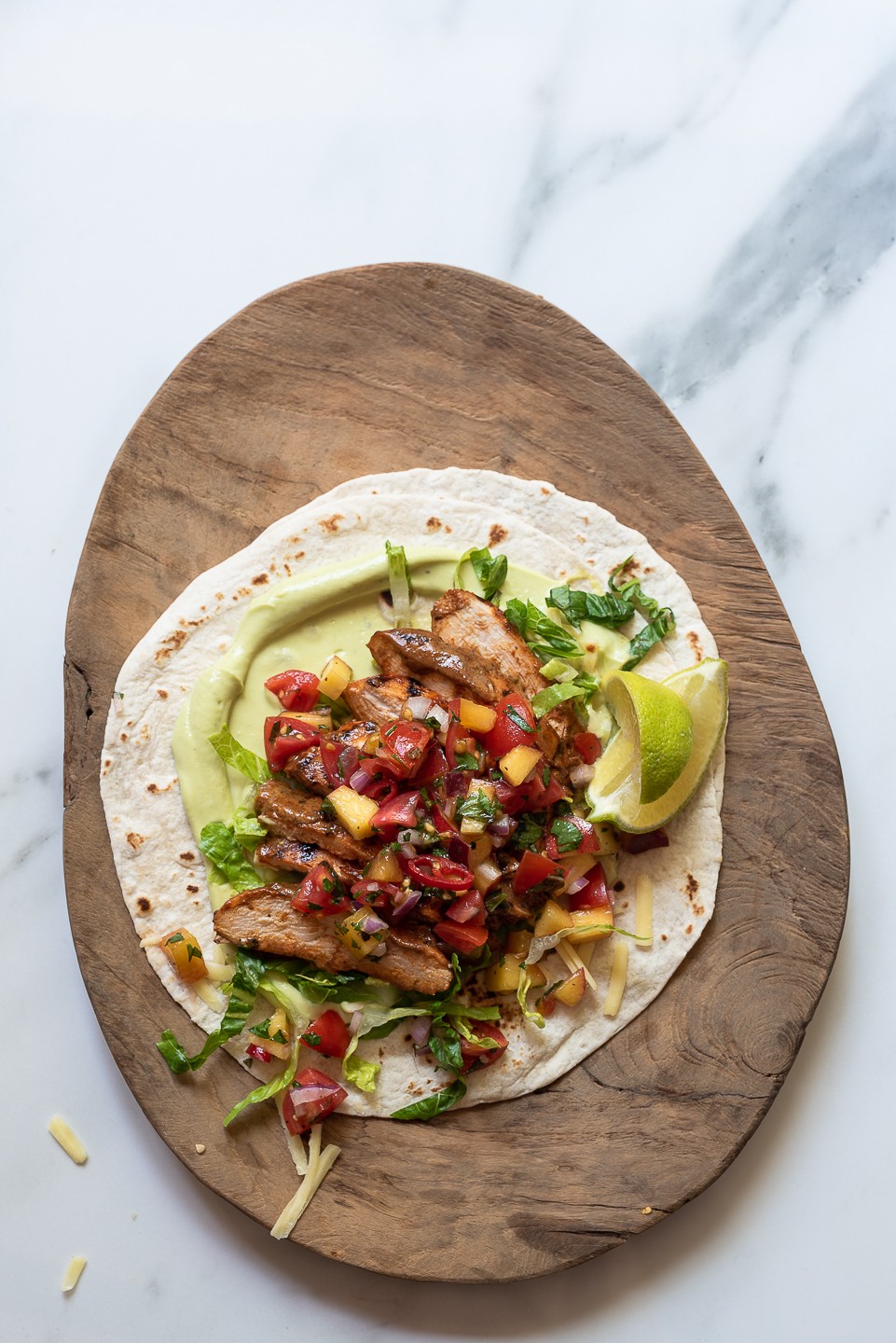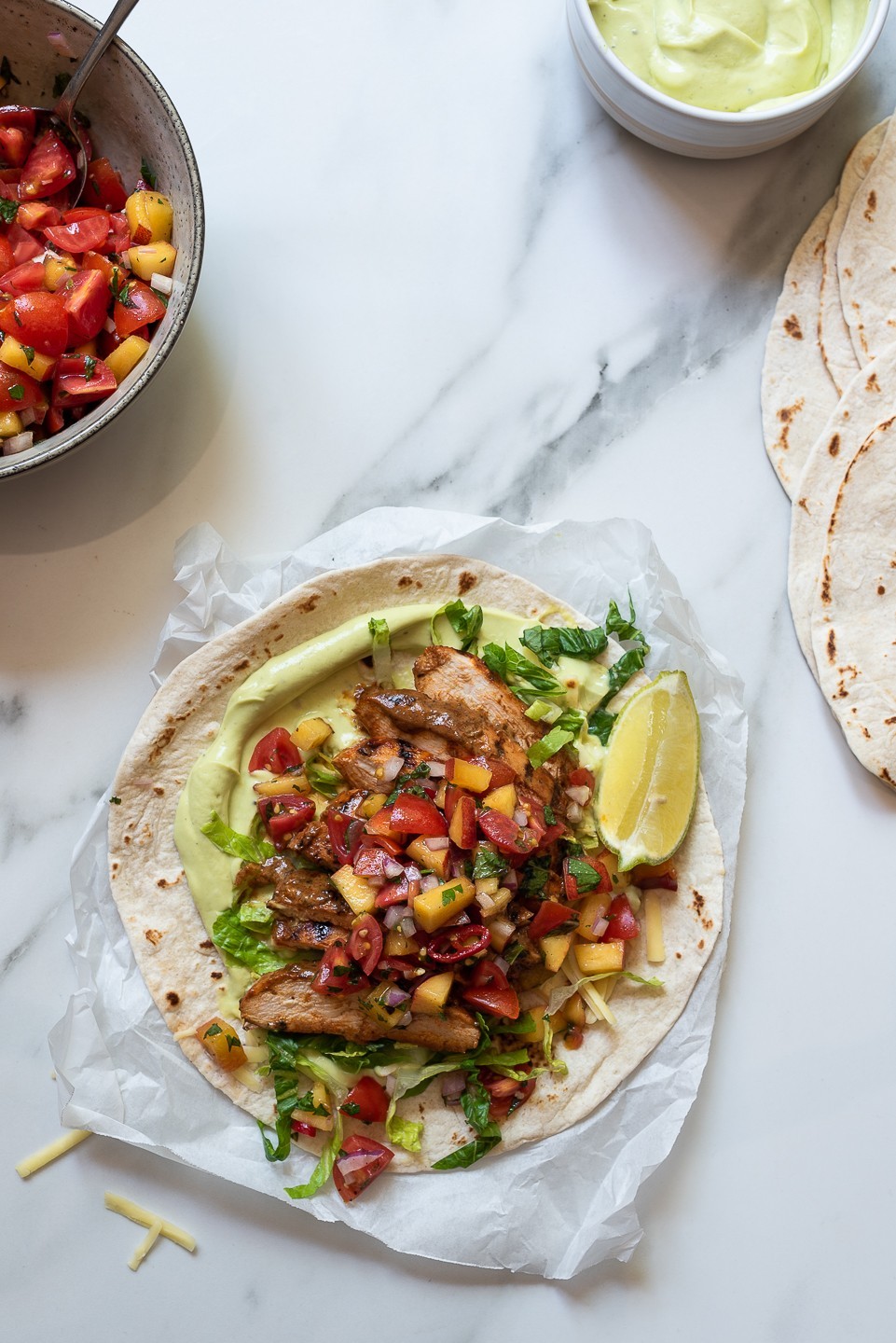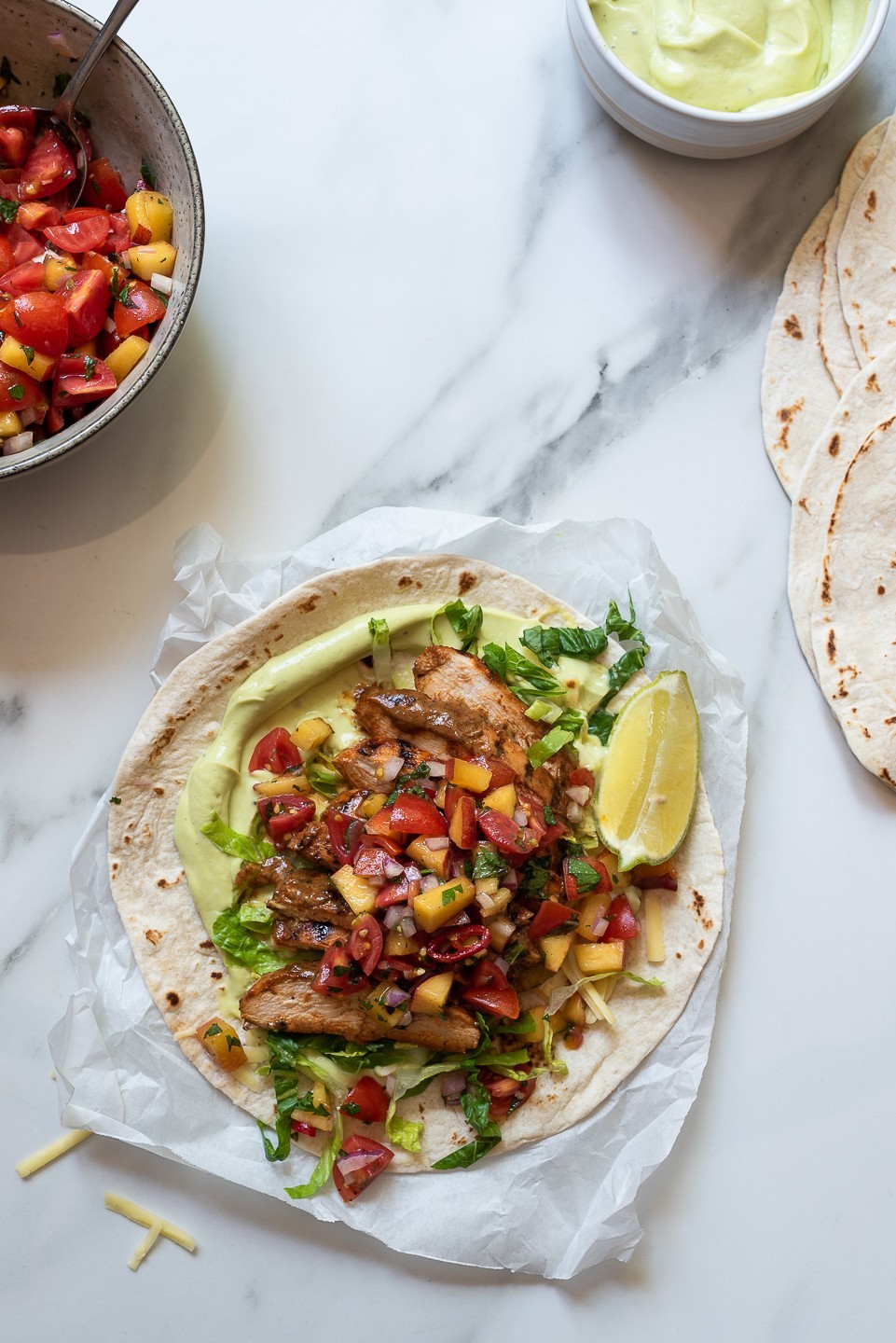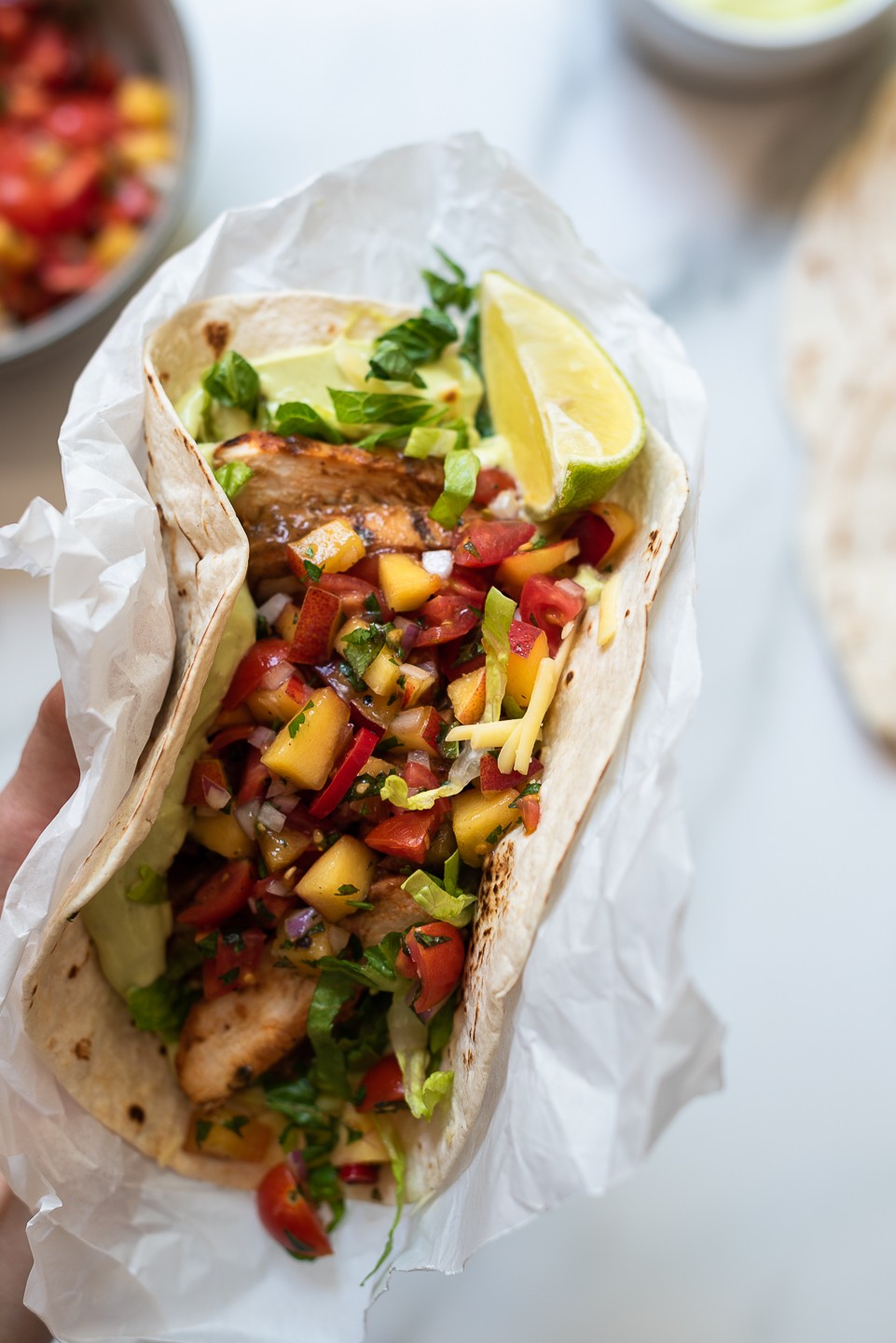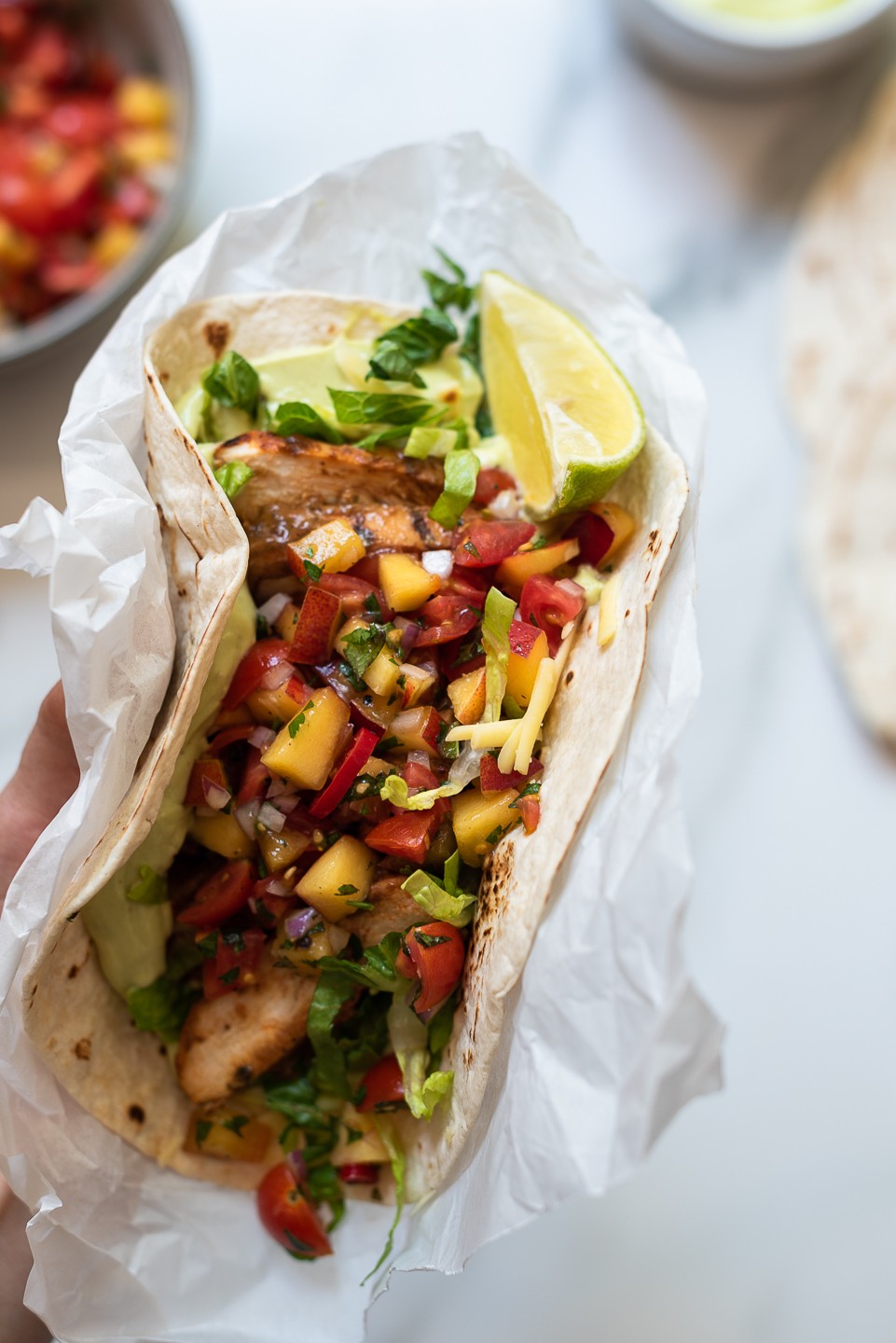 Harissa chicken tacos
Serves 4-6
olive oil, for cooking
30ml (2 tbls) harissa paste
4 free range chicken fillets, lightly pounded
80ml (1/3 cup) water
125ml (½ cup) natural yoghurt
Salsa
300g ZZ2 Romanita tomatoes, diced
2 nectarines, finely diced
a handful of mint and coriander, roughly chopped
2 scallions, diced
1 red chilli, seeds removed and thinly sliced
15ml (1 tbsl) lemon juice
20ml extra virgin olive oil
salt and black pepper
Avocado cream
1 avocado
125ml (½ cup) plain full cream yoghurt
15ml (1 tbsl) lemon juice
salt and black pepper
To serve
8 medium or 4 large flour tortillas, warmed
2 baby gem lettuces, shredded
grated cheddar, to serve
Rub the harissa paste over the chicken and set aside for 30 minutes to marinate.
For the salsa, combine all the ingredients in a bowl and toss gently to coat. Chill until serving.
To make the avocado cream, place the avo, yoghurt and lemon juice in a processor. Blitz until smooth. Season lightly, then chill.
Heat 1 tablespoon olive oil in a griddle pan. Season the chicken on both sides with salt and pepper. Cook on one side, without turning, about 4 minutes, then turn and cook for another 3-4 minutes. Add the water and simmer to loosen all the sticky bits on the bottom of the pan. Stir in the yoghurt and heat through. Slice the chicken into strips.
To serve, spread the avo cream onto warm tortillas, top with lettuce, cheese, chicken strips and heaps of fresh salsa.
If your taco Tuesday needs further upping, here's another easy recipe to try.
Chicken tacos with slaw salad & butter milk dressing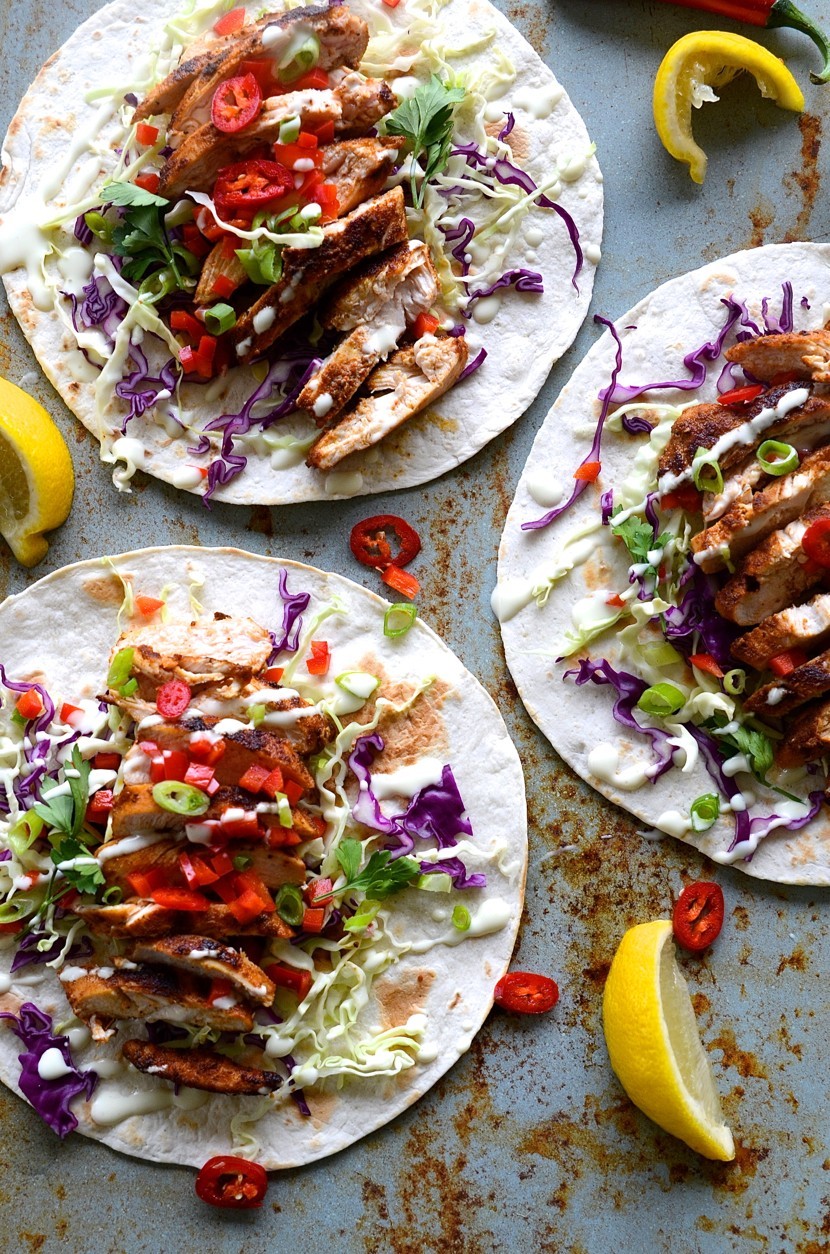 Cajun spiced pulled pork tacos with mango and pineapple salsa