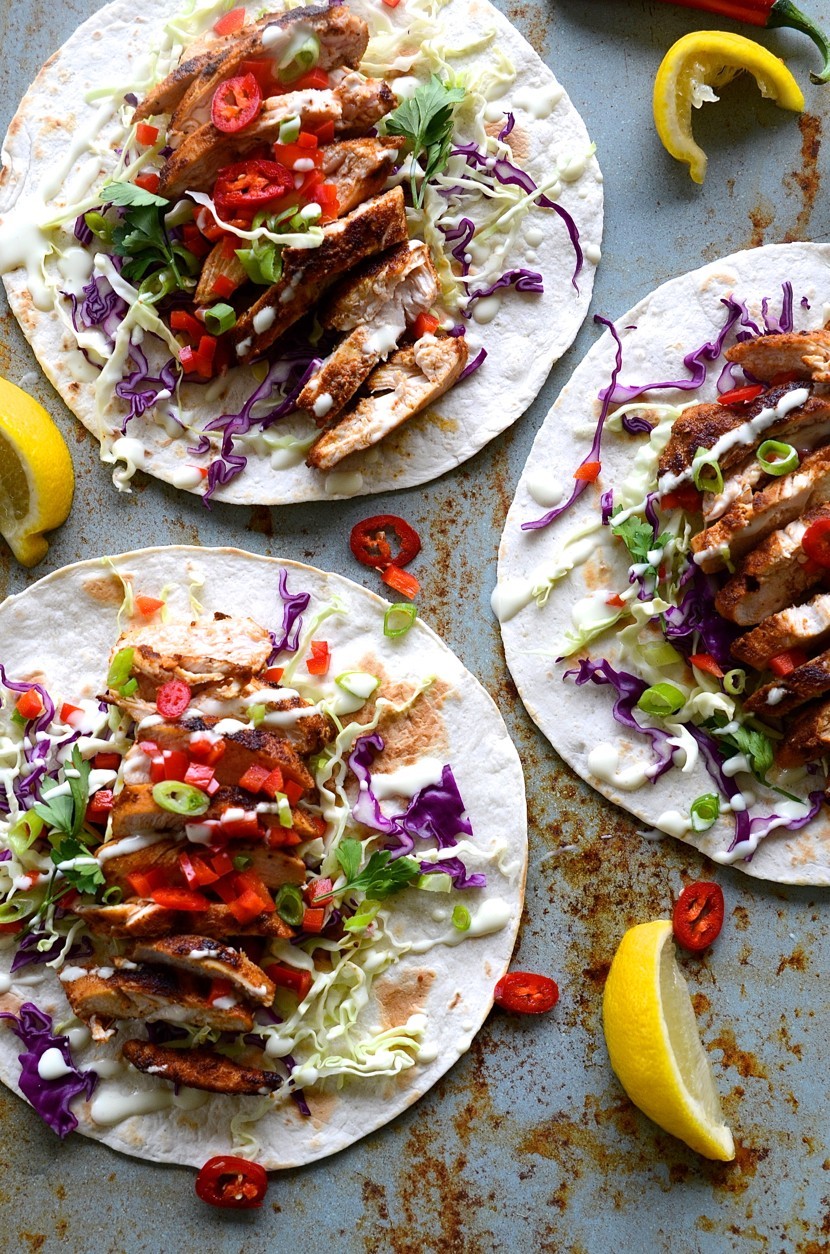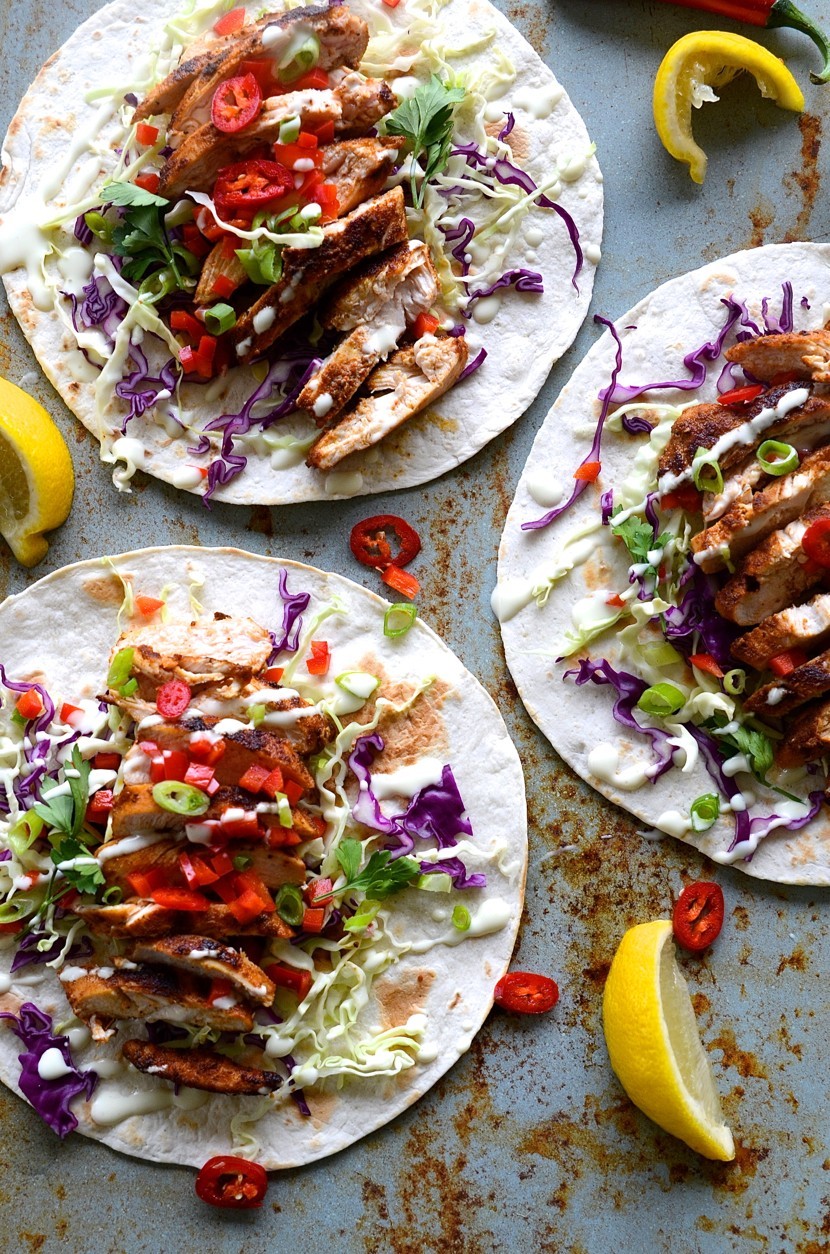 This is the kind of fast food I love to make. Healthy chicken tacos with a creamy buttermilk dressing. Soft flour tortillas filled with crunchy slaw and succulent chicken. Mexican street food at it's best.  Vibrant, colourful and fresh.
If you're looking for speedy deliciousness with aTex-Mex kick, then these tacos are the easiest crowd pleasers. It couldn't be simpler. The chicken filling makes these tacos a healthier option, but if you prefer red meat, my rib-eye steak is a great alternative. I've kept the salad ingredients fresh and simple, with shredded cabbage, red peppers and scallions. You could swap the cabbage for shred-cut romaine lettuce and cucumber, if you like.
The spice mix is key to this recipe. By mixing your own blend, you can choose the level of heat. My version is slightly milder, but adjust the chili according to personal taste. These healthy chicken tacos are packed with goodness the whole family will love.

Taco spice mix
Enough for 2 servings
2 teaspoons paprika
1/4 teaspoon cayenne pepper
1 teaspoon cumin
1/4 teaspoon Maldon sea salt
a pinch of red chilli flakes
1/2 teaspoon brown sugar
a genroeus grinding of black pepper
Mix all the spices together and store in a spice jar or well sealed bottle.
Healthy chicken tacos with buttermilk dressing
Serves 4
2 tablespoons extra virgin olive oil
4 free range chicken fillets, deboned and skinned
2-3 teaspoons taco spice mix
juice of half a lemon
half a small purple cabbage, finely shredded
half a small green cabbage, finely shredded
1 red pepper, deseeded and cut into small dice
2 scallions, finely cut on the diagaonal
fresh parsley or coriander
extra red chilli, to serve (optional)
4 flour tortillas
lime or lemon wedges, to serve
For the dressing
3 tablespoons good quality mayonnaise (not salad dressing)
3 tablespoons buttermilk
a good spritz of lemon juice
a pinch of salt
Place all the dressing ingredients in a small bowl and whisk together. Pour into a squeeze bottle for easy use.
Drizzle 1 tablespoon olive oil over the chicken fillets and season on both sides with the taco spice mix. Place in a non-metallic dish, cover with cling film and leave to marinade for a few minutes. If you have the time, leave overnight in the refrigerator.
Heat the remaining tablespoon of olive oil in a pan and add the chicken fillets once the oil is really hot. Brown on one side, season with a little more salt and turn over. Turn the heat down to a medium high and continue to cook until it is dark and caramelised on all sides. Spritz over the juice of half a lemon. Deglaze the pan with a splash of water and turn the chicken over to coat in the sauce. Remove the chicken from the pan and rest, covered, for 2 minutes before carving into slices. Scrape all the lovely pan juices over the chicken.
Heat the tortillas separately in a pan or for a few seconds in the microwave. If you're heating the tortillas in the oven, remember to cover them tightly in foil to prevent drying out. To assemble, lay  the tortillas out on a large board and start with a handful of purple and green cabbage. Follow with the chicken slices, red peppers, scallions, coriander or parsley and extra chilli, if you like. Drizzle over a generous amount of the buttermilk dressing, hit it with an extra squeeze of acid, fold up and tuck in!