When comfort and nostalgia mingle to create the ultimate Deep Dish Apple Pie. Traditionally hailed as a symbol of prosperity and national pride, this  simple yet heroic pie is firmly embedded as the definitive of good home cooking.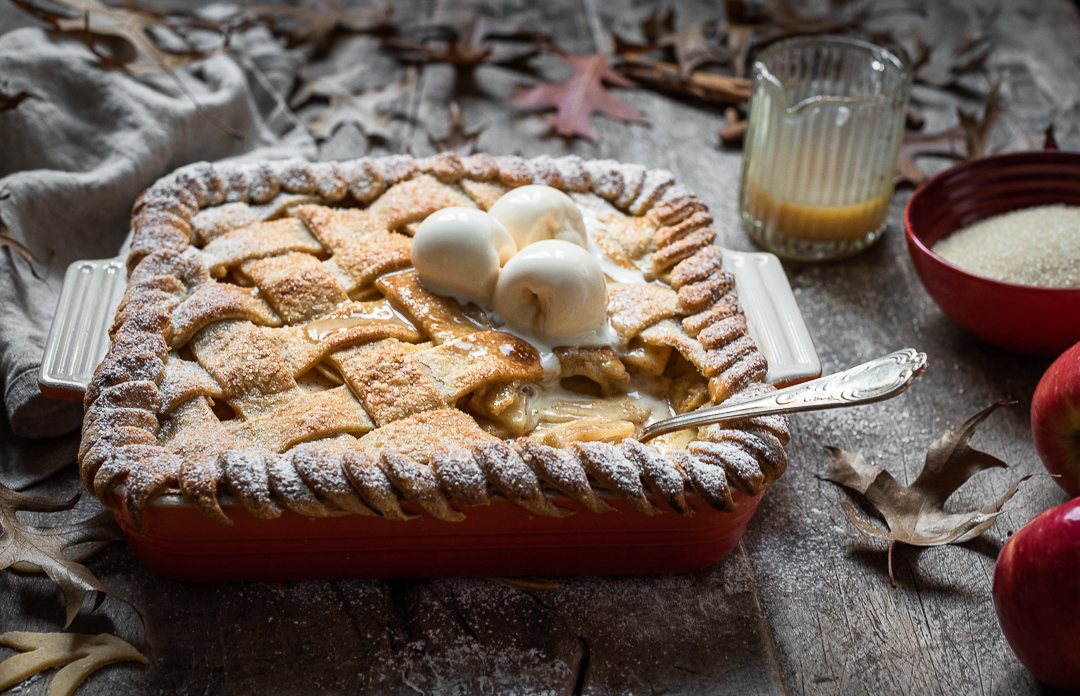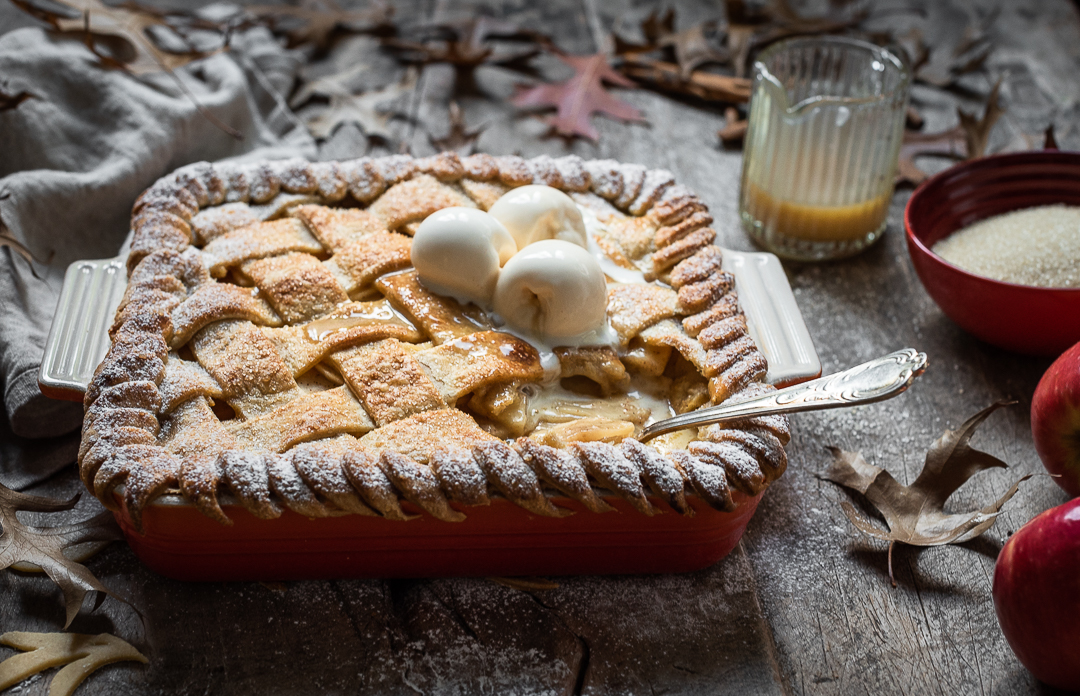 When you're faced with a deep dish apple pie, expect a 2:1 ratio of apples to pastry. Not to say that the crust is frugal or sparse, more a generosity of filling that focusses on the character of the apples. The success of a really good apple pie relies natural flavouring, acidity and texture of the apples themselves. Any additional enhancements should be tempered to avoid masking these qualities. Here, a swish of Calvados Brandy, cinnamon and nutmeg buffer the tart sweetness of Pink Lady Apples, along with a splash of cream to enrich the juices.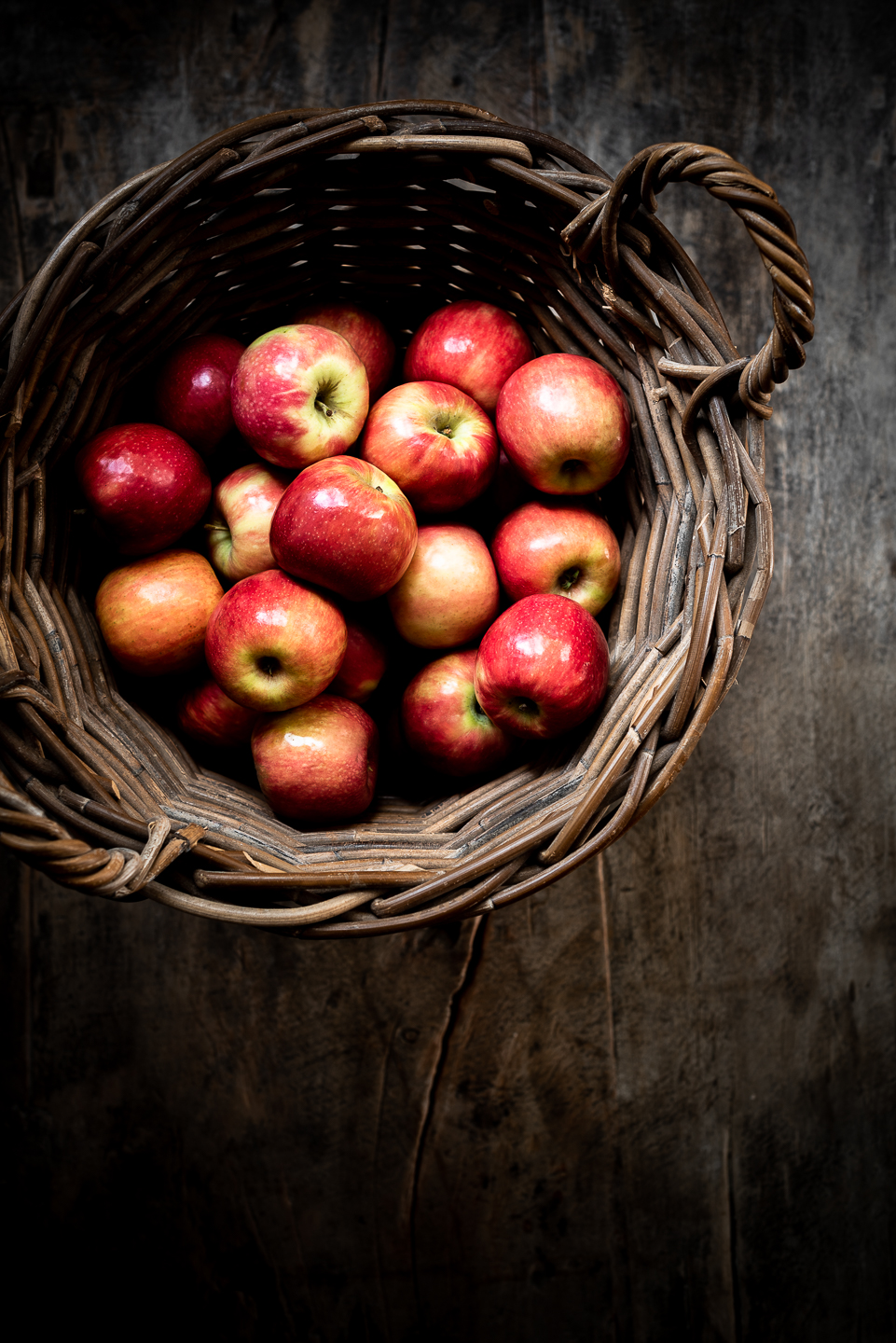 For the pastry crust, I've used a combination of cake wheat flour and rye flour. The purpose of rye is two-fold. Toothsome texture and a subtle but distinctive nuttiness. You could also sub with buckwheat, wholemeal or spelt flour, if you like. The recipe for this deep dish apple pie with Butterscotch Sauce was created for Le Creuset's Farm Fresh Campaign.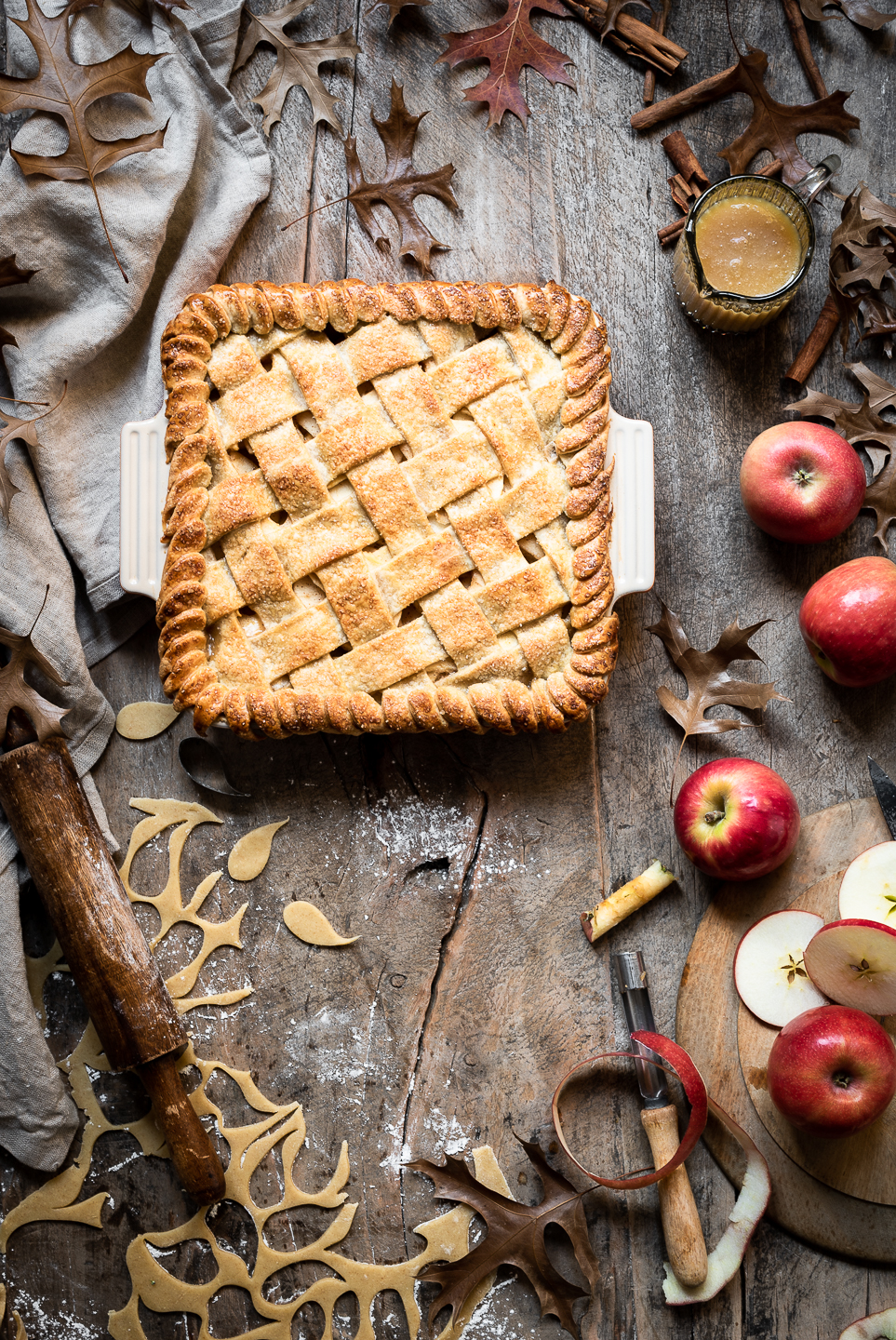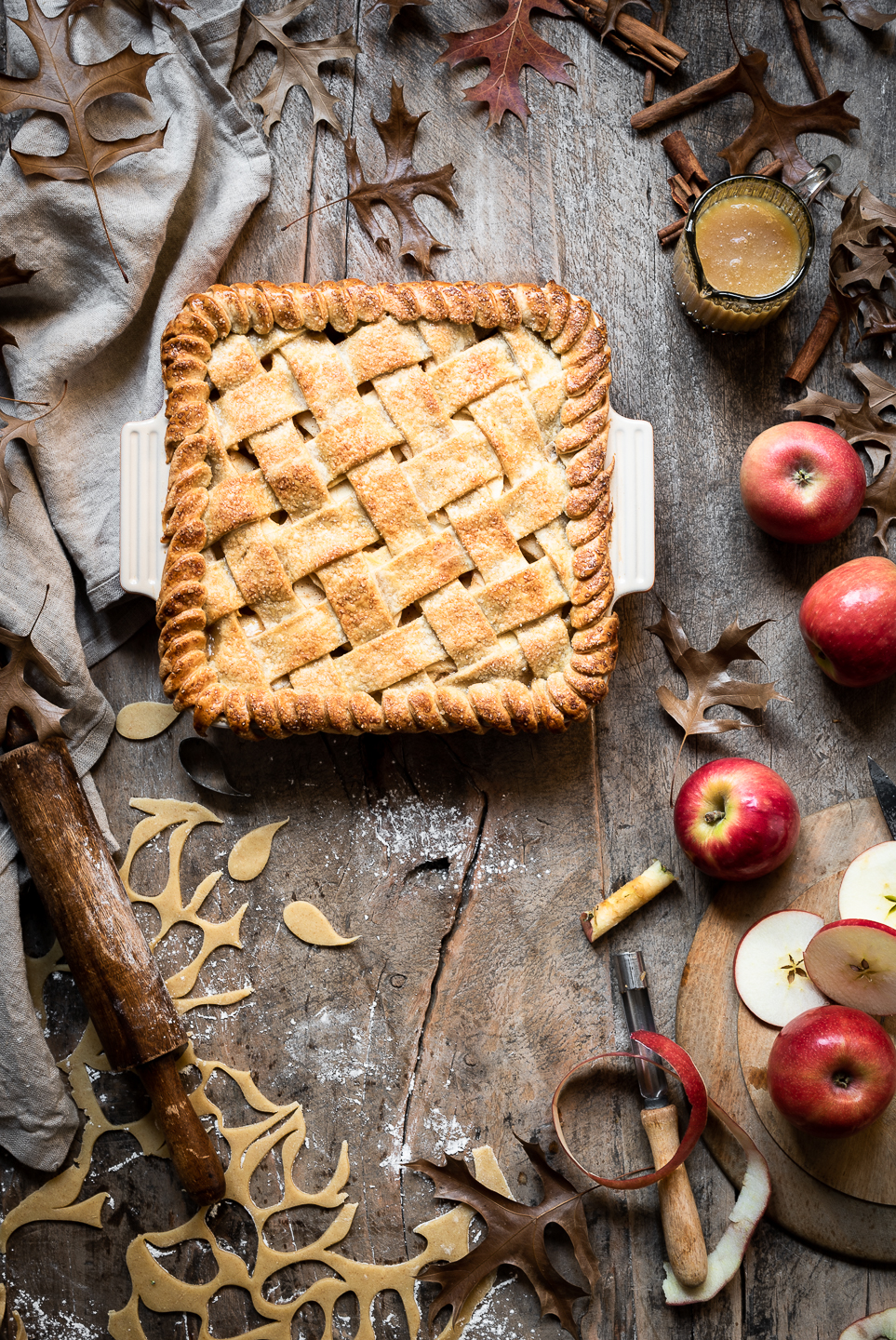 Deep Dish Apple Pie with Salted Butterscotch Sauce
Serves 8
Deep Dish Apple Pie Crust
350g cake wheat flour
100g fine rye flour
45ml (3 tablespoons) icing sugar
½ teaspoon fine salt
300g cold, salted butter, cubed
80ml (1/3 cup) ice water
Deep Dish Apple Pie Filling
120g demerara sugar
40ml (2 ½ tablespoons) cornflour
5ml (1 teaspoon) ground cinnamon
½ teaspoon ground nutmeg
30ml (2 tablespoons) Calvados brandy
60ml (1/4 cup) fresh cream
7-8 Pink Lady apples, peeled, cored and cut into ½ cm wedges
30g (2 tablespoons) butter, cubed
egg wash, (1 egg, lightly whisked)
30ml (2 tablespoons) demerara sugar
Butterscotch Sauce
100g (½ cup) salted butter
110g (½ cup demerara sugar
250ml (1 cup) fresh cream
1 ½ teaspoons vanilla extract
½ teaspoon Maldon sea salt
For the pastry, combine the cake flour, rye flour, icing sugar and salt in a processor. Pulse to aerate the flour. Add the butter and pulse until the texture is roughly crumbed.
Add the water and pulse until the dough comes together. Turn out and press together lightly. Wrap in cling film and chill for 1 hour.
Preheat the oven to 200 C. Place the oven rack on the lowest rung.
Divide the dough in half. On a floured board, roll each piece out to a 3mm thickness. Line the baking dish on the base and sides. Chill for 10 minutes.
In a large mixing bowl, whisk together the demerara sugar, cornflour, cinnamon, nutmeg, brandy and cream. Add the apples and toss to coat.
Scrape the apples and juices into the pastry case. Scatter over the cubed butter and cover with the remaining pastry, either plaiting 2.5cm strips of pastry or a full pastry sheet. Trim the overhanging edges and pinch together to seal. Brush with egg wash and scatter over the demerara sugar. Cut 3 small steam slits on top if the pastry is a full sheet. Bake for 15 minutes on the lower shelf. Reduce the temperature to 180 C, move the shelf to the middle wrung and bake for a further 60-65 minutes. Cover with foil for the last 15-20 minutes to prevent over-browning.
Cool on a wire rack for 10 minutes. Serve with butterscotch sauce and vanilla bean ice cream.
For the butterscotch sauce, melt the butter in a saucepan over a medium heat. Add the sugar and cook until the mixture is a deep caramel colour, about 5-6 minutes. Pour in the cream and simmer until thickened, about 8-10 minutes. Stir in the vanilla and Maldon salt.
If you make this glorious Deep dish apple pie, do tag #bibbyskitchen so that we can share your sweet creation on Instagram.
For more Apple inspired recipes, both savoury and sweet:
Chicken Normandy with Caramelised Apples
Apple galette with walnut frangipane & caramel