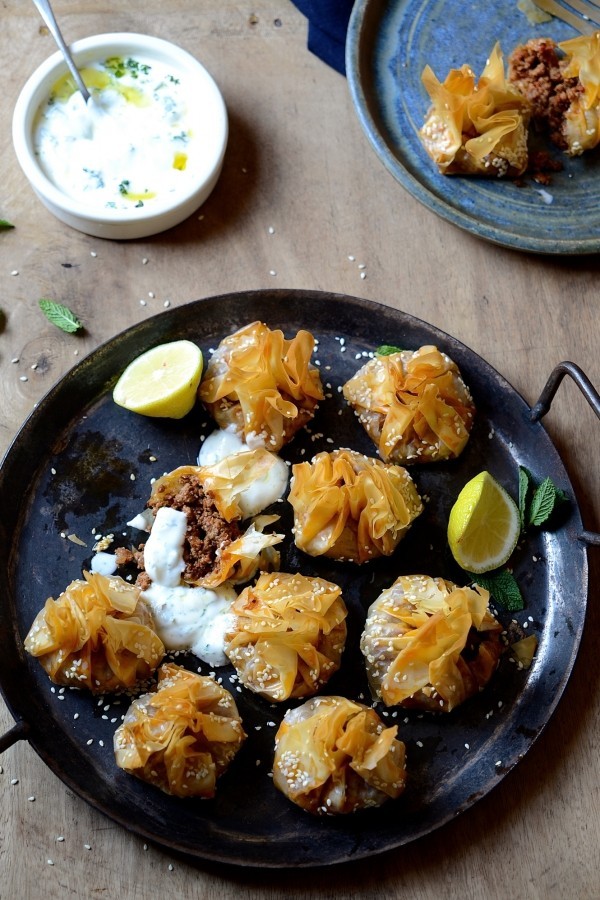 The holiday season is just around the corner which means it's time to muddle cocktails and serve up the tastiest savoury snacks. A tray of these cumin lamb kofta phyllo pastries are just the ticket to impress your family and friends.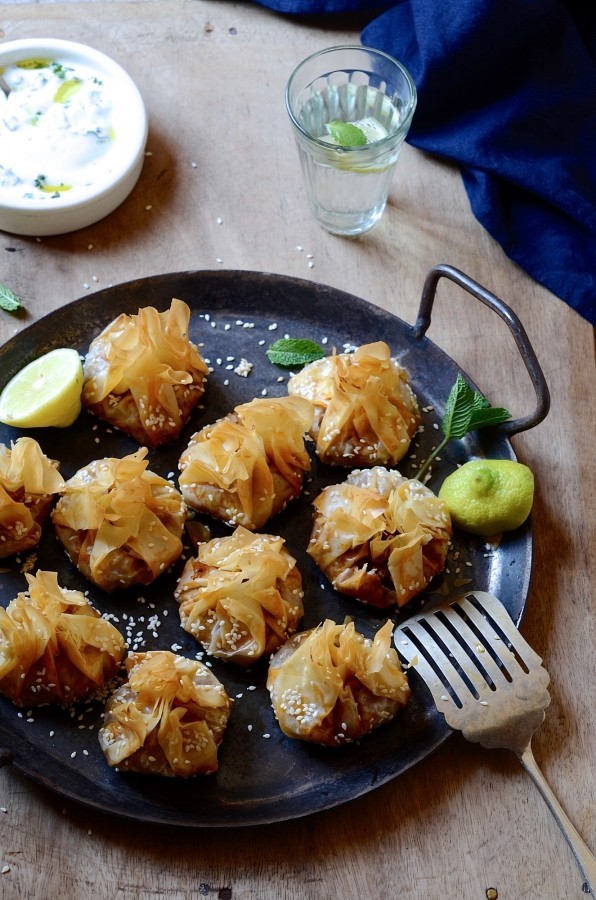 As a cook, there are few challenges to which I'll admit defeat, phyllo making being one. Today we're tackling the tricky art of pastry. Without question, shortcrust has to be homemade. Puff on the other hand, is a fence sitter. I usually opt for store-bought, but on the odd occasion I'll make it from scratch. When made well, it tastes surreally light and buttery. It also 'tastes' like hard work which I imagine, is what makes the definitive difference.
And then we have phyllo. This paper-thin pastry is best left to the professionals, like Mediterranean Delicacies. My freezer is always stocked with a couple of boxes. I use it for chicken pot pies, Middle Eastern chicken pastilla and my absolute favourite, syrupy sweet baklava. I've taught quite a few cooking classes that call for phyllo and although many are daunted by the thought of handling phyllo, this notion is quickly debunked. It's very forgiving to work with. Key to keeping the pastry from drying out, is to cover it with a damp tea towel while you work. Scrunched up or layered, the characteristic splintering is part of the charm.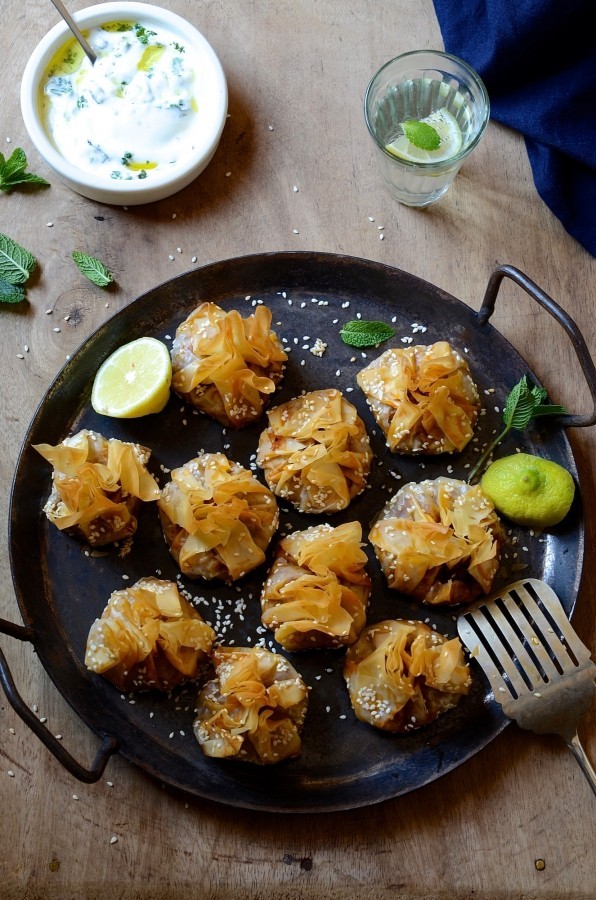 Drinks parties are simply the most social way to entertain. I love inter-active food where everyone can help themselves and these spicy lamb pastries are a clear winner. A bowl of cool lemony mint yoghurt served alongside cuts through the richness of the meat. Seriously good dude food!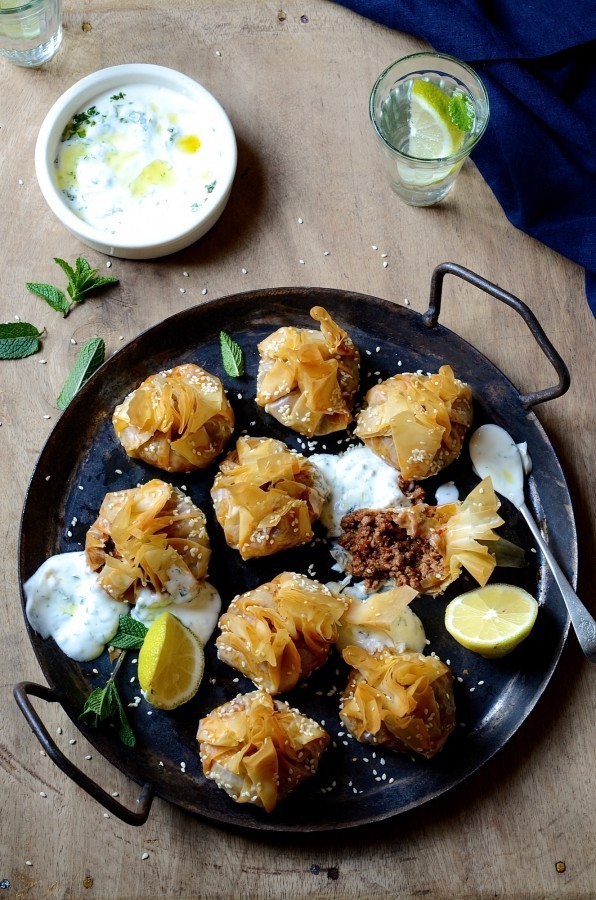 Cumin lamb kofta phyllo pastries
Prep time:
Cook time:
Total time:
Cumin lamb kofta phyllo pastries
7.5 ml (1 1/2 teaspoons) cumin seeds
15ml (1 tablespoon) olive oil
1 onion, finely diced
1 clove garlic, minced
500g free-range minced lamb
3/4 teaspoon salt
1 teaspoon smoked paprika
1/4 teaspoon dried red chilli flakes
400g tin chopped tomatoes
6 sheets Mediterranean Delicacies phyllo pastry
70g melted butter
2 tablespoons sesame seeds
For the minted yoghurt
1/2 cup Greek yoghurt
a handful of each, fresh mint and flat leaf parsley, finely chopped
1 tablespoon lemon juice
pinch of sea salt
In a large-based pan, toast the cumin seeds until fragrant. Grind in a pestle and mortar.
Heat the olive oil in the same pan and sauté the onion until softened. Add the garlic and cook for 2 minutes.
Add the mince and cook on a hight heat until nicely browned.
Season with salt, cumin, paprika and chilli. Stir to coat and then add the tomatoes.
Cover with a lid and simmer for about 25-30 minutes. Set aside to cool.
To make the pastry parcels, cut 32 squares each measuring 14cm and place under a damp tea towel.
Brush two phyllo pastry squares with melted butter and lay one on top of another to form a star shape.
Spoon a heaped tablespoon of lamb in the centre, gather the pastry ends and pinch together.
Brush with a little more butter and scatter with sesame seeds.
Bake for about 20-25 minutes at 180 C until golden and crisp.
To make the minted yoghurt, combine all the ingredients in a small ramekin.
Serve the pastries warm with the yoghurt on the side.
Sponsored by Mediterranean Delicacies #PhabPhyllo