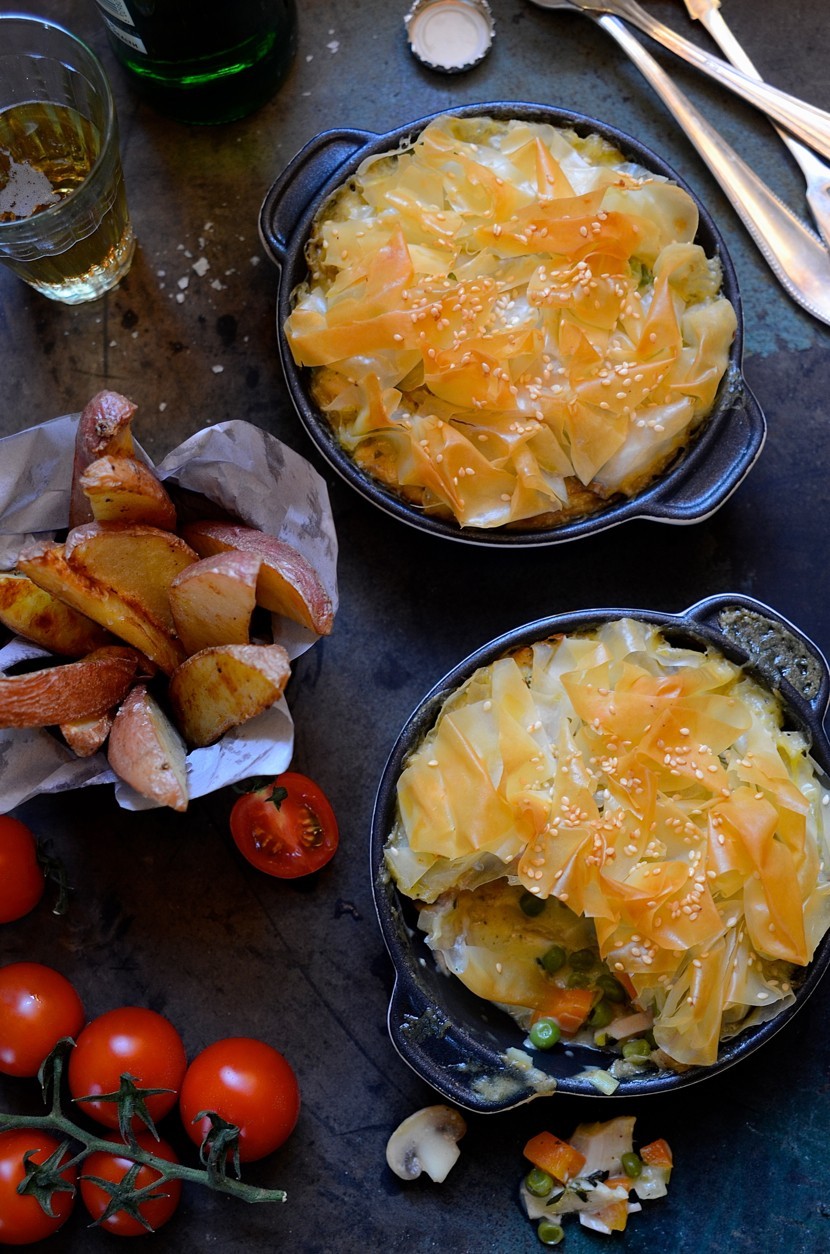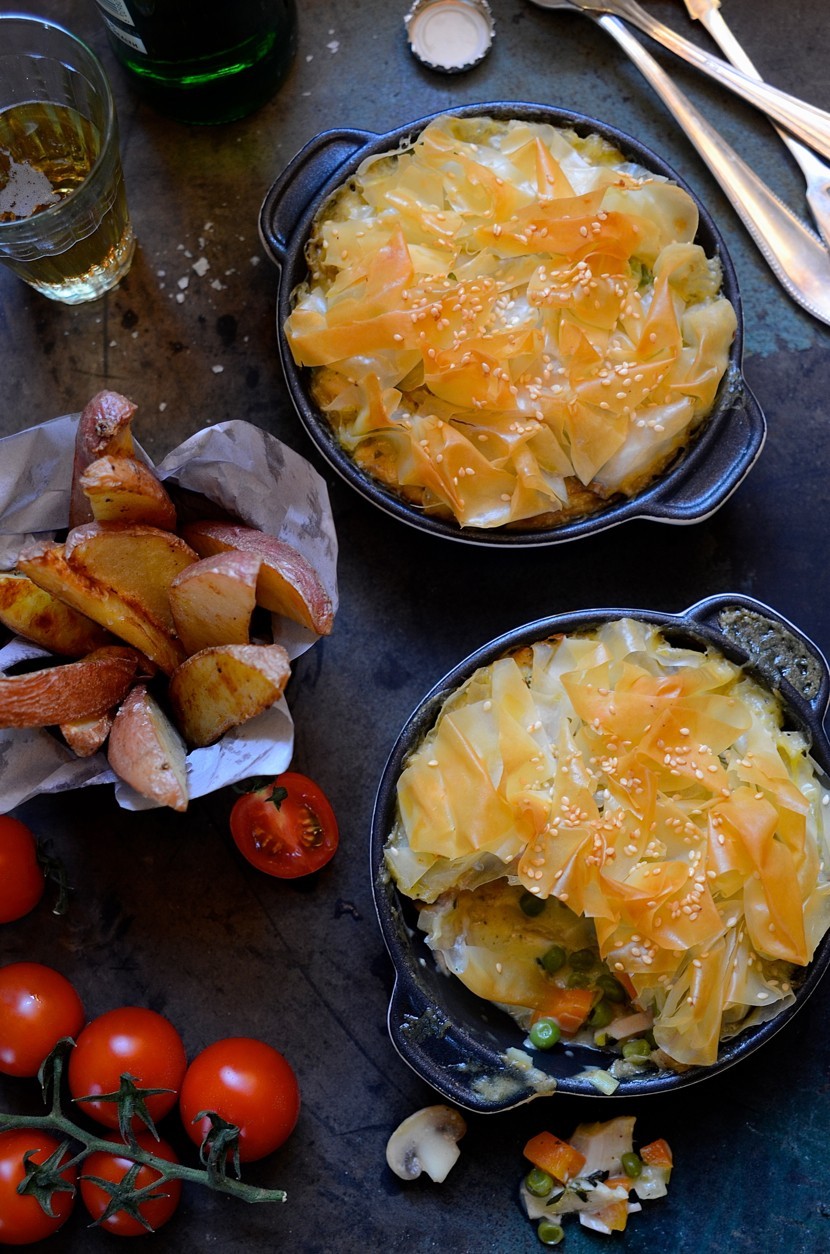 Pure comfort – Chicken pot pies with a creamy Dijon mustard and white wine sauce, topped with delicately crisp phyllo pastry tops and toasted sesame seeds. What's not to love? These individual pot pies are a real treat, yet simple enough to make for casual midweek suppers. Served with oven roasted red skin potatoes, a fresh tomato salad and dinner's sorted.
I'm sure you've all made a 'hospitality' dinner for a friend or family during a time of crisis. It's at times like this when a homemade meal delivered to your door is so welcome. I've gratefully recieved many of these dinners and they're always special. Over the years I've returned the favour and it just so happens that one of these delivered suppers was a chicken pie.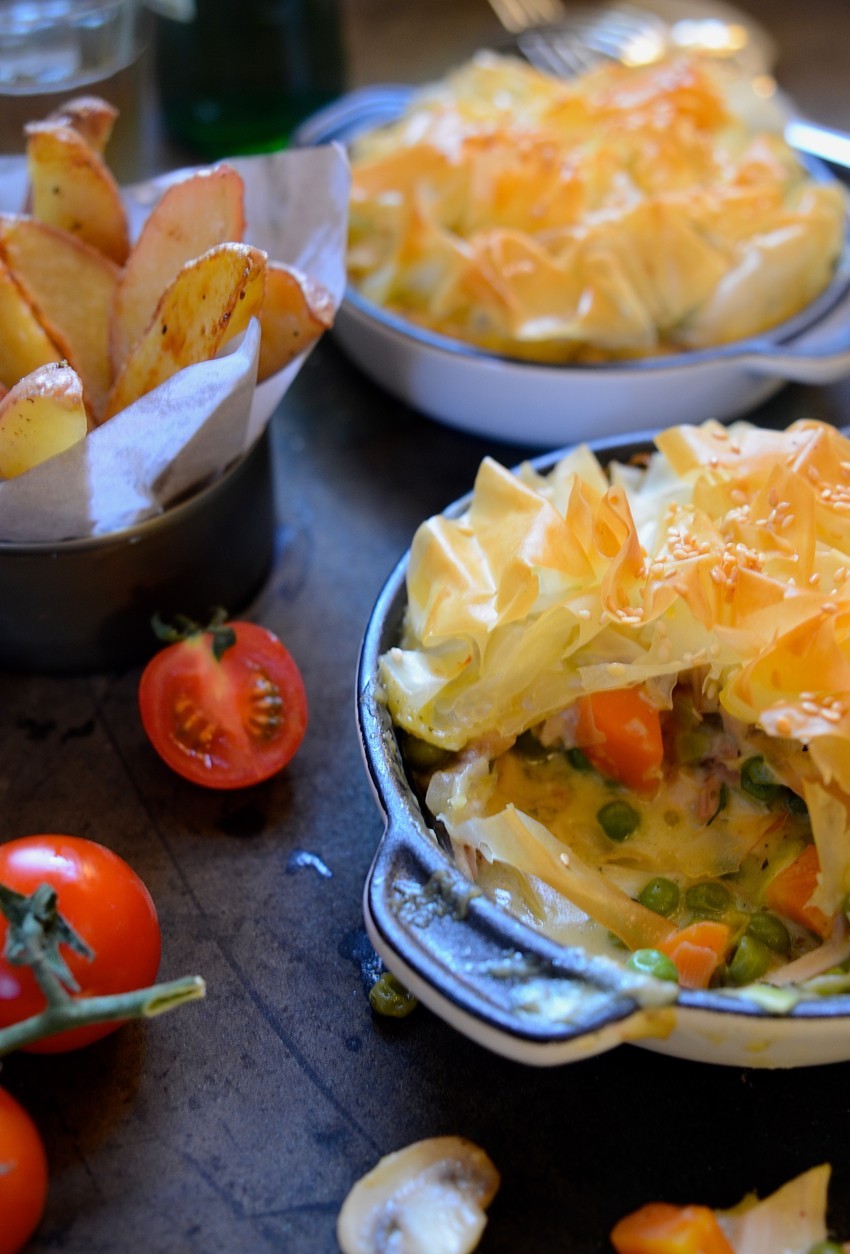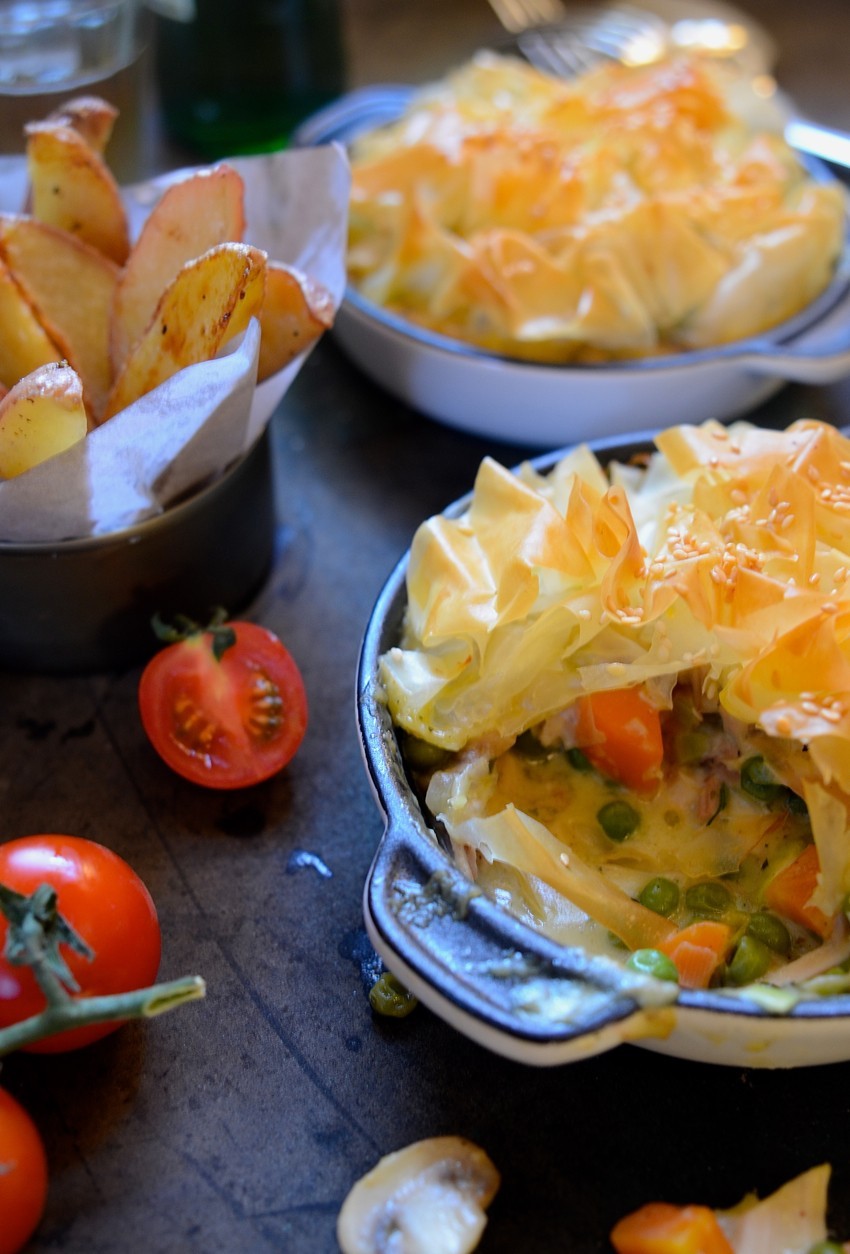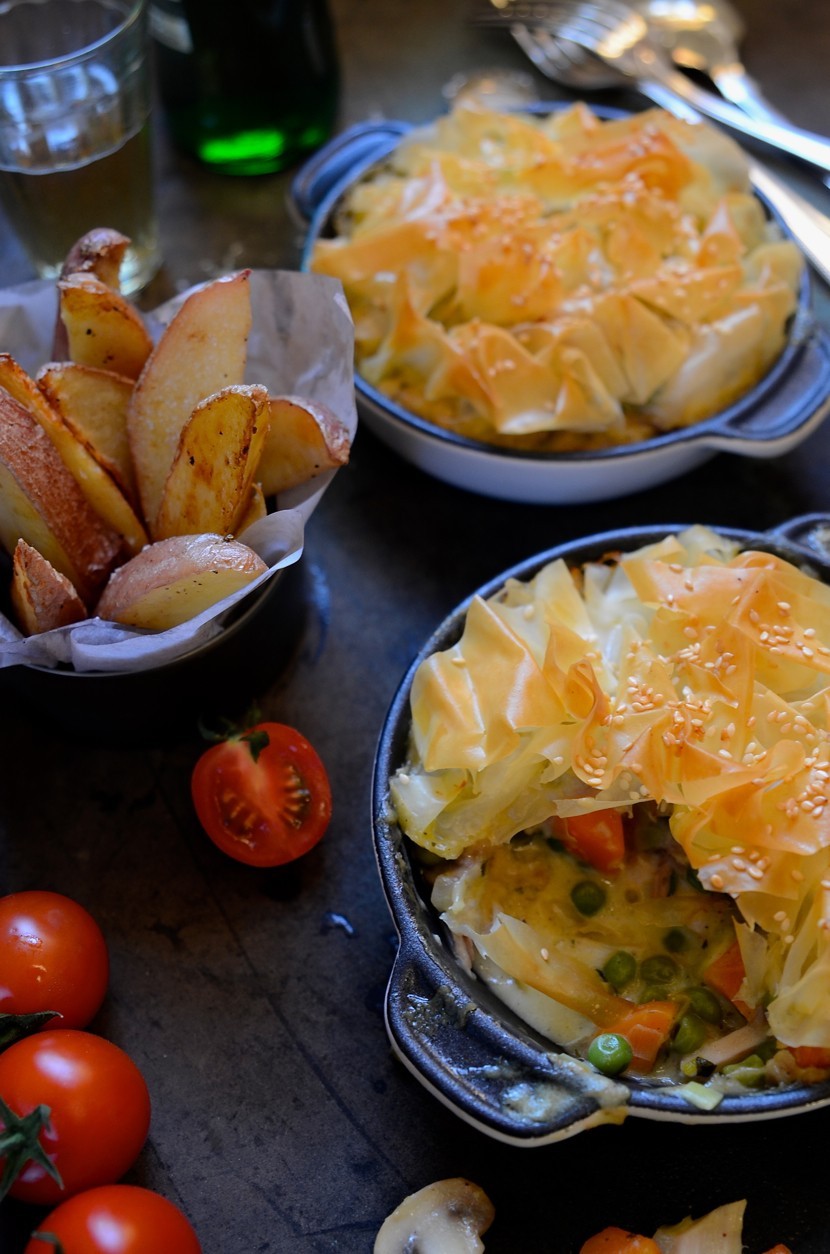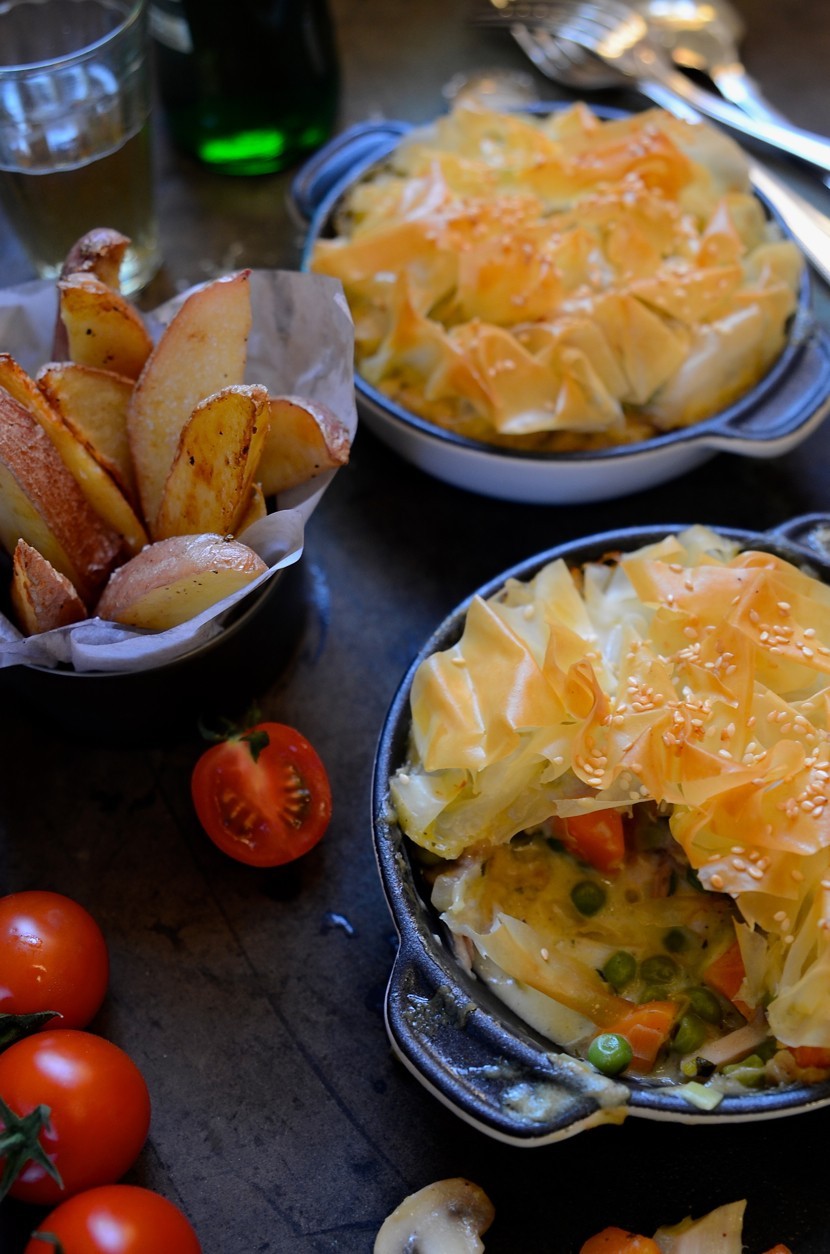 One of the most popular themes at my cooking classes is Simple suppers. With our busy lifestyles, most mums prefer a quick route to midweek dinners that include vegetables and protein in one dish. The filling for these pot pies is made using only one pan (score for the person washing up) and baked in the oven. I like to serve mine in individual dishes so everyone can tuck into their own splintery pastry crust.
Pie is a fantastic way to load up on whichever vegetables you prefer. The base to most good pies, casseroles or stews start with onion, celery and carrots. To this I've added leeks, which lends a subtle sweetness, mushrooms and sweet petit pois. A free-range roast chicken (yes, thank you Woolworths) will save you plenty of time and is my go-to back up when it comes to quick dinners.
Chicken pot pies with scrunched phyllo pastry tops
2 tablespoon olive oil
1 brown onion or shallot, finely chopped
2 stems celery, finely diced
2-3 carrots, small dice
2 french leeks, cut into penny rounds
250g punnet button mushrooms, sliced
1 cup petit pois peas, fresh or frozen
2 tablspoons butter
1 heaped tablespoon all purpose flour
1 teaspoon Dijon mustard
1/3 cup white wine (optional)
1 cup low sodium chicken stock
1 1/2 cups milk
zest of half a lemon and a good spritz of juice
salt and pepper
2 cups roasted chicken, cut into bite size pieces
4 – 5 sheets phyllo pastry, cut into 6cm wide strips
3 tablespoon butter, melted
sesame seeds, for finishing
Method
Preheat the oven to 180º C. Heat 1 tablespoon olive oil in a deep frying pan. Add the mushrooms once the pan is really hot. Cook the mushrooms on a high heat for about 5-6 minutes until lightly coloured and the water has evaporated. Season lightly with oregano, salt and pepper. Remove the mushrooms from the pan and set aside . Add another tablespoon of oil to the same pan and sauté the onion until softened. Add the celery, carrots and leeks. Sauté over a medium heat until the leeks and carrots have softened slightly.
Add 2 tablespoons butter to the vegetables and stir through. Once the butter has melted, add the flour and mix through. Deglaze the pan with the wine, all the while stirring to prevent lumps forming. Pour in the stock, followed by the milk. Add the lemon zest and juice. Cover with a lid and allow to simmer on a low heat for 15 minutes or until the carrots are tender. Finally, mix in the mushrooms, peas and chicken pieces.
Spoon the chicken filling into one large pie dish or individual ramekins. Brush each pastry sheet with melted butter and scrunch up in a haphazard manner. Place on top  of the filling and continue until the entire surface is covered. Scatter over the sesame seeds and bake for 35-40 minutes. The tops should be crisp and well browned. Remember, oven temperatures vary greatly and as phyllo is a delicate pastry, it can burn easily. Check for doneness after 30 minutes. Rest the cooked pies for 5 minutes before serving.