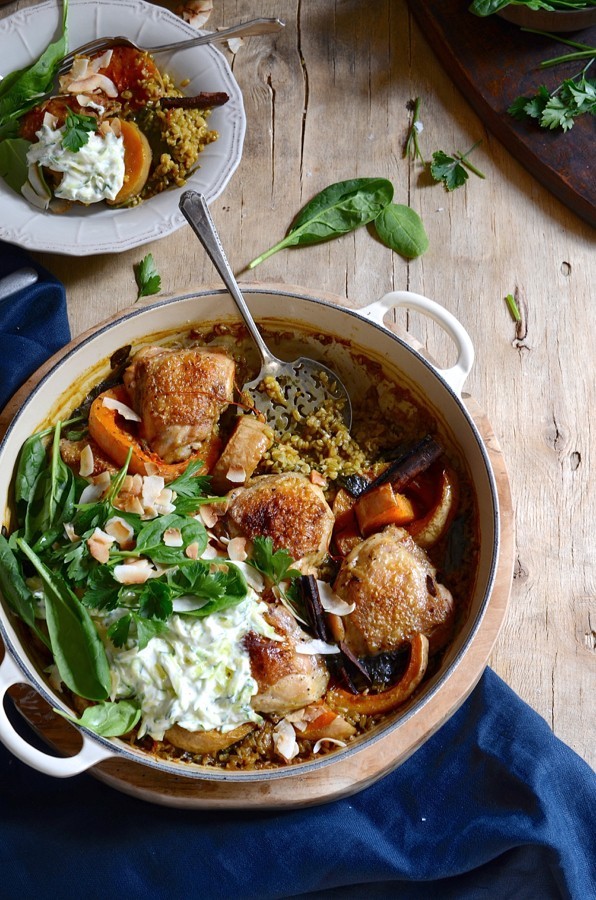 I love a one pan supper and this Coconut cream chicken bake with butternut, freekeh and spinach is my latest time saving recipe. Topped with a zucchini tzatziki and toasted coconut flakes, I'm sure it'll soon become a family favourite.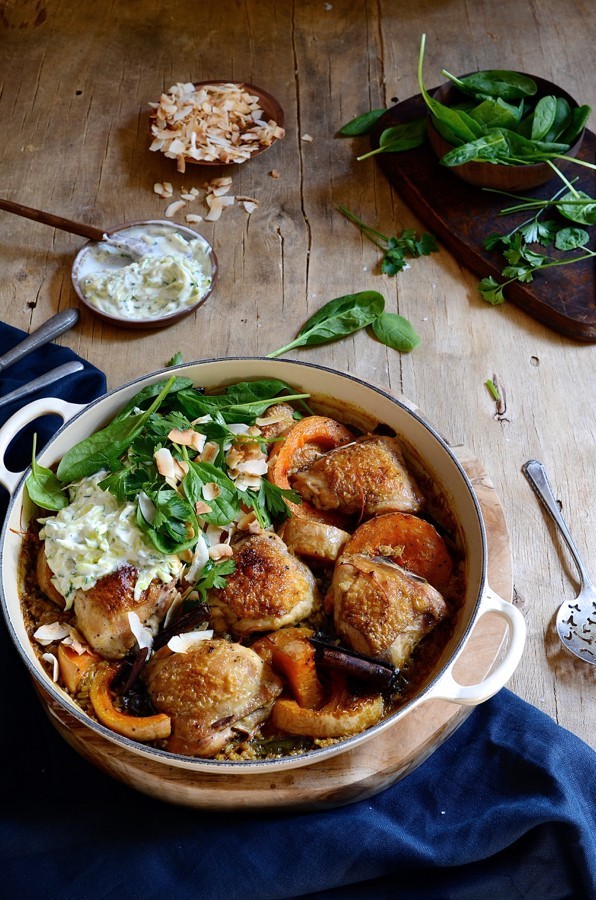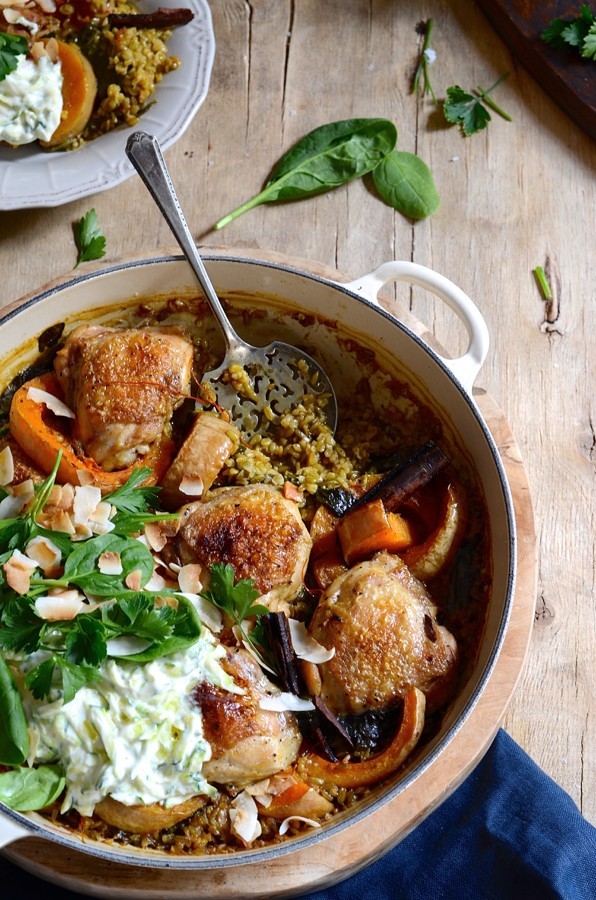 I'm using Freekeh in this Korma coconut cream curry. If you're not yet familiar with this ancient grain, you can get up to speed here. It's now available to order on-line from TRIFCO in Cape Town. In short, it's packed with a host of health boosting properties that you definitely want in your life. Apart from that, it has a nutty taste and toothsome texture which I absolutely love. You can also replace the freekeh with barley or wild rice. The entire dish is oven-baked, so it's simple and fuss-free. Once baked, I serve it with zucchini tzatziki.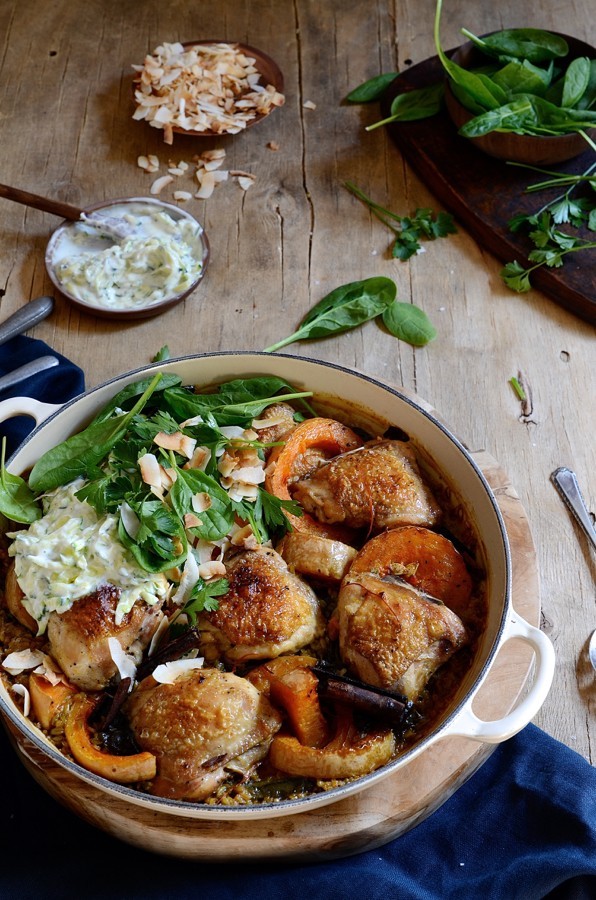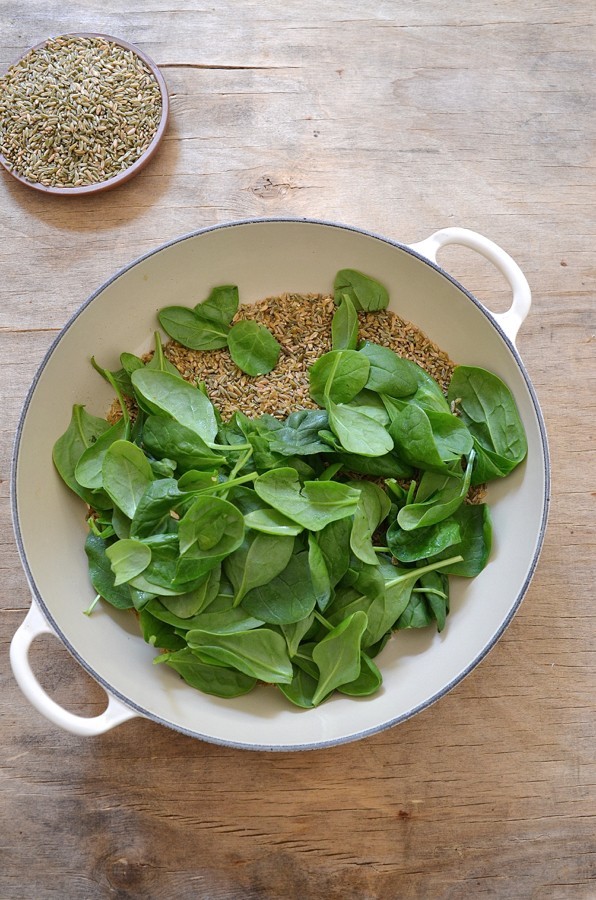 Coconut cream chicken bake
Ingredients
1 tablespoon olive oil
6 free-range chicken thighs, bone-in and skin on
500g butternut chunks or 2 small butternuts, cut into discs
1/2 cup greenwheat freekeh
1/2 cup cracked freekeh
2 handfuls baby spinach
50g Korma paste (ready made)
1/2 teaspoon ground coriander
1 teaspoon ground cumin
1/2 teaspoon salt
generous pinch of red chilli flakes or angel hair chilli threads
zest and juice of half a lemon
2 cinnamon sticks, broken
400g tin coconut cream
1/2 cup chicken stock
toasted coconut shavings, to finish
Greek yoghurt or zucchini tzatziki
fresh parsley, optional
Instructions
Preheat the oven to 180ºC.
Season the chicken with salt and freshly ground black pepper.
Heat the olive oil in a pan and brown the chicken on both sides. Remove from the pan and set aside.
Brown the butternut chunks in the the same pan. Once nicely coloured, remove and set aside.
Wipe the pan out with paper towel and lay both freekeh grains on the base.
Scatter the spinach on top, followed by the butternut and chicken pieces.
For the coconut cream sauce, whisk together in a large jug the curry paste, all the spices, lemon juice, coconut cream and stock.
Pour the curry cream evenly over the chicken.
Cover with a lid and bake for 1 hour, 10 mins.
Remove the lid, turn on the broiler/grill and roast until the chicken skin is golden and blistered.
Cover partially with the lid and allow to rest for 5 minutes before serving.
Serve with Greek yoghurt, coconut shavings and extra lemon wedges on the side.