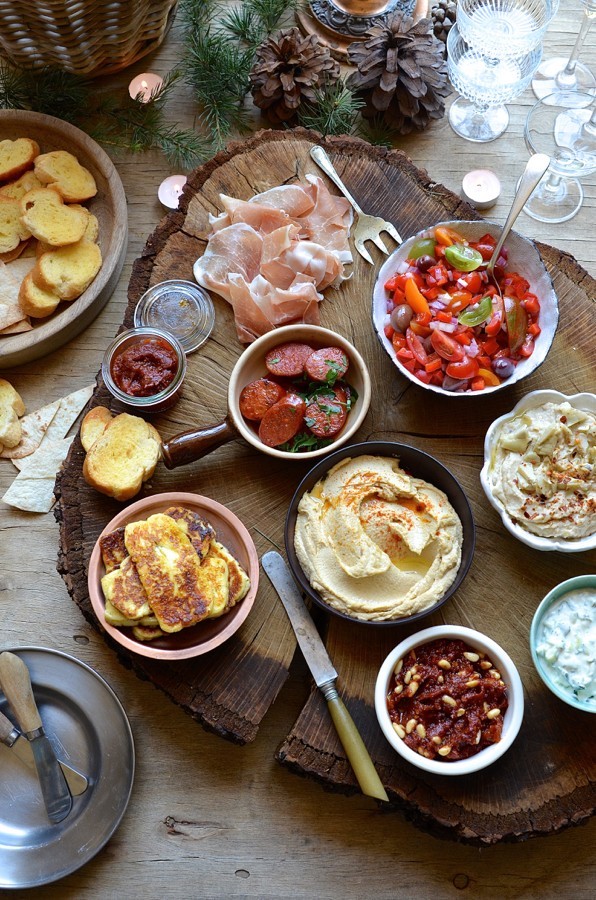 Tapas sounds great, right? Throw in the word bar and we'll possibly have a few more enthusiastic followers. Include portable and this party is happening! Entertaining is so much easier with these make ahead bite-sized appetisers. Whether you're hosting Christmas dinner or gathering with friends for a casual drinks party, this platter of punchy Mediterranean flavours is meant for sharing. It's time to celebrate and here's how we're going to do it with my ultimate portable tapas bar…….
Sun-dried tomato pesto with chilli and toasted pine nuts
Ultra smooth hummus
Artichoke and cannellini bean dip
Spicy chorizo and sherry bites
Zucchini and mint tzatziki
And that's just for starters …….Alongside is the king of squeaky cheese – fried halloumi, rainbow tomato salsa and wafer thin slices of salty prosciutto. Buttery crostini and oven baked tortilla crisps are the perfect finger food carriers for a feast of toppings.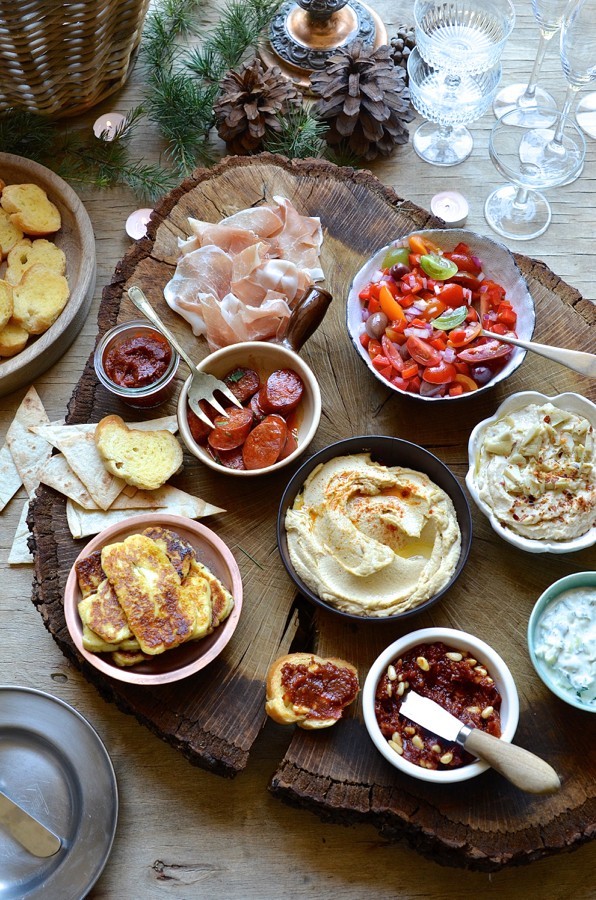 We have King Alfonso of Spain to thank for tapas. Under his reign, it was decided that no tavern would be permitted to sell wine or alcohol without a complimentary snack or small portion of food served alongside to curb drunkenness and disorderly behaviour. This practice was free but sadly abandoned as goodwill was exploited, appetites increased and profits dwindled. Personally, I think this is a fabulous rule! Perhaps as befits the silly season, we could implement it locally with immediate effect, as a kind of December special? Just a suggestion….
Tapas has since grown into one of the most popular ways of sharing tasty mouthfuls of Spanish delicacies. My summer snack-board is more a fusion of Greek, Spanish and Italian flavours. A celebratory union of mouthwatering small wonders to get the merriment well on its way. The recipes are all quick and simple, designed to keep your time in the kitchen brief and fuss-free. So chill the drinks, invite the gang and let's get the party started!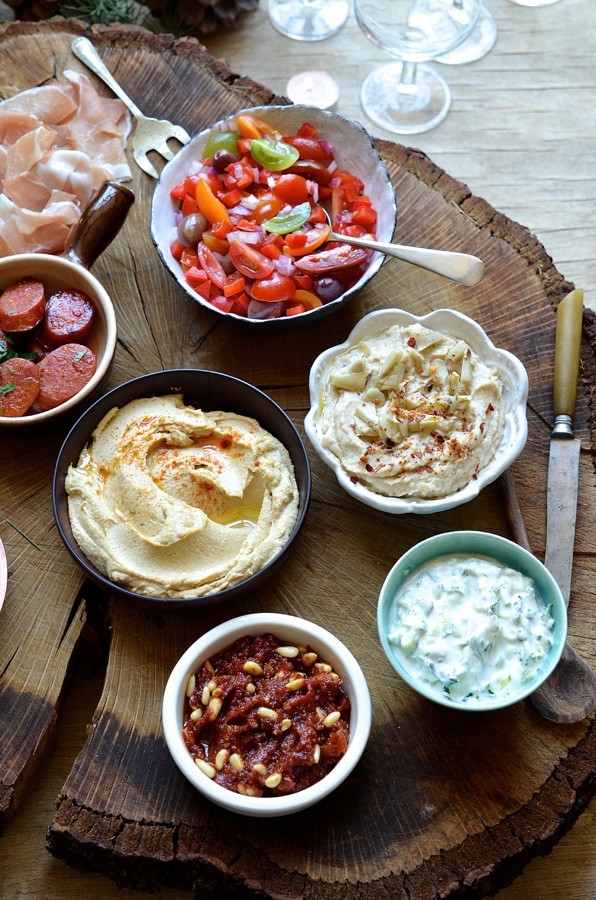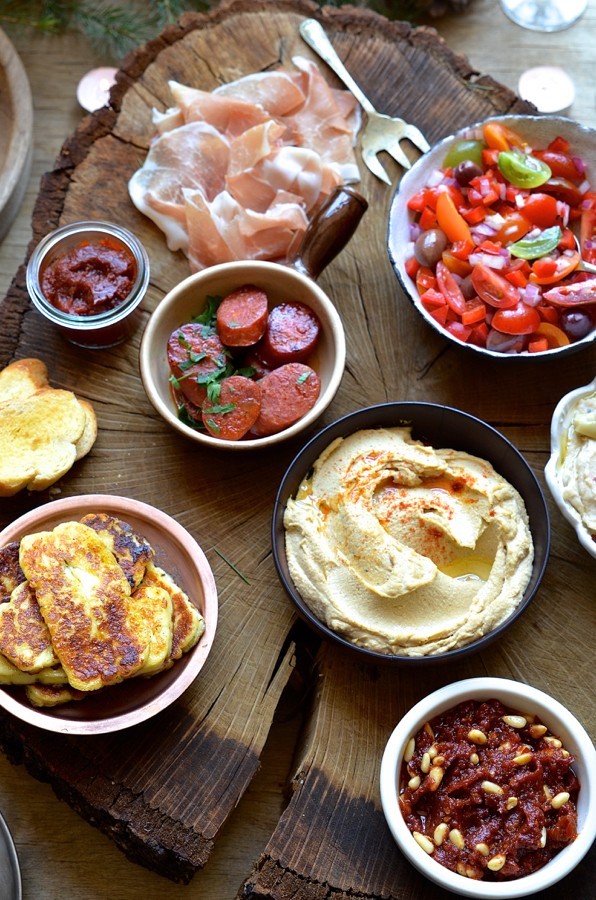 Ultra smooth hummus
The recipe for my ultra smooth hummus can be found HERE. This is my go-to hummus recipe for ever after. Amen.
Zucchini Tzatziki
Makes 250ml
3 medium sized zucchini, washed and coarsely grated
large handful mint and flat leaf parsley, roughly chopped
1 garlic clove, finely minced
zest and juice of half a lemon
1/2 cup (125ml) Greek yoghurt
1 tablespoon olive oil
salt and pepper, to taste
Place the grated zucchini in a colander or sieve, sprinkle with a little salt and set aside to drain for 10 minutes. Squeeze all the excess water out and place in a bowl with all the remaining ingredients. Stir to combine. Transfer to a serving bowl and refrigerate until needed.
Sun-dried tomato pesto with chilli and toasted pine nuts
240g sun-dried tomatoes, in oil
1/2 teaspoon dried, red chilli flakes
1 tablespoon extra virgin olive oil
1/4 cup toasted pine nuts
Place the tomatoes and the preserving oil in a food processor and blitz until smooth. Add the chilli flakes and olive oil and whizz until combined. Spoon the tomato pesto into a sterilised jar, seal with a tight-fitting lid and store in the fridge until use. Just before serving, stir through the toasted pine nuts.
Spicy chorizo bites
a drizzle of olive oil
200g spicy chorizo sausage
1/4 cup sherry (medium cream)
handful flat leaf parsley, roughly chopped
Slice the chorizo into diagonal discs. Heat the olive oil in a pan and fry the chorizo on a high heat for a minute or two on each side. Deglaze the pan with the sherry and reduce down by two thirds. Scatter with chopped parsley and serve immediately.
Artichoke and cannellini bean dip
Makes 200ml
400g tinned cannellini beans, rinsed and drained
1/3 cup marinated artichokes, roughly chopped
1 tablespoon olive oil
zest and juice of half a lemon
salt and pepper, to taste
Place the cannellini beans in a blender and whizz until smooth. Add three quarters of the artichokes, olive oil, lemon zest and juice. Pulse briefly. Season with salt and freshly ground black pepper. Transfer to a serving bowl and spoon the reserved artichokes on top.
There are no set rules for what to serve alongside the tapas. I  like to offer two or three alternatives. Warm pita breads, bruschetta or flatbreads are great, as are crostini or tortillas. To make the tortilla crisps, cut several tortillas into 3cm lengths and then in half. Place on an oven tray and bake in a 190º C oven for about 8-10 minutes until crisp and golden. For the crostini, slice a baguette into diagonal rounds, brush with olive oil or butter and pop into the oven along with the tortillas  and bake for about 8 minutes or until golden.
To get ahead, I prepare all the dips beforehand. Pan-fry the halloumi and chorizo just before serving as they're best eaten warm.