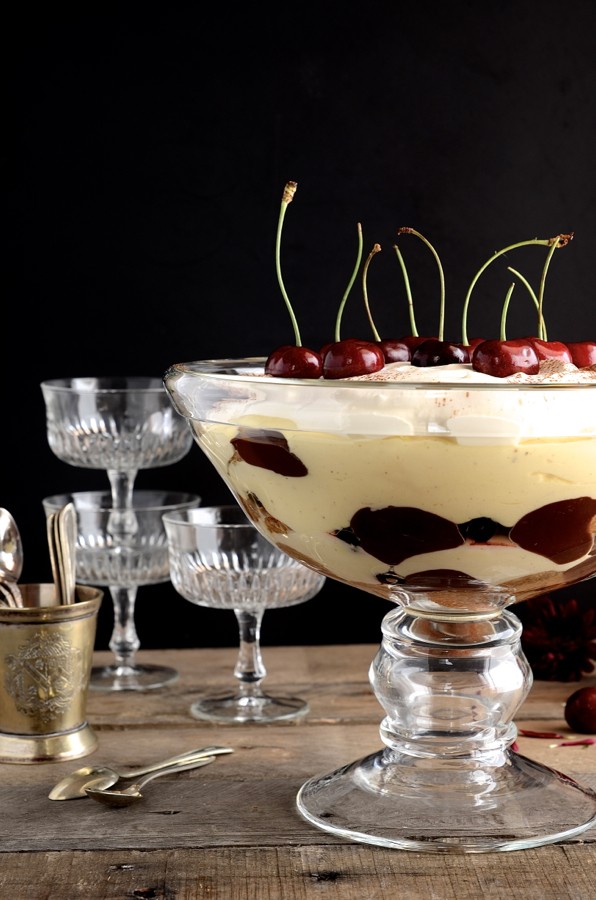 Resistance is futile when it comes to this black forest tiramisu. Voluptuous vanilla mascarpone cream, dark chocolate ganache and sweet cherries. How can it not be good? Tiramisu in Italian means pick me up and that, it certainly will.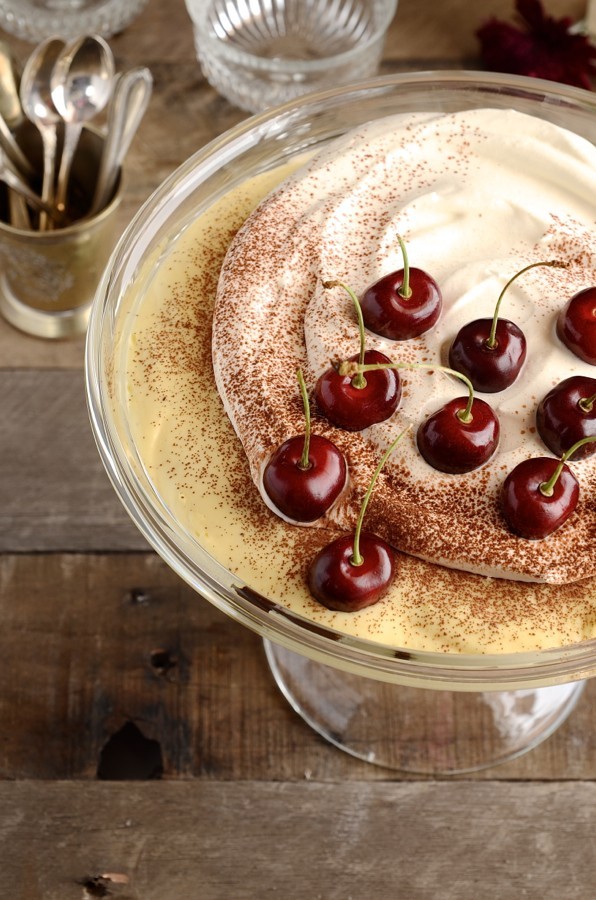 I've taken the liberty of using this delectable Italian dessert and given it a German-inspired spin. Currently, this is my favourite dessert, until next week, because as you know, food bloggers affections shift quickly. We're very easily distracted by irresistible must makes recipes.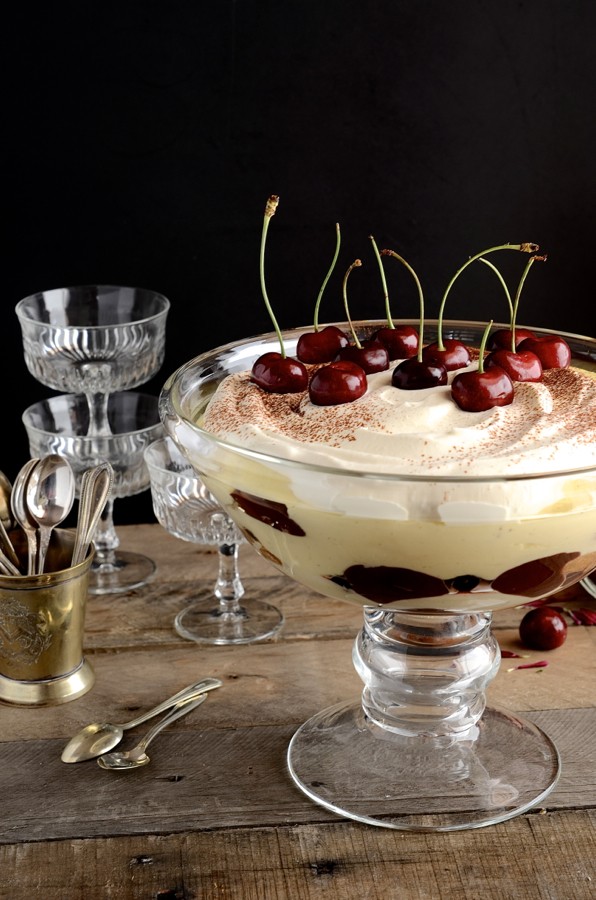 If you close your eyes and imagine the best Black Forest cake you've ever had and merge it with that memorable Tiramisu you demolished at Uncle Luigi's wedding, this will be the result. Layers of whipped mascarpone and vanilla cream, Marsala-coffee soaked Savoiardi biscuits with pockets of chocolate ganache. My work here is done! Best dessert ever and it's flop-proof. Tiramisu benefits from being made the day ahead as the flavour improves overnight, making it the ideal dessert for stress-free dinner parties. It's the ultimate crowd pleaser.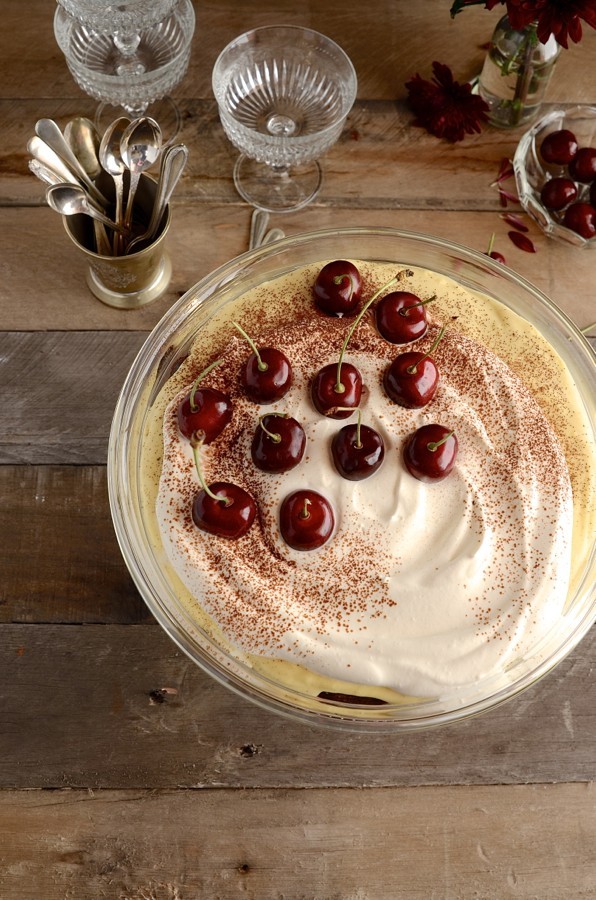 A note on Tiramisu – As it contains raw egg, do not serve to the elderly or pregnant. Yes, this isn't fair, but as my history teacher used to say, life's not fair! Buy the best quality free-range eggs you can, close one eye and just do it. I'll take my chances.
If you're looking to host a thoroughly Italian feast, here are a couple of spectacularly good dishes to have on your table. My menu for National Italian day has everything from antipasti to dolci. Check it out here. Also not to be missed for during our chilly SA winters is this rustic Tuscan farro and bean soup. It's simple, yet soulful.
BK Handy hints for best results:
Use best quality, free-range eggs.
Ensure that the mascarpone and double cream are at room temperature. Fridge cold will prevent even incorporation.
Whisk the egg whites in a clean, grease-free bowl.
Amarena cherries are optional, but well worth including.
Marsala is a sweet, fortified wine but can be substituted with Sherry or Kirsch, for an authentic Black Forest taste.
Freshly brewed coffee is best.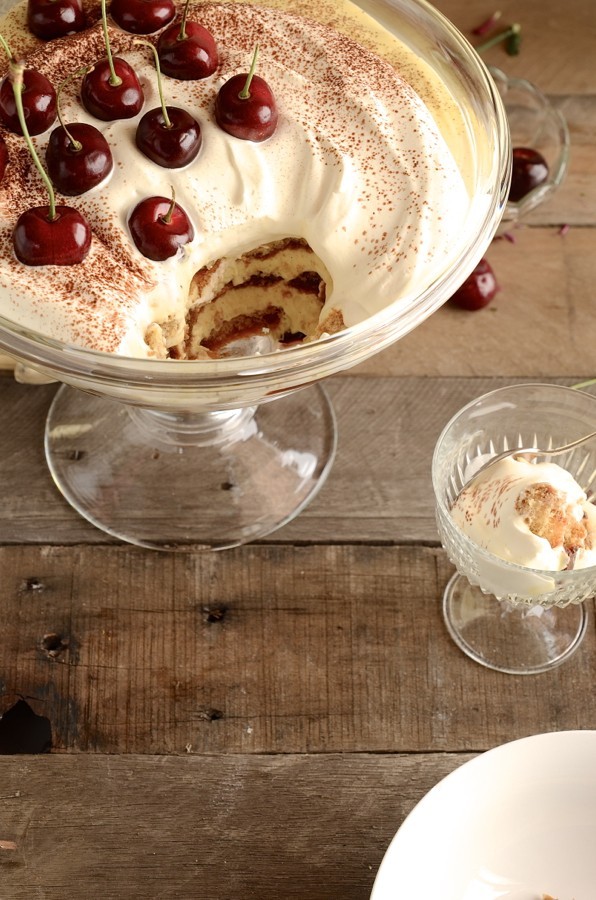 Black Forest Tiramisu
Serves 10-12
100g dark chocolate, chopped
1/3 cup single cream
250g mascarpone cream
250g double thick cream
1 teaspoon vanilla paste or seeds scraped from 1 vanilla pod
4 egg yolks
90g castor sugar
200g savoiardi biscuits (lady fingers)
400ml freshly brewed, hot coffee
125ml Marsala, Sherry or Kirsch
2 tablespoons Amarena cherries, drained
3 egg whites
pinch of salt
2 tablespoons castor sugar
1 punnet (200g) fresh cherries
1 cup (250ml) whipping cream
cocoa powder for dusting
Melt the chocolate and cream together and stir until smooth and glossy. Set aside to cool. Place the mascarpone, double cream and vanilla paste in a bowl and whisk on a low speed to combine. In a separate bowl, beat the egg yolks and castor sugar together until thick and creamy. It should have doubled in volume. Add 30ml of the Marsala into the whipped yolks. Fold 1/3 of the mascarpone cream into the yolks and mix to combine. Add the remaining cream and fold through gently. In a clean bowl, beat the egg whites, salt and 2 tablespoons castor sugar until fluffy and light. Fold gently into the cream mixture.
Pour the coffee and remaining Marsala into a shallow bowl. Dip the biscuits, one at a time, into the coffee and place on the base of your serving bowl. Drop teaspoon amounts of the chocolate ganache over the soaked biscuits and scatter with a couple of Amarena cherries. Spoon over a generous amount of the mascarpone cream. Repeat the process, ending with a final layer of mascarpone cream. Refrigerate for several hours. Just before serving, whip the cream and swirl over the tiramisu. Dust with cocoa and finish with fresh cherries.