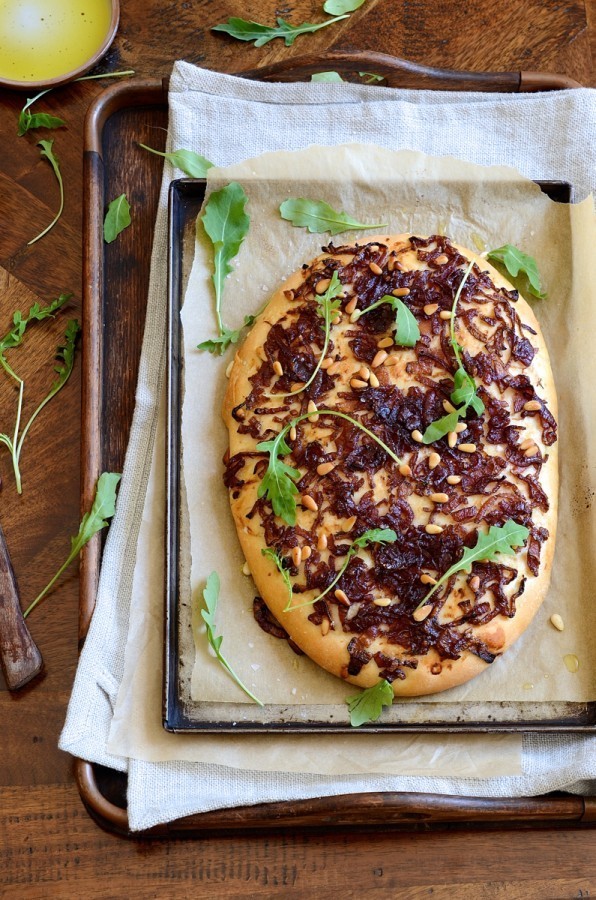 June 2nd is Italian National Day – Festa della Repubblica. This day commemorates the referendum of 1946 when the Italian population was called upon to decide upon a newly structured government after the Second World War. In the spirit of all that falls under the red, white and green flag, here's a menu that'll see you through from antipasti all the way through to the sweetest Dolci finish. And to all my Italian friends, especially the Sforza family, Saluti!
 These recipes were developed exclusively for Food and Home Entertaining, June edition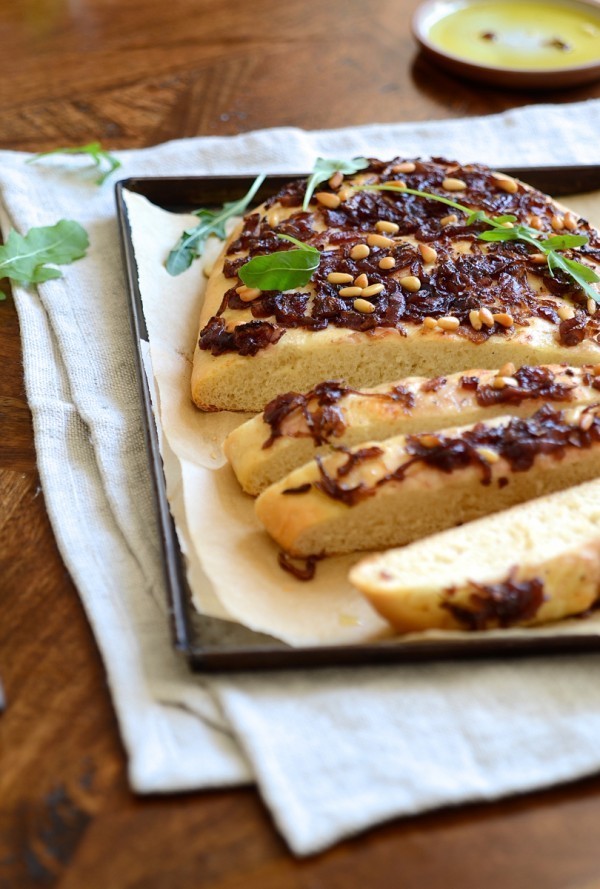 Focaccia with caramelised red onions and pine nuts
Pane (breads)
Throughout Italy, bread is eaten everyday. Whether dipped in a morning coffee, used to add substance to soups, salads or for the customary practise of nibbling on with glass of wine before the meal. The importance of bread remains cornerstone to the Italian food culture. One of my favourite go-to books on Italian food is Katie Caldesi, author of The Italian Cookery Course. I love how as a non-Italian, married to Giancarlo, an Italian chef and cookery teacher, Katie respectfully navigates her way around the rather complex subject of 'authentic' Italian food. Her exploration of regional food and subsequent interpretation thereof makes the journey into this culturally rich cuisine doable for the rest of us. She has this to say about bread  – In times past, the women in smaller communities gathered together to bake bread in communal ovens. While about this daily ritual, recipes and tips were shared. Traditional insider secrets that can only be learnt from experience was casually passed down from one generation to another. The religious significance of bread was also carried through to the shaping of breads, celebrating religious festivals and celebrations.
Artichoke, kale and ricotta conchiglioni with arrabbiata sauce
Pasta
'Everything you see I owe to spaghetti' – Sophia Loren
While I don't think this is necessarily going to work in my favour, it remains one of my favourite comfort foods and the easiest way to feed a crowd of hungry mouths. There are literally hundreds of different shapes and varieties of pasta, some more familiar than others. I'm fascinated by the logic behind the shape, each being paired to the most suitable sauce. Conchiglioni are large shells, perfect for stuffing with a delicious meat ragù or ricotta filling. For this vegetarian pasta bake, I've used marinated artichokes, kale and creamy ricotta cheese to fill the conchiglioni and nestled them snugly on a ruby red arrabbiata tomato sauce. It's a definite winner.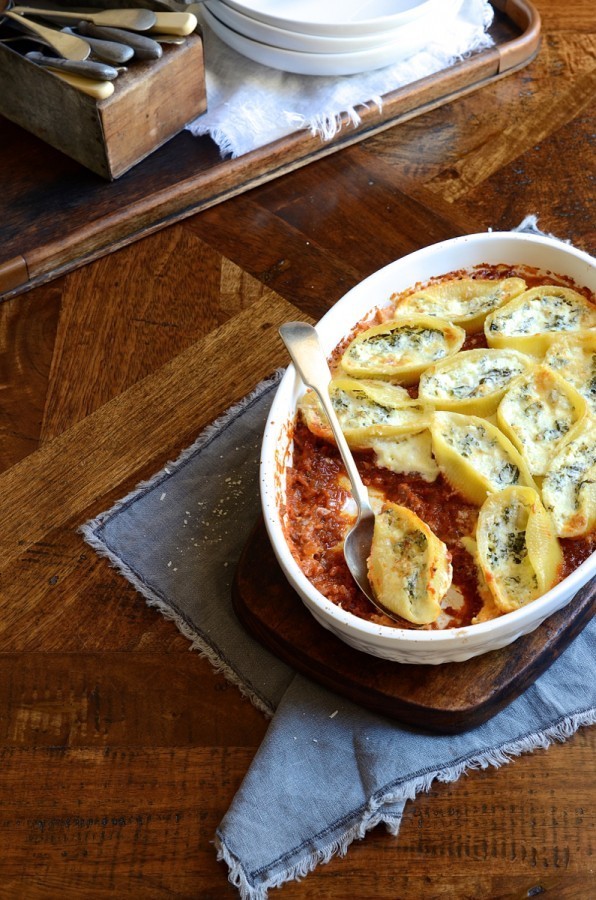 Broccolini with prosciutto, capers and olives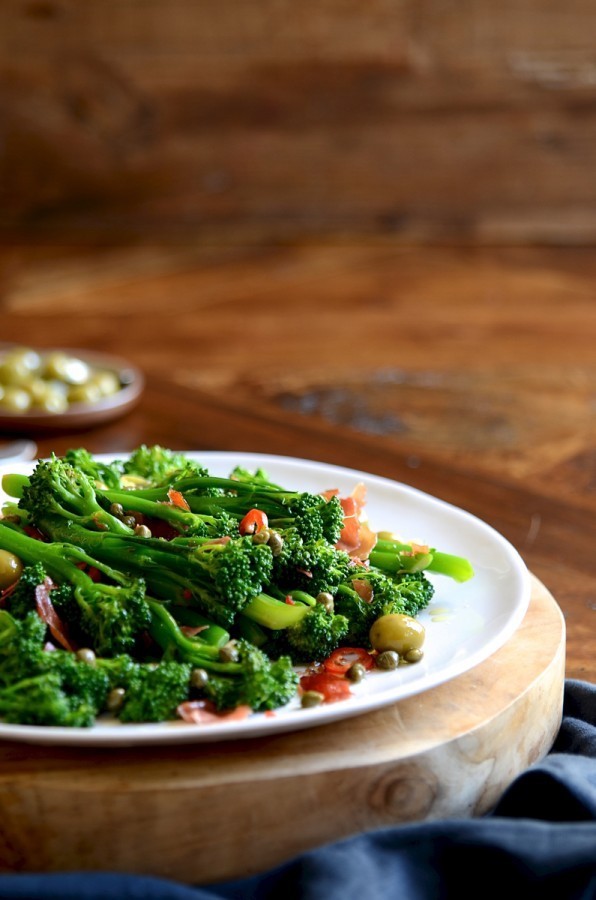 Pesto beans with rosemary potatoes and parmesan
Rosemary and red wine beef with buttered porcini mushrooms
Carne – Meat
Several years ago I met Giorgio Locatelli, a Michelin starred chef, at the Good Food and Wine Show in Johannesburg. As is the Italian way, demonstrative hand waving and deft knife skills impressed the crowd of food enthusiasts no end. I still remember. He made fresh egg pasta ravioli filled with walnuts, ricotta and caramelised onions. Buonissimo! After the demonstration, a book signing followed. Armed with my copy of his latest book, Made in Italy Food and Stories, I stood in line to meet the man. Maybe this is just me, but when confronted with something or someone hugely impressive, words tumble out of my mouth that astound even me. Given the opportunity to ask an intelligent question, I say this. 'You know Giorgio, on my recent trip to Venice, I ate the worst Carbonara ever! What's up with that?' No surprise then that the inscription is free of endearments. It reads  – Dianne, Bon appetito. Giorgio. I'm pleased to say, I have indeed had many great pastas since then!
Concerning meat he writes – 'Coming from a rural culture, the concept of using the entire animal is common practise'. Improvisation is thus key to clever cooking, making the little that you have stretch even further. A slow cooked ragù such as this would be eaten as a main meal, with the rich tomato sauce reserved for a pasta the following day.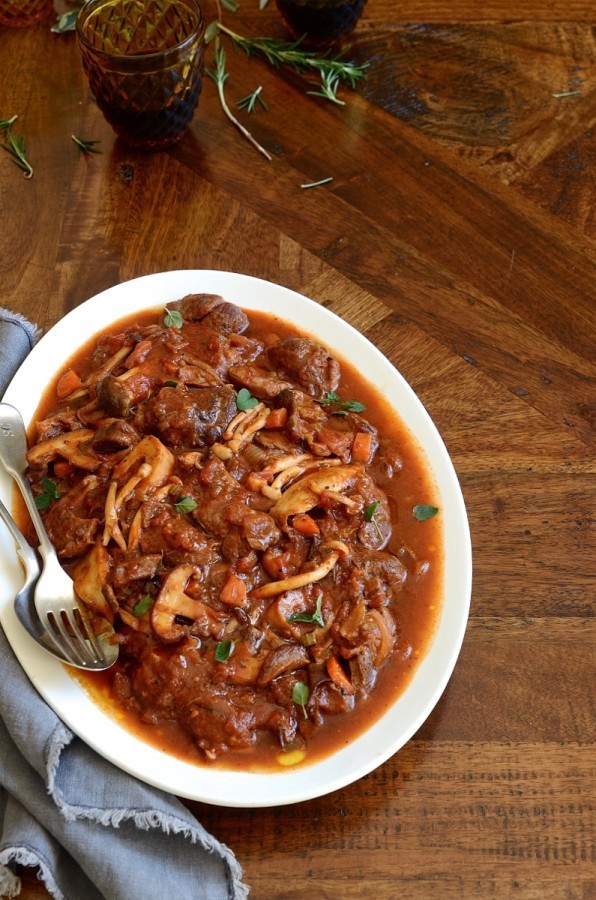 Nutella and Hazelnut chocolate torte
Dolci – Dessert
What can I say about dessert? For me, a meal is not complete without a little something sweet at the end. All's well that ends well and this a superbly decadent way to conclude my celebratory Italian feast. As disappointingly sad as the carbonara was, I can write a book on the spectacularly indecent volume of swoon-worthy gelato consumed on the same trip! Glorious, it was. I recall eating cherry ice cream in Rome on a blisteringly hot August day. On returning home I immediately made a version of it using amarena cherries and toasted almonds. When you think of Italian desserts, there's little that compares with creamy gelato. This chocolate torte however, is a strong contender. To compromise, I think a scoop of smooth vanilla bean ice cream would be a fitting companion. So in the words of Giorgio, Buon appetito!