Amarena cherry ice cream with toasted almonds
Without ice cream in the world, there would be darkness and chaos.  –  Don Kardong
Rest assured, there will be none of that around here, darkness or chaos that is, so we'll proceed with an obscene amount of ice cream posts on this site, starting now and continuing for the duration of summer. Say hello to the first – Amarena cherry ice cream with toasted almonds. I am not ashamed to fly the ice cream flag!
To a child, a mall is a marvellous place, filled with temptations and especially if there's a Carvel ice cream parlour. Growing up, this was our month end treat. I don't recall there being too many flavours, but what there was, we loved. I'd head straight for the vanilla cone. The nobly caramel-chocolate exterior was irresistible! My mum's favourite was cherry and almond. And so this is the story of that ice cream.
There'e a history of ice cream eating stories dotted throughout my life. On a recent 'girls only' trip to Rome, my mum and I got re-acquainted with this cherry flavoured creamy dream in a quaint little gelateria overlooking the Colosseum. The view was unforgettable, the August heat intense, the gelato heavenly and the privilege of sharing it with my mum – an utter joy. This ice cream is for my mum.
The texture of this milky ice cream is lighter than a traditional ice cream. It's is a simple egg-free vanilla ice cream that's a doddle to make. If you choose to make up a basic vanilla bean ice cream, top with the caramel sauce that we made with the Salted pretzel brownies. As there are no added preservatives, it 's best to use within a week. Unfortunately I can't guarantee that it'll last that long!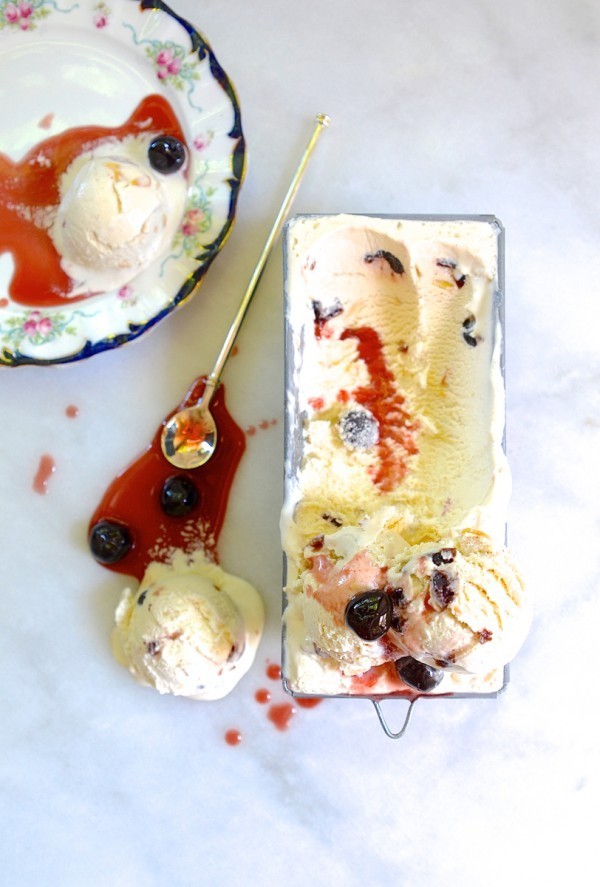 While we're on the ice cream bandwagon, here's South Africa's most favourite fridge pudding in ice cream form – Peppermint crisp ice cream pudding cake. Like none other!
Amarena cherry ice cream with toasted almonds
500ml single cream
125ml full cream milk
80ml (1/3 cup) castor sugar
half a vanilla bean, seeds scraped
1 teaspoon vanilla extract
2 tablespoons honey
a pinch of salt
50g almond flakes, toasted
3 tablespoons Amarena cherries, drained
Method
Place the cream, milk, sugar, vanilla seeds, and honey in a small saucepan. Heat gently until the sugar has dissolved. Remove from the heat and stir in a pinch of salt.
Pour into a jug and set aside to cool to room temperature. Cover and chill overnight. Transfer to an ice cream maker and churn as per the manufacturer's instructions.
Fold the toasted almond flakes and cherries into the ice cream and spoon into a loaf tin. Cover with foil and freeze until firm. Drizzle with reserved cherry syrup and a few extra sweet cherries nestled on top.
If you prefer a soft serve consistency, serve straight from churning.