Baked blackberry chocolate fondant tart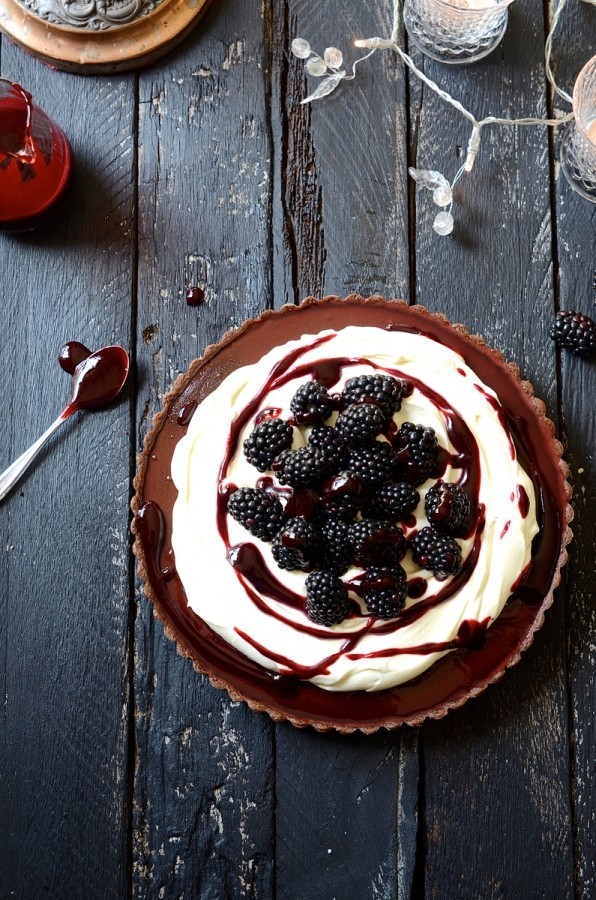 "He showed the words "chocolate cake" to a group of Americans and recorded their word associations. "Guilt" was the top response. If that strikes you as unexceptional, consider the response of French eaters to the same prompt: "celebration."
― Michael Pollan, In Defense of Food: An Eater's Manifesto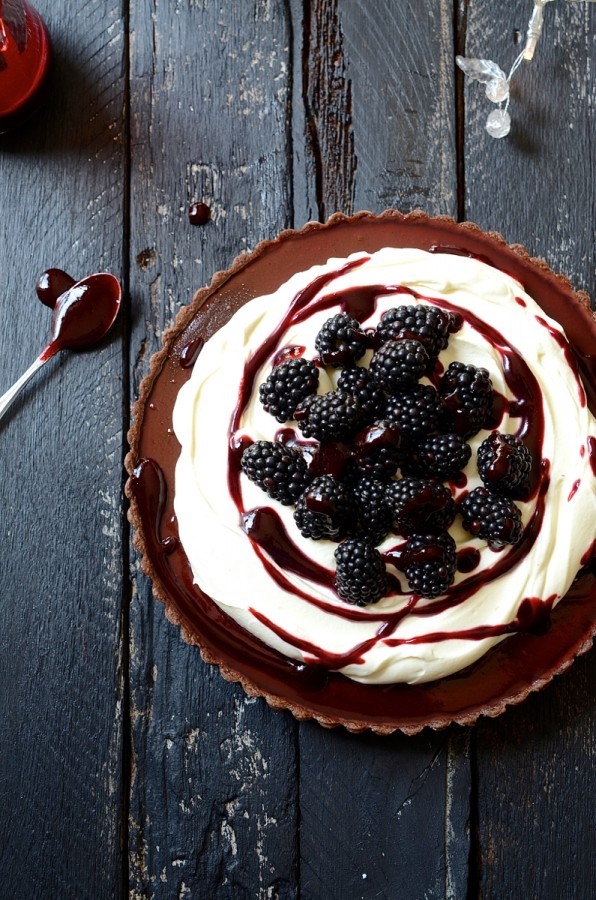 All of life is a choice and in this story, I choose the latter. Celebration. Chocolate is synonymous with celebrating – Valentine's Day, Easter and Christmas certainly wouldn't be complete without the magic of chocolate. Good fortune is sure to be found within the shiny foiled sheathes of a prized chocolate bar, ask Charlie. The golden ticket earned him a place in Willy Wonka's Candy Kingdom. With its unique ability to induce feelings of euphoria and filled to the brim antioxidants, I see little downside to a committed allegiance with this ancient Aztec bean. Hailing the chocolate flag unashamedly, today's post is all about the sultry dark bar and how to deliver a flourishing finish to this year's Christmas feast.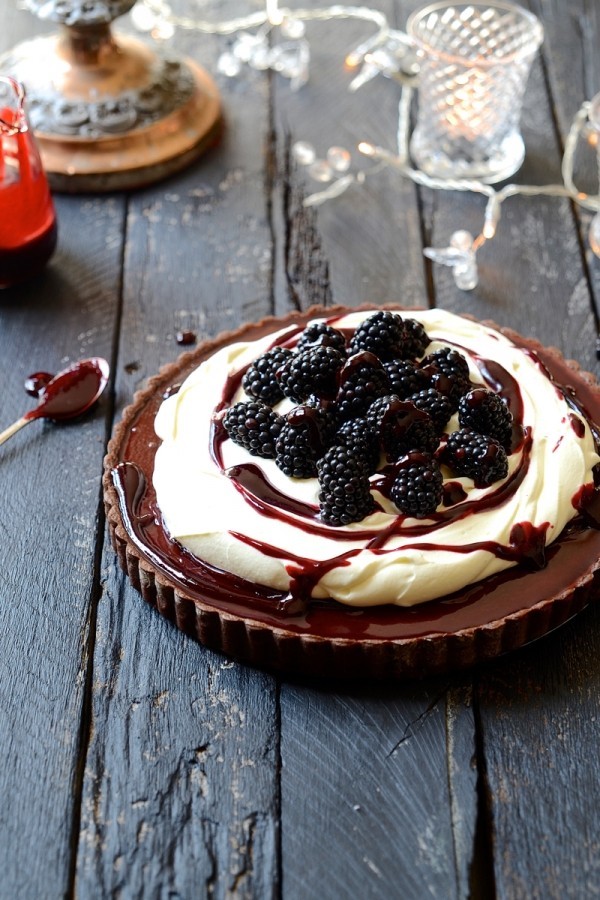 To let you into the loop, here's how this Baked blackberry chocolate tart came about. When the team over at The Great South African Bake Off invited me to participate in a bloggers challenge for #tartweek, I immediately started thinking chocolatey thoughts. If you're an avid food-gazer, chances are you've been glued to BBC Lifestyle on Tuesday nights, watching local amateur bakers getting hot and bothered in the baker's tent. Pottering about in the familiar comfort of your cosy kitchen is quite different from the pressurised scrutiny of the judges panel. It's all kinds of pressure, I'm sure. Issued with a guideline recipe, I was asked to create a tart with a Christmasy spin, which in my food language could only mean – chocolate.
This tart is not flashy, but luxuriously elegant. The flavours are complex yet subtle with a chocolate shortbread-like cookie crust to which I added freshly cracked black pepper. Unusual, yes, but stay with me here. It deepens the cocoa nuances and is rather splendid mingled with tart blackberries. Using the best quality 70% dark chocolate for the baked fondant filling goes without saying. Upholding the importance of seasonality, juicy blackberries were the obvious choice to partner with this chocolate tart. Taut pearly-skinned blackberries yield thick berry juices for a plummy-coloured syrup that pools effortlessly over softly whipped honey cream. Hovering somewhere between a tart and a voluptuous chocolate pie – either way, it's a heavenly!
Tuesday 13th November is the finale of season 2 in the The Great South African Bake Off. Catch all the action on BBC Lifestyle channel at 8pm. See you there!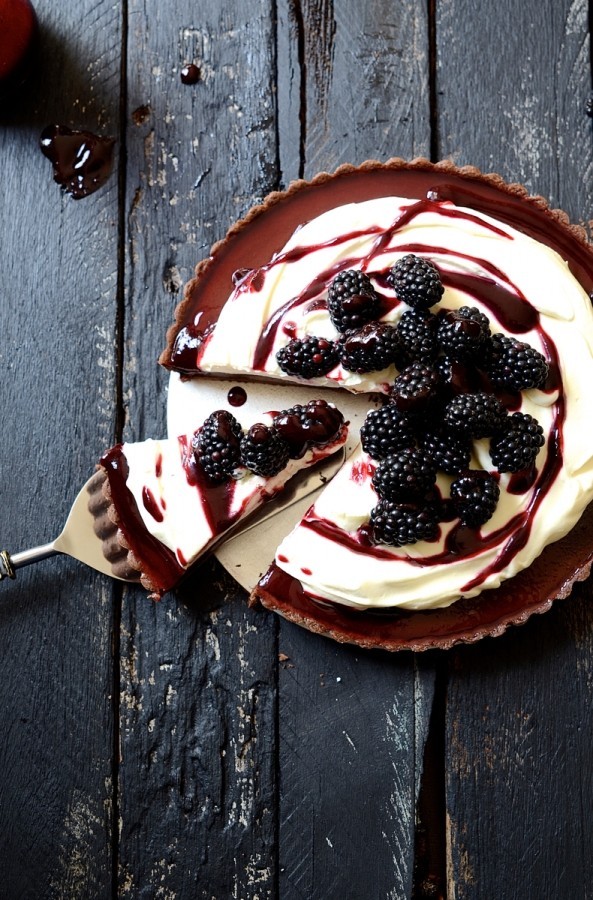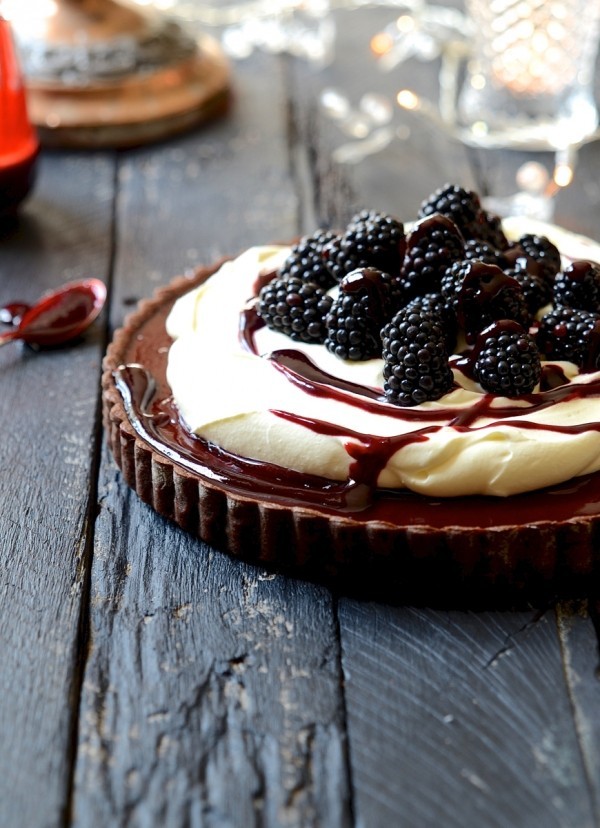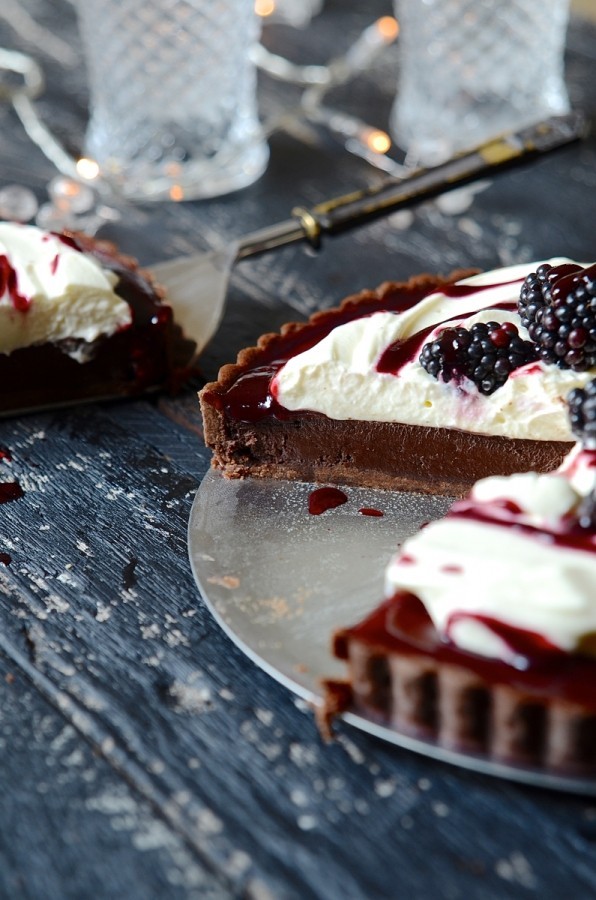 If however, effortless no-bake dessert recipes strikes a more likely cord with your low-fuss holiday plans, this salted caramel and walnut tart will certainly tick all the boxes.
Baked blackberry chocolate fondant tart
210g all-purpose cake flour
30g cocoa powder
pinch of salt
1/4 teaspoon freshly ground black pepper
3 tablespoons castor sugar
150g cold butter
1 egg yolk
1 teaspoon lemon juice
2 teaspoons ice cold water
Chocolate fondant filling
125ml (1/2 cup) cream
300g 70% dark chocolate, roughly chopped
50g butter, room temperature
3 tablespoons castor sugar
1 teaspoon vanilla paste
2 eggs
2 egg yolks
Blackberry sauce
400g fresh blackberries
3 tablespoons castor sugar
2 tablespoons Crème de cassis liqueur
1 teaspoon cornflour combined with 2 tablespoons cold water
Vanilla cream
250ml (1 cup) single cream
1 teaspoon vanilla paste or extract
2 tablespoons honey
250ml (1 cup) double cream
Starting with the pastry, sift together the flour, cocoa, salt, pepper and castor sugar. Place the sifted dry ingredients and butter in a food processor and pulse until fine breadcrumb texture.
Add the egg yolk, lemon juice and water. Blitz together briefly until the dough comes together.
Wrap the dough in cling film and chill for at least an hour.
Turn the dough onto a floured board. Roll out to a 4mm thickness and line a 23cm fluted tart tin with the pastry. Dock the base to allow for expansion. Line with parchment paper and baking beans. Bind bake in a pre-heated oven for 25 minutes at 180º C. Remove the paper and beans and bake for a further 5 minutes. Set aside while you make the filling.
For the fondant filling, place the cream, chocolate, butter, castor sugar and vanilla in a bowl. Set the bowl over a pan of simmering water. Heat slowly until the chocolate is melted and the mixture is smooth and glossy. Remove from the heat and add the eggs and yolks. Whisk until well combined.
Fill the tart case with the fondant filling and bake for about 15 minutes at 150º C. Allow the tart to cool in the tin before un-moulding.
To make the blackberry syrup, puree 3/4 of the blackberries in a blender. Strain the berry pulp to remove all the seeds. Place the smooth puree in a saucepan with the castor sugar and liqueur. Once the sugar is dissolved, add the cornflour mixture and bring up to the boil. Simmer for several minutes until the sauce is thickened and glossy. Pour into and jug and set aside to cool.
Finally, whisk the cream and honey together until soft peaks form. Gently fold through the double cream.
To finish, spoon 2 tablespoons of the blackberry sauce over the cooled tart and smooth to the edges. Add dollops of the whipped cream on top, drizzle with the remaining blackberry sauce and top with the reserved blackberries.