Bacon wrapped chicken with parmesan cream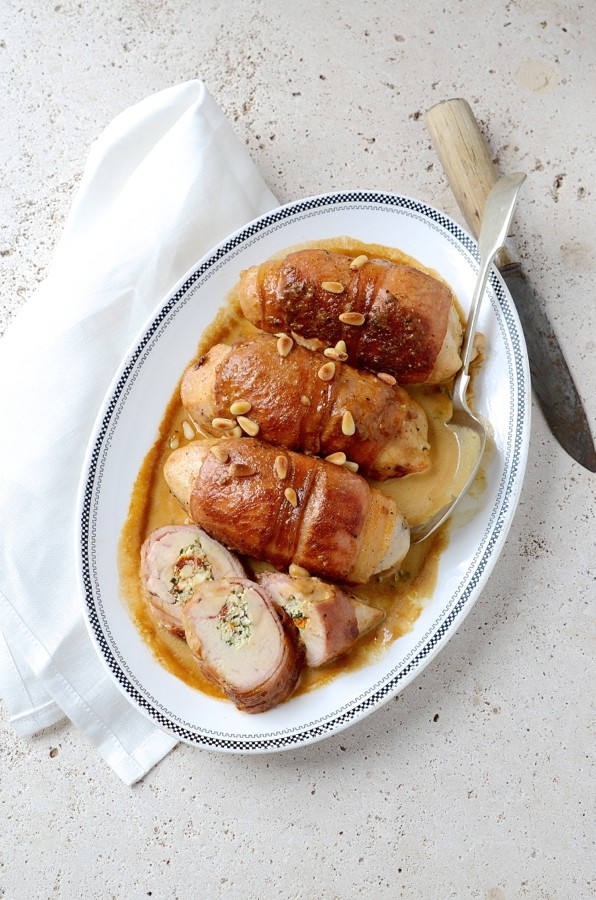 Bacon wrapped chicken stuffed with herbed ricotta and sun-dried tomatoes and smothered in a white wine and parmesan cream sauce. What's not to like? This is like your dream chicken dinner. AND it's only Wednesday! No waiting around for the weekend roast.
Chicken has become the number one go to meat for quick and easy suppers. From pan-fried to traditional Sunday lunch roasts, chicken remains an all time family favourite. These chicken parcels are a gift. They're great for dinner parties, easy suppers, Sunday lunches and tick all the Banting boxes. Prepare ahead of time, cover and chill until your ready. White meat is leaner than brown thigh portions and can become dry when pan-fried. Wrapping the chicken in bacon gives the chicken a salted smokiness and keeps the chicken succulent. A quick searing in the pan followed by a gentle simmer and you're done. Really simple and very special.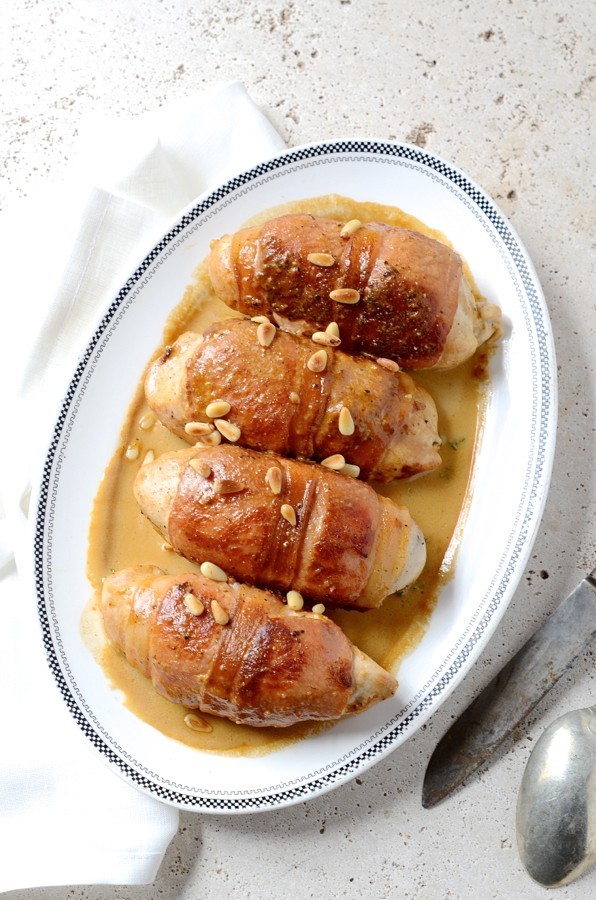 For the herb filling, I've combined creamy ricotta cheese with chives, basil, parsley and sun-dried tomatoes. Now for the sauce. Let me just say this. It's always about the sauce. The parmesan and white wine sauce is luxuriously rich and creamy. A couple of sprigs of lemon thyme added to the sauce infuses a lemony  freshness and paired with the chicken, a perfect match. Although not essential, I add a scattering of toasted pine nuts to finish.
To cut through the richness of the sauce I'd serve the chicken with steamed green beans or tender-stem broccoli. If you love a comforting carb, baby potatoes, fluffy mashed potatoes or polenta would be ideal. If you're Banting serve with cauliflower mash.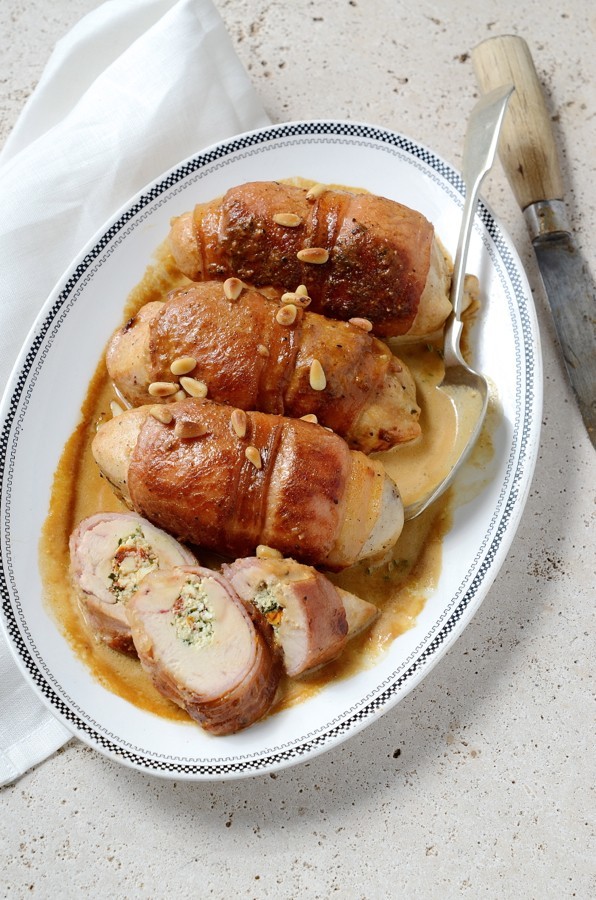 The picture of the platter was taken after the meal. Just goes to show. No washing up will be required. The 'plate-licking' delicious sauce will take care of the job!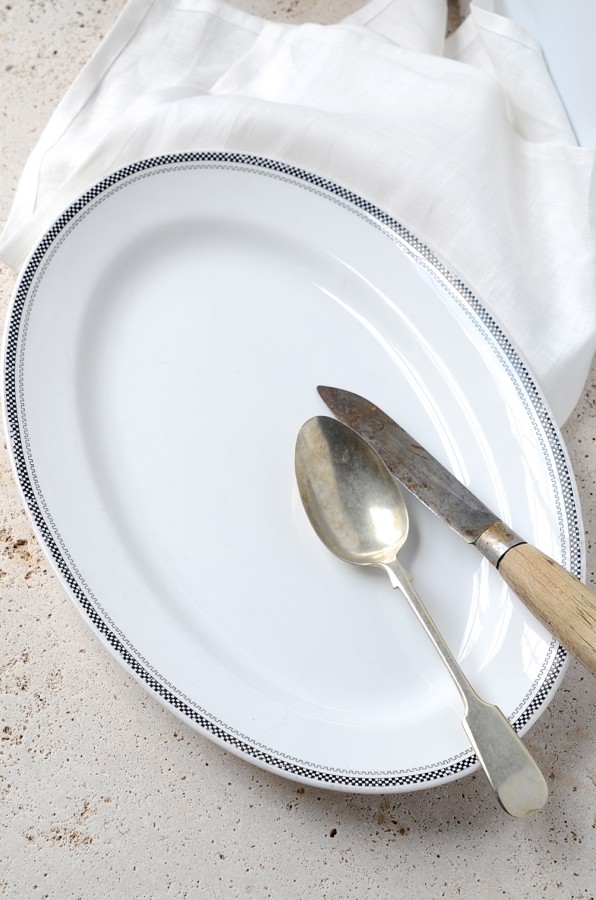 Bacon wrapped chicken with parmesan cream
Serves 4
For the filling
125g ricotta, crumbled
zest of 1/2 lemon
3 sun-dried tomatoes, roughly chopped
1 heaped tablespoon cream cheese
1 tablespoon olive oil
a handful of fresh basil, flat leaf parsley and chives, finely chopped
salt and black pepper
For the parcels
4 free-range chicken fillets
8 rashers smoked, back bacon
1 tablespoon olive oil
1/3 cup dry white wine
3/4 cup weak chicken stock
1 cup single cream
1/4 cup parmesan cheese, finely grated
several sprigs of fresh thyme or lemon thyme
salt and black pepper, to taste
handful toasted pine nuts
Place all the filling ingredients except the sun-dried tomatoes in a bowl. Season lightly and mix to combine. Add the sun-dried tomatoes and fold through lightly. With a sharp, smooth bladed knife, cut pockets into the chicken fillets. Stuff each cavity with the ricotta mixture, making sure each fillet is generously filled. Season the chicken on both sides with salt and pepper.
Wrap each chicken fillet with 2 bacon rashers and secure on the under side with a toothpick. Heat a tablespoon of olive oil in a pan. Brown the chicken parcels on all sides, making sure the bacon is dark and well coloured. Deglaze the pan with the wine, reduce down by half before pouring in the stock. Add the thyme leaves, cream and parmesan cheese. Cover with a lid and simmer for about 12-15 minutes. The cooking time will depend on how thick the chicken breasts are. Add a splash more water if your sauce has reduced too rapidly. The consistency of the sauce should be similar to pouring cream. Scatter with pine nuts and serve with steamed green beans, broccoli or baby potatoes.