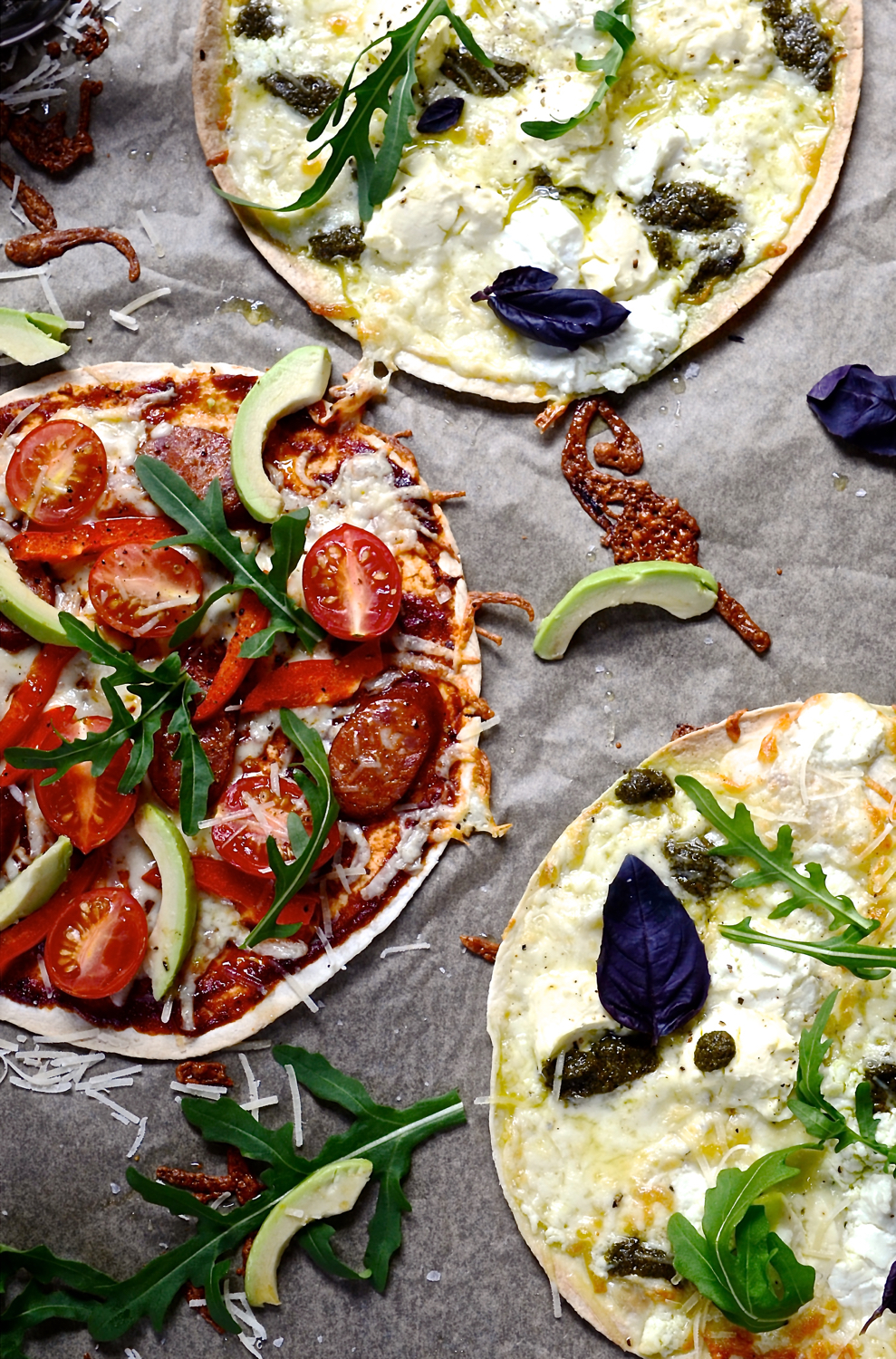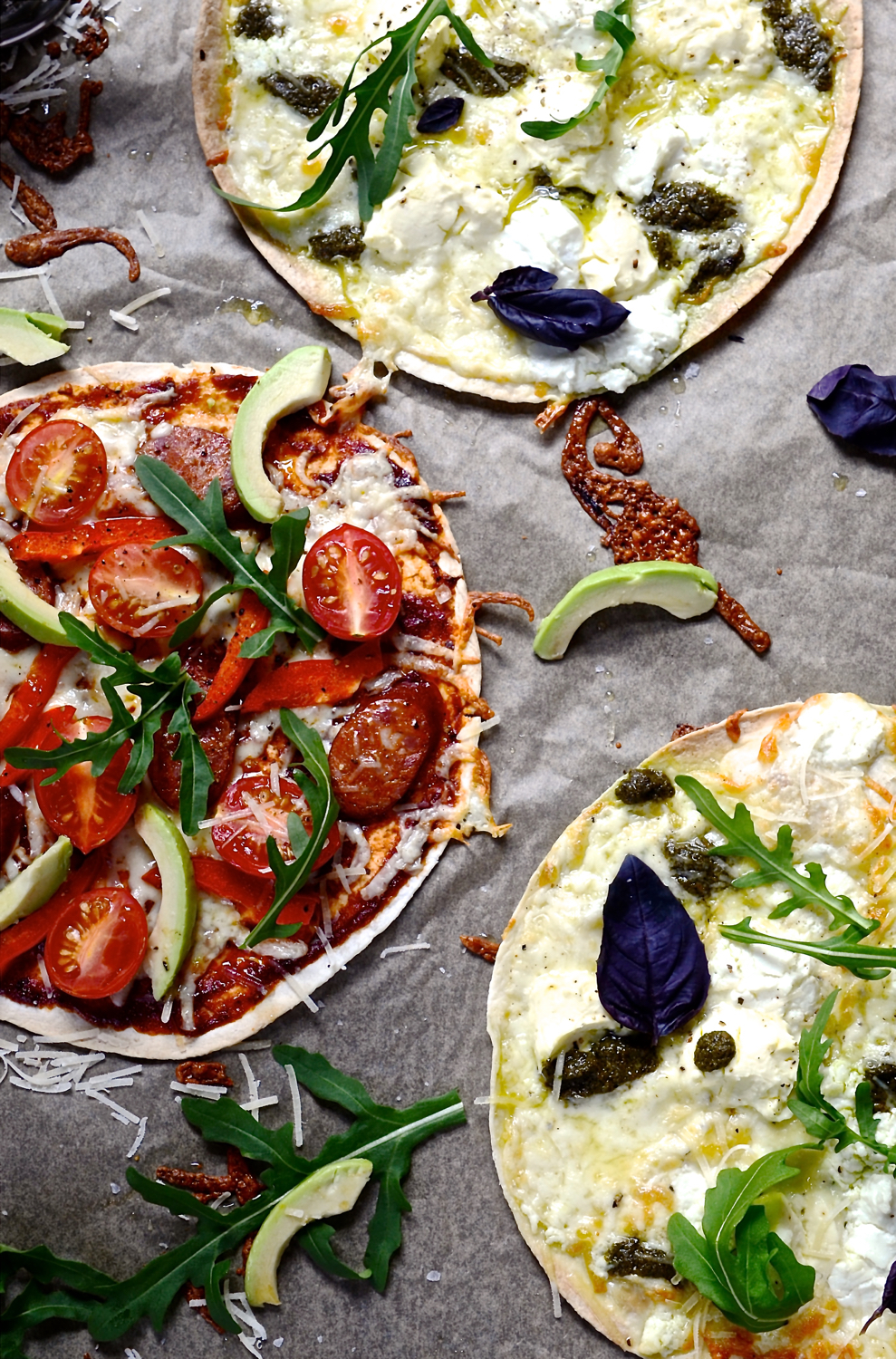 Skinny flatbread pizzas are perfect for when you need a little something savoury to tide you over. Floury tortillas or halved pita breads are good for a thin, crispy base.  Turkish flatbreads or naan breads are especially good for heavier toppings like chicken tikka with all the trimmings. Get creative and pile on your favourite veggies for a vegetarian version or use those meaty leftovers that aren't quite enough for a second dinner, but would oblige as a tasty pizza topping.
I've made a Pizza Bianco using several of my favourite cheeses – mascarpone, creamy gorgonzola and a grating of parmesan. A dollop of basil pesto, rocket and colourful purple basil turn these skinny pizzas into a flavour sensation.
Chorizo, red pepper, cherry tomatoes and avocado are really good together. The tomato base is a simple mix of tomato paste, tomato sauce and oregano, so there's no need to fuss over a homemade tomato sauce. Quick meals require short-cuts and these skinny pizzas are just that. Fast, simple and delicious. There's no exact measurements or amounts for the ingredients as it'll vary according to the toppings you choose. I wouldn't overload the toppings though as the base is thin. Saying that, folding them up is the possibly the best way to approach eating the Skinny flatbread pizzas.
Skinny Flatbread Pizzas
Serves 4
4 flatbreads
mozzarella cheese, grated
gorgonzola
mascarpone
grated parmesan
chorizo sausages, thinly sliced
cherry tomatoes, halved
red pepper, julienned
avocado, sliced
basil pesto
rocket leaves
purple basil
olive oil for finishing
salt and freshly ground black pepper
Tomato paste
2 tablespoons tomato paste
2 tablespoons tomato sauce
1/4 teaspoon dried oregano
Preheat the oven to 240º C. Line a large baking sheet with baking paper. Lay the flatbreads onto the tray. For the Spanish-style pizzas, spread the paste over the base, stopping just shy of the edge and scatter over a handful of mozzarella. Top with sliced chorizo, red peppers and tomatoes, cut side up. Drizzle with olive oil and season with salt and pepper.
For the Four cheese pizzas, start with a layer of mozzarella, followed by small chunks of gorgonzola and teaspoon sized dollops of mascarpone. Finish with a grating of parmesan and freshly ground black pepper. Bake the pizzas for about 8 minutes until the cheese is bubbling and golden. Spoon a little basil pesto over the four cheese pizzas  and finish with fresh basil. For the Spanish version, add avocado and fresh rocket. Slice into quarters or roll up, wrap style and apply to face.
For the topping, these candied tomatoes are so good: