Berry breakfast parfaits with yoghurt and honey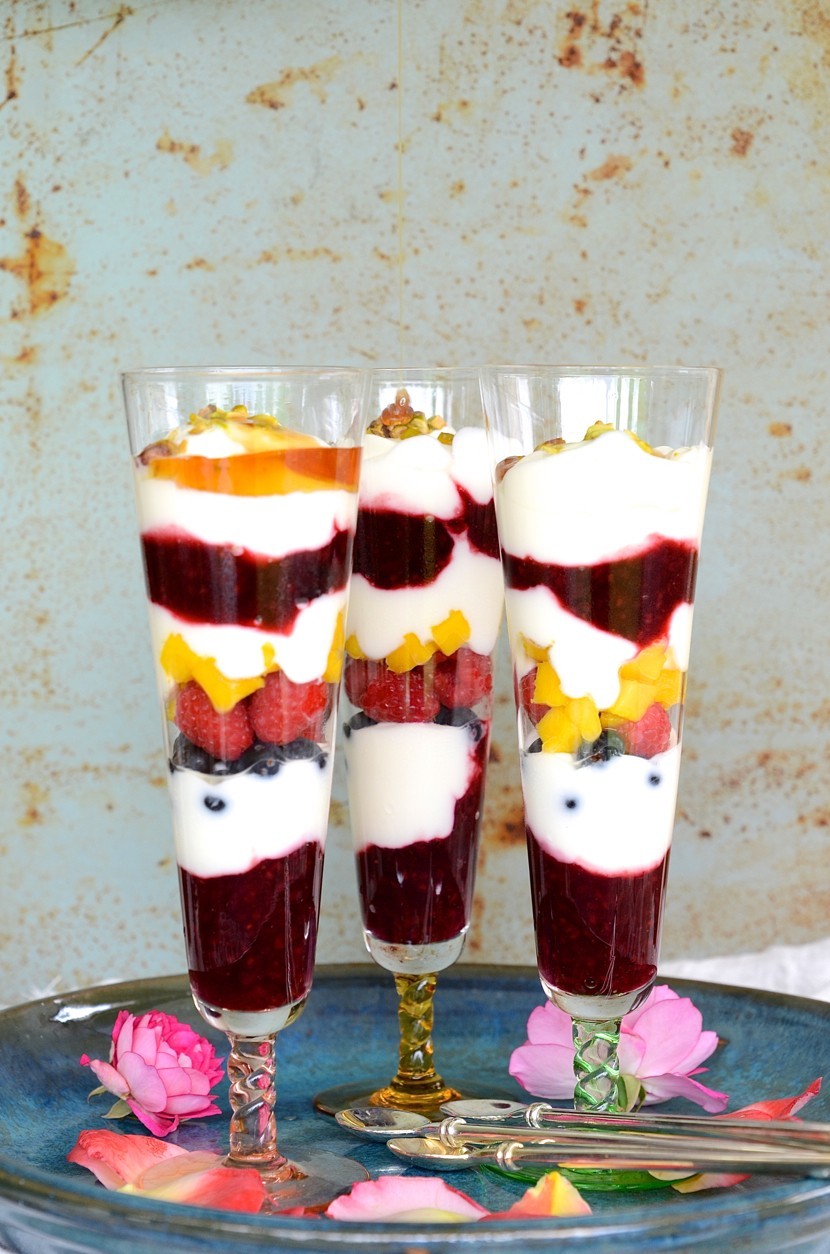 Trends have become increasingly influential in modern day culture, whether it's fashion, technology, music or even food. They serve as helpful indicators of what's happening in the world around us and often nudge us into unexplored and exciting territories. I've decided to start my own trend, which conveniently or rather selfishly, suits my own preferences. Here it is then – Dessert for breakfast. Perfect, right? What could be better than a parfait to start your morning? The clincher is that healthy can taste ridiculously good!
These beautiful glasses were a gift from a special friend. (I think she might want them back after today?!) Her person is as colourful and honestly transparent as the glasses that have now become my parfait flutes. If you're lucky enough to own a couple of these delicate glasses, this layered berry parfait can look wildly elegant and decidedly more like dessert than breakfast.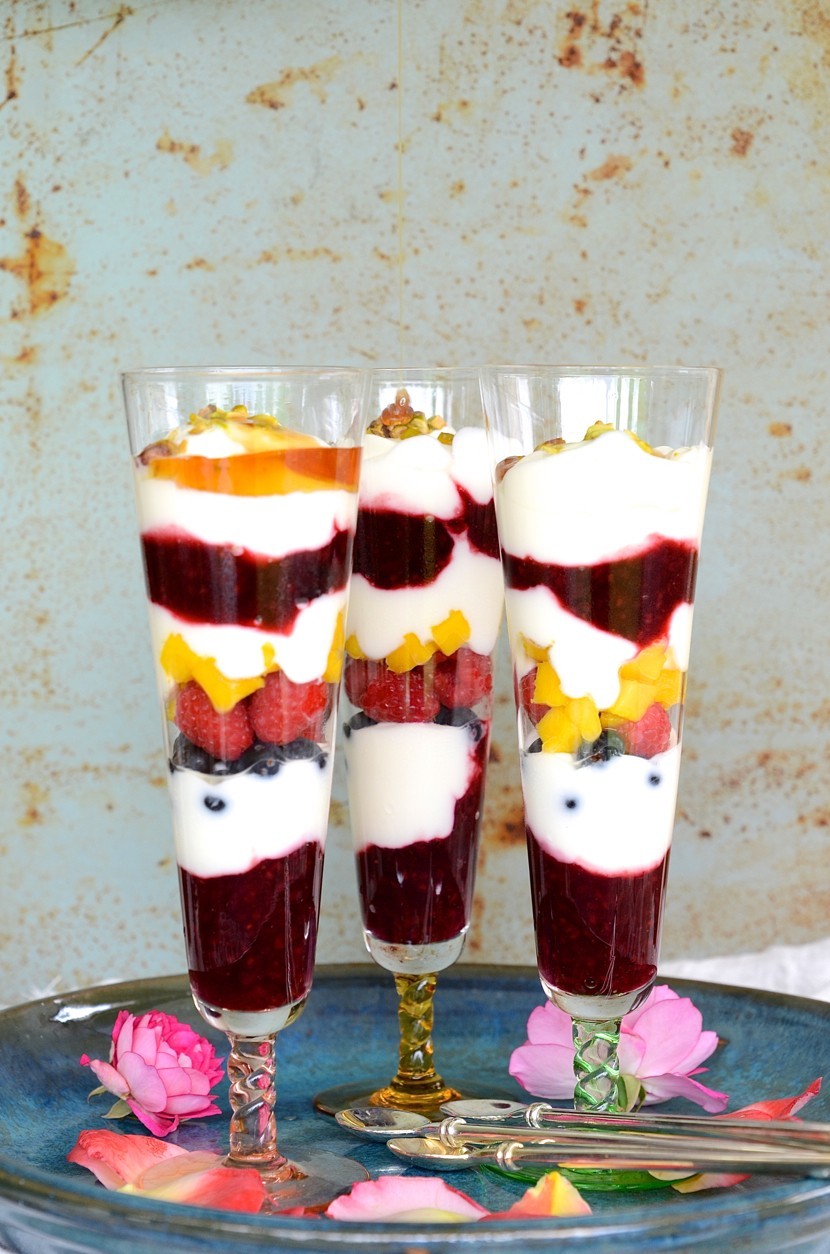 Fresh fruit and yoghurt is most often my preferred choice for breakfast and is packed with good-for-you protein, calcium and vitamin rich fruits. My breakfast parfait is a combination of seasonal fruit, berry compote, Greek yoghurt, honey and nuts. This is not the time to dabble with low fat anything. Do the right thing and go with FULL FAT Greek yoghurt. The berry compote gives it a tart sweetness that's so good with the honeyed yoghurt, with pops of fresh raspberry and blueberries layered in-between. I've added some chopped mango pieces for bursts of colour and a lively tropical twist. Finished with a drizzle of honey and roasted pistachios, this is the most cheerful way to 'say hello' to the day.
I'm always looking at ways in which one recipe can be adapted and used in more than one dish. Here are a couple of  ideas:
– For a pavlova, dollop onto  whipped cream and top with fresh berries.
– Use in place of jam with scones and cream.
– Delicious as a topping for brunch pancakes.
– For a quick summer dessert, spoon over creamy, vanilla ice cream.
– Whizz up with yoghurt, honey, fresh strawberries and banana for a luscious breakfast smoothie.

Berry breakfast parfaits with yoghurt and honey
Serves 6
Mixed berry compote
400g mixed frozen berries
1/4 cup fructose (fruit sugar) or xylitol
1 tablespoon lemon juice
For the parfait
2 cups Greek yoghurt
1 teaspoon vanilla paste
2 tablespoons honey
125g raspberries
125g blueberries
1 mango, peeled and cut into small chunks
honey to drizzle
handful of roasted pistachio nuts
Starting with the compote, place the frozen berries, fructose and lemon juice in a saucepan. Slowly bring up to the boil and simmer for about 15 -20 minutes until the syrup is reduced and the sticky. Remember to stir the fruit regularly to prevent the sugar catching on the bottom. Set aside to cool completely.
In a separate bowl, mix together the yoghurt, vanilla paste and honey. To assemble the parfait, start by placing a generous amount of the cooled compote at the bottom of a long stemmed glass. Follow with a layer of honey yoghurt, raspberries, blueberries and mango. Next up is another layer of yoghurt, then compote again and a final dollop of yoghurt. Drizzle over some more honey and top with pistachio nuts. Serve chilled.
BK Handy tip : Any leftover compote can be frozen and used at a later stage of for one of the alternative serving ideas.