Yellow Thai chicken curry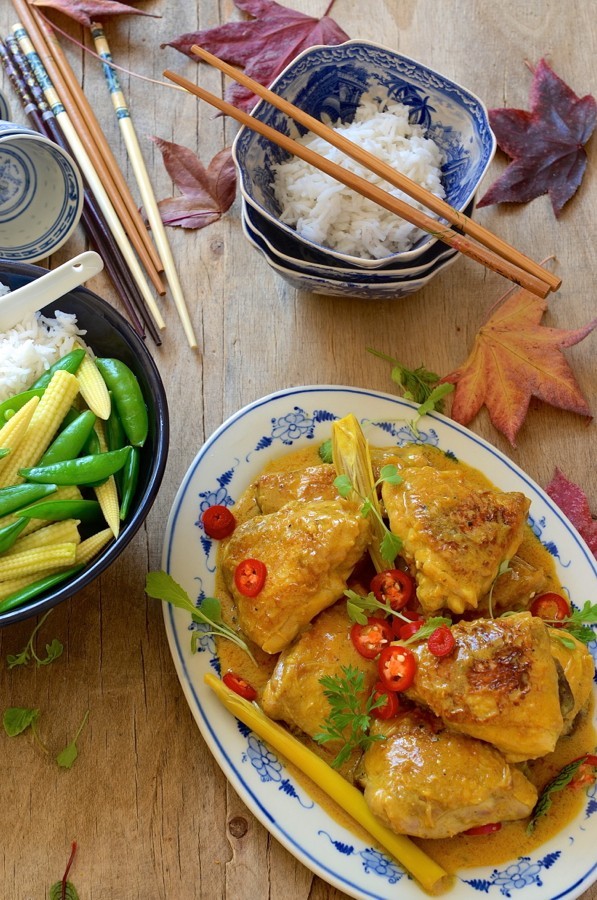 Some weeks are busier than others. This happens to be one of those weeks. A ready made curry paste (Woolies stocks a really good brand), is my go-to ingredient for a simple yet tasty supper. A warm and hearty dish that has a mild kick of sweet heat, with added ginger and fragrant lemon grass, the quintessential Thai ingredient. Tonight we're opting for a yellow Thai curry with succulent chicken, coated in a luscious coconut cream sauce and served with crunchy, fresh vegetables and fluffy basmati rice. If you're Banting this is a sure-fire winner, obviously omitting the rice and corn and replacing it with vegetables of your choice.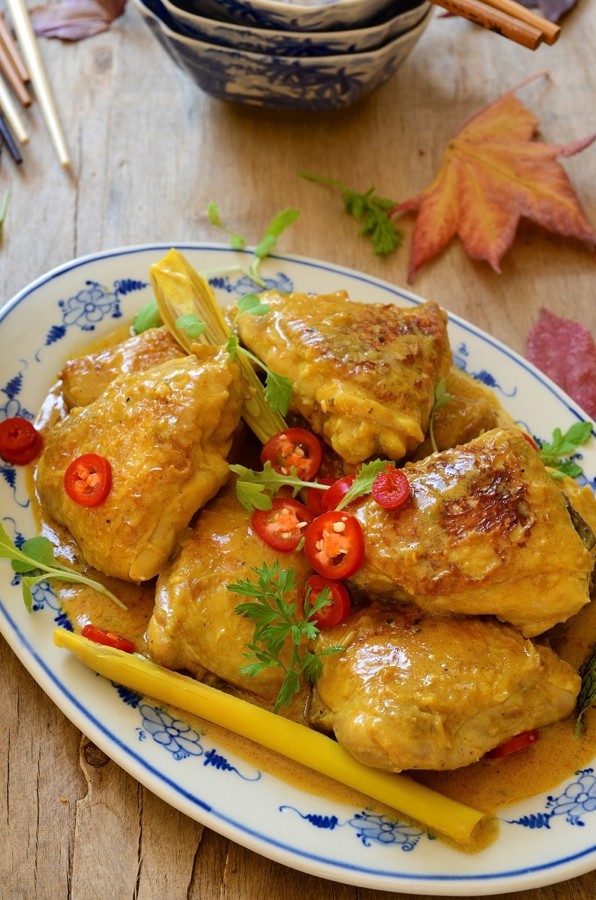 I've used free-range chicken thighs, bone-in and skin-on as the the flavour of the meat is quite superior to fillets. Essentially, I leave the skin on to prevent the meat from drying out when browning and discard it just before serving. Chicken thighs do have a higher fat content, so swap it out if you prefer. Remember to then also reduce the cooking time by about 10-15 minutes. Traditional Thai curry pastes are fiery hot and if you follow the manufactures instructions of using 50g per dish, you're very likely to have your head blown off! So, proceed cautiously and only add more paste at the end of the cooking time if you think it needs extra punch. I find that a generous tablespoon is ample for four servings.
When you scroll down to the method, you're in for a welcome surprise. With barely several steps of how-to-Asian in a jiffy, we're headed for happy dinner days!

Yellow Thai chicken curry
Serves 4-6
1 tablespoon vegetable oil
1 teaspoon sesame oil
8 chicken thighs, bone-in and skin on
1 generous tablespoon yellow Thai curry paste
3cm stem ginger, finely grated
300ml weak chicken stock
400g tin coconut milk
1 stem lemon grass, split in half
a spritz of fresh lemon juice
salt and pepper, to taste
fresh red chilli, optional
In a large pan, heat the vegetable and sesame oil. Season the chicken with salt and pepper and brown, skin side down first. Turn over and brown on the other side as well. Drain off most of the rendered down oil. Add the curry paste and grated ginger. Pour in the stock and coconut cream. Add the lemon grass, cover with a lid or foil and simmer for 35 – 40 minutes on a low heat. Squeeze in the lemon juice and check that the seasoning is well balanced.
Serve with steamed basmati rice, blanched sugar snaps and baby corn. If you like a bit heat, scatter over some extra chilli.