The perfect roast fillet of beef
20 September 2018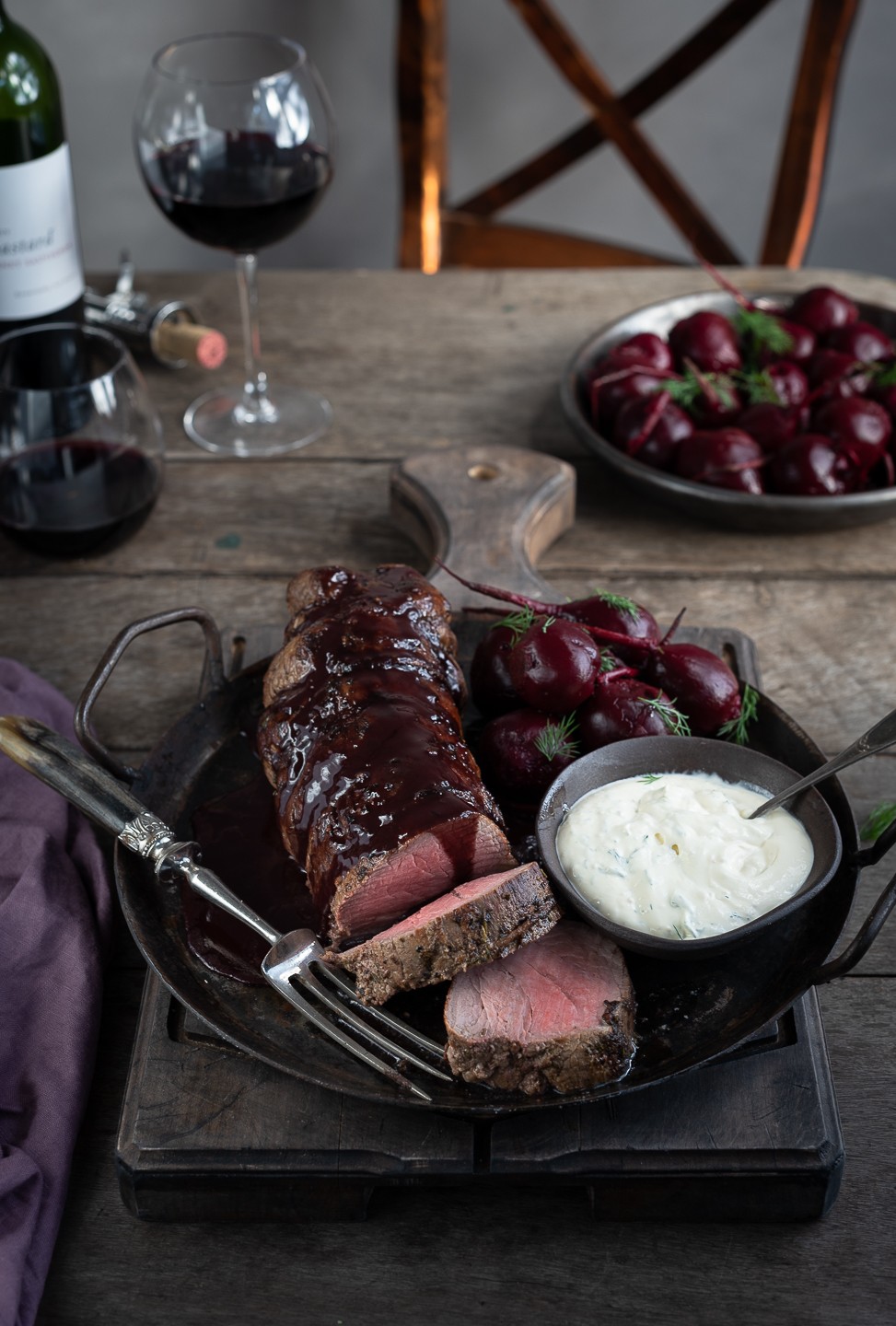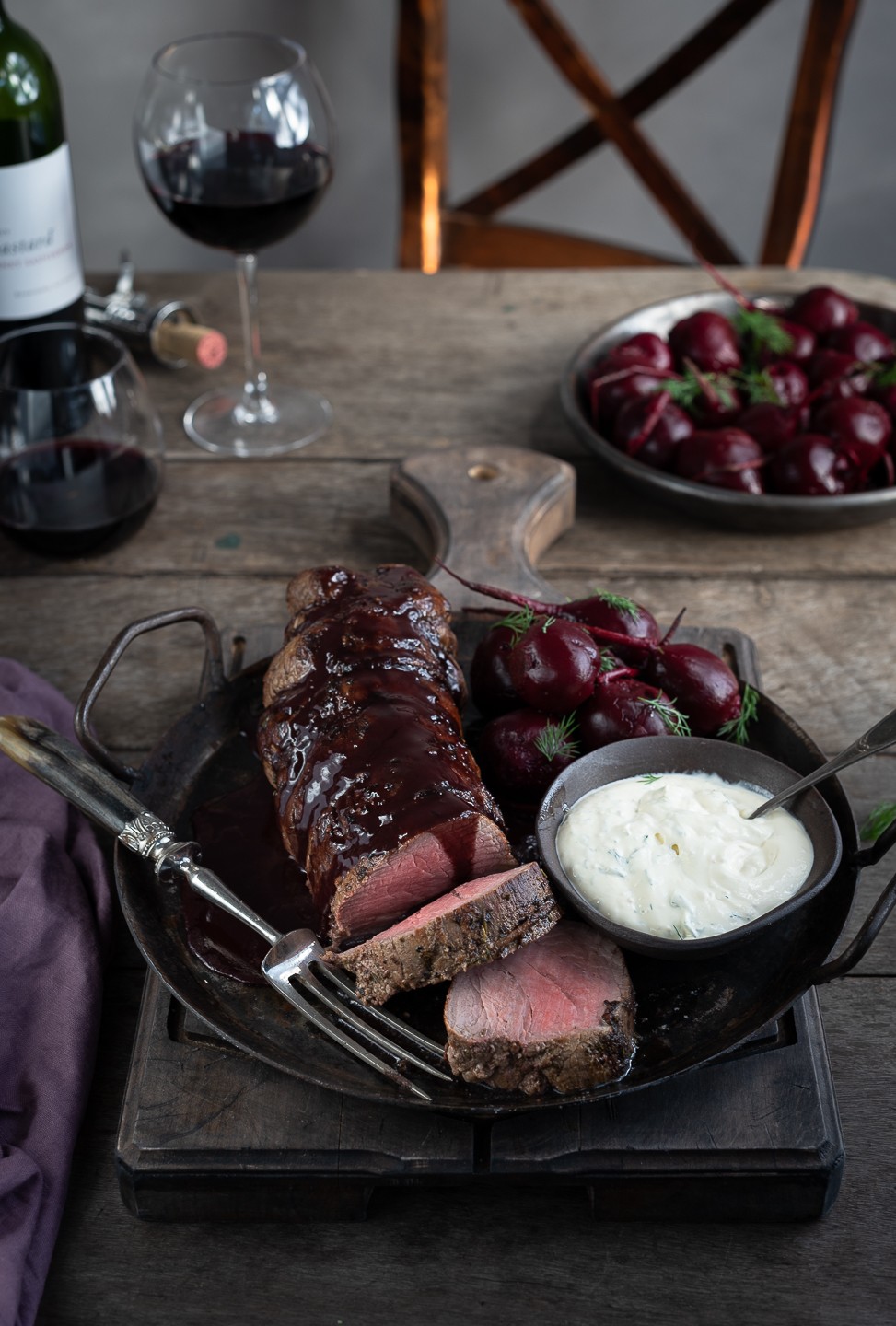 How to cook The perfect roast fillet of beef. Rather old, but when supported with a gutsy Cabernet Sauvignon, it holds course, effortlessly. This year marks the 21st birthday of FAT Bastard Wines and to celebrate the occasion, excellent food and exquisite wines are requisite.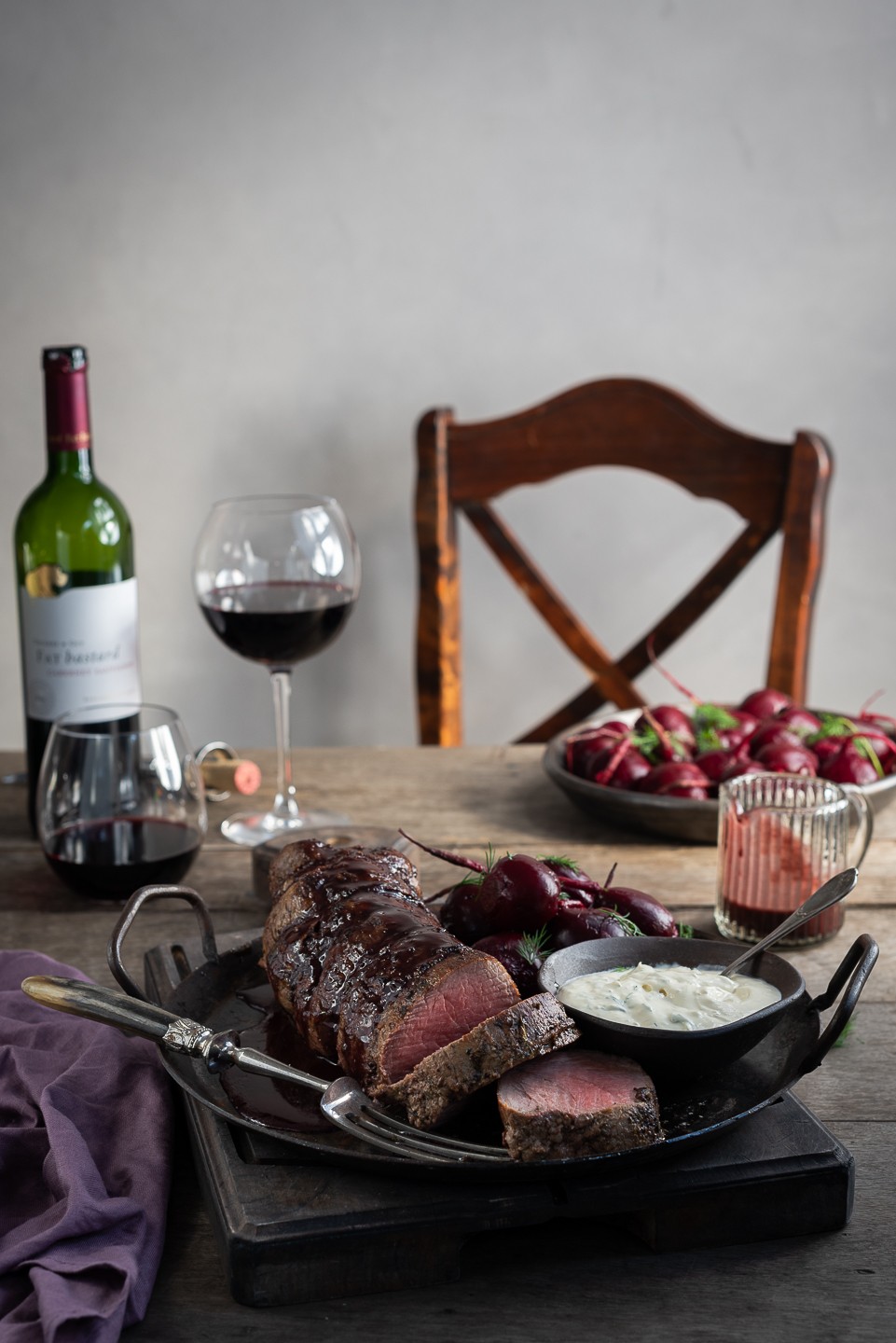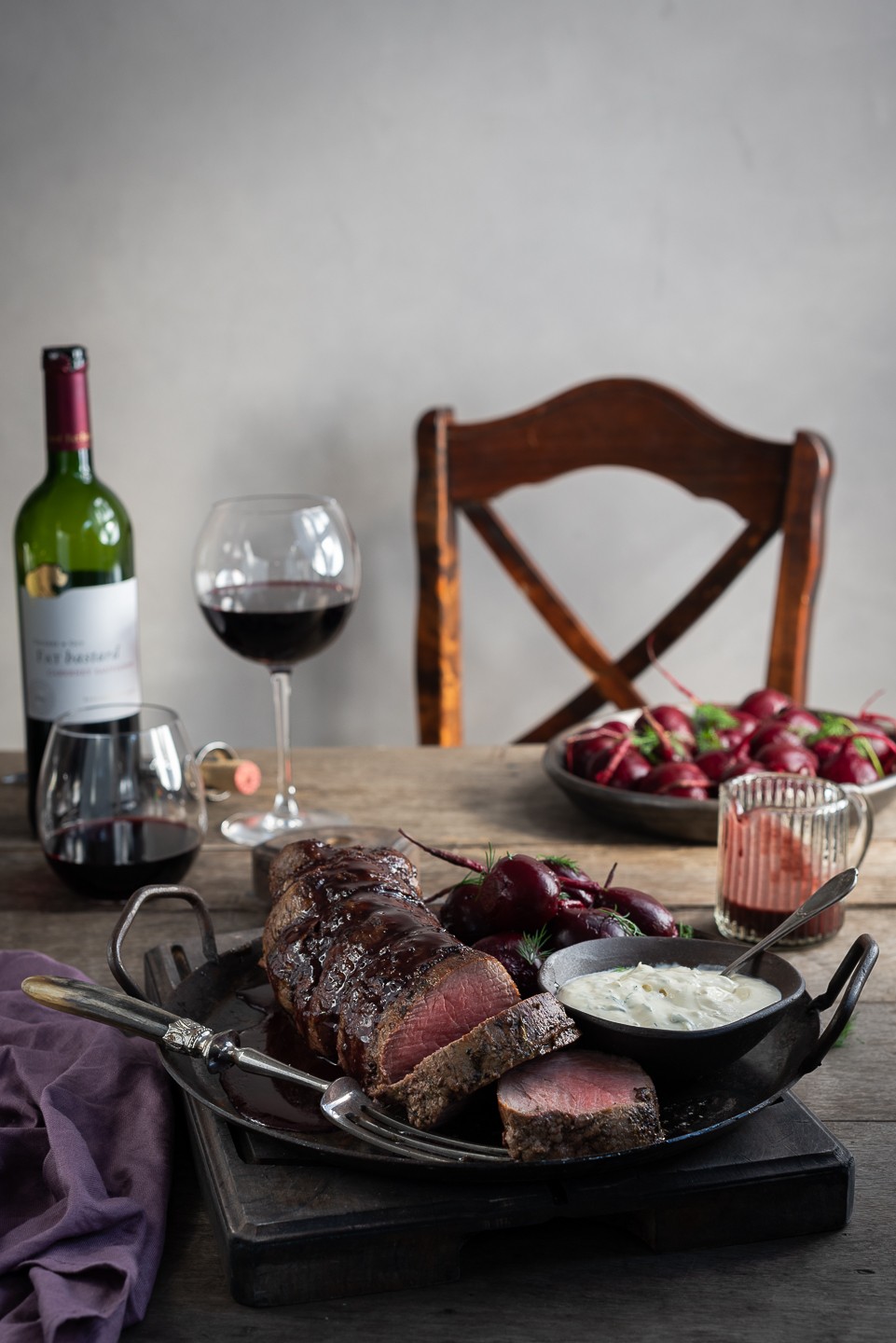 I love cooking with wine. Often times, the difference between a good and potentially great dish, is a reckless splash of vino. It adds a polished flavour that encourages thoughtful mulling over and appreciation. When invited by FAT Bastard Wines to develop a fillet recipe to pair with their sassy Cabernet Sauvignon, initially, I wasn't as excited as I would've been with say, a Chenin Blanc. That said, tasting this Cab dispelled any misgivings I might've had over supporting the reds. Overflowing with unadulterated joy, this elegant red dame embodies a well-defined structure with balanced tannins and acidity.
It's made from carefully selected grapes with the aim of producing a wine with pure fruit character. All fruit is hand harvested at optimum ripeness and gently pressed to retain aroma and flavour. The wine is aged in small oak barrels, which adds greater weight and complexity.
It's unapologetically intense aromas of blackcurrant and brambly wild fruit lead promisingly to rich flavours of ripe cassis and chocolate with a hint of earthiness. When I read, cassis and chocolate, I knew we were going to get on famously. With these well-chiselled characteristics in mind, the obvious pairing was a buttery soft, beef fillet.

In pursuit of the perfect fillet
There are two key players in this recipe. Grass fed beef with visible marbling and, an elegant Cabernet Sauvignon. The fat content of red meat denotes flavour and acts as an internal baster, so a little marbling is what you're after. As far as cooking with wine is concerned, if you're not sufficiently impressed with drinking it, don't relegate it to your food.
Beef fillet is very receptive to imbuing. To this end, I start with browning the fillet in the pan. Deep caramelisation brings out the natural sugars and forms a flavourful crust. From there it's into the oven. Surrounding heat ensures even cooking and here, personal preference will dictate the cooking times.
Now comes the interesting part. Deglazing the pan with our Cabernet Sauvignon. All those gnarly bits on the base of the pan, are marmite-y and completely delicious. This step alone will take your red wine sauce to the next level. Once reduced, I add butter for a velvety-smooth finish. To flatter the beef even further, I serve it with a creamy roast garlic and horseradish crème fraîche. Expect guttural appreciation.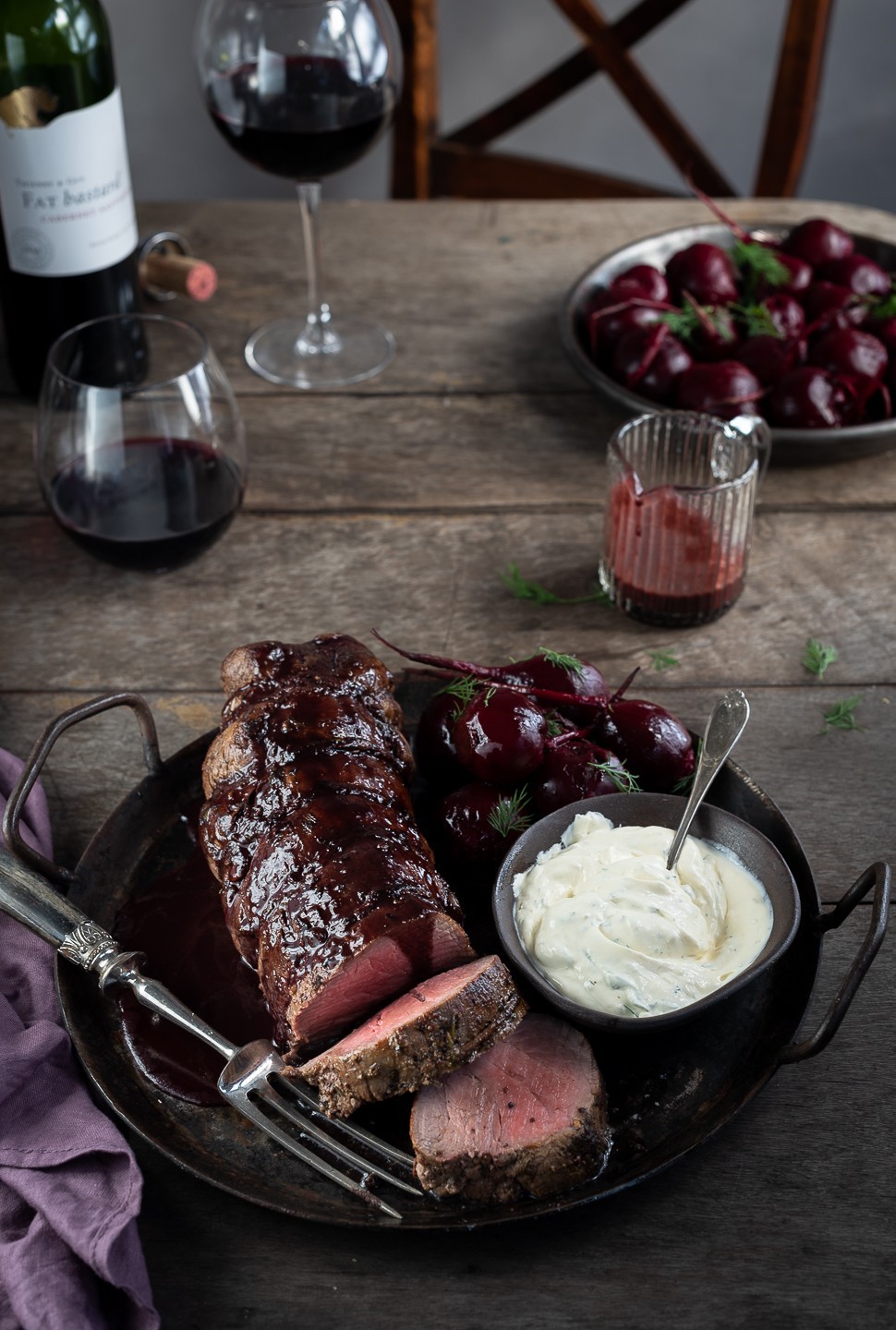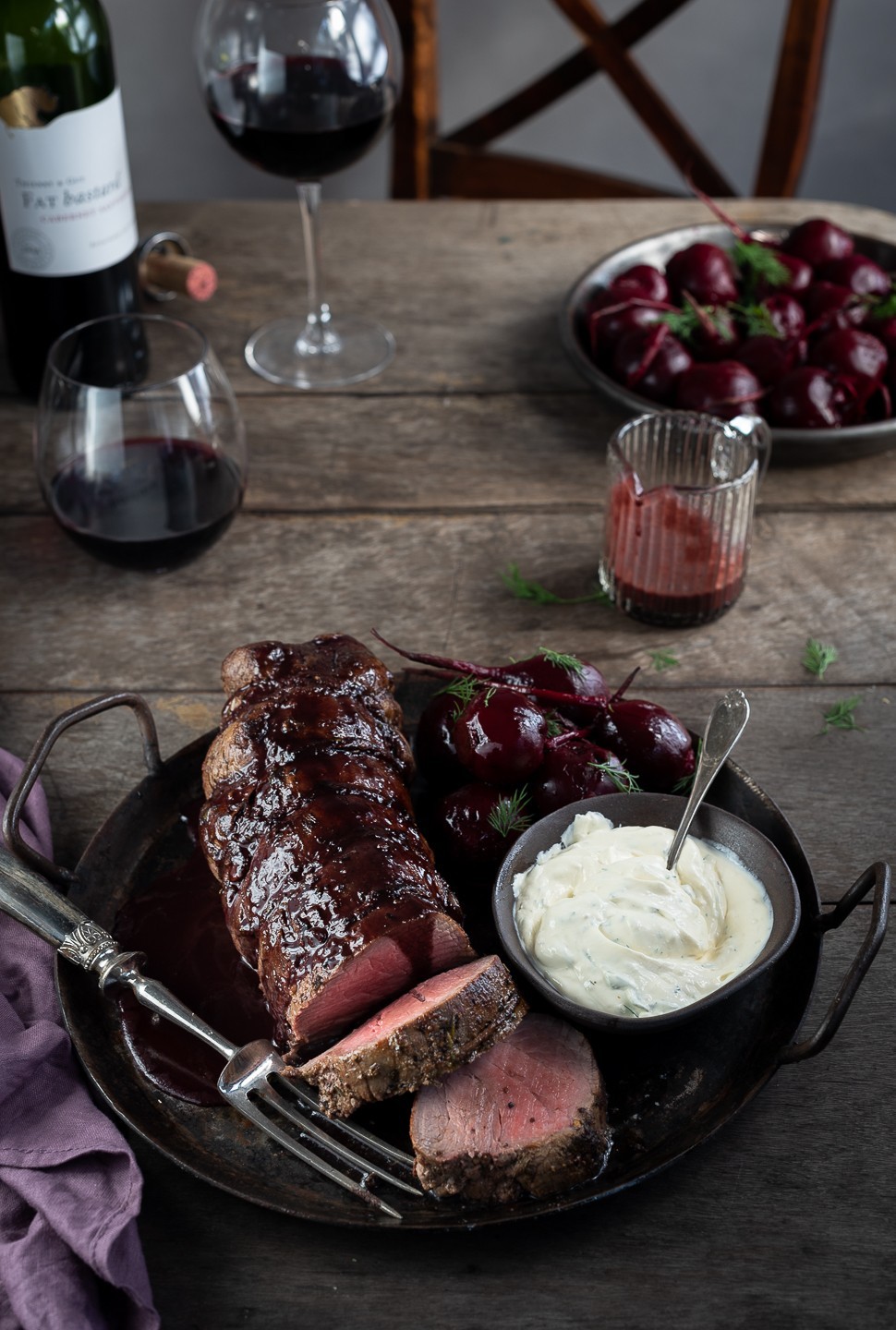 The Perfect Roast fillet of Beef
Serves 8
olive oil, for roasting
1 kg grass-fed beef fillet
30ml (2 tablespoons) Dijon mustard
5ml (1 teaspoon) freshly cracked black pepper
1 stem rosemary, de-stalked and finely chopped
Maldon sea salt flakes, to season
2 shallots or 1 small brown onion, roughly chopped
Red wine sauce
350ml FAT Bastard Cabernet Sauvignon
125ml (1/2 cup) weak beef stock
3 tablespoons cold butter
Roast garlic horseradish cream
1 fat clove garlic, wrapped in foil
250g (1 cup) Crème fraîche
30ml (2 tablespoons) horseradish cream
15ml (1 tablespoon) lemon juice
2 stems fennel, roughly chopped
pinch of sea salt flakes
Preheat the oven to 200º C.
Pat the beef fillet dry with kitchen towel. Tie the tenderloin with butchers string at 3cm spacings.
Rub the Dijon mustard over the fillet, coating well on all sides. Season generously with salt, black pepper, and rosemary.
Heat an oven-proof pan until hot. Drizzle the fillet with olive oil and brown for 2 minutes per side. (About 4 turns in total)
Add the shallots and garlic clove to the pan and transfer to the oven. For medium-rare, roast uncovered for 23 minutes. Remove the fillet from the pan, cover loosely with a foil and rest while you finish the sauce.
Remove the garlic and set aside. Place the pan on the hob, deglaze with the wine and stock. Boil hard to reduce by two thirds. Strain the sauce and discard the solids.
Turn the heat off and add the butter 1 tablespoon at a time, whisking to incorporate. Once the sauce is glossy, remove from the heat and keep warm.
To make the horseradish cream, press the roast garlic into a bowl. Add all the remaining ingredients and whisk to combine.
To serve, drizzle the red wine sauce over the fillet and serve with dollops of Horseradish Crème fraîche.