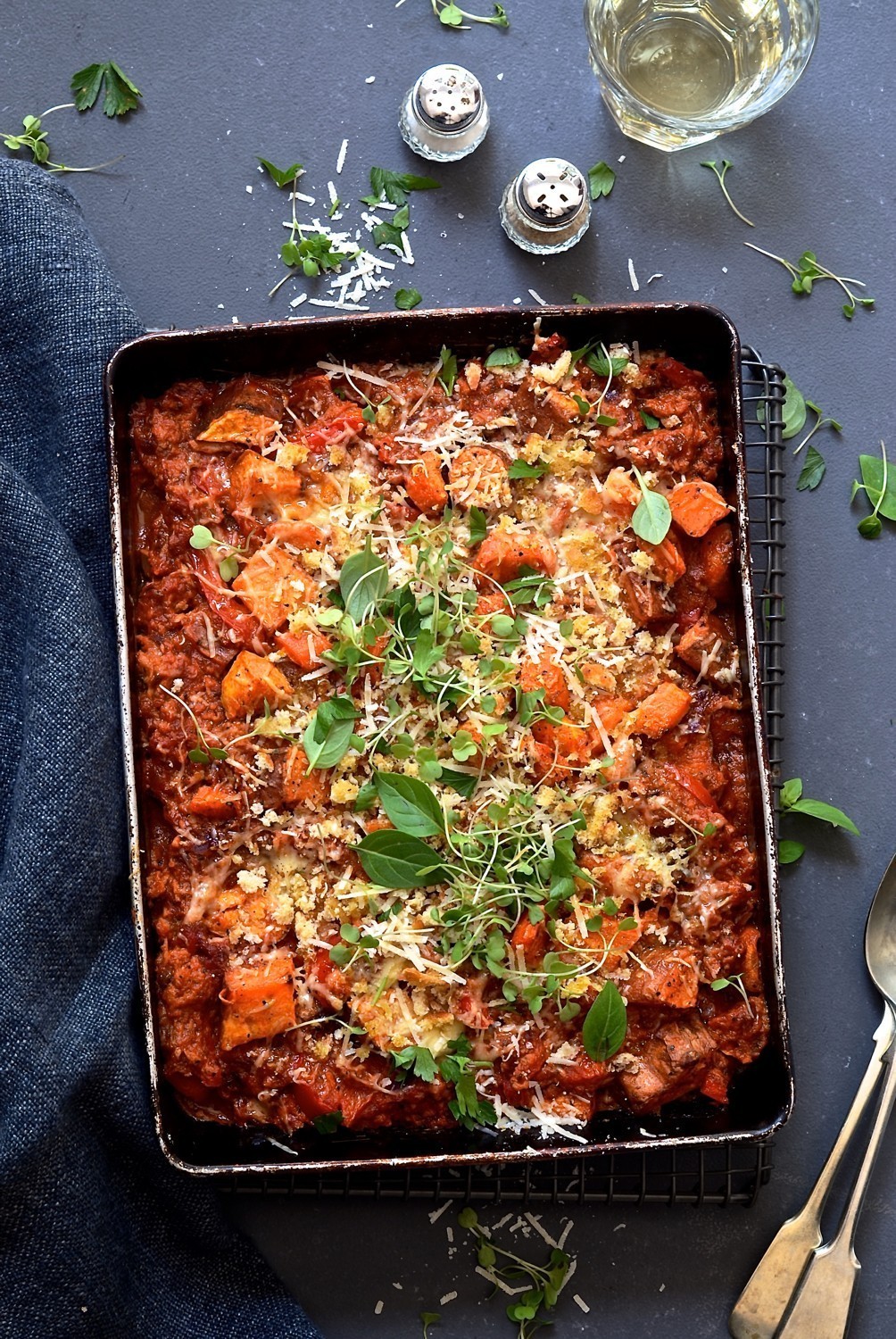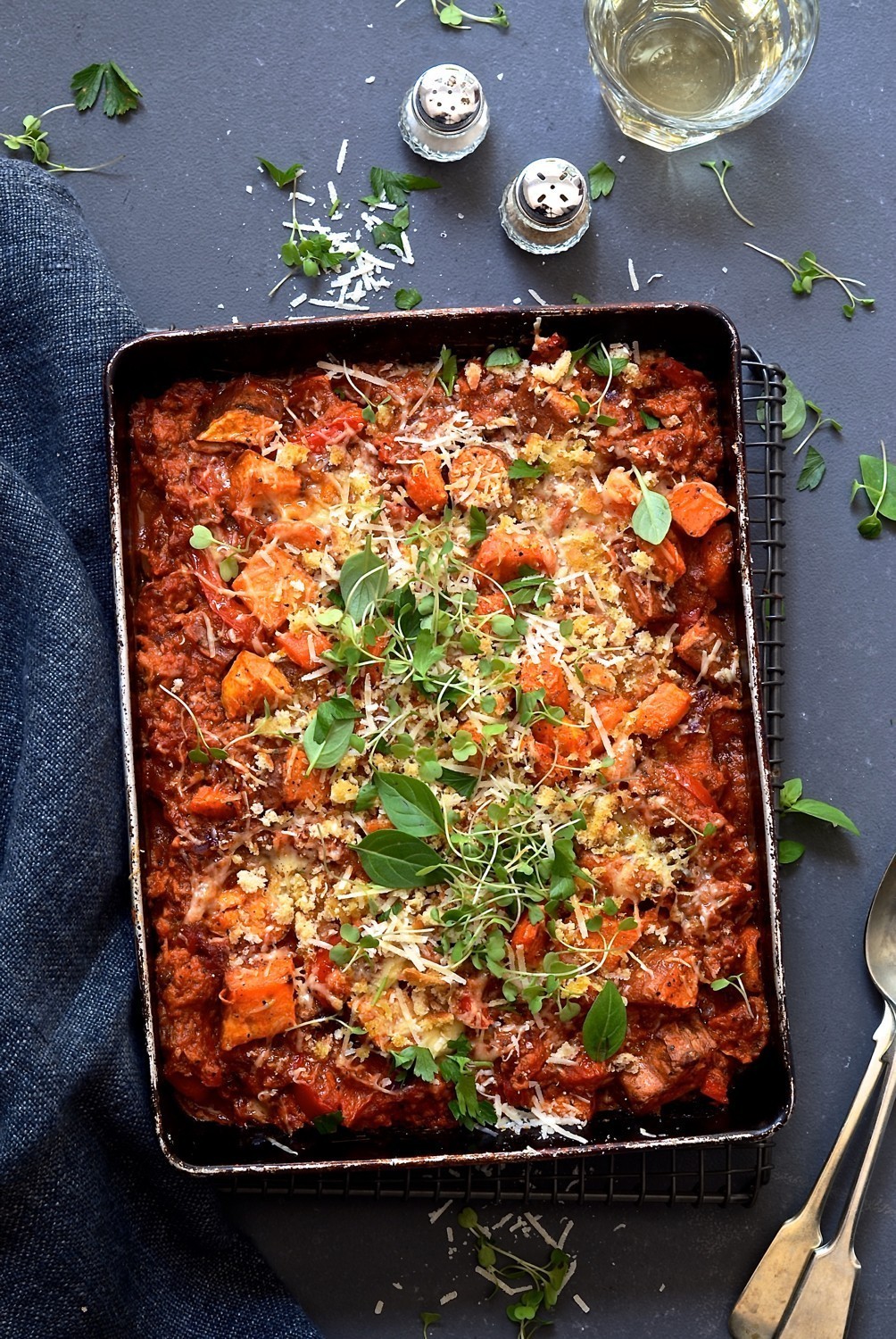 The recipe for this Easy tuna bake comes from Tamsin Snyman's cookbook, Seven Colours with fish. As the name promises, it's colourful and packed with a host of creative recipes that celebrate deliciously vibrant food. Seven colours is a South African term used to describe the ideal plate of food, made up of no less than seven colours. It's eating the rainbow. Tamsin was kind enough to send me her book along with a range of Lucky Star products to taste. This tuna bake caught my eye, so I thought I'd share it with you.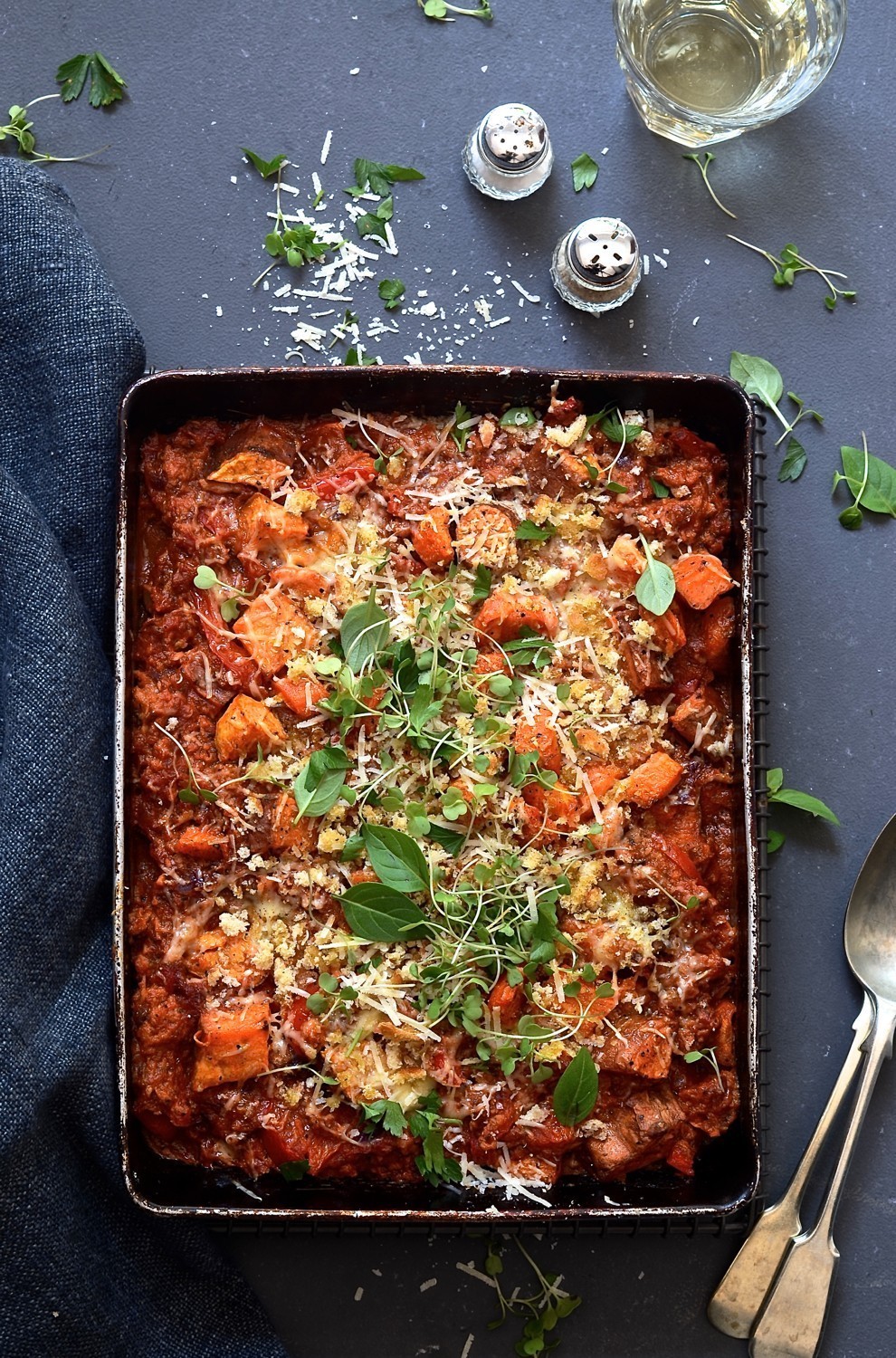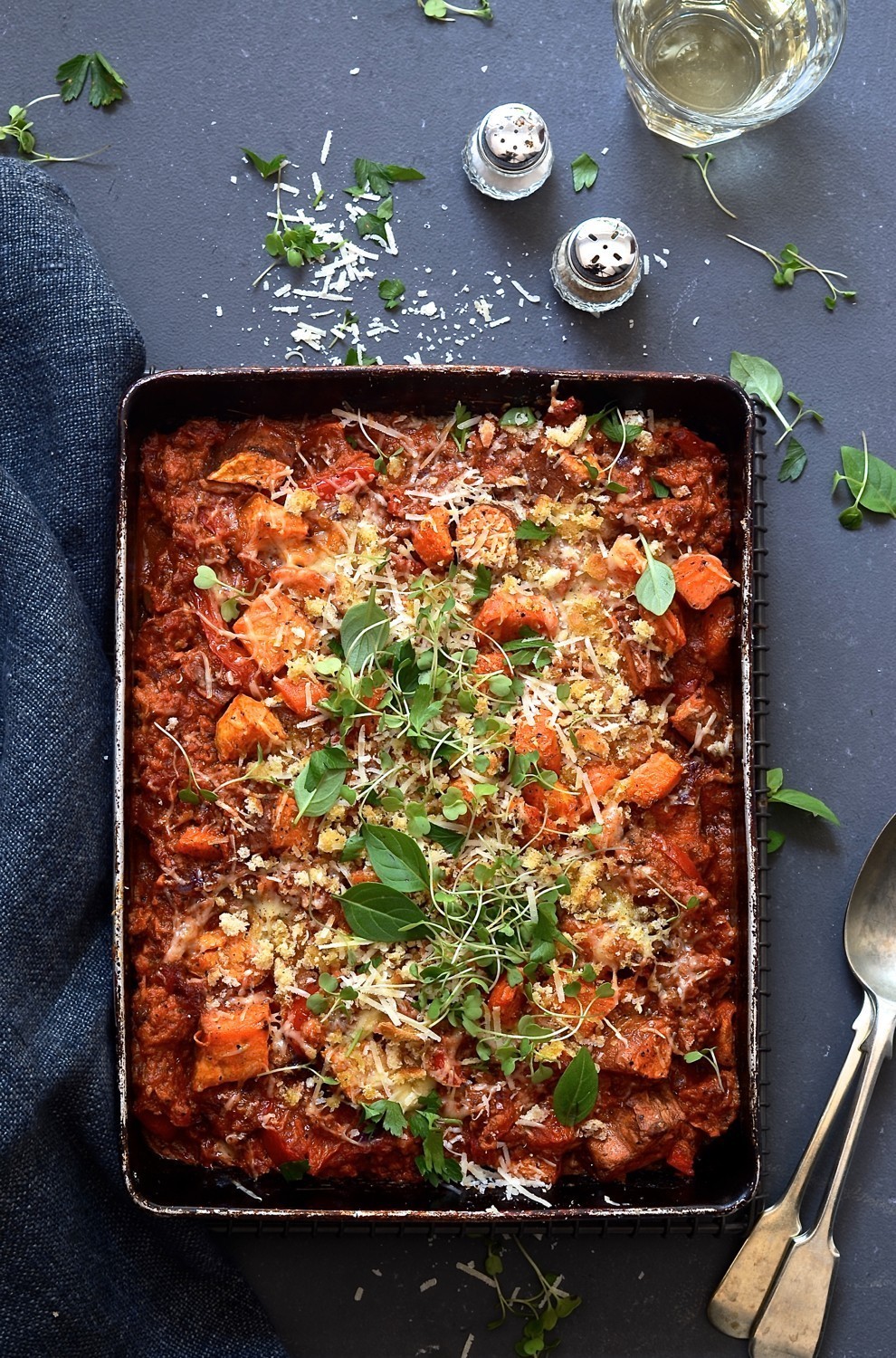 In spite of an ingredient detour, it still turned out perfectly. I swapped the mushrooms for sweet red peppers and roasted the vegetables instead of cooking them stove-top. Either way will work here. With the sweet potatoes roasting in the oven, all that's left to do is sauté the onion with some garlic, add a jar of Napoletana pasta sauce and you're on the home stretch. You can use a good store bought pasta sauce or my easy Arrabiatta Napoletana recipe. Once assembled, it goes into the oven for 20 minutes to bake until golden.
Seven colours – ♥
Easy ♥
Heart healthy ♥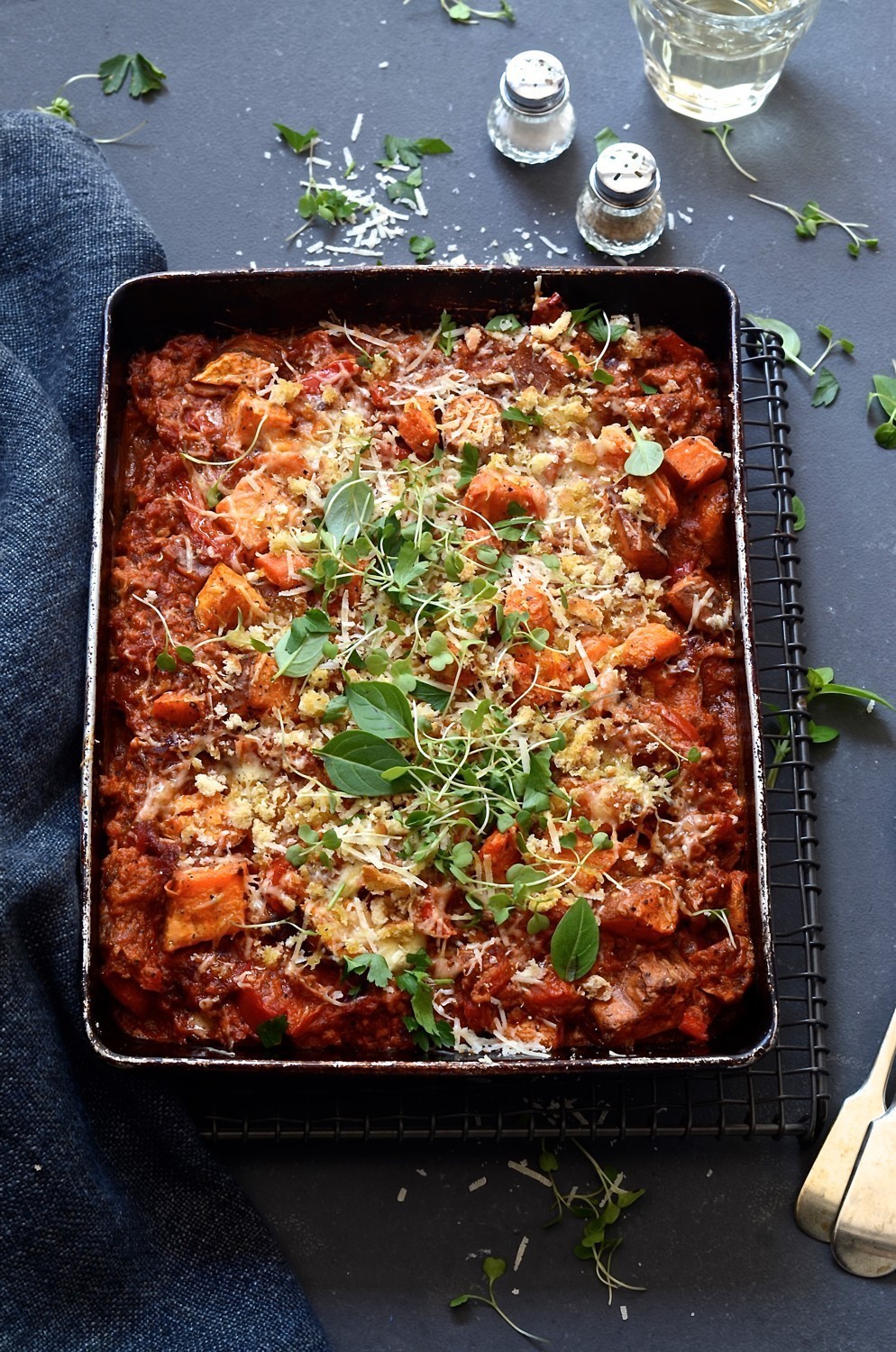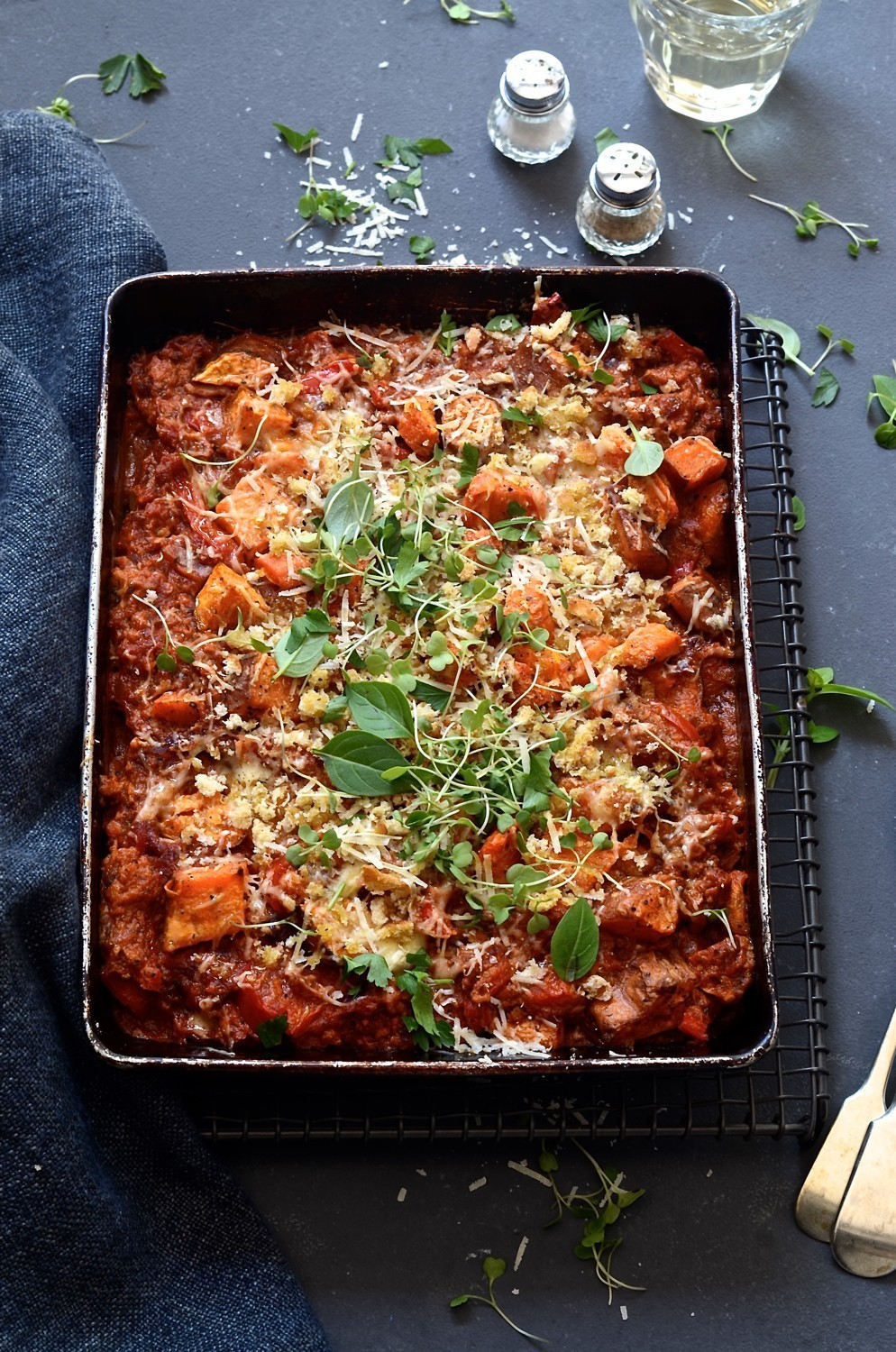 Easy Tuna Bake
2 tablespoons olive oil
400g (2 cups) sweet potatoes, scrubbed and roughly chopped
2 large carrots, peeled and chopped
2 red peppers, deseeded and cut into chunks
1 large onion, finely diced
1 clove garlic, minced
1/2 teaspoon dried oregano
1 sprig rosemary, finely chopped
400g (1 3/4 cup) ready made Napoletana pasta sauce
2 x 170g tins Lucky Star Tuna, drained
salt and black pepper, to taste
1/4 cup fresh breadcrumbs
1/4 cup parmesan cheese
basil and parsley, to finish
Preheat the oven to 200º C.
Spread the sweet potatoes, carrots and red peppers onto a greased baking sheet. Drizzle with 1 tablespoon olive oil and season with salt and black pepper.
Roast for 40-45 minutes.
Sauté the onion in the remaining olive oil until softened. Add the garlic, oregano and rosemary and cook for a further 2 minutes.
Stir in the pasta sauce and heat through.
Add the tuna and simmer over a medium heat for several minutes. Adjust the seasoning if necessary.
Arrange half the roast veg in an ovenproof baking dish.
Cover with the tuna sauce and top with the remaining vegetables.
Scatter over the breadcrumbs and parmesan cheese.
Bake for 20 minutes or until the crumbs are golden and the cheese melted.
Garnish with fresh basil and roughly chopped parsley.
I used this Napoletana recipe for the sweet potato bake. Make and large batch, portion out and freeze for easy weeknight suppers.
Arrabbiata Napoletana ravioli pasta bake