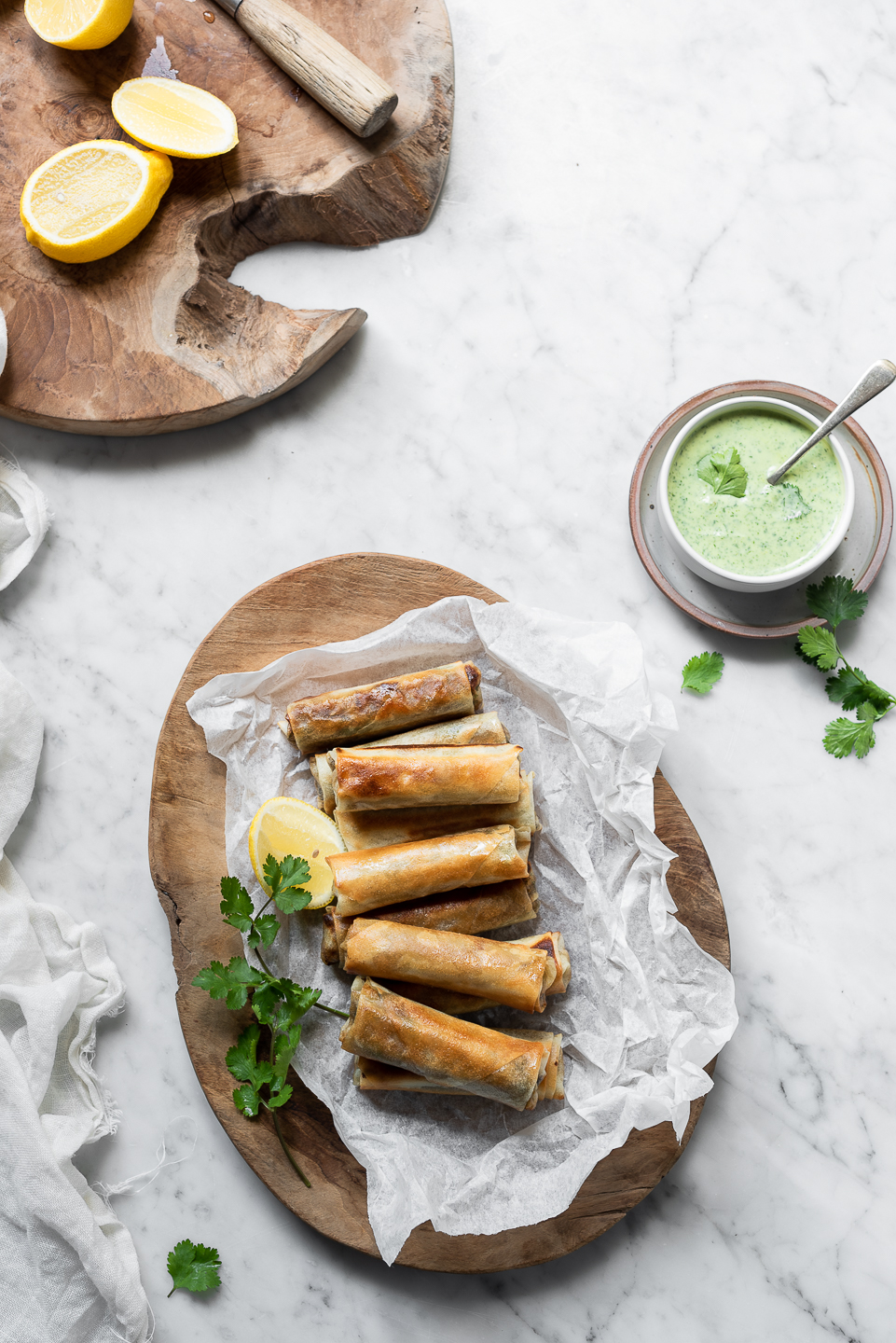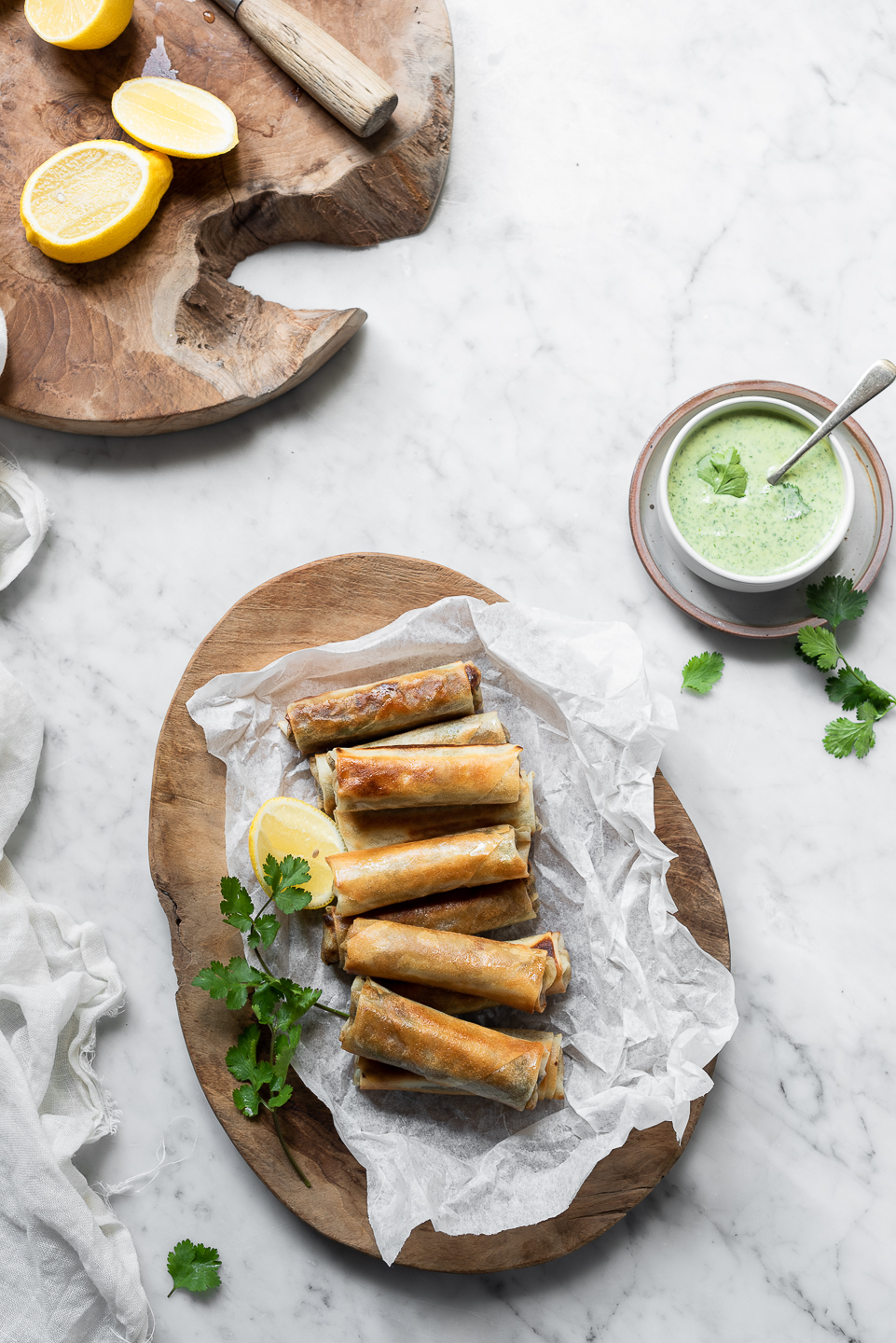 Spring rolls are famous all across India and South East Asia. In Chinese culture, these cylindrical nuggets symbolise wealth and are eaten in Spring to welcome the new season. A dipping sauce isn't essential but does offer a lively contrast to the crispy fried pastry.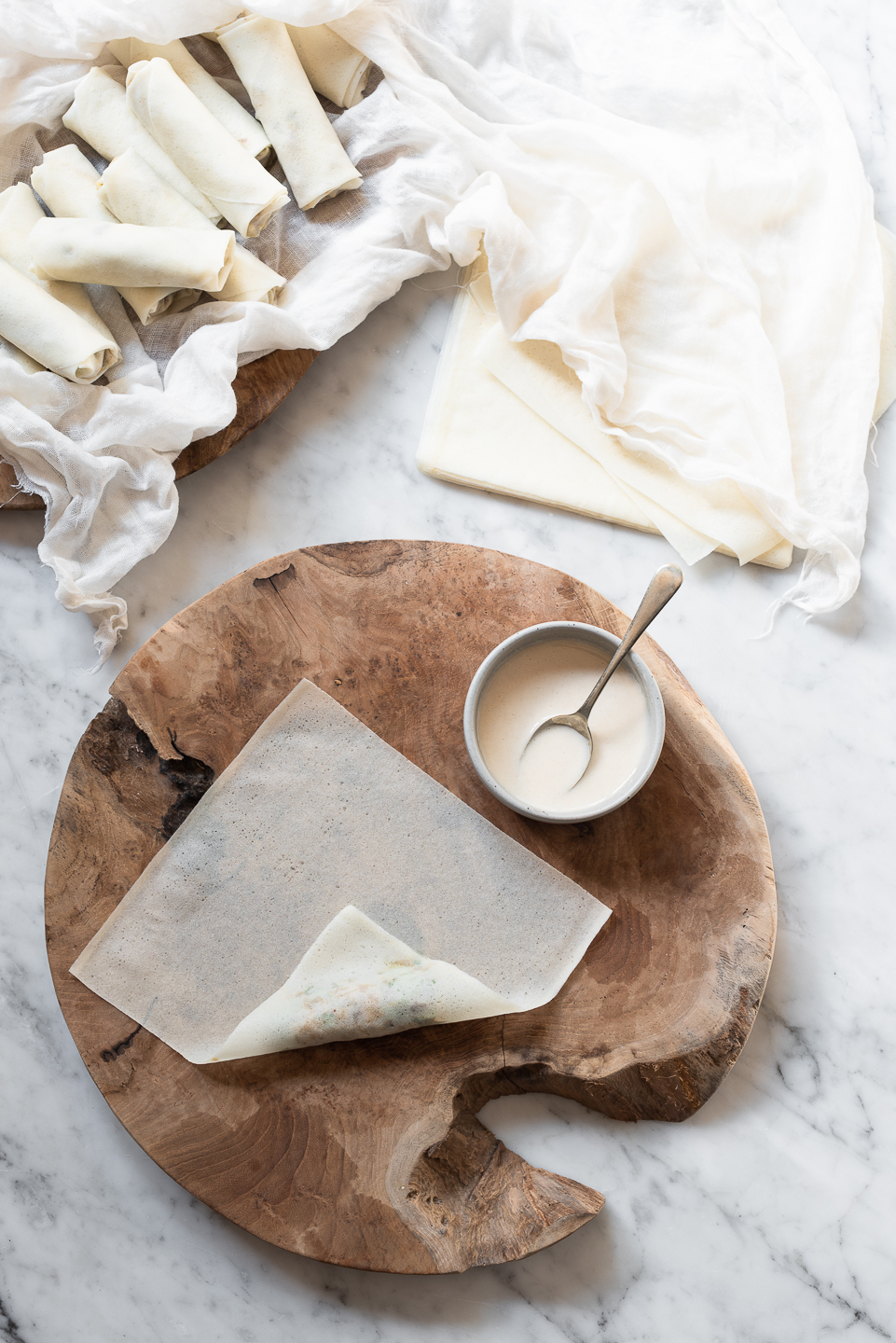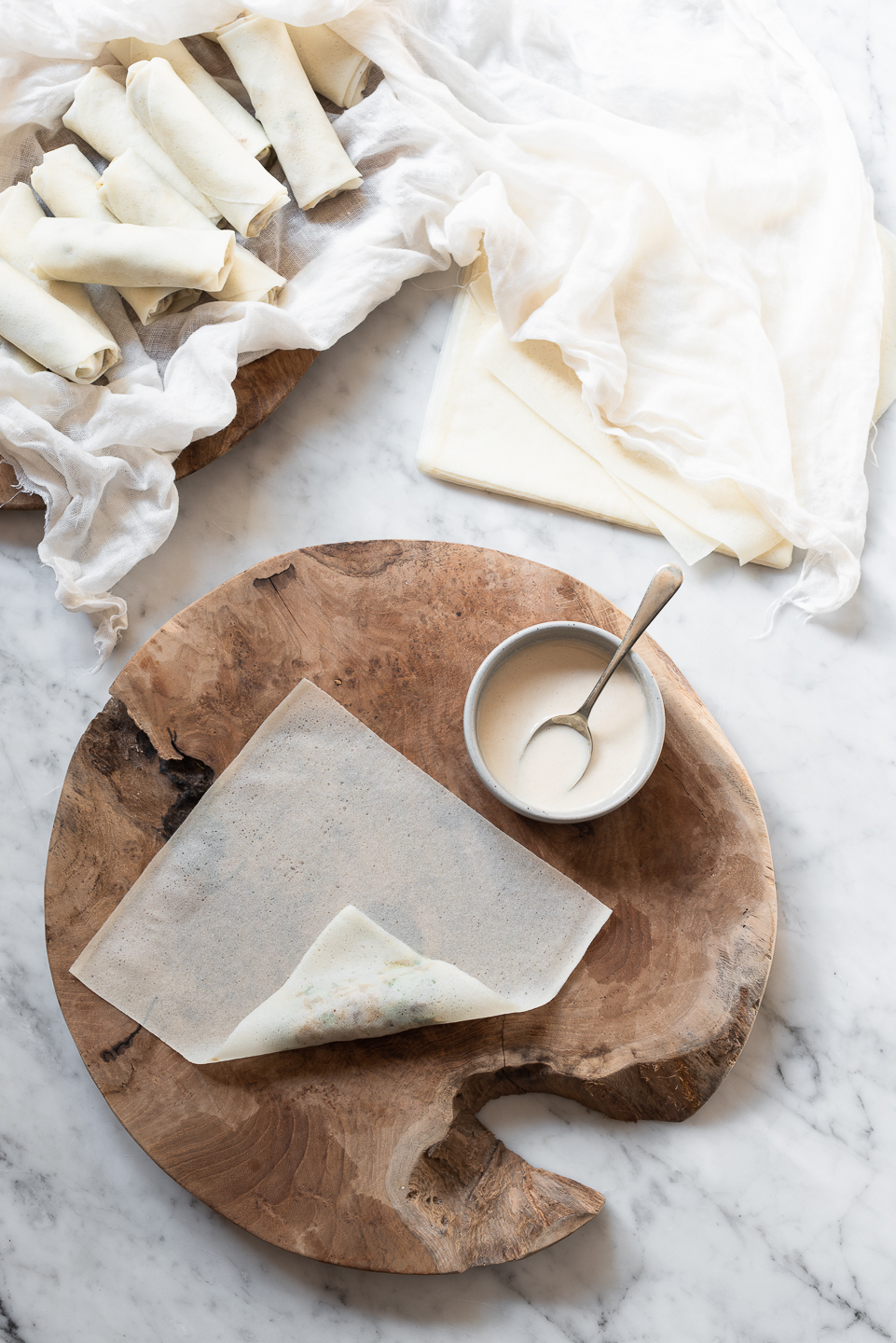 There are certain pastries that should always be homemade, like a proper shortcrust or pâte sucrée for tarts and desserts. When time allows, I do love making a buttery puff. Sheer pastries like filo and spring roll pastry, are best left to those that know. For today's post, I've partnered with Fatima's Favourite Foods to make these gloriously golden Spring Rolls with herb yoghurt. They've been my go-to for samosa and spring roll pastry since my catering days some 20 years ago and all my Indian cooking classes since then.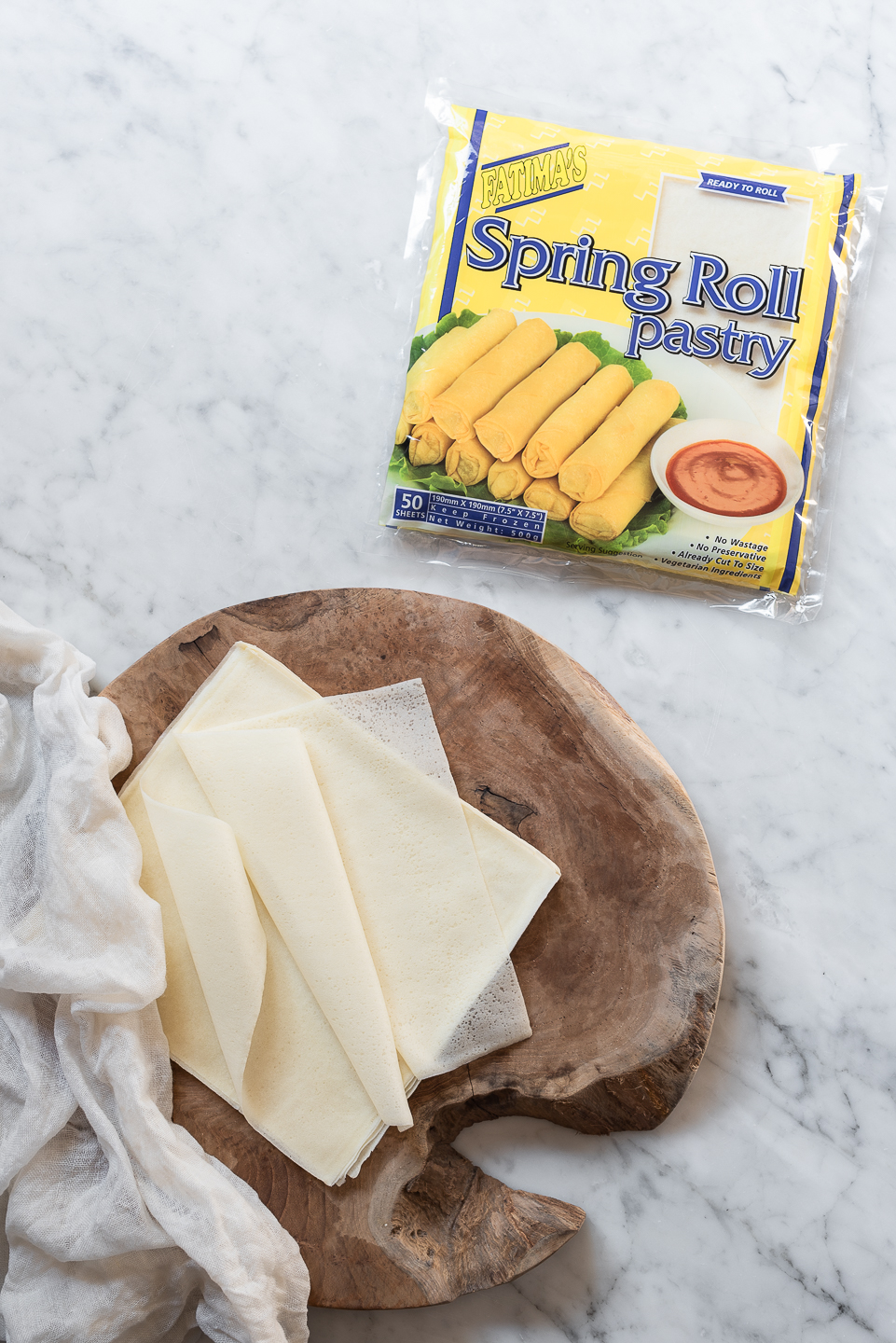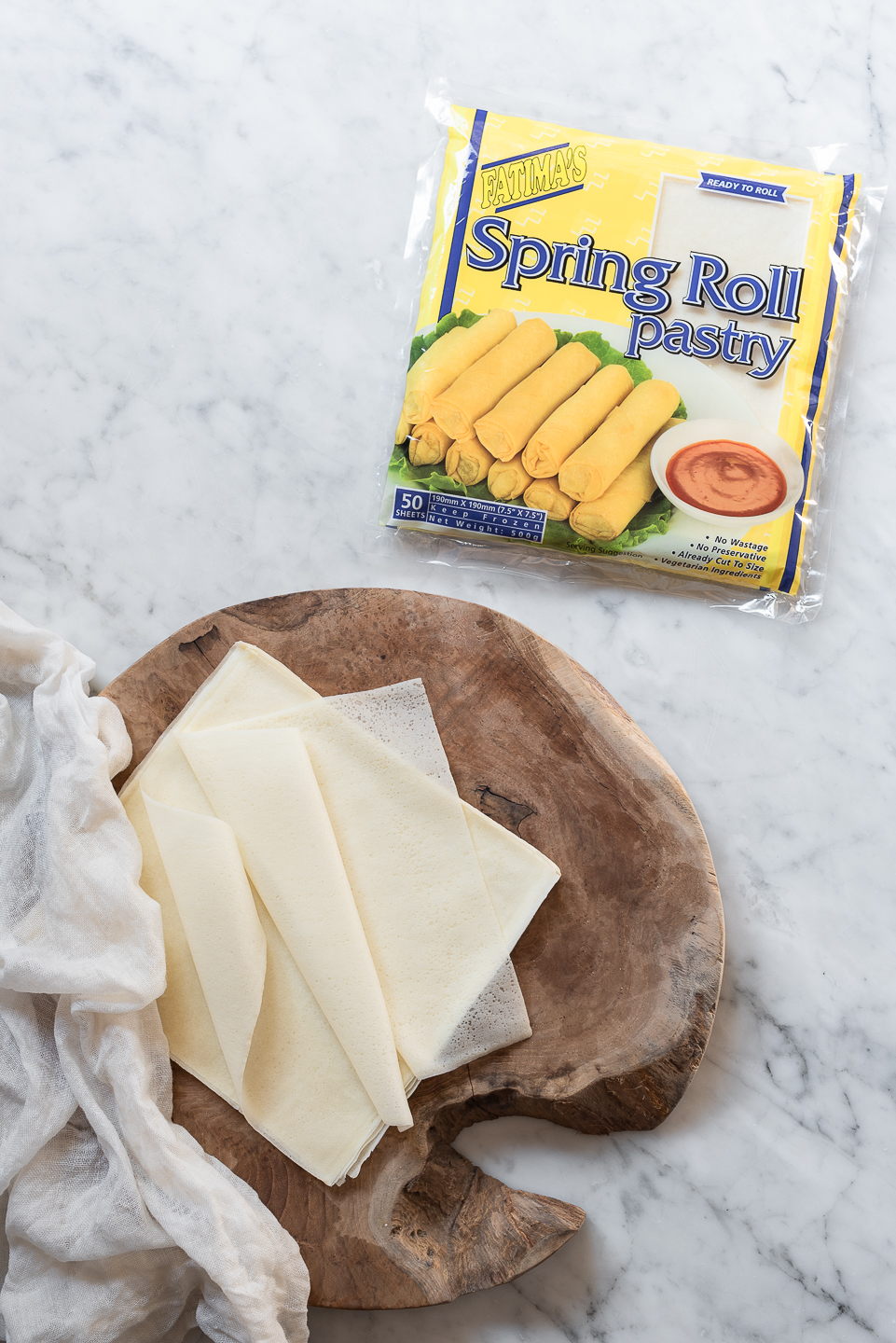 Spring roll pastry is light with an almost elastic texture that makes it pliable and easy to work with. Although paper thin, the elasticity prevents it from tearing. Like filo, work with several sheet at a time, covering with a damp tea towel to prevent drying out. Making spring rolls requires a little patience, although it isn't difficult at all. Once the filling is made, it's really a case of assembling and frying. Make sure you're generous with the filling, more than less is advisable. For this recipe, I've used mushrooms, leeks and spinach, with soy sauce and lemon giving it a thoroughly Asian influence. Alternately, as a dessert, I'd make a sort of apple strudel affair with caramelised apples and maybe some chopped almonds. Vanilla bean ice cream or a homemade custard would be a fitting finish. Essentially, a good spring roll is as much about the crispness of the pastry as it is the filling.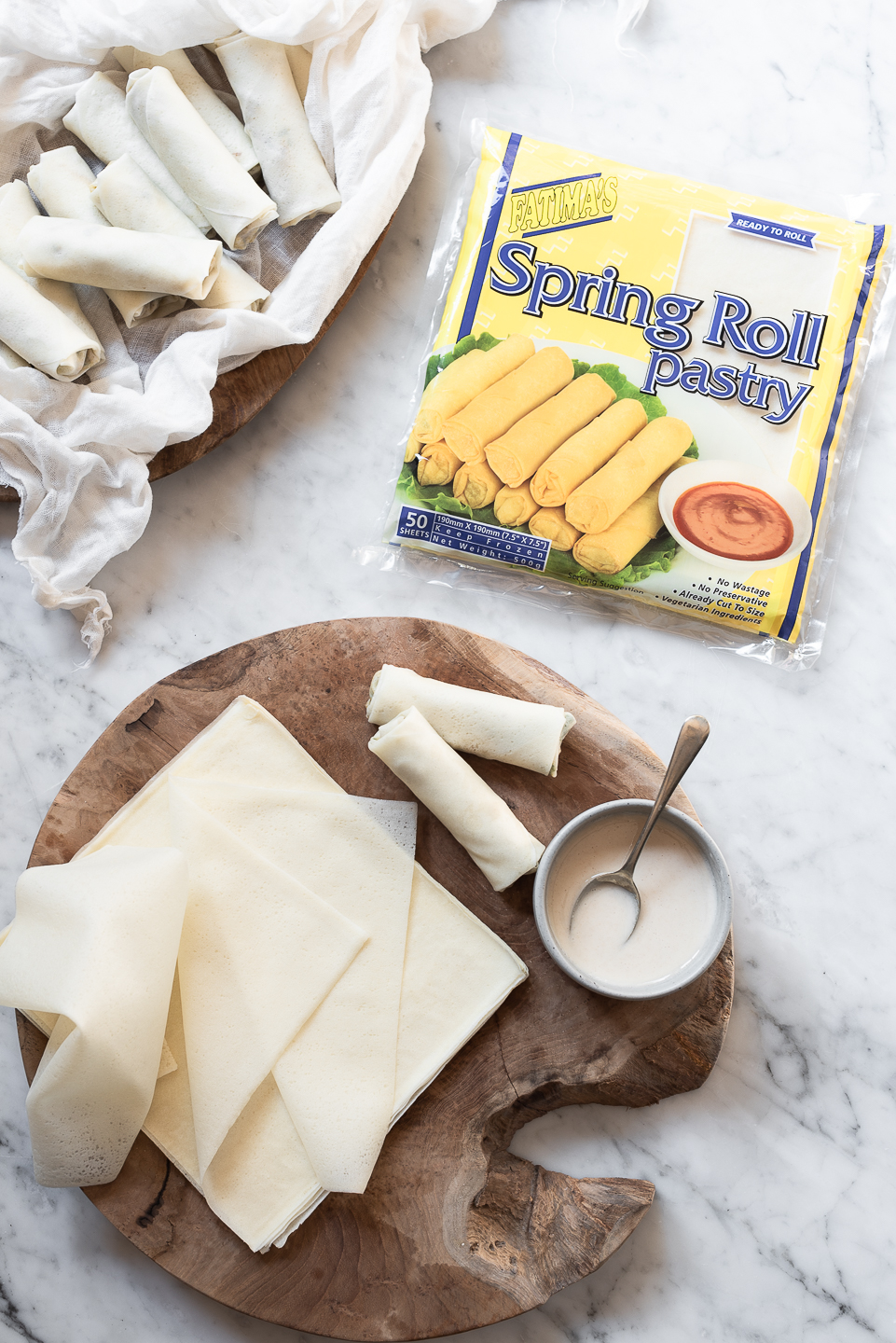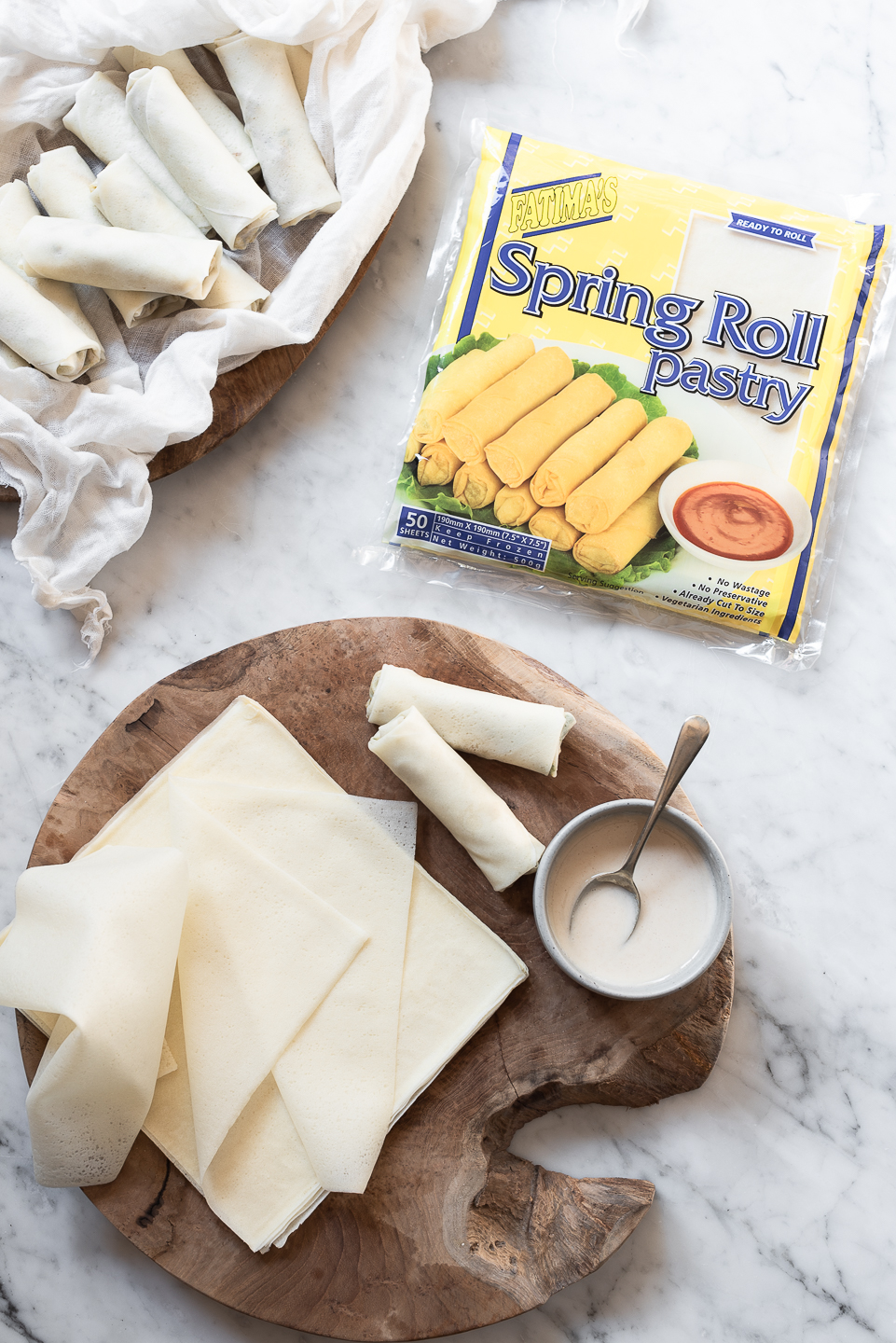 While you have everything out, it's perhaps worth making double. Uncooked, spring rolls are perfect for freezing. Make sure they're in a single layer. To freeze, place the filled spring rolls on a lined baking sheet and freeze uncovered, just until they're firm, then store in well-sealed container. This will ensure they keep their shape well. Defrost at room temperature before frying. There are two ways to cook the spring rolls – Deep fry or shallow pan-fry in a little vegetable oil. I prefer the pan-fry method. Do keep an eye on them though. They need regular turning for an all-over golden colour.
Fatima's Favourite Foods is available at all Pick n Pay and Spar supermarkets.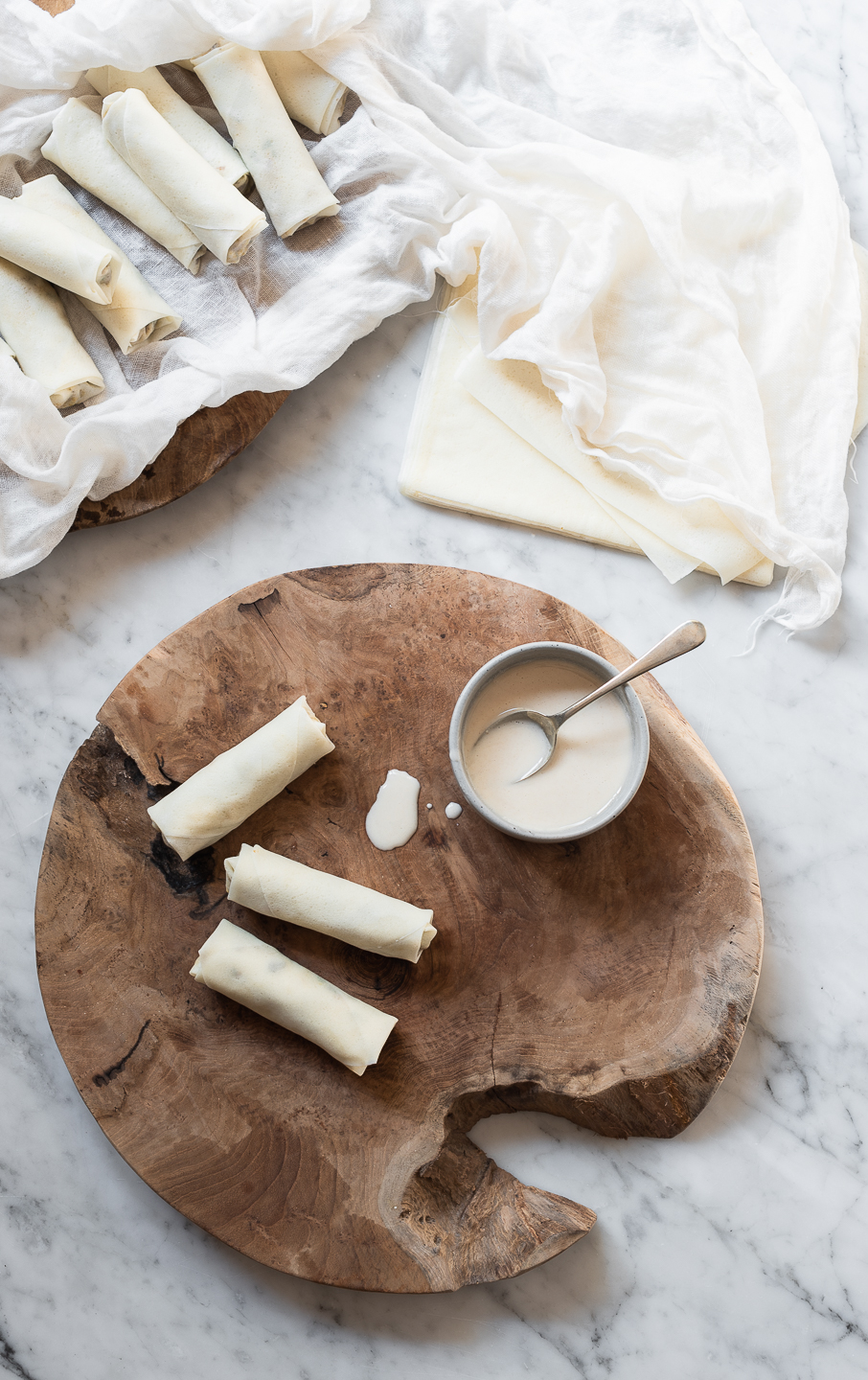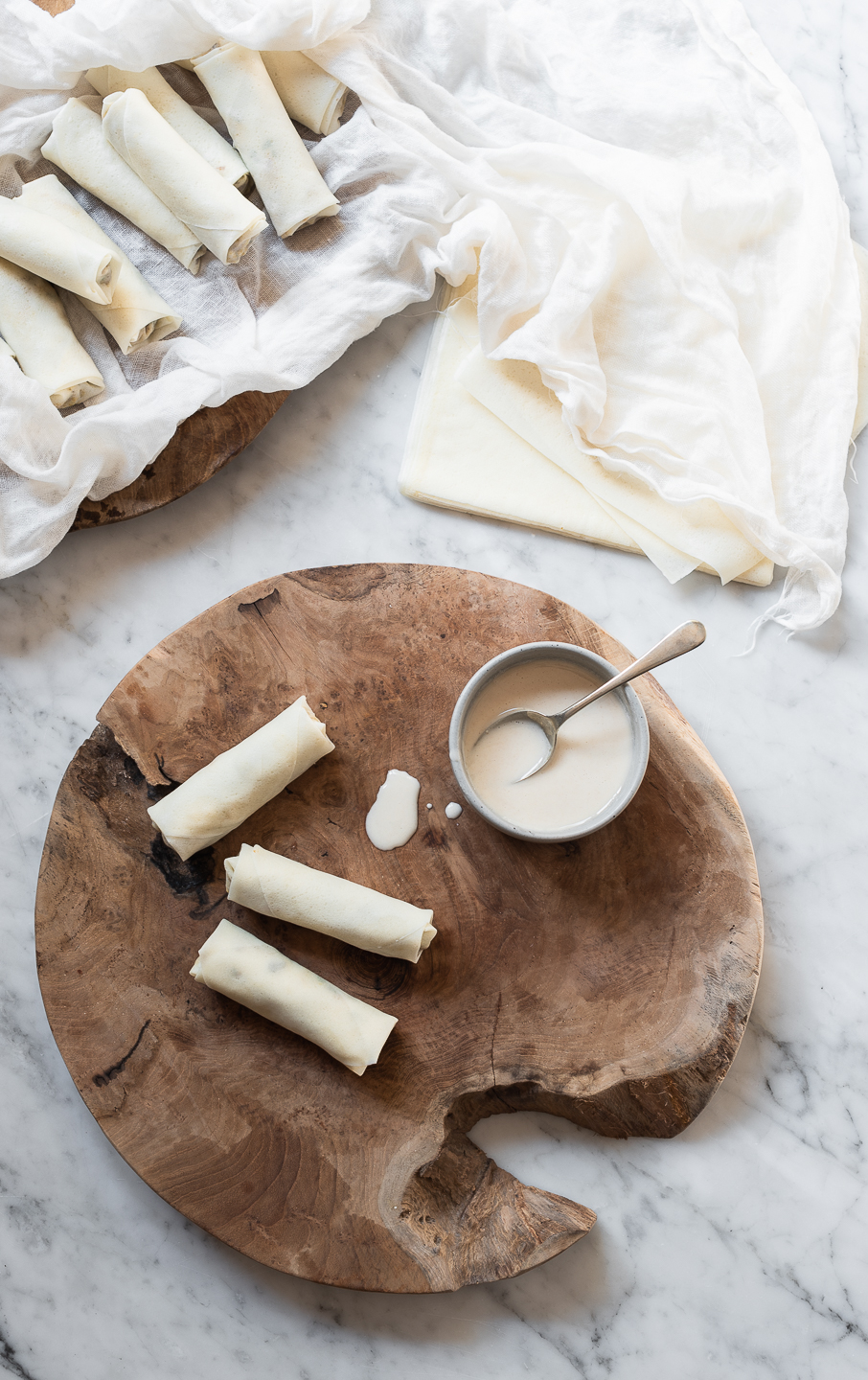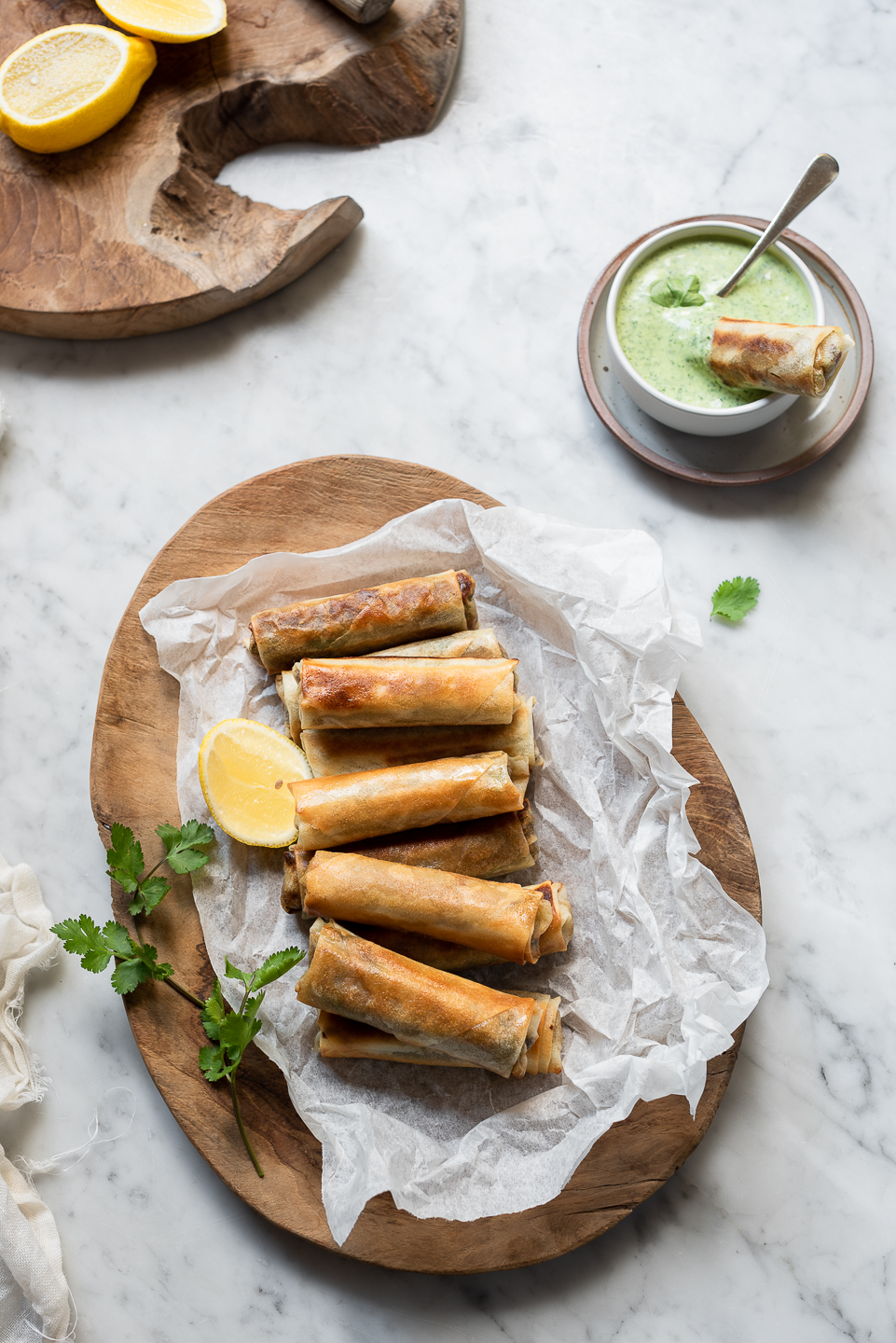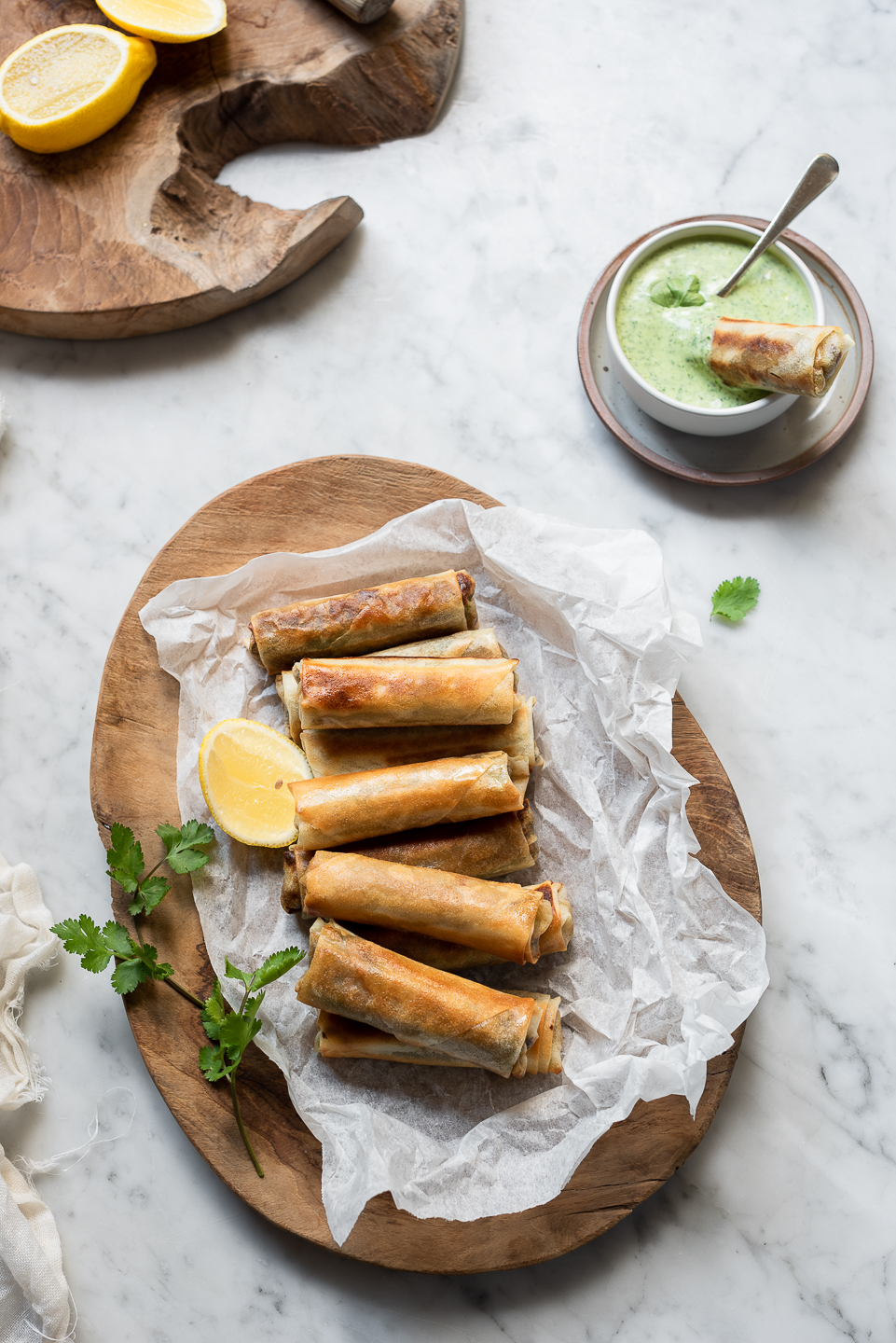 Spring Rolls with Herb Yoghurt
Makes 16
Filling
10ml (2 teaspoons) sesame oil
5ml (1 teaspoon) vegetable oil
2 medium leeks, rinsed, halved lengthways and sliced
250g (about 2 cups) mushrooms, finely chopped
1 clove garlic, minced
100g (about 3-4 cups) baby spinach
2 spring onions, thinly sliced
30 ml ( 2 tablespoons) soy sauce
15ml (1 tablespoon) lemon juice
salt and freshly ground black pepper
To assemble
flour paste, made by combining 1 teaspoon all purpose flour with 20ml cold water
Fatima's Spring Roll Pastry
vegetable oil, for pan frying
Herb Yoghurt
250ml (1 cup) Greek yoghurt
a generous handful of each, coriander, flat leaf parsley, dill and mint
30ml (2 tablespoons) lemon juice
sea salt flakes, to season
To make the dipping sauce, place the yoghurt, herbs and lemon juice in a processor. Pulse until the herbs are broken down and the sauce turns a lively green. Season to taste, then transfer to a small serving bowl. Cover and chill in the meantime.
For the filling, heat the sesame and vegetable oil in a wide-based pan. Add the leeks and sauté until softened, about 5 minutes. Add the mushrooms and cook for several minutes over a high heat, ensuring all the water is evaporated. Stir in the garlic and cook for another minute.
Pile the spinach on top and wilt down, once again, making sure the liquid is evaporated. Add the spring onions, soy sauce and lemon juice. Stir through and reduce until caramelised and sticky. Check and adjust seasoning if needed. Remove from the heat and set aside to cool.
To fill, place one sheet Fatima's Spring Roll Pastry on a wooden board at an angle. (shown above) Fill generously with a heaping tablespoon of vegetable filling. Fold the bottom corner over the filling, then fold in the outer corners. Roll firmly, brushing the edges with flour paste to secure in place. Repeat with remaining filling.
Heat 2 tablespoons oil in a non-stick pan. Over a medium high heat, fry the Spring Rolls until golden on all sides. Drain on kitchen paper. Serve warm with the dipping sauce alongside.
If you love a little something savoury, here are some of the most popular posts on the blog: