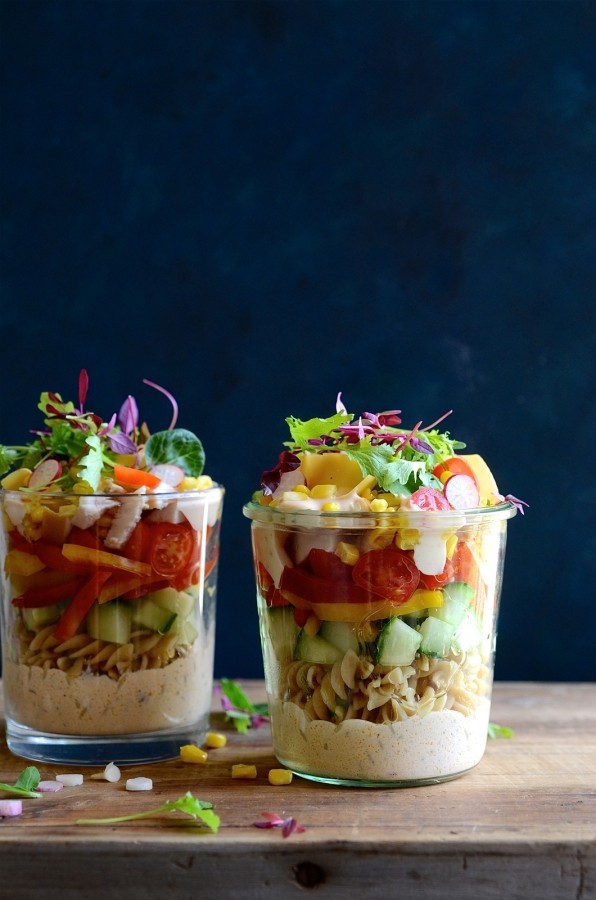 Mexican party jars for lunch anyone? Salad jars don't lie. What you see is what you get – layer upon layer of exuberantly colourful vegetables, swirly pasta and smoked chicken with a zingy chipotle mayo dressing. January and February are scorchers in South Africa, so we're keeping it light with a make-ahead smoked chicken pasta salad.
Mason jar salads are super-simple to make and convenient as portable take to work meals, school lunches and swanky picnic grub. It's really a case of chopping and stacking. The key to making the best salad jars is to spoon the dressing or vinaigrette in first. This step ensures the salad ingredients placed on top remain crisp and fresh. Because this recipe is pasta based, I'm going with a creamy dressing. It's the glue that holds everything together. To lighten things up, I've sub'd half the mayo with Greek yoghurt. It still has great tang but is leaner on the oil. To make it thoroughly Mexican, a smudge of smoky chipotle paste gets whipped into the dressing.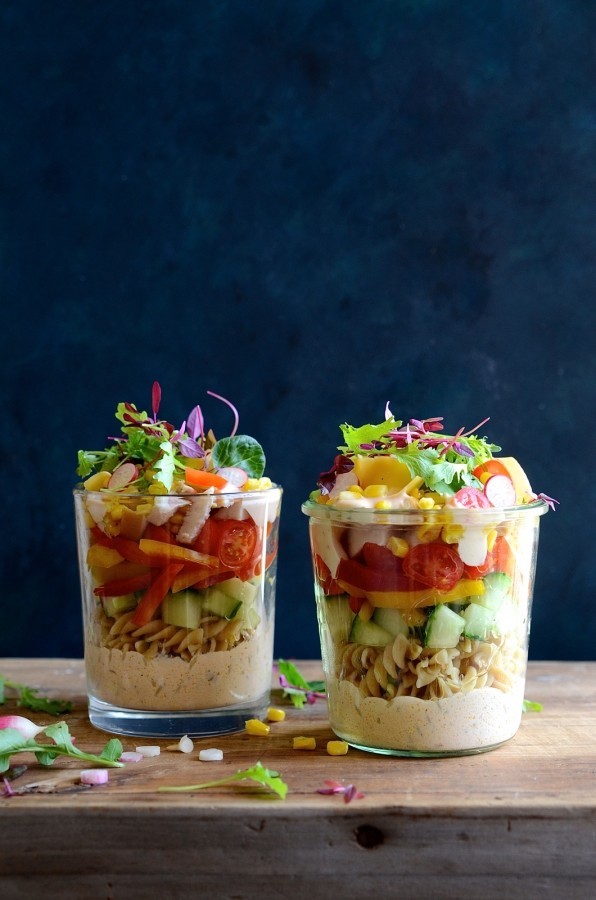 I'm sure most of you know about the 7- layer salad, obviously made with seven ingredients – Impressive as that sounds, this smoked chicken pasta salad has nine awesome layers, officially making it the 9-layer salad. Here it is then…
Lightened up creamy chioptle mayo dressing
Wholewheat fusilli pasta
Cooling cucumber
Crisp sweet peppers
4 – minute pan roasted corn
Juicy rosa tomatoes
Store-bought smoked chicken (no faffing around here)
Sharp cheddar shavings
Sweet and fiery baby pink radish wafers
Side note: Our Cooking classes for 2017 commences this February, kicking off with all things Healthy and Delicious. We're getting super-creative with recipes that help make eating healthy irresistibly good. Course dates and details can be found on the Here. Please note all classes are held in Johannesburg.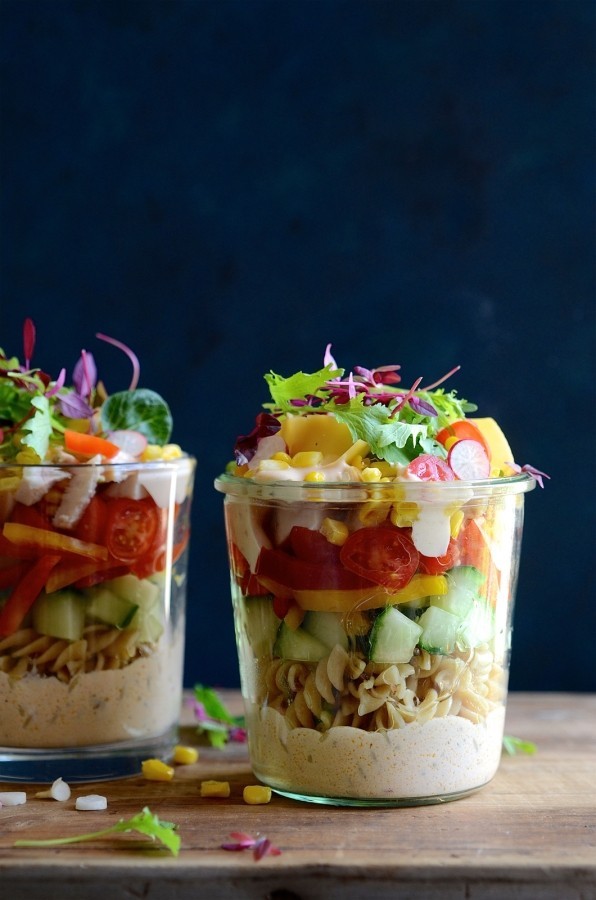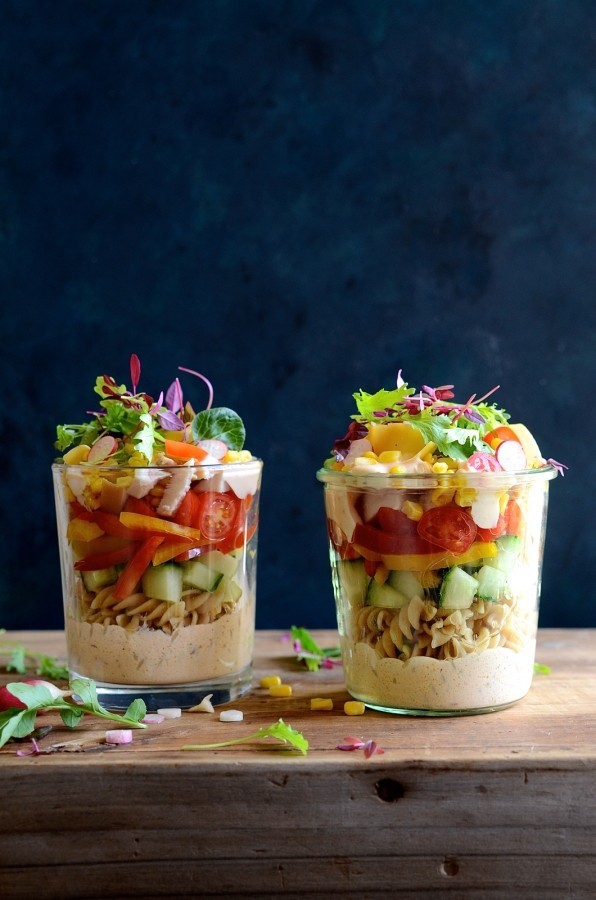 Smoked chicken pasta salad with chipotle mayo dressing
Prep time:
Cook time:
Total time:
Salad ingredients
200g (2 cup) uncooked wholewheat fusilli pasta, raw weight
1/2 English cucumber, deseeded, quartered and diced
1 of each, red and yellow sweet peppers, cut into strips
200g (1 cup) cherry tomatoes, halved
2 medium sized smoked chicken fillets, sliced into strips
2 ears fresh corn, cut of the cob
sharp cheddar cheese, thinly shaved or grated
handful baby radishes, cut into wafer thin rounds
micro herbs
Dressing ingredients
1/4 cup light mayonnaise
60ml (1/4 cup) Greek yoghurt
1 heaped teaspoon chipotle paste
squeeze of fresh lemon juice
salt and pepper, to taste
To make the dressing, place all the ingredients in a bowl and whisk until well combined.
Cook the pasta according to the packet instructions. Drain thoroughly, drizzle with 1 tablespoon olive oil and set aside to cool.
Heat 1 tablespoon olive oil in a pan and flash fry the corn for several minutes. Season lightly with salt and pepper.
Divide the dressing equally between 4 large mason jars.
Layer up the salad starting with the pasta followed by the remaining salad ingredients. Finish with the radishes and micro herbs.
Seal with lids until ready to serve.