Bundt cakes are the most marvellous invention.  Lacking in fickleness, their chiseled features the defining trait. Most often, a simple sugar-dusted top is all it needs. For those who jump at the chance of pushing out the boat, a caramel glaze and whipped cream will add enormously to its appeal. That said, the secret to this Nespresso Pumpkin Spice Cake is the nutty cinnamon streusel hidden within its golden belly.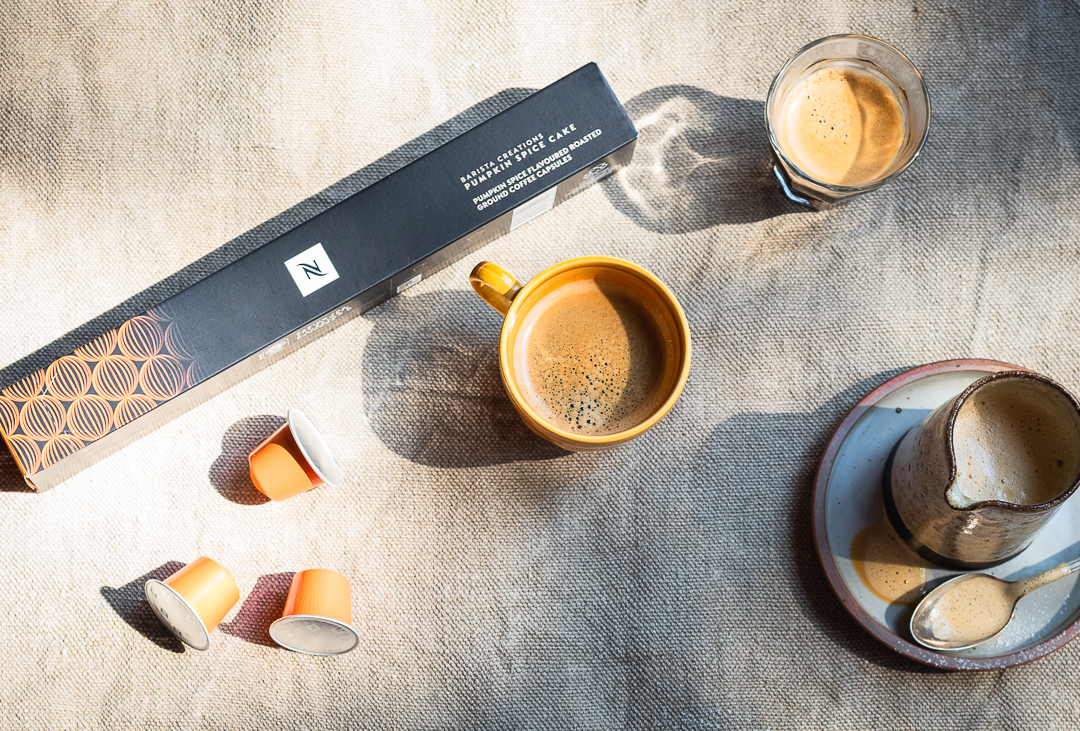 Pumpkin  purée brings moistness, flavour and a mild sweetness to its tender crumb, supported by the addition of Nespresso's new  limited edition Pumpkin Spice Cake coffee. This holiday blend carries gentle notes of cinnamon and cardamom, flavoured with sweet pumpkin, an indulgent aroma that tastes like the holidays.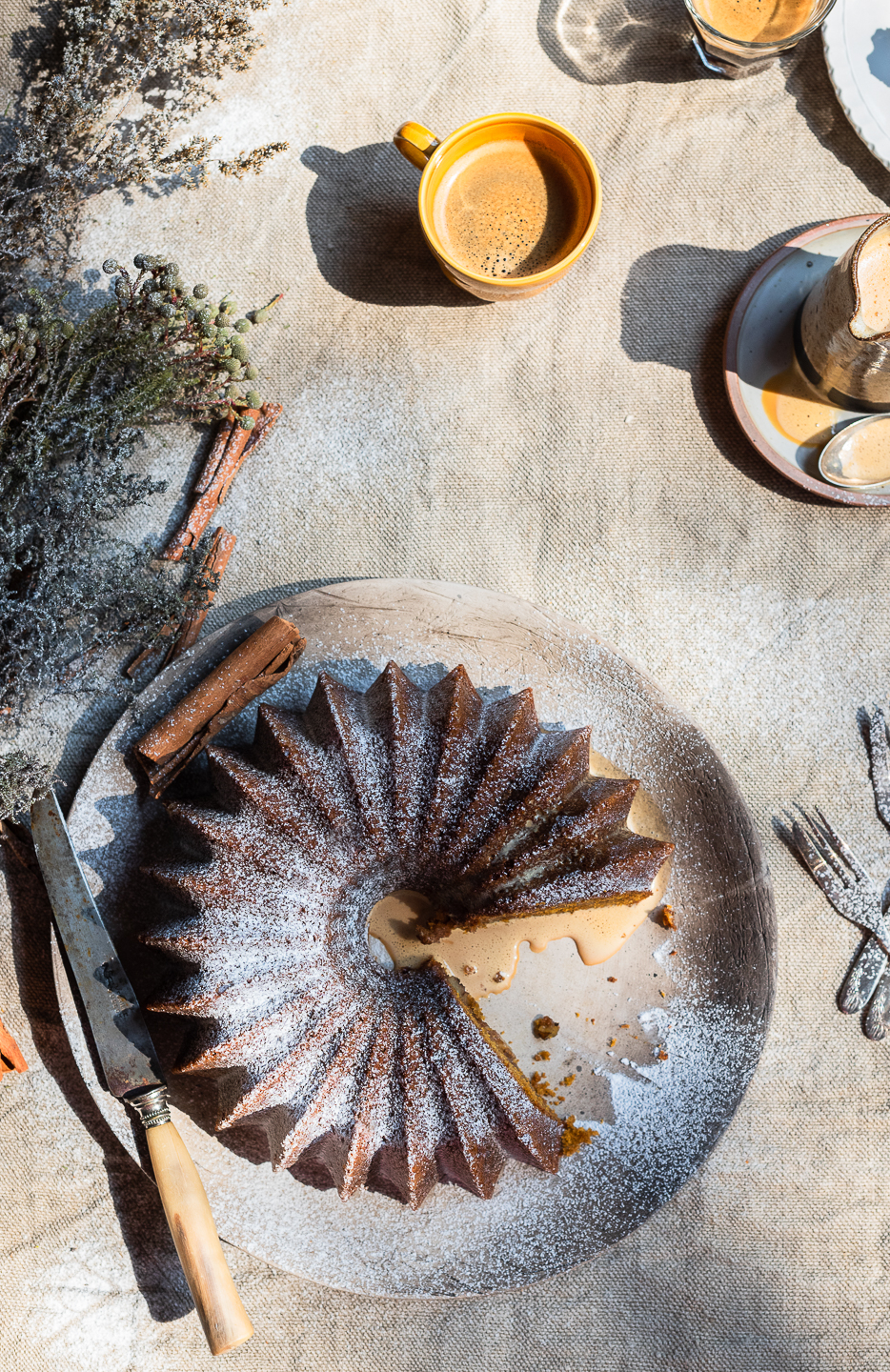 The recipes suggests making the cake in a 20cm square baking tin.  If however, you love a good bundt,  this would be the perfect time to jump on the holiday trend. In place of a traditional caramel sauce, I blended ready made caramel with a splash of milk and a pinch of sea salt. The result is a frothy cappuccino-style drizzle that you'll want to pour over anything that resembles cake. It's been a while since we've had a Cake Friday post. Hopefully this Nespresso Pumpkin Spice cake will make things right.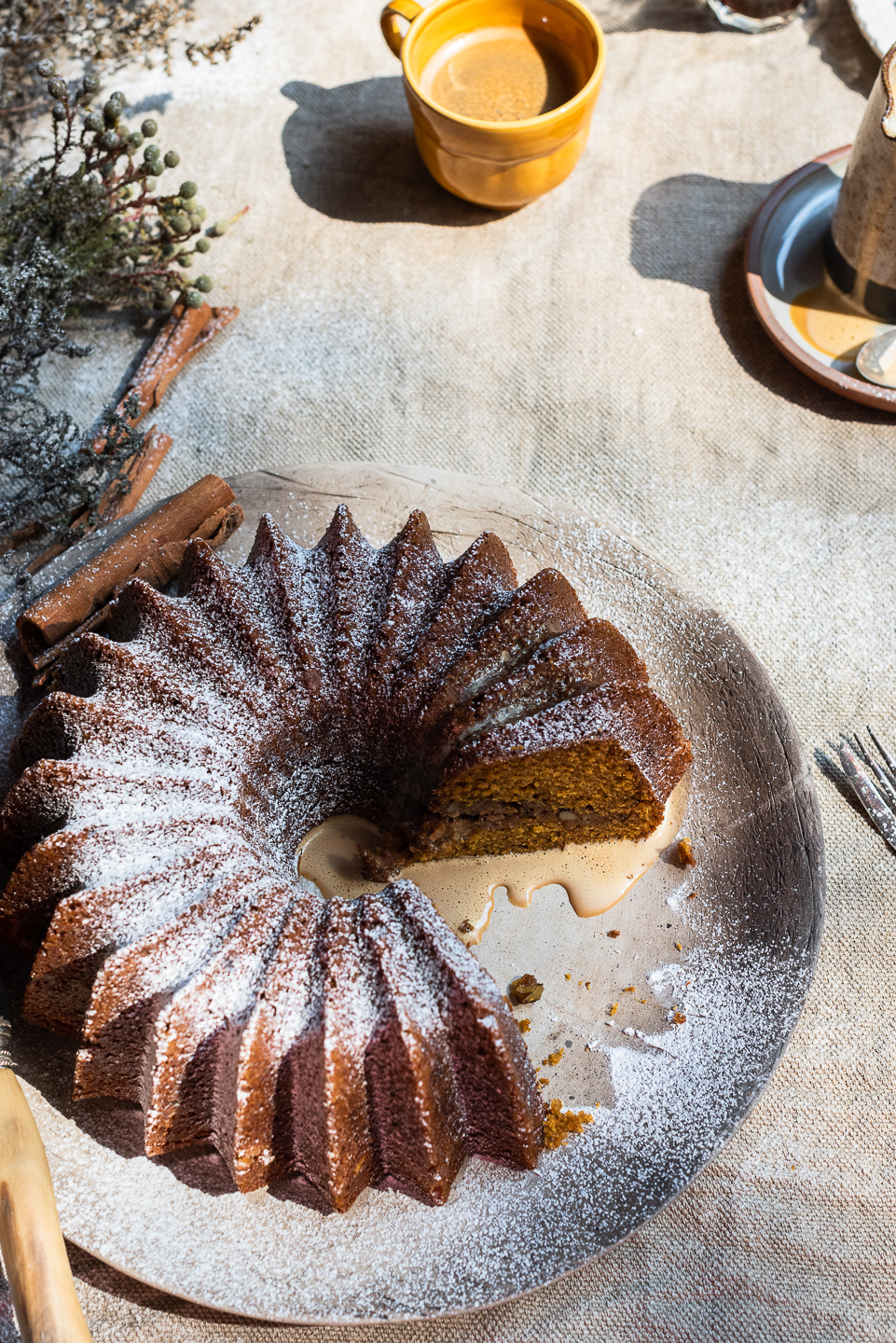 Nespresso Pumpkin Spice Cake
Serves  12
Streusel Topping
1/2 cup light brown sugar
1/4 cup cake wheat flour
1/2 cup finely chopped pecan nuts
1 teaspoon ground cinnamon
3 tablespoons butter, softened
For the Cake
2 cups cake wheat flour
1 teaspoon baking powder
1/2 teaspoon baking soda
1/2 teaspoon fine salt
1/2 teaspoon ground cinnamon
1/4 teaspoon ground ginger
1/4 teaspoon ground nutmeg
1/2 cup brown sugar
1/2 cup granulated sugar
1/2 cup vegetable oil
2 large eggs
250ml (1 cup) pumpkin purée (see Cook's note)
40ml Nespresso Pumpkin Spice Coffee
Preheat the oven to 180º C.
Grease a bundt tin with butter or non-stick cooking spray. If using a square baking tin, grease and line with baking paper, leaving longer 'paper handles' to make lifting out easier once baked.
To make the streusel, place all the ingredients in a small mixing bowl and work through until crumbly.
For the cake, in a large bowl, sift together all the dry ingredients, up to and including the granulated sugar.
In  a small bowl or jug, whisk together the sugar, oil and eggs. Add the pumpkin purée and mix to combine.
Make a well in the centre of the dry ingredients, then add the pumpkin mixture. Add the Nespresso Pumpkin Spice Coffee, then stir gently to combine.
Spoon half the batter into the bundt tin. Sprinkle with the streusel. Spread the remaining batter of the streusel and smooth over.
Bake for about 35-40 minutes or until cooked through.
For the bundt, cool in the tin before turning out.
Cook's Note: To make the pumpkin purée, roast the pumpkin for 45 minutes at 200º C. Mash until fine or blend in a processor.