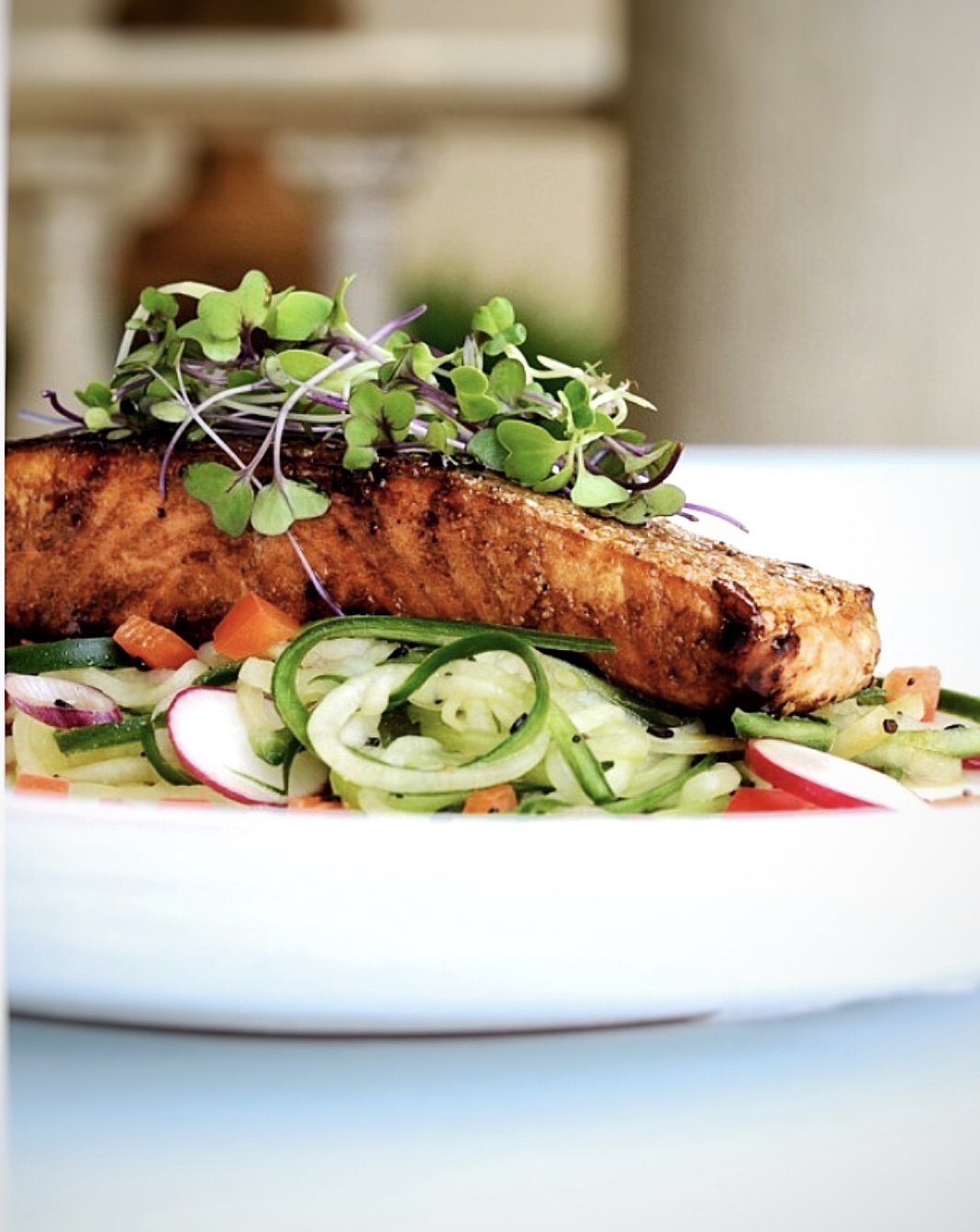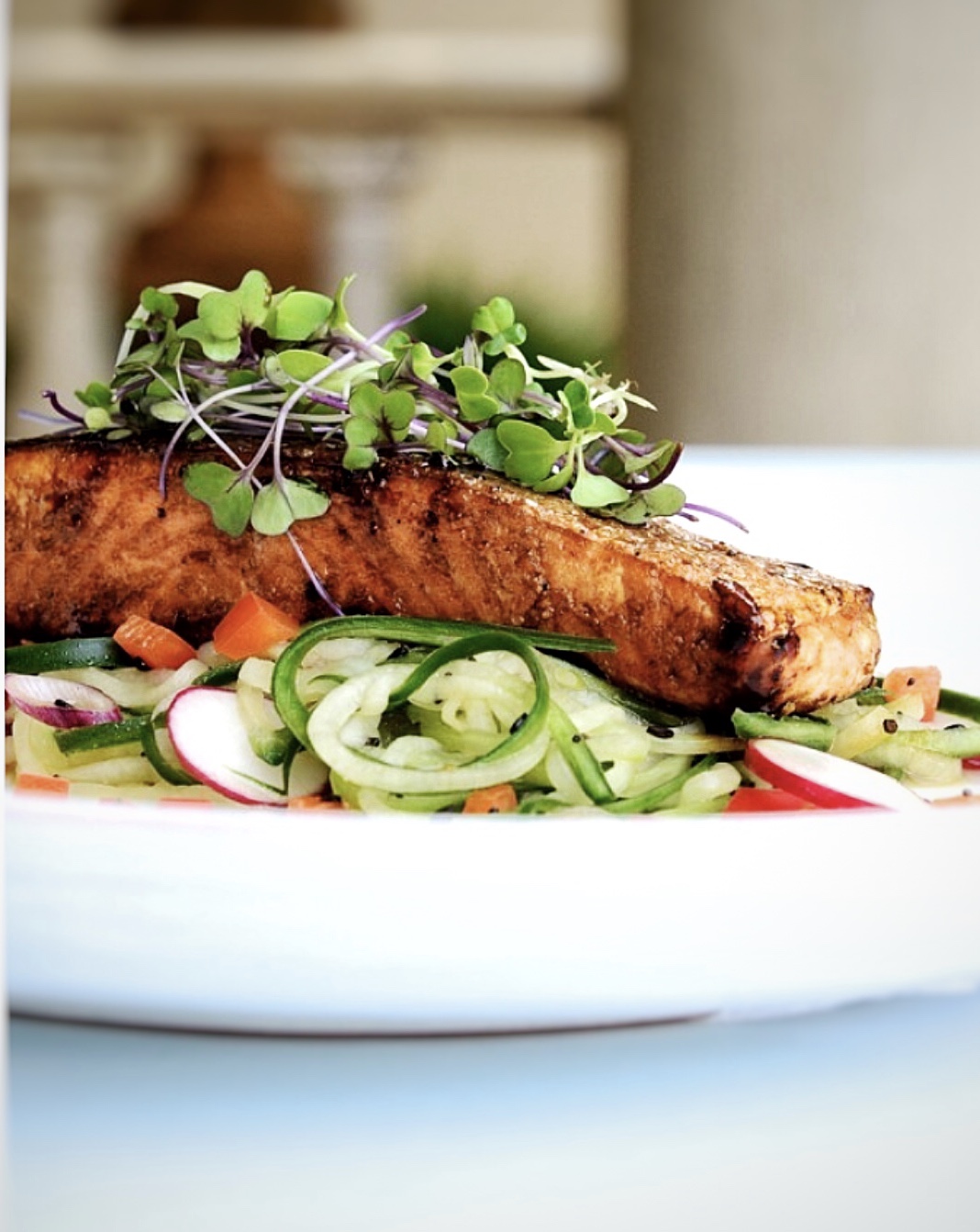 A light, mid-week supper with a refreshing cucumber and poppy seed salad, topped with soy and honey glazed salmon. If everyday meals leave you with little inspiration, why not boost your health, spend less time in the kitchen and more leisure time enjoying a relaxed, al fresco dinner.
On its own, cucumber can be a bit on the bland side, but we're going shake up the taste with a sweet and sour dressing, red pepper nuggets and scattering of sesame and poppy seeds. Tossed with shavings of vitamin C rich radishes and purple scallions, this salad is super easy to assemble with great texture and colour. Instead of the usual cucumber half-moon shapes, try spaghetti style strips. Remember to remove the centre core and the seeds to prevent the salad  from becoming watery.
When cooking the salmon, always lay it in the pan, skin side down first to keep the flesh intact and retain its shape. Crispy salmon skin is delicious and perfectly good to eat. If you prefer, remove carefully, after the fish is cooked. There are some delicious Asian flavours going on here with the sweet-salty-heat combination. Just before the end of the cooking time, the pan is deglazed with honey, soy and lime juice so watch carefully as it'll caramelise quickly and turn a treacle-like colour. Serve the salmon warm, on-top of the cooling salad with slithers of avocado for extra heart-healthy vitamin E. If you need a carb, by all means, serve with sticky jasmine rice.
Salmon with honey and soy
Serves 4
For the cucumber spaghetti salad
1/2 cucumber, either finely julienned or spaghetti stripped
1 small sweet red pepper, cut into tiny jewel sized pieces
2 scallions, finely diced
several pink radishes, cut into wafer-thin rounds
Dressing
20ml avocado oil
1 1/2  teaspoons sesame seed oil
1 tabespoon rice wine vinegar
3/4 teaspoon castor sugar
1/2 teaspoon poppy seeds
1 teaspoon black sesame seeds
salt and pepper, to taste
For the salmon
4 x 125g salmon portions
1/2 teaspoon ground coriander
a pinch of chilli flakes
zest of 1 lime
2 teaspoons honey
2 tablespoons light soy sauce
juice of 1 lime
sea salt flakes
micro herbs, to finish
For the salad, whisk all the dressing ingredients together until combined. Place all the prepared salad ingredients in a bowl and pour over the dressing. Toss lightly and set aside while you prepare the salmon.
Heat a pan until hot. Do not add oil to the pan as it will smoke and burn. Rather, drizzle the fish with a little flavourless nut or olive oil. Season on both sides with coriander, chilli, lime zest and sea salt flakes. Once the pan is hot, place the salmon skin side down in the pan and cook 3-4 minutes. Turn over and continue to cook until the pink flesh is opaque or done to your liking.
Drizzle with the honey, soy sauce and lime juice. Turn the salmon over so that the glaze coats the fish on all sides. Remove from the pan, cover with foil and allow to rest for a minute or two. Divide the cucumber salad between four plates, place the salmon fillet on top and finish with a handful of colourful micro-herbs.
You may like this summer salmon recipe too
Roast salmon with Rosé and shallot yoghurt