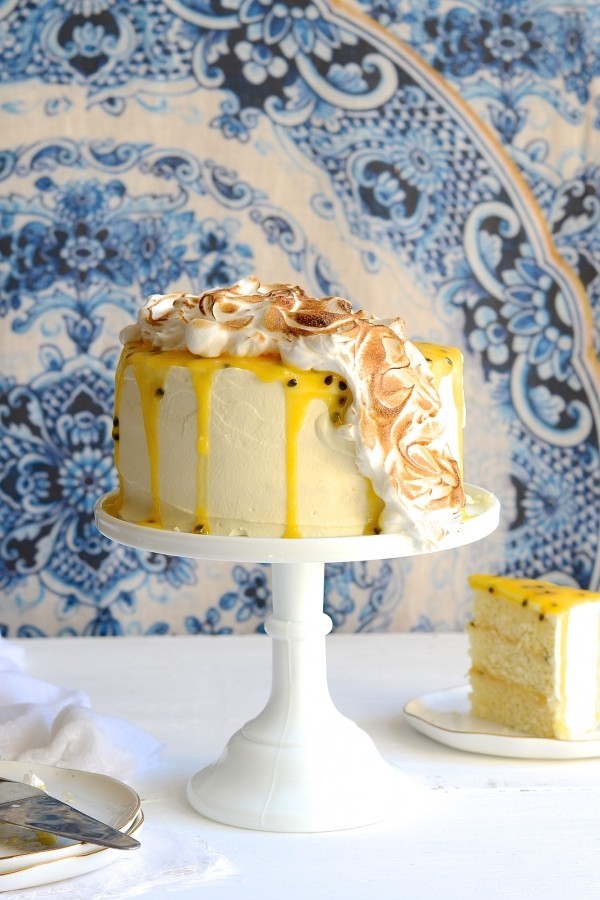 If you've been following the blog for a while, you'll know that Cake Friday is a Bibbyskitchen tradition. This Friday is particularly special. It's the first day of Spring and the blog's 3rd birthday. Both 1st and 2nd birthdays passed without ceremony, but no 3 is lucky. It gets a cake! And what better than a layered gin-soaked coconut granadilla curd cake to mark the occasion?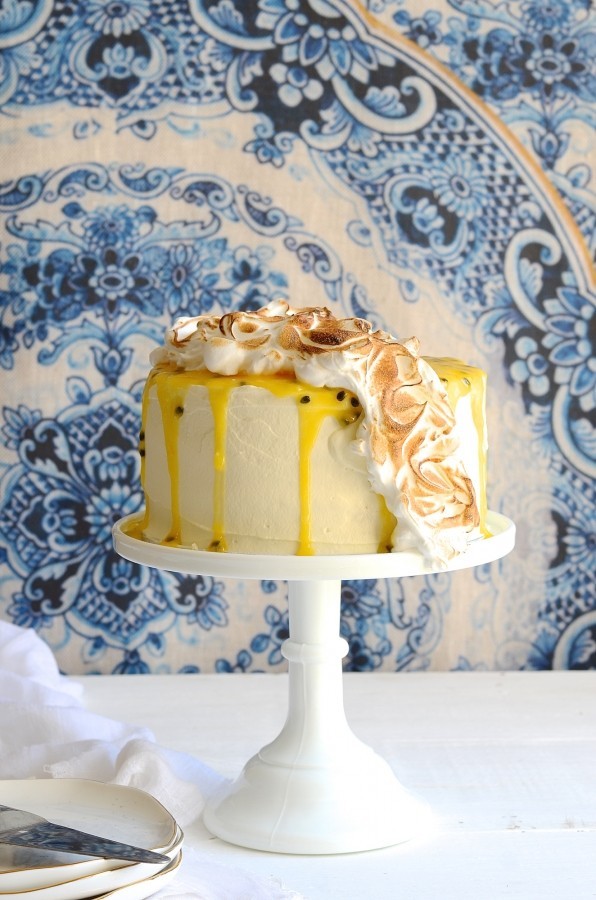 My very first post was this summery raspberry cake. A simple vanilla cake studded with fresh raspberries and girly pink frosting. I still love it. The recipe is a brilliant basic to have on hand and can easily be adapted with the addition of fresh seasonal fruit.
By comparison, this gin-soaked cake needs a little more attention but is so worth the effort, especially if you're celebrating a special occasion. The sponge is made in much the same manner as a hot-milk sponge, to which I've added coconut milk for richness and desiccated coconut for flavour and texture. To keep the cake moist and give it a bit of attitude, we're tagging onto the latest gin trend by making a gin syrup. Brushing the cake with syrup locks in the moisture and like a good fruit cake, deepens and matures the longer it's left. If you prefer an alcohol-free version, make the simple syrup with lemon juice and sugar.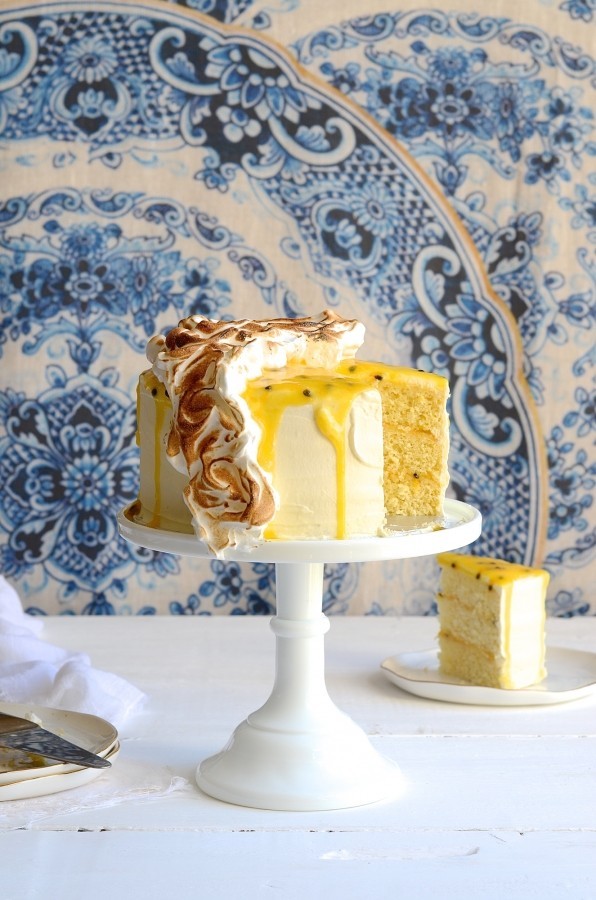 I baked the sponges on Thursday and planned to shoot it the following day. As it happened, life got a little busy and so the cake was relegated to the back of the queue. Several days passed and still it stood on the counter, patiently waiting its frosting. By Monday night it was still naked and the whole affair looked destined for failure or as my mum would say, downgraded to junk trifle status. Reluctant to acknowledge defeat, I went ahead and finished it anyway. Point is, that despite a 4 day wait, the cake was still spectacularly moist and one of the most luscious cakes I've eaten in ages. It might have something to do with the gin keeping it well-preserved and hydrated? Just a guess….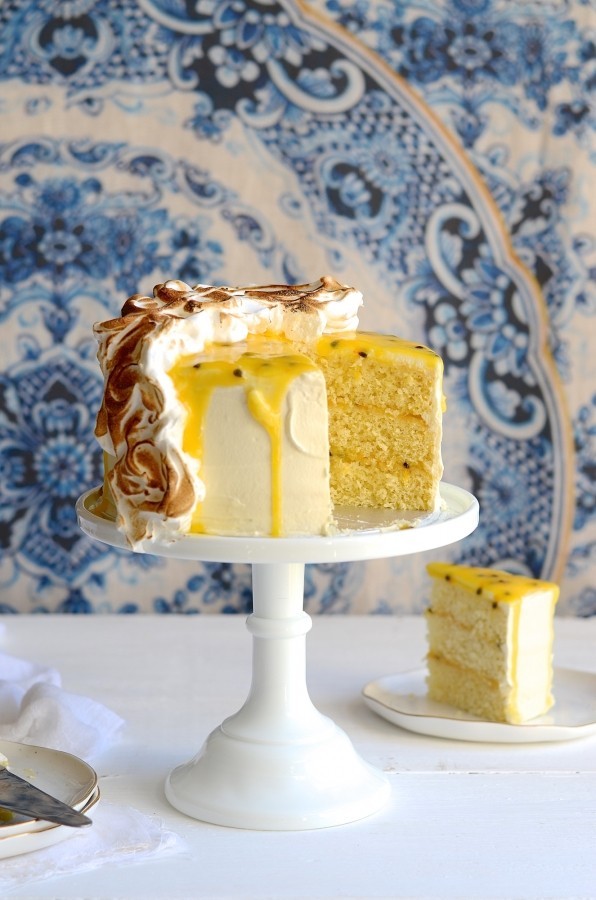 Each cake layer is sandwiched with a generous spoonful of tangy granadilla curd. I posted a quick recipe for the curd here. The curd is relatively sweet so I've opted for a whipped Chantilly cream coating as opposed to a sugary buttercream frosting. It's adds just the right amount of contrast to balance both acidity and tartness. A final drizzle of curd on top and pillowy piles of scorched meringue adds a touch of whimsy and finishes this third birthday edition of #cakefriday. If there's one cake I'd recommend to make, it's this coconut granadilla curd cake. When you do, remember to tag #bibbyskitchen and share it with us on Facebook and Instagram.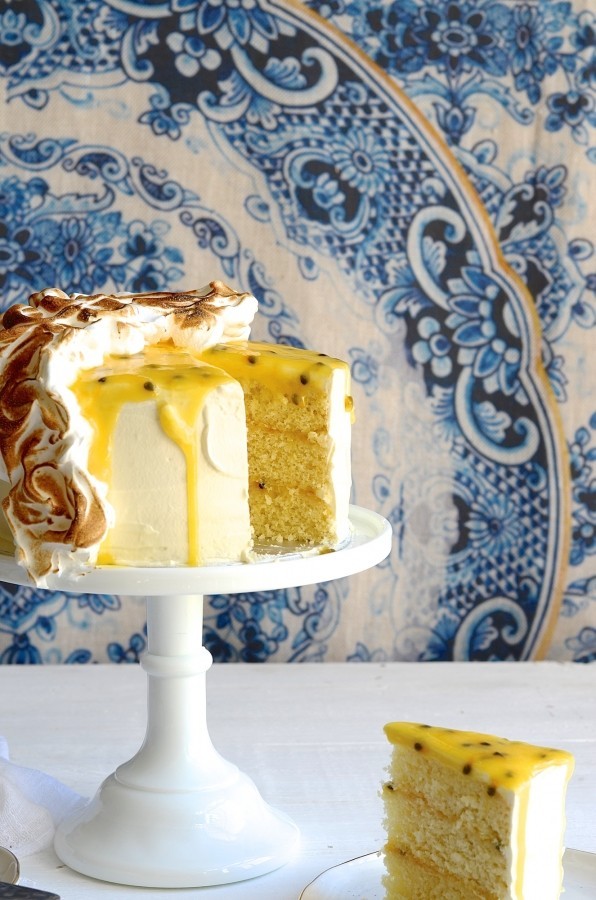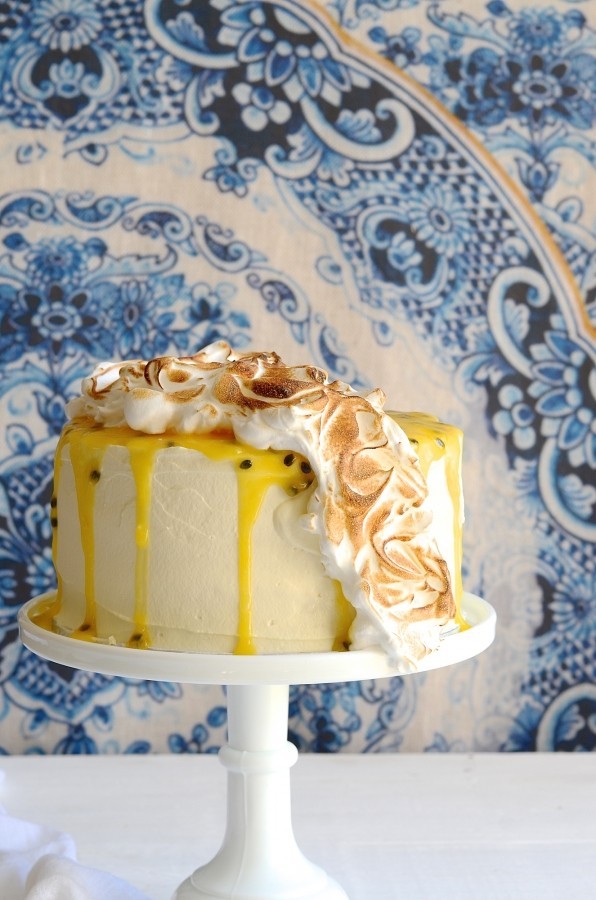 Gin and coconut granadilla curd cake
Coconut sponge cake
1 stick (125g) butter
1/2 cup full cream milk
125ml (1/2 cup) light coconut milk
2 cups all-purpose cake flour
2 1/2 teaspoons baking powder
pinch of salt
3/4 cup desiccated coconut
4 eggs
1 1/4 cups castor sugar
1 teaspoon vanilla extract
zest of 1 lemon
Gin and lime syrup
1/2 cup castor sugar
4 tablespoons lime or lemon juice
1/4 cup gin
Meringue
2 egg whites, at room temperature
1/2 cup castor sugar
For finishing
1 cup granadilla curd
250ml cream whipped with 2 Tbls icing sugar
Preheat the oven to 180º C.
Grease and line 3 x 20cm round baking tins with baking paper.
In a small saucepan, heat the butter, full cream milk and coconut milk. Once the butter has melted, set aside to cool slightly.
Sift together the flour, baking powder and salt.
Place the eggs, sugar, vanilla and lemon zest in the bowl of an electric mixer.
Whisk until frothy and pale. Add the sifted flour and desiccated coconut and whisk again.
Pour the warm milk into the egg mixture (down the sides of the mixing bowl) and beat slowly until just combined.
Divide the batter between the baking tins and bake for 22-24 minutes until cooked through.
Cool the cake in the tins before turning out onto a wire rack.
To make the gin syrup, heat together the sugar and lime juice. Boil hard for 5 minutes. Add the gin and remove from the heat.
In a clean bowl, whisk the egg whites until frothy. Gradually add the castor sugar and beat until the meringue is stiff.
In a separate bowl, beat the cream until soft peak stage and then add the powdered sugar.
Brush each cake layer generously with gin syrup. Spread about 2 heaped tablespoons of granadilla curd between each sponge layer.
Decorate the side and top with whipped cream.
Drizzle the top with granadilla curd and pile the meringue gently on top.
Using a blow torch, scorch the meringue until golden.
Vanilla and raspberry cake with buttercream frosting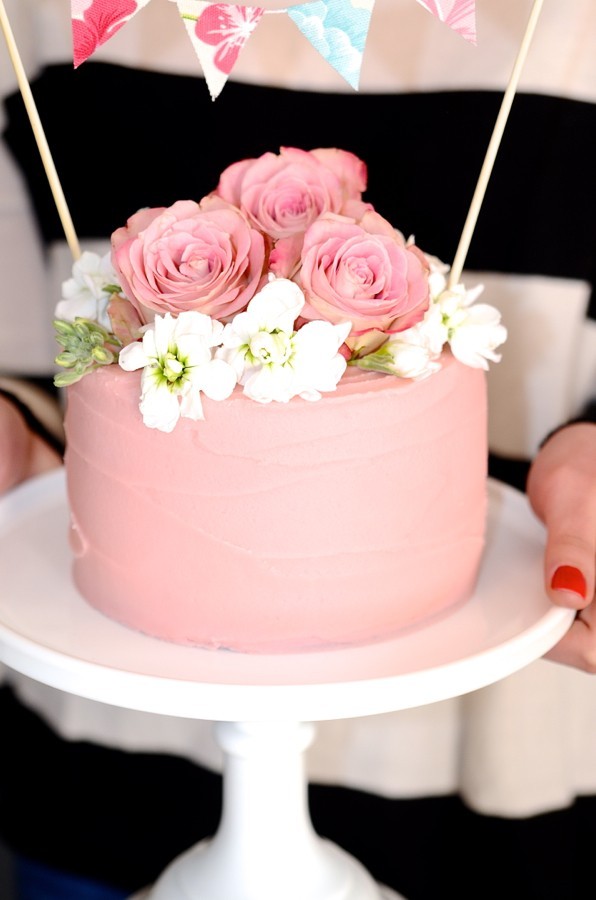 Click here for the recipe Raspberry vanilla cake with buttercream frosting