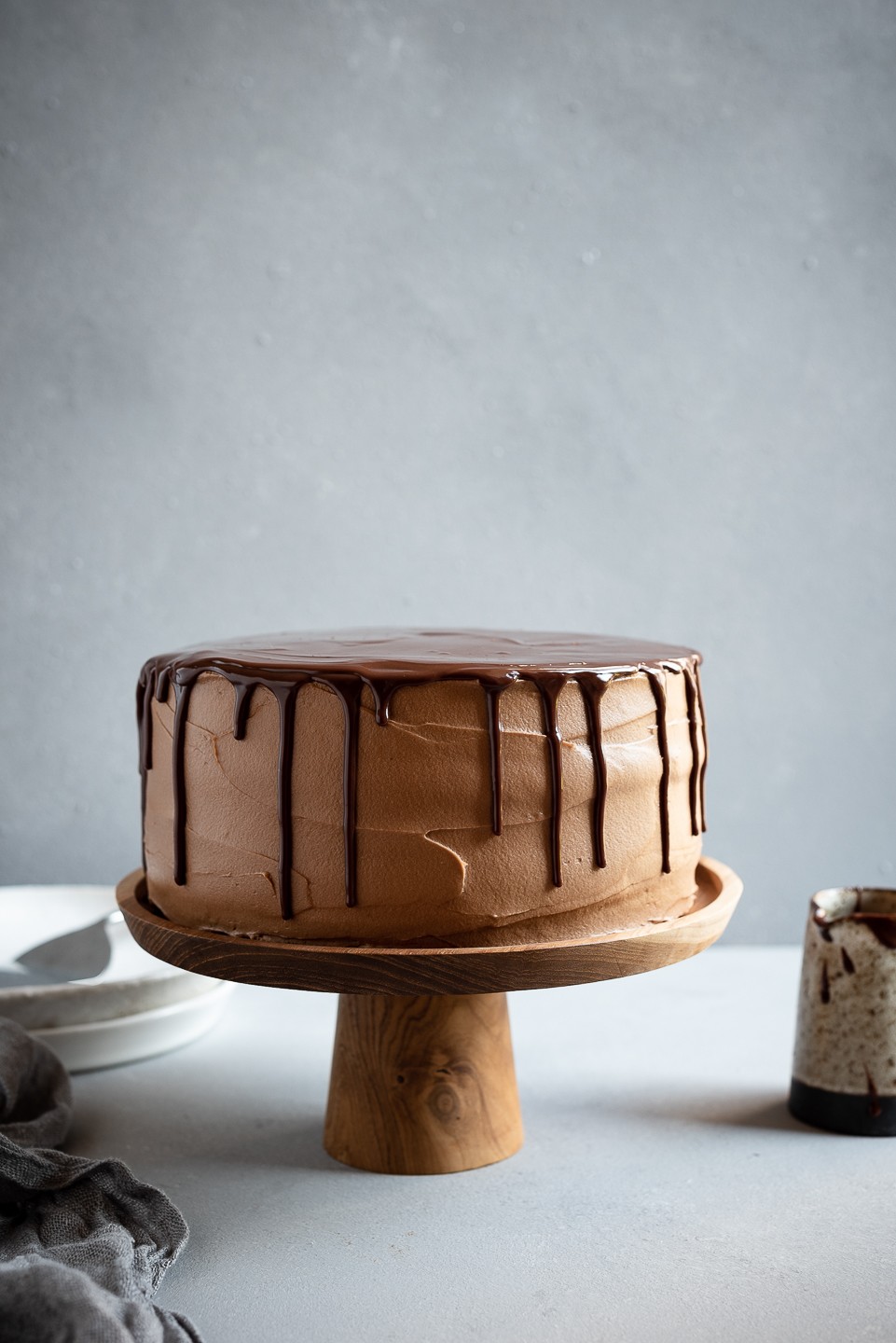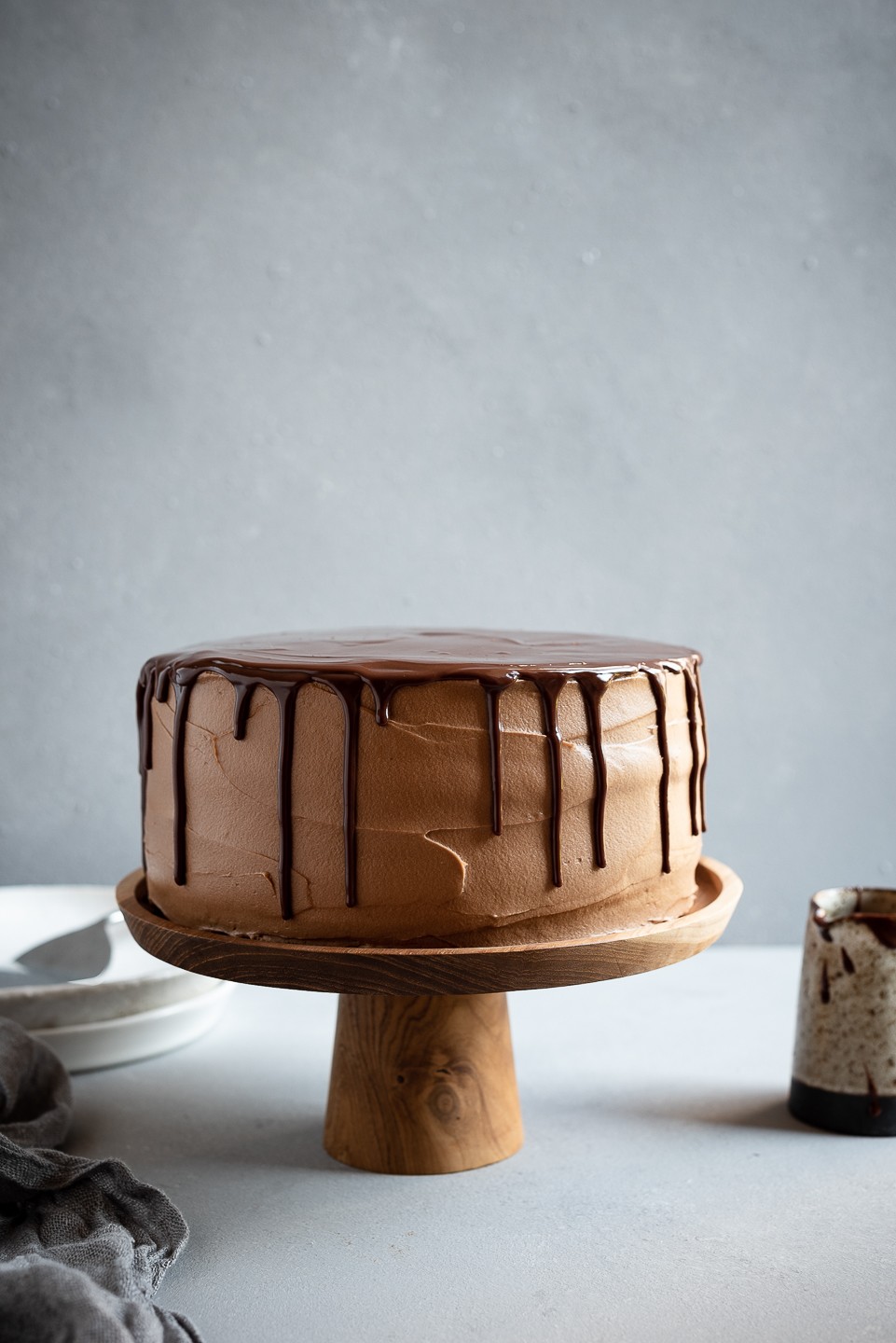 Everyone loves a mystery box, as do I. Mine arrived with a Fragile, handle with care sticker. Hidden beneath reams of shredded rainbow paper, a pixie-sized wooden hammer and chocolate egg, the size of which would've awed Willy Wonker. With instructions to 'Crack me and Create me', I reluctantly smashed the egg and proceeded to read the user guide, while sampling chocolate shrapnel. The plot – Conjure up a decadent dessert or bake using First Choice Velvet dessert as the key ingredient. I can think of nothing more luxuriously shameless than this Dark Chocolate mousse cake!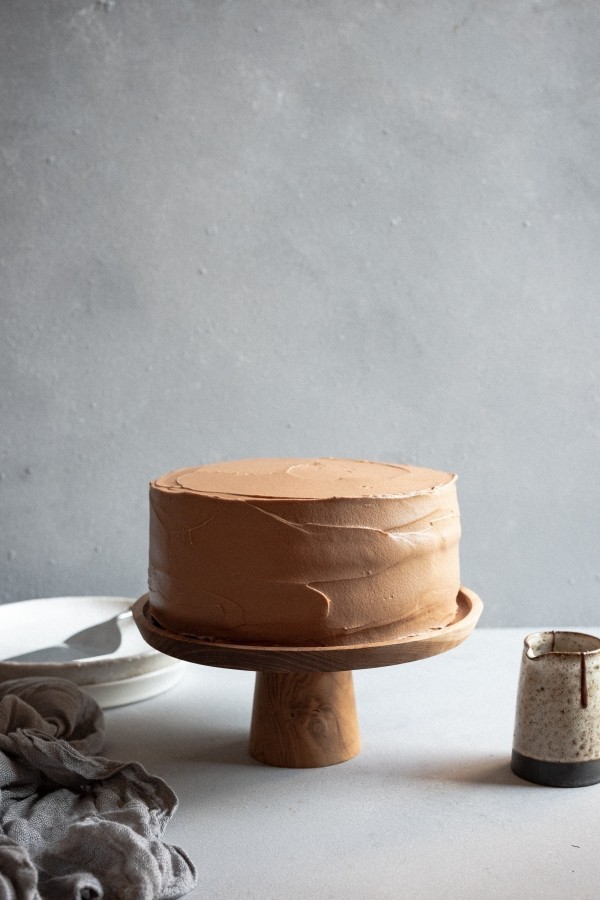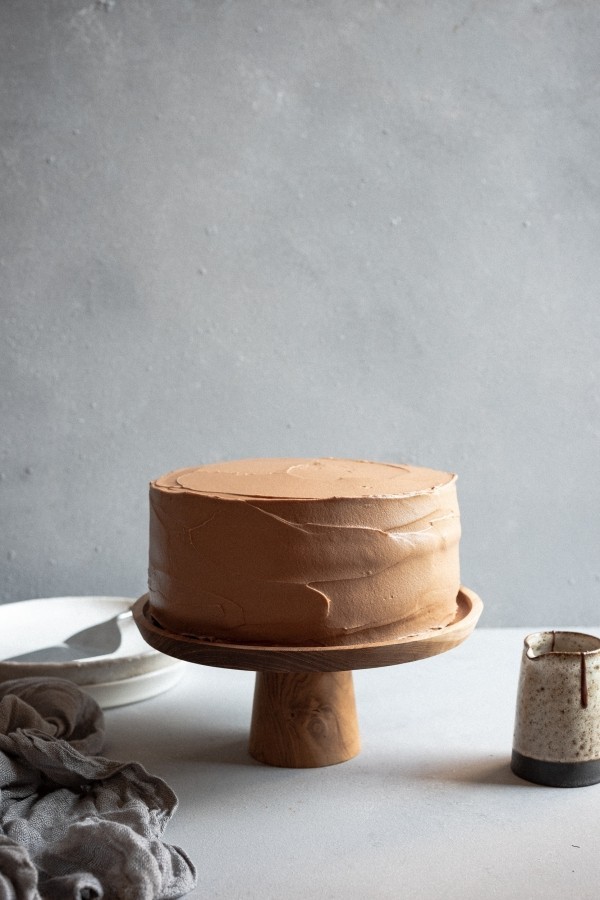 Not quite sure which direction to head in, I started with a mega milk shake. To the Strawberry velvet dessert, I added some raspberry coulis, fresh strawberries, milk and Greek yoghurt. It tasted like Roadhouse diner milkshakes – Extra thick and creamy. I bottled the bubble gum pink-coloured 'milk' and delivered it to a friend. Apparently it was the best milkshake he'd had in years.
With the milkshake done, I moved onto cake. An obvious choice around here. There's nothing small about this cake, either in stature or taste. It's the kind of cake you'd want to usher out on special occasions. While the bake is hardly challenging, there are a couple of steps if you want to take it up a notch. The idea was sparked by a 2 ingredient cake recipe, using melted ice cream and self-raising flour. I haven't tried it yet, but figured First Choice Dairy Dessert is basically the same deal as melted ice cream. Here's what I did.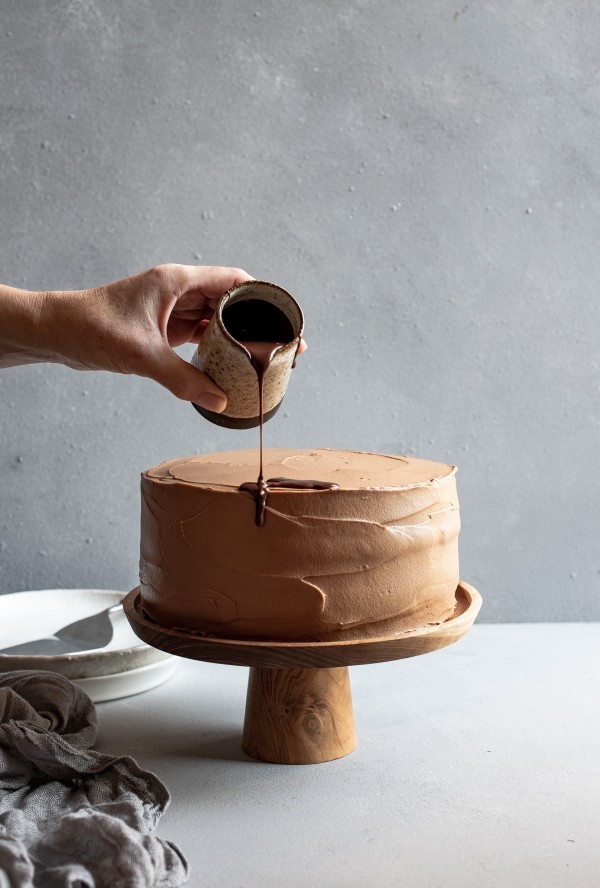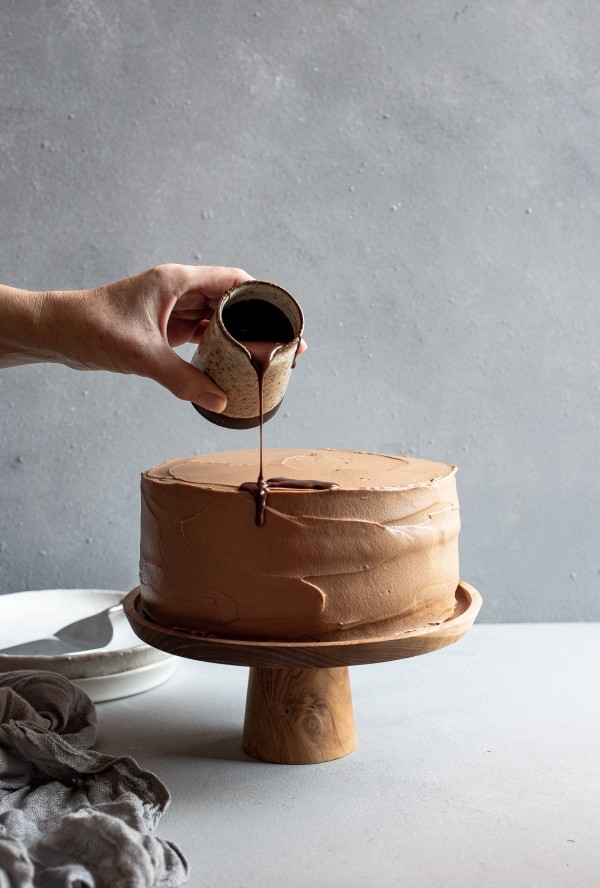 Hard pressed to waste the chocolate egg, I melted the shattered pieces and added it to the cake batter, along with Chocolate flavoured dairy dessert. Chances are slim that you'd have a giant chocolate egg lying around, so a good quality dark chocolate is your best bet. After a quick 20 minute oven time, the cakes are done. The cheat's mousse recipe, is ridiculously easy. The secret is marshmallows. Pile everything into a saucepan and whisk until melted. Add a tot or two (go for two), of rum and some whipped cream. Even if you don't make the cake, the mousse on it's own is a spoon-ably good dessert.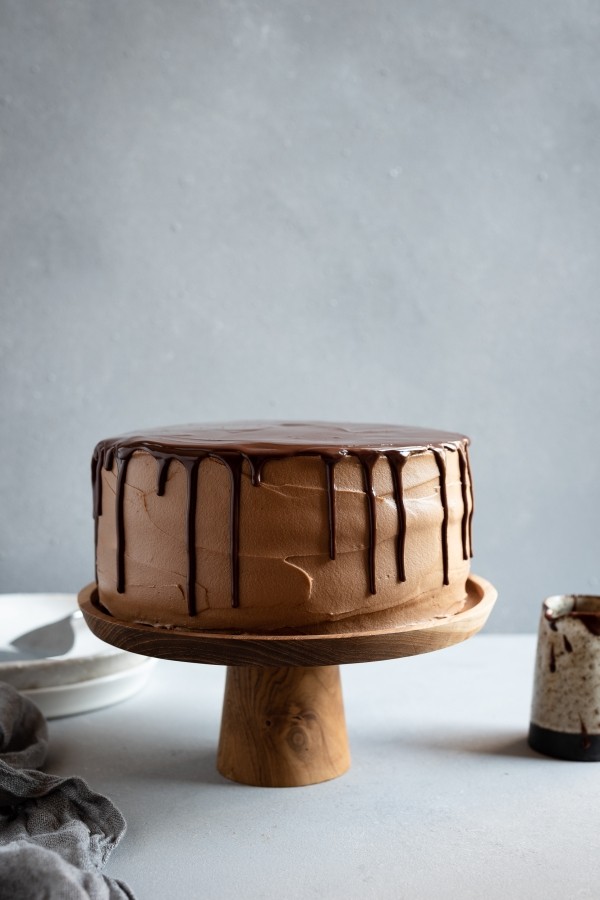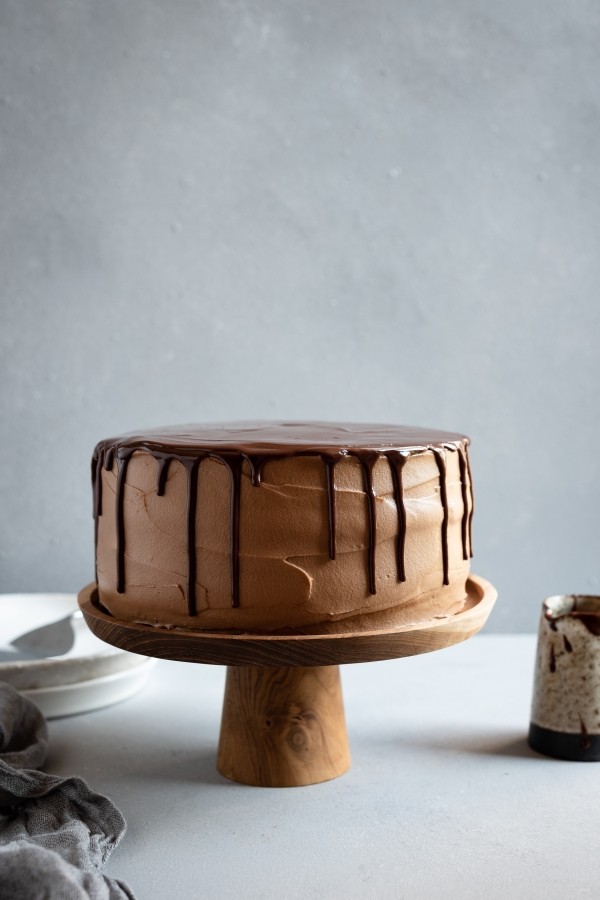 If you're wondering about cloud frosting, as the name suggests, it's light as air and dreamy. From now on, this is the only way I'm going to be making chocolate frosting. It's sweet but not sugary, as many buttercreams tend to be. Try use 70% chocolate if you can, one that hints at darkly roasted cocoa beans. Finish with chocolate drizzle and call it a day. A very good day, at that. So good in fact, Feedfeed added this cake to it's list of best chocolatey bakes!
PS Post shoot – Cake eaters appear from nowhere. Slithers turned into slices. Average life expectancy of a Dark chocolate mousse cake = 12 hours.
Cook's note: The cake keeps best chilled. Remove from the fridge 10 minutes before serving.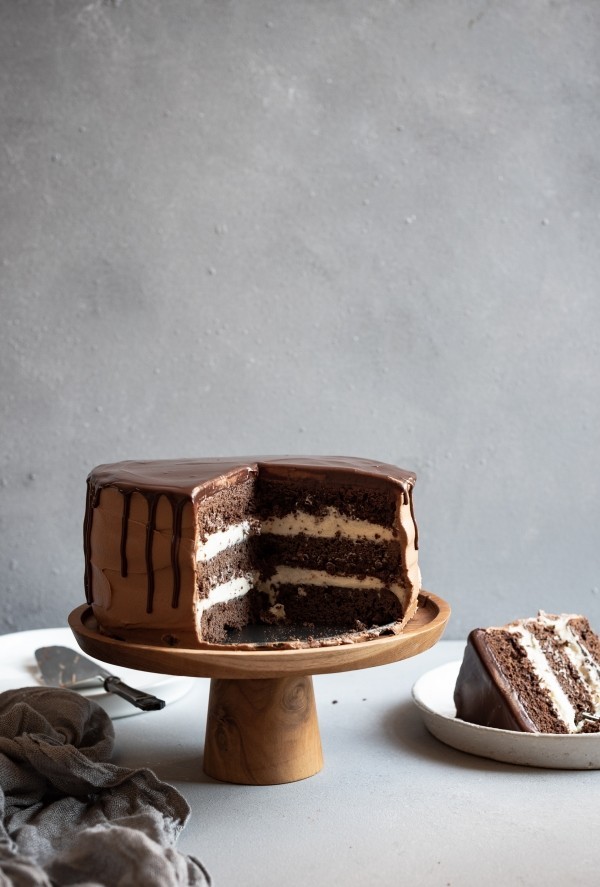 Dark chocolate mousse cake with cloud frosting
150g dark chocolate
6 tablespoons (90ml) full cream milk
1 1/Ž2 cups (375ml) First Choice Chocolate flavoured Dairy Dessert
3Ž/4 cup (180g) castor sugar
3 eggs
200ml vegetable oil
1 teaspoon vanilla extract
2 1/Ž4 cups (360g) self raising flour
6 tablespoons cocoa powder
1/Ž4 teaspoon sat
Mousse
200g white marshmallows, cut into quarters
120g white chocolate
1 1Ž/2 cups (375ml) First Choice Vanilla Flavoured Dairy Dessert
3 tablespoons rum (optional)
1 cup (250ml) fresh cream
Chocolate frosting
125g (1 stick) butter
160g dark chocolate (70%)
125ml (1/2 cup) fresh cream
250g cream cheese, at room temperature
150g (1 cup) powdered sugar, sifted
Ganache drizzle
100g dark chocolate 70%
125ml (1/2 cup) fresh cream
Method
Preheat the oven to 180ºC. Grease and line 3 x 20cm round cake tins, one of which needs to be a springform tin.
Melt the chocolate and milk together and whisk until smooth. Cool slightly, then add the First Choice chocolate dessert. Stir to combine.
In a mixing bowl, beat the castor sugar and eggs together until creamy and pale. Add the oil and vanilla to the eggs and mix together. Add the chocolate flavoured dessert mixture and mix on a low speed to combine.
Sift the flour, cocoa and salt into the egg mixture and beat slowly until the flour is incorporated.
Divide the batter between the tins and bake for 20 minutes. Test with a skewer for doneness. Rest in the tins for 10 minutes, then transfer to a wire rack.
For the mousse, place the marshmallows, chocolate, First choice vanilla dessert and rum into a saucepan. Heat gently, whisking until the marshmallows are melted. Set aside to cool.
Whisk the cream until stiff peaks form. Fold the cream into the mousse.
To assemble the cake, trim the tops of each cake layer to even the surface. Place the first cake layer into a 20cm springform cake tin. Pour over half the mousse and chill for 20 minutes.
Carefully place the second cake layer on top and cover with remaining mousse. Chill for 20 minutes. Place the last layer on top and chill until completely firm.
For the frosting, melt the butter, chocolate and cream together. Whisk until smooth, then set aside to cool.
Whisk the cream cheese and powdered sugar together. Add the cooled chocolate mixture and beat for several minutes until light and as fluffy as clouds.
To un-mould the cake, run a hot knife around the sides of the tin. Trim any excess mousse from the sides.
Cover the sides and top of the cake with a generous layer of frosting. Chill the cake while you make the ganache drizzle.
Melt the 100g chocolate and cream together and whisk until smooth. Set aside to cool.
Drizzle over the side of the cake first and then in the centre. Smooth over with a palette knife.
More chocolate recipes to love:
Baked blackberry chocolate fondant tart