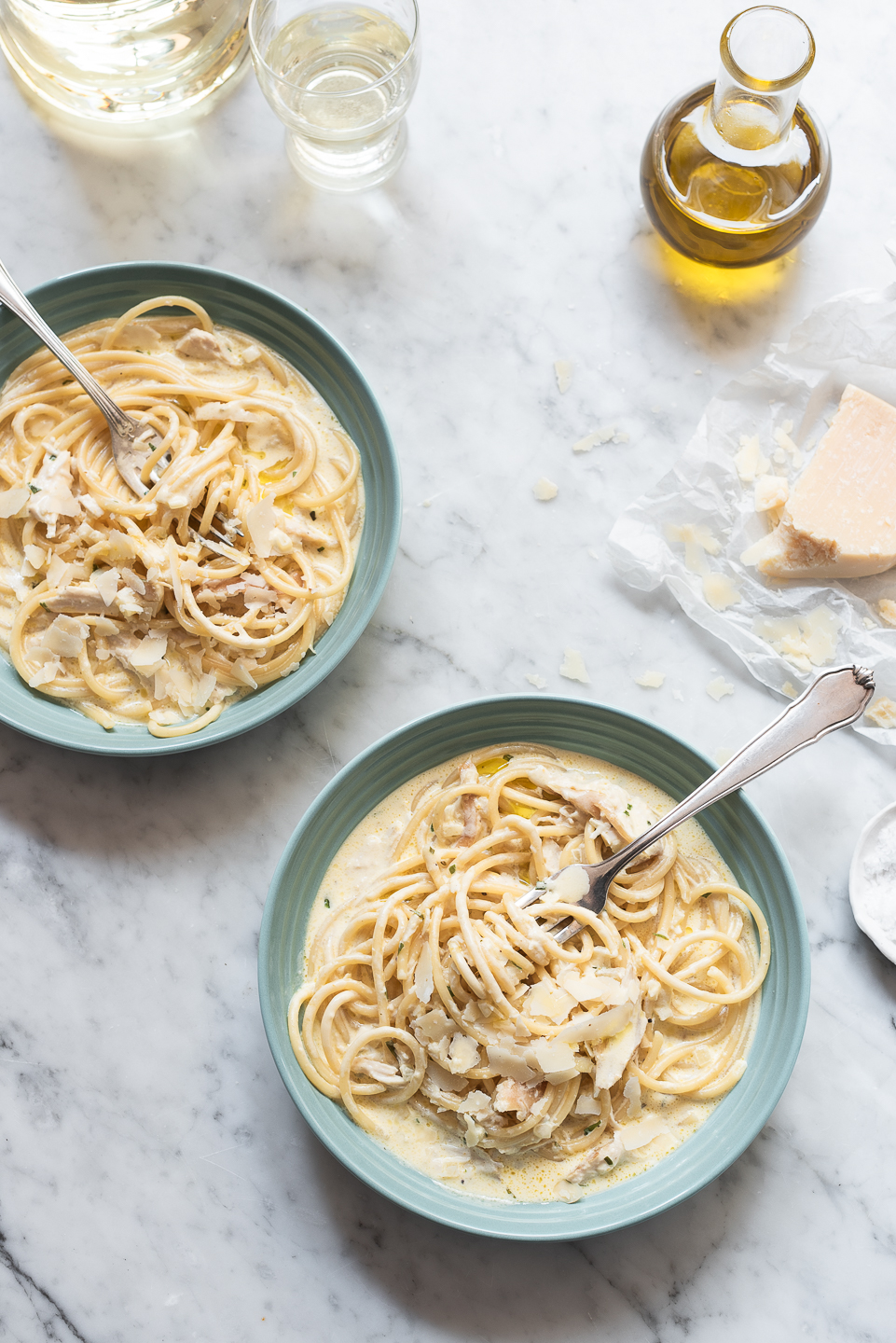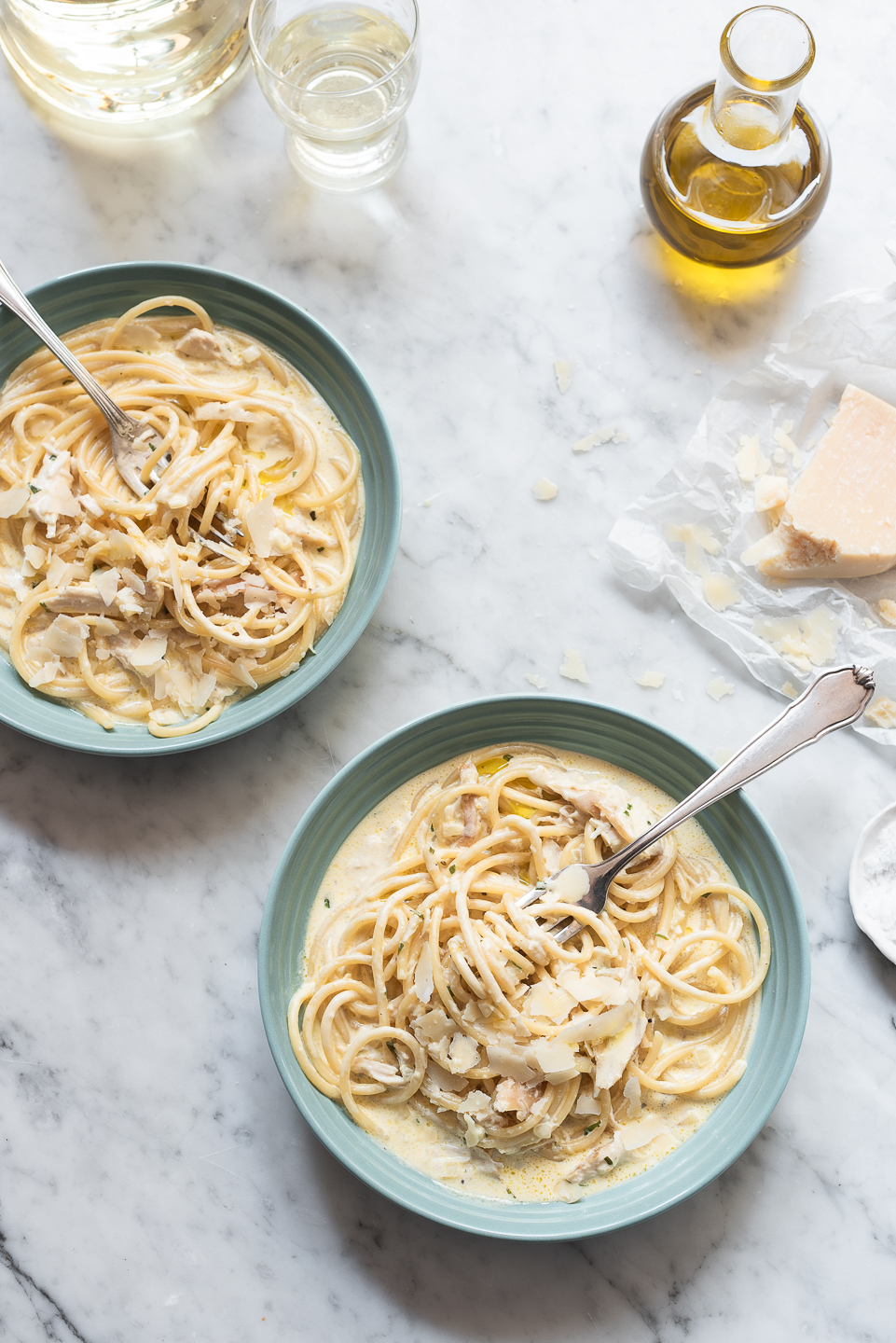 Apart from casually stirring an onion or two until sweet, glossy and collapsed, there's hardly any effort needed to make this Chicken and tarragon cream pasta. The sauce is a familiar one. White wine and cream with fresh tarragon for a peppery liquorice-ness that's bright, bordering on bitter. It counters the richness of the creamy sauce perfectly. Add as much grainy Parmesan as you think decent. Don't be stingy here. Cream loves parmesan.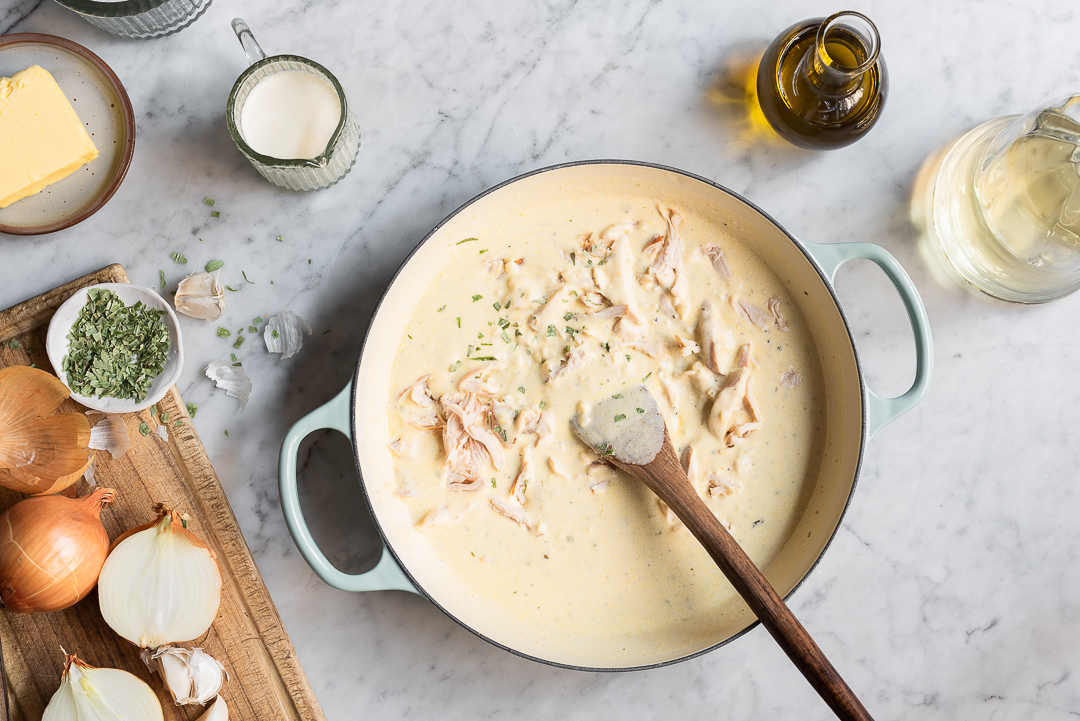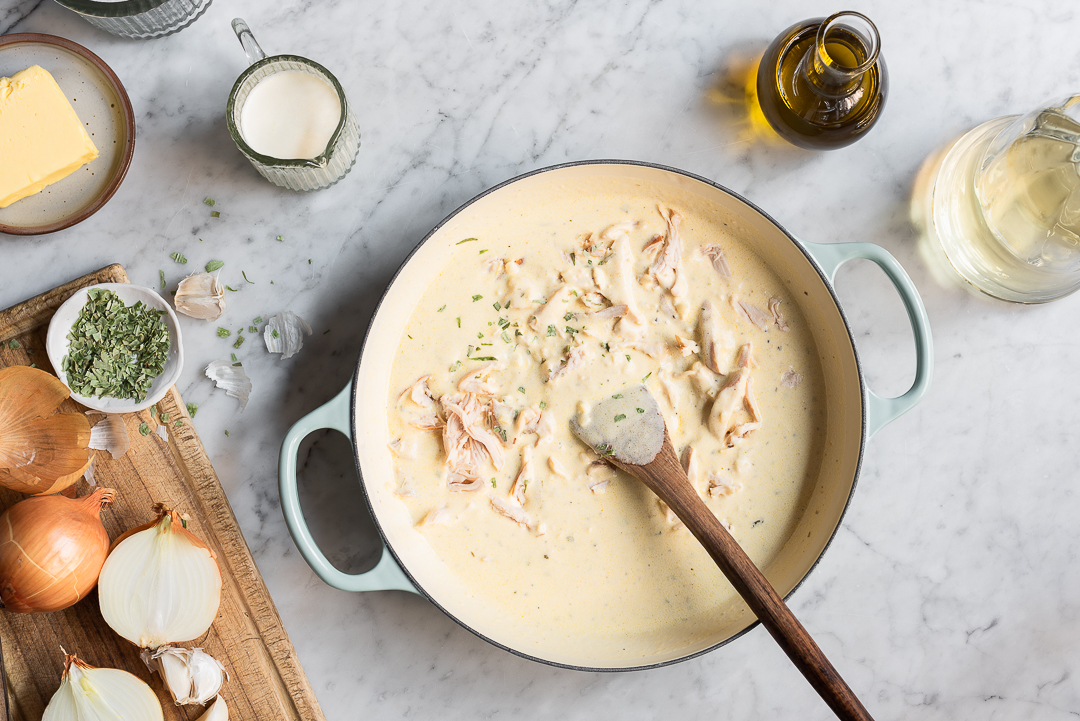 The recipe is courtesy of Le Creuset and Fattis & Monis, with slight adaptations to suit personal taste and conscience. I've gone lighter on the cream and butter, adding grated parmesan to the sauce for a cheesier taste. Don't be shy with the black pepper either. (Ps I may have added a pinch of red chilli too) Here is the original recipe as reference.
You can use any long stranded pasta you have on hand. Tagliatelle, spaghetti or linguine are good. But, Bucatini is kind of special, almost like fattened spaghetti but hollow in the centre with a seriously good al dente bite. It's nature is generous and distinctively chewy. Locally it is available from Pick n Pay under the Fattis & Monis brand.
Cook's Note: Tarragon can be overpowering. Add reservedly to start, tasting as you go and adjusting to personal preference.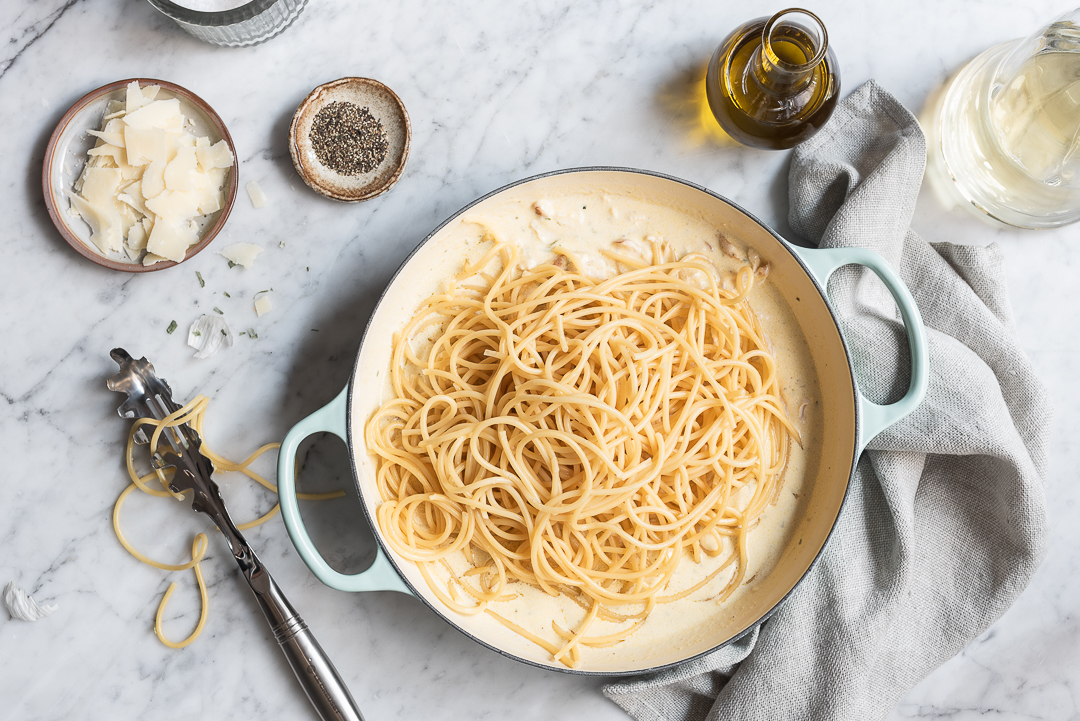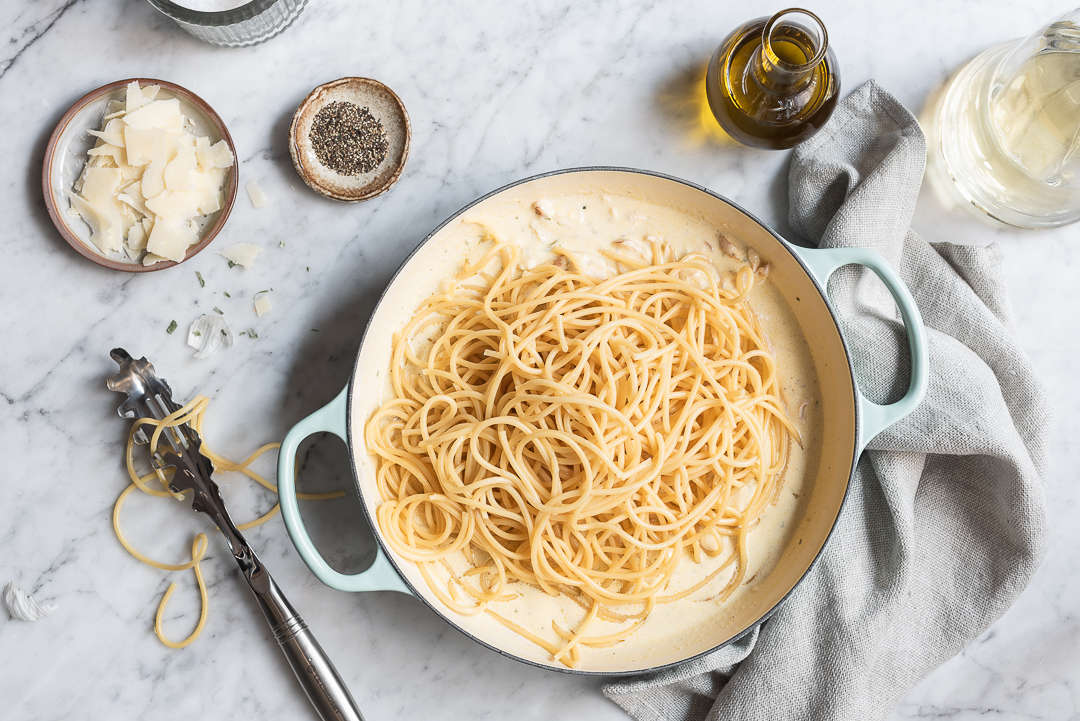 Tips and tricks for how to cook pasta
Bring the water to a boisterous boil. Big rolling bubbles are ideal.
Salt the water decently. It should taste vigorously salty, like the sea.
Never add oil to the water. To keep the pasta from sticking together, swirl the water gently immediately after adding the pasta for about a minute.
Perfectly cooked pasta is al dente – tender, with a chewy bite.
Reserve at least one cup of pasta cooking water before draining for loosening the sauce.
Cooked pasta doesn't need rinsing. You want that starchy stickiness for the sauce to cling to.
Tossing the pasta in the sauce ensures the first mouthful is as good as the last.
Cook the pasta while you're making the sauce, aiming to have both ready at the same time.
Serve immediately. Once the pasta is coated in the sauce, it will continue to soak up the surrounding liquid. Make sure it's loose, relaxed and unctuous.
Generally, work on dry weight portion per person – 75g for a meatier sauce and 100g per person for a thinner sauce like plain Napoletana.
Chicken and Tarragon Cream Pasta 
 Serves 4 (generously)
15ml (1 tablespoon) olive oil
1 onion, finely diced
1-2 cloves garlic, minced
125 ml (1/2 cup) white wine
250ml (1 cup) chicken stock
250ml (1 cup) fresh cream
125ml (1/2 cup) full cream milk
a handful of fresh tarragon or 15ml (1 tablespoon) dried tarragon
300 g smoked chicken, shredded
1/2 cup grated Parmesan, plus shavings, to serve
300-350g Fatti's and Moni's Bucatini pasta
salt and freshly ground black pepper, to taste
In a large saucepan, heat the olive oil over a medium heat and sauté the onions until softened and caramelised, about 10 minutes. Add the garlic and cook for another minute or two.
Deglaze with the wine and reduce by half. Season with salt and freshly ground black pepper.
Add the stock, cream and milk. Simmer over a medium heat until the sauce is reduced and slightly thickened.
In the meanwhile, cook the pasta in plenty of well-salted, boiling water. Reserve 1 cup of pasta water before draining.
Add the shredded chicken and tarragon to the sauce and heat through.
Tip the pasta into the sauce and toss to coat. Add a little of the reserved pasta water to loosen the sauce if you think it needs it.
Serve immediately with Parmesan shavings and plenty black pepper.
For more easy Italian inspired pasta recipes, you may like these:
Lemon cream mushroom tagliatelle pasta