Chicken a la king parsley pancakes
3 May 2017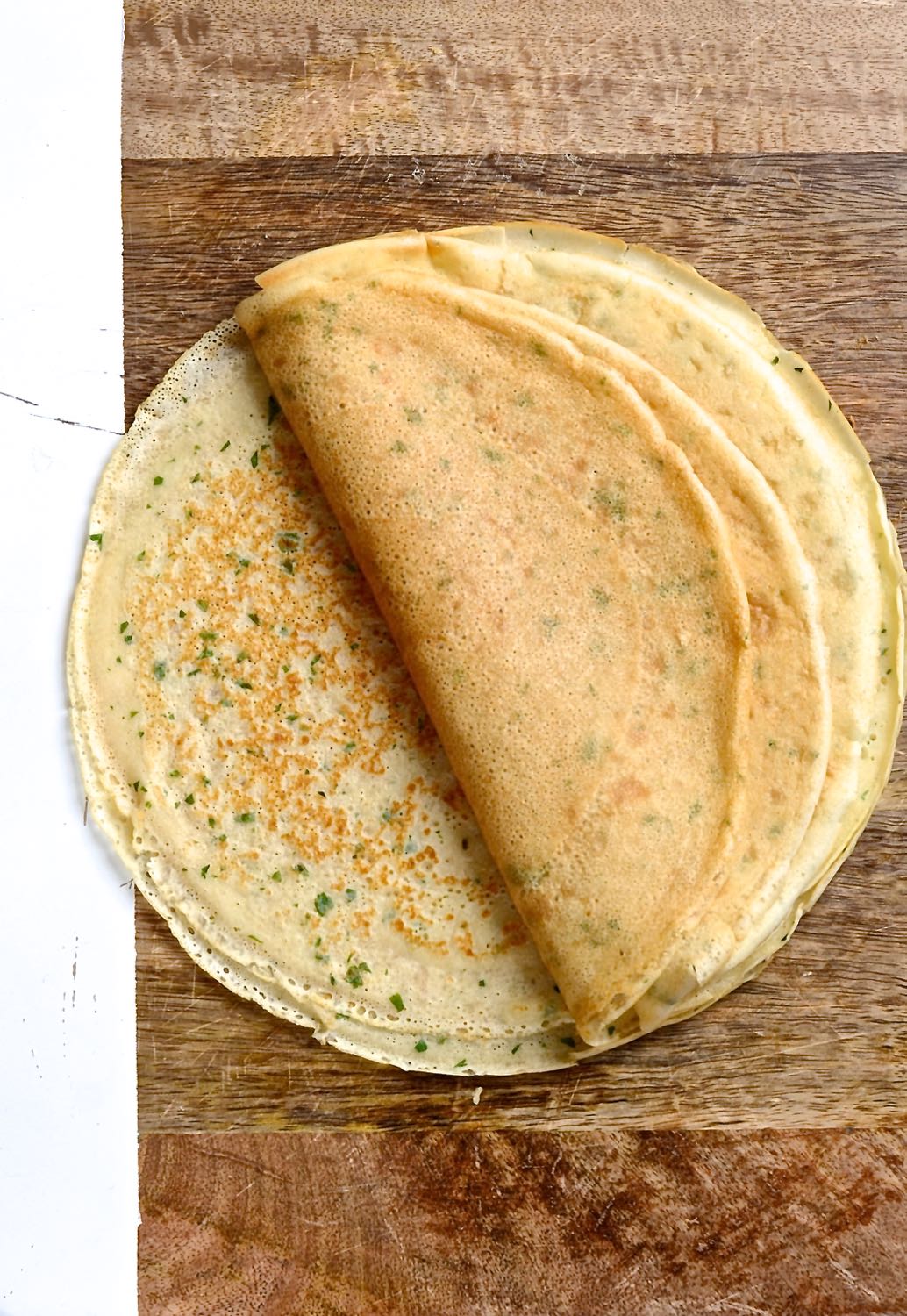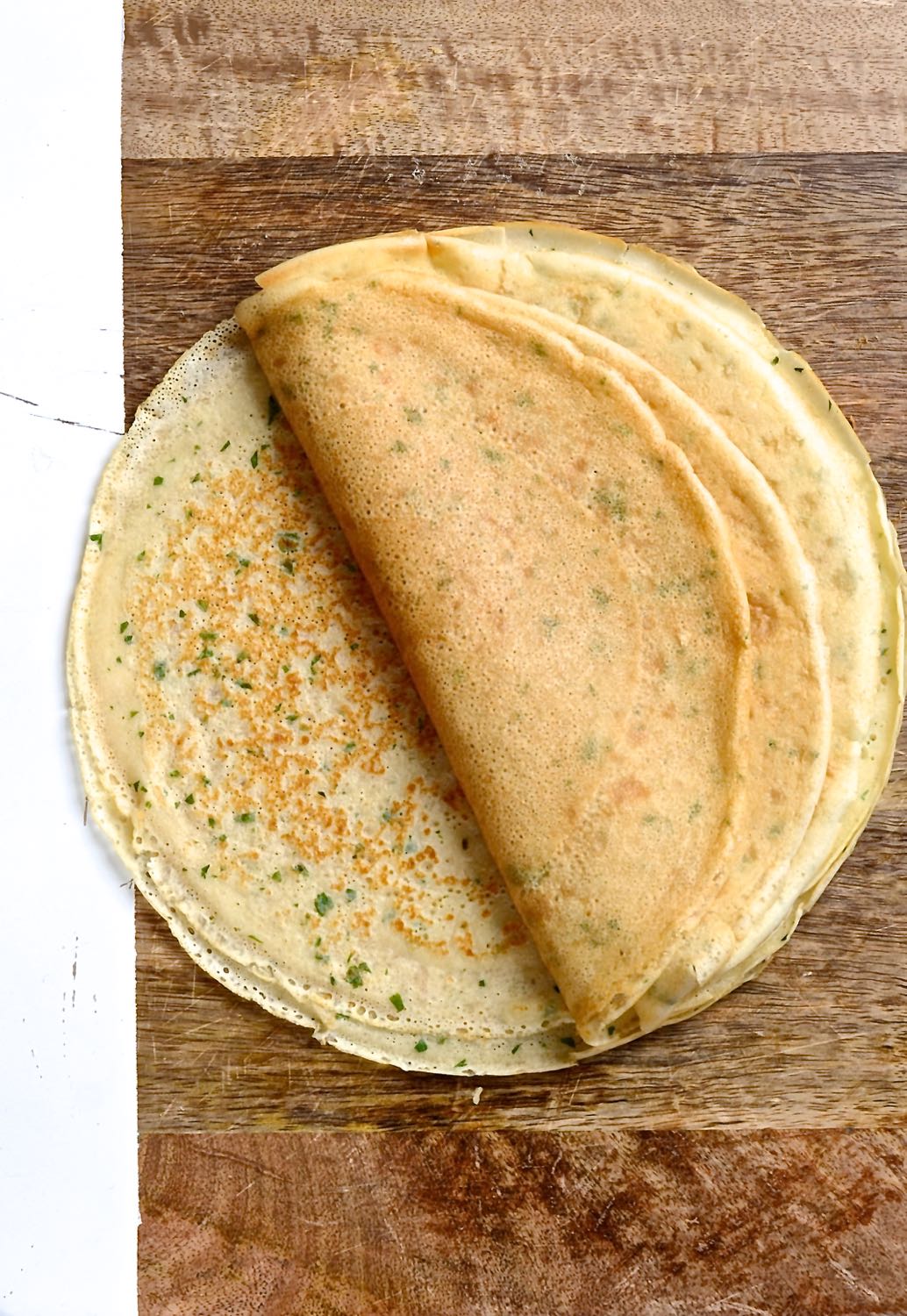 Today's recipe has two family favourites rolled into one – chicken a la king and parsley pancakes. Savoury or sweet, sprinkled with cinnamon sugar or drizzled with syrup, pancakes are a huge favourite in our home, but especially so in winter. My mother called it soup and pancake day.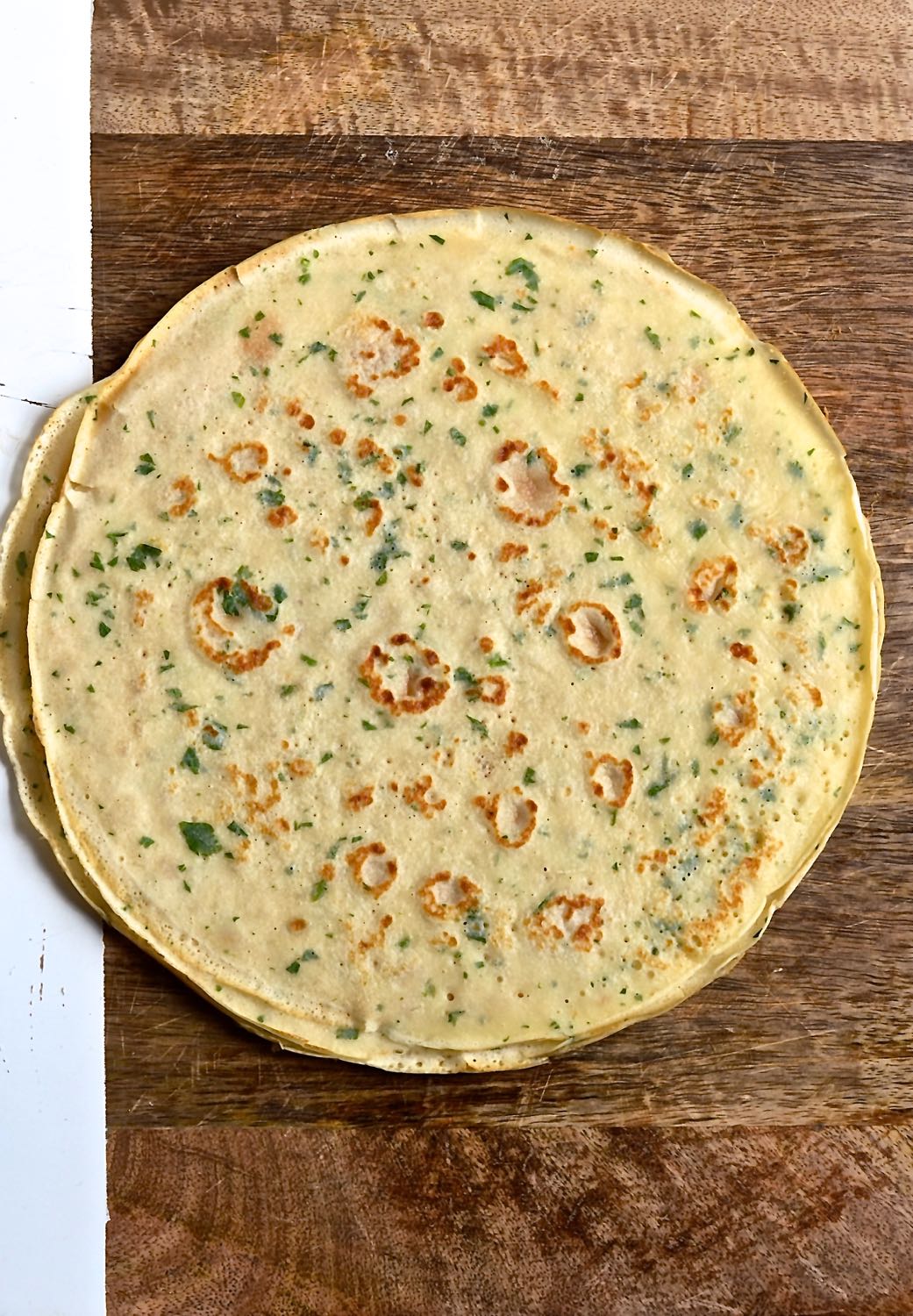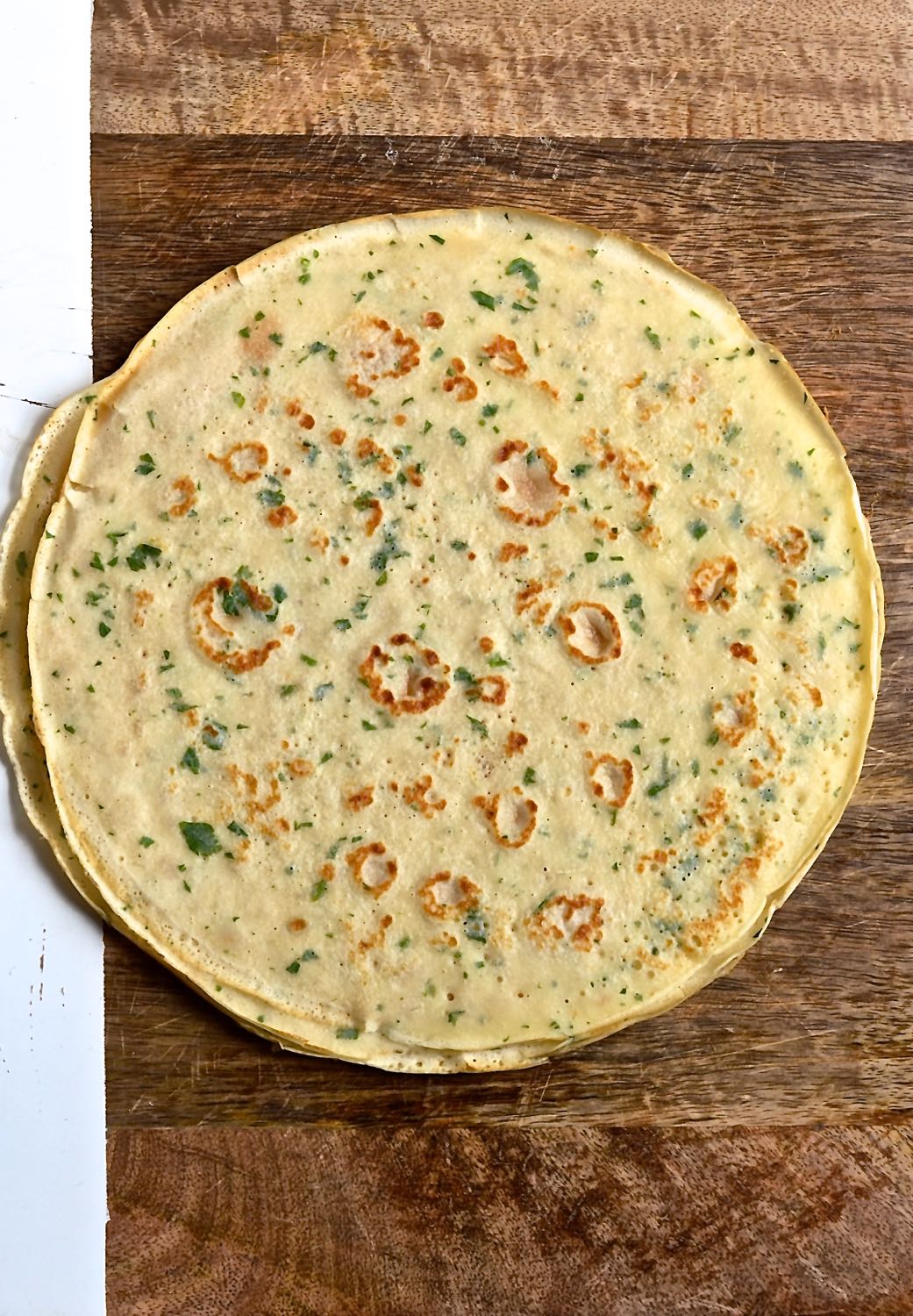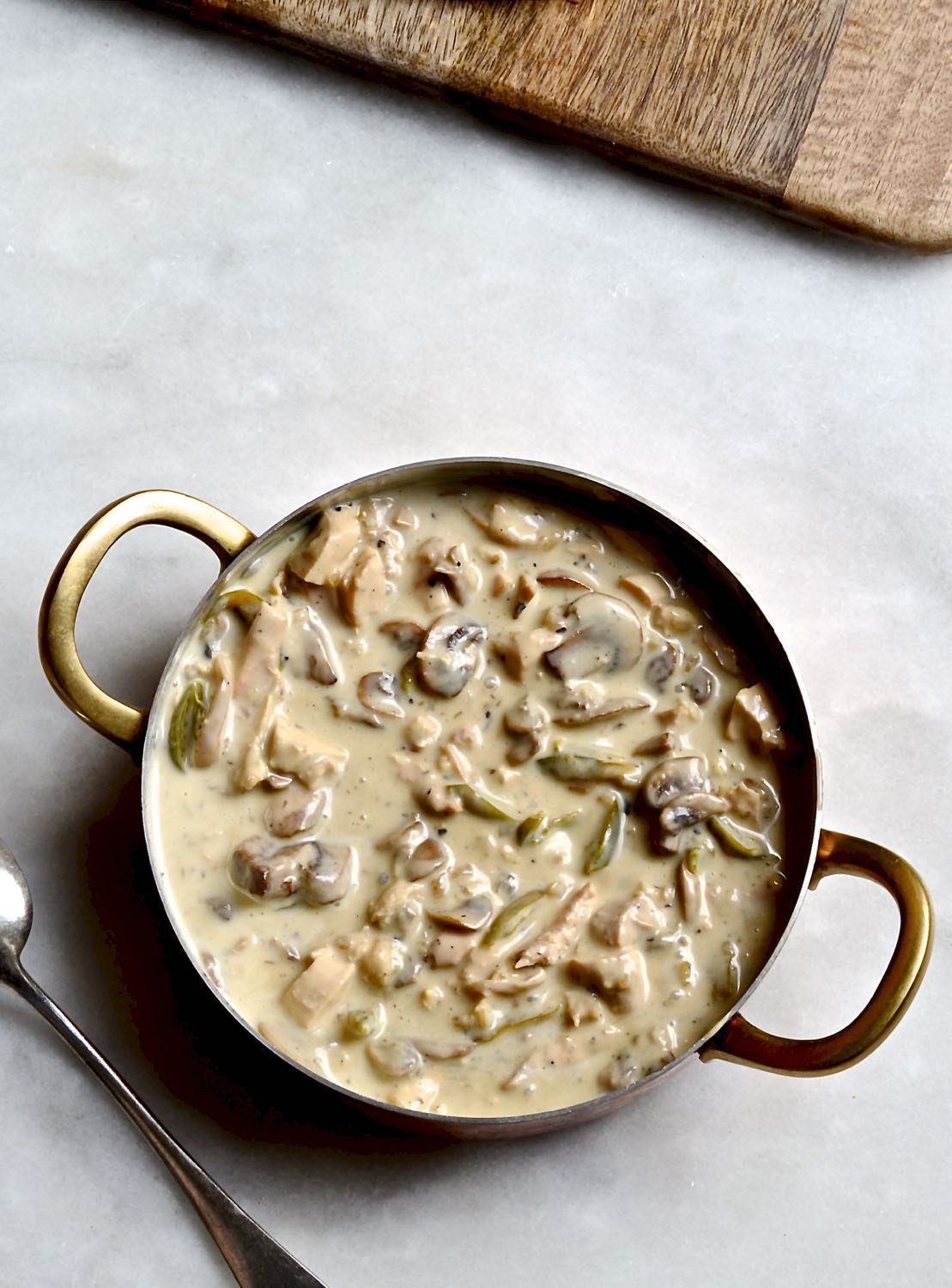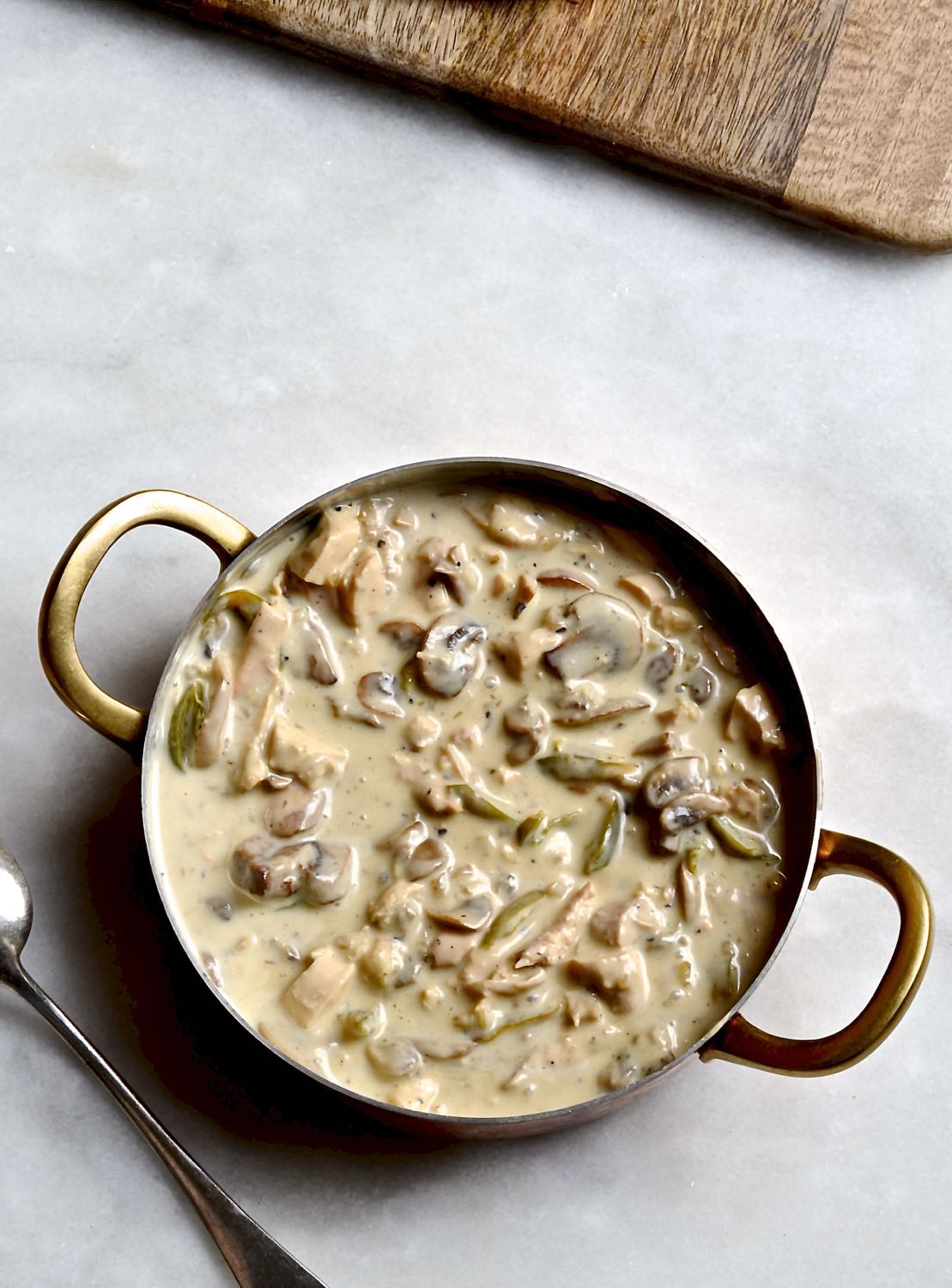 Mother's are expert jugglers of things. Let's face it, coming up with delicious food that the whole family enjoys, day after day is no easy feat. As a homage to mothers, I've decided to revisit food from my childhood. In the month of May I'll be reminiscing about South Africa's favourite baked pudding, flipping dozens of pancakes and transforming meagre ingredients into family feasts, a skill our mums had the knack of. In addition to whipping up the easiest milk tart ever, I'll be making a syrup-soaked orange cake that's been in the family for generations.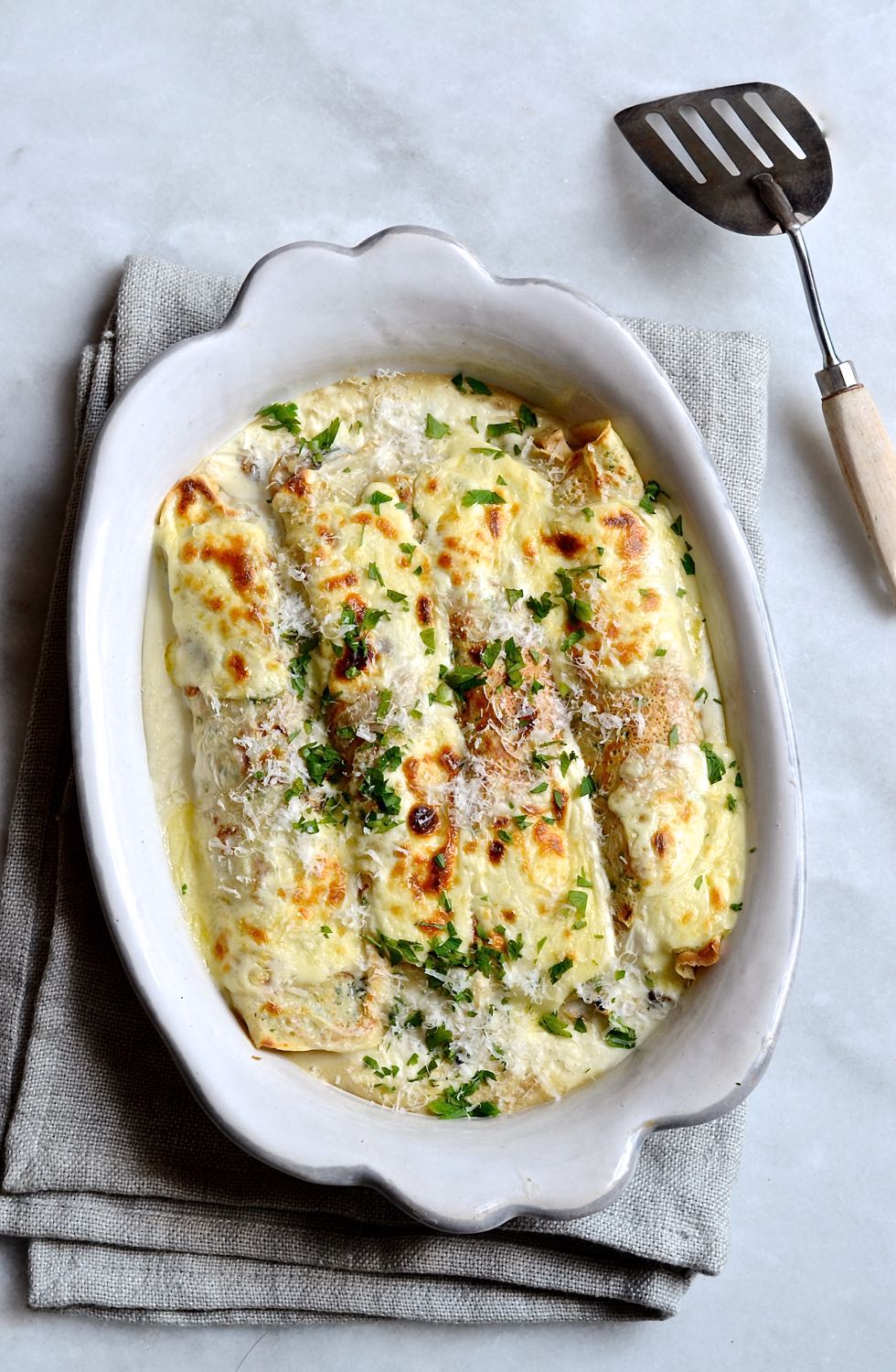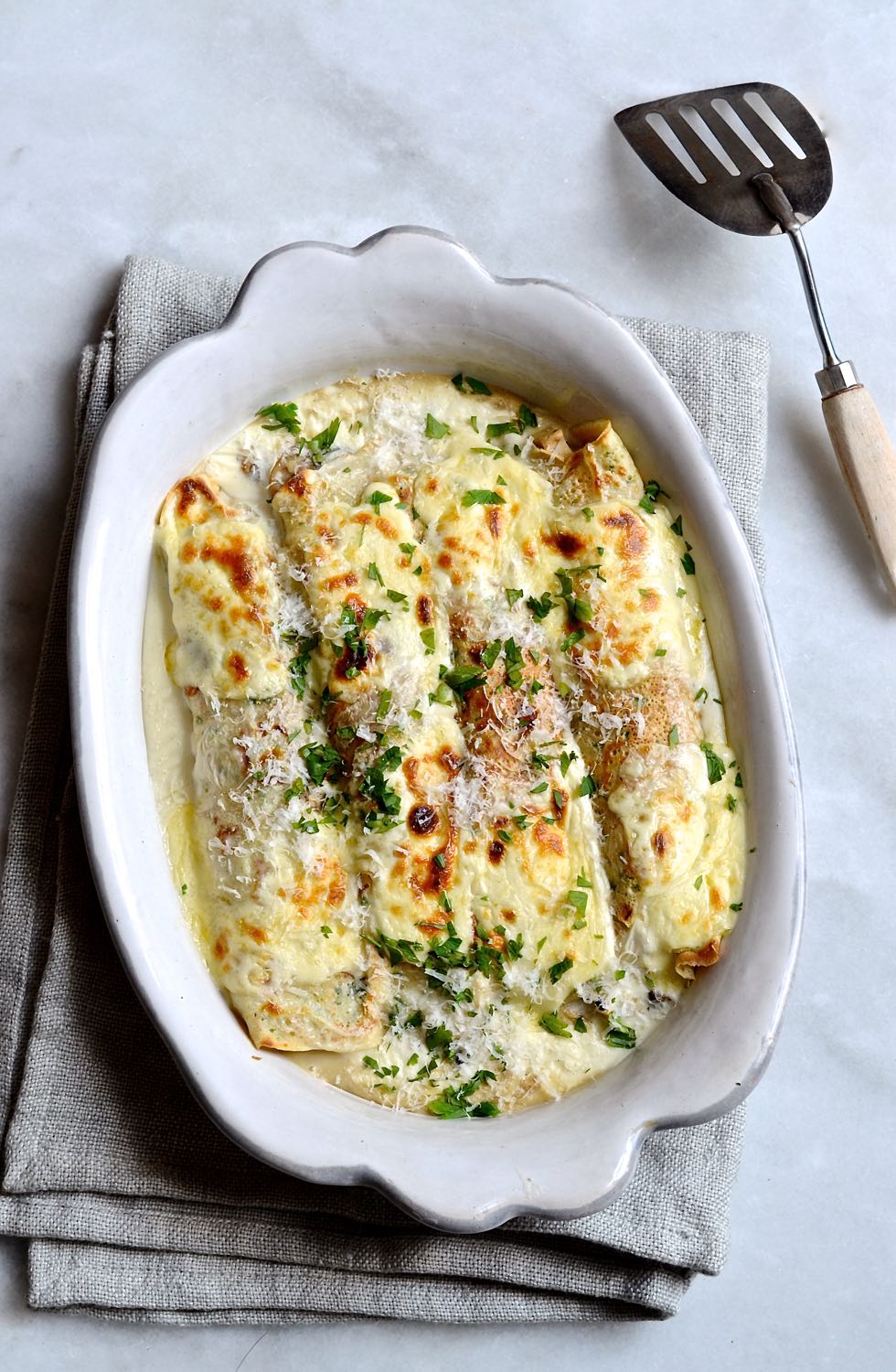 For the chicken a la king parsley pancakes, I recommend making double.  As we all know, the first couple of pancakes are purely for quality testing. Too thin, too thick, too lacey-edged, you know? By the fourth pancake, it'll be just right. Making the batter the night before is a good idea. It gives the mixture a chance to rest and makes for the fluffiest pancakes. The chicken a la king filling can also be served with tagliatelle pasta or steamed rice.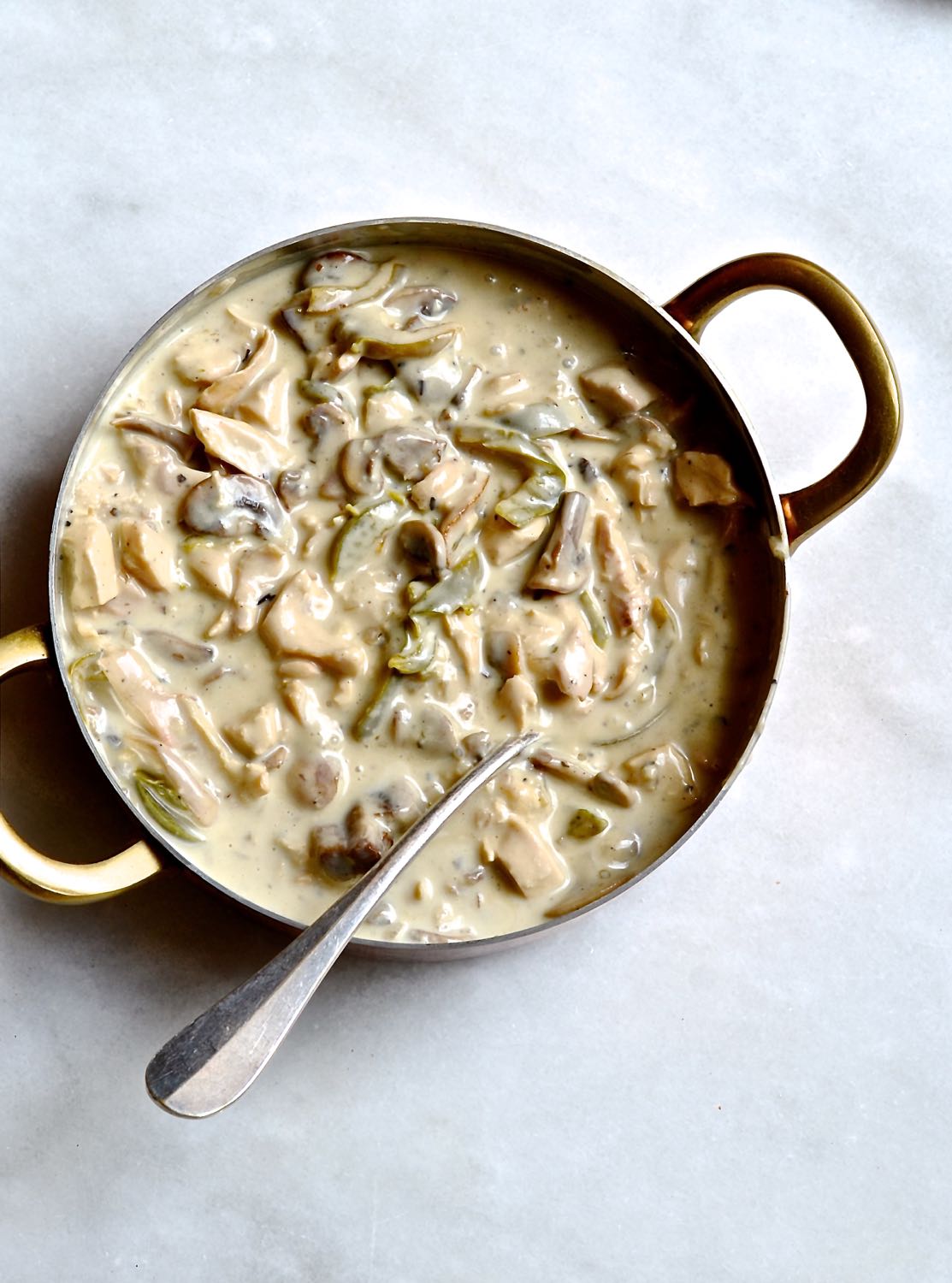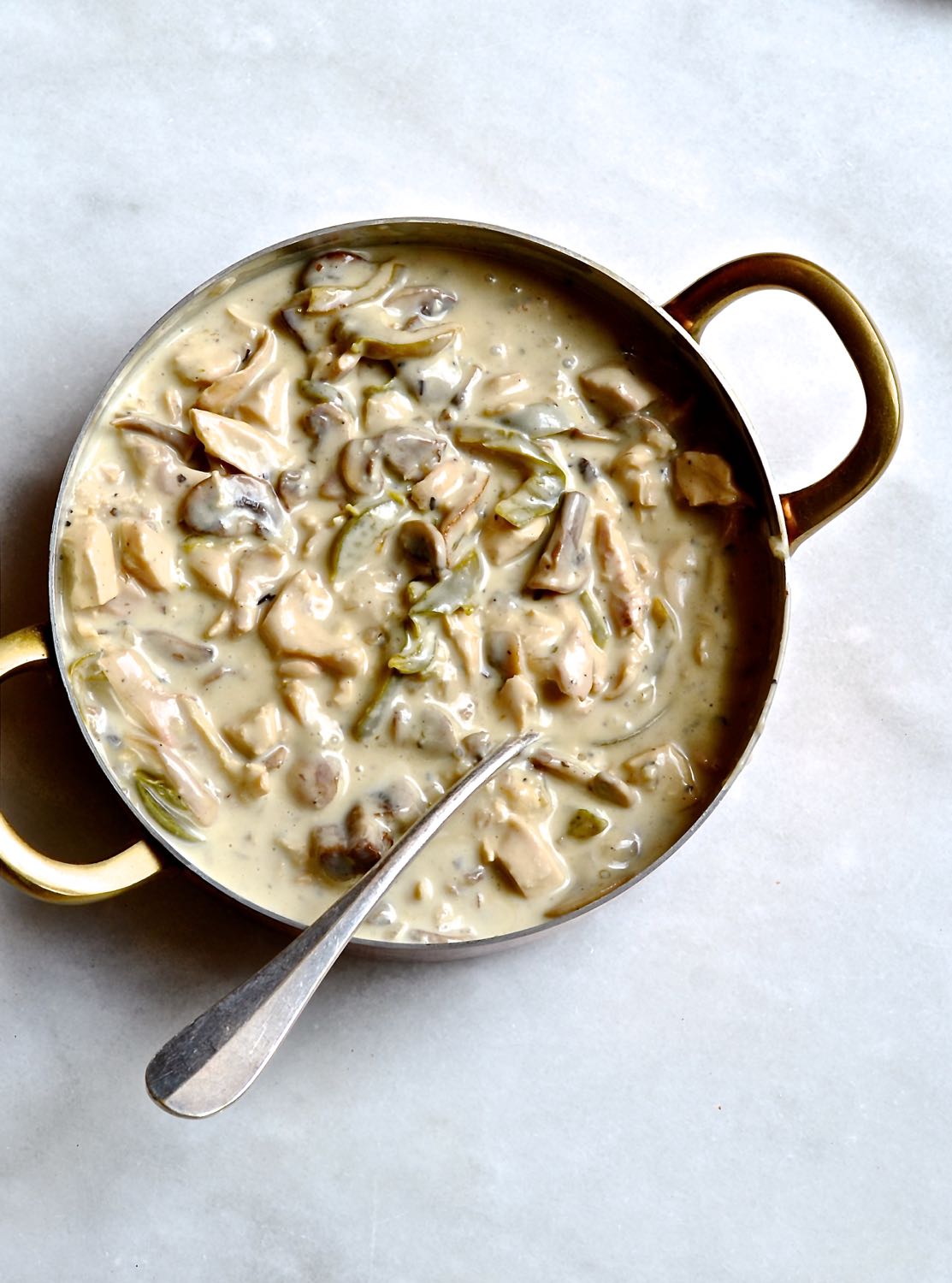 Chicken a la king parsley pancakes
Makes  
8 medium filled pancakes
Parsley Pancakes
1 cup flour
1 teaspoon baking powder
1/4 teaspoon salt
1 egg
2 tablespoons butter, melted or the same of vegetable oil
1 cup (250ml) milk
1/2 cup (125ml) water
1 tablespoon finely chopped flat leaf parsley
White sauce
2 tablespoons (30g) butter
2 1/2 tablespoons (40g) flour
3 1/2 cups (875ml) milk
1/2 cup cream cheese
1 teaspoon Dijon mustard
salt and pepper, to taste
Chicken a la king
2 tablespoons olive oil
1 brown onion, diced
250g (1 punnet, about 2 cups) button mushrooms, sliced
1 green pepper, deseeded and sliced
1/2 teaspoon dried oregano
zest and juice of half a lemon
2 cups roast chicken, cut into bite size pieces
sliced or grated mozzarella cheese, for the topping
a handful of parmesan cheese
chopped parsley
Start by making the batter for the pancakes. Place the flour, baking powder and salt in a bowl.
Add the butter, milk and water and whisk to combine. Set aside for at least 30 minutes or better yet, overnight. When you're ready to cook the pancakes, stir through the parsley.
Heat a pan until hot and cook the pancakes until golden on both sides.
To make the white sauce, melt the butter in saucepan. Add the flour and whisk to combine into a smooth roux. Pour the milk in slowly, whisking all the while until the sauce is smooth and thickened. Add the cream cheese, Dijon mustard, salt and pepper.
For the chicken a la king, heat the olive oil in a pan and sauté the onion until softened. Add the mushrooms and cook on a high heat until all the water has evaporated and the mushrooms take on some colour.
Add the green peppers and cook for about 5 minutes. Season with oregano, lemon zest and juice, salt and pepper.
Reserve 1/2 cup of white sauce, pour the remaining sauce in with the mushrooms and add the chicken pieces. Simmer on a low heat for several minutes then set aside to cool slightly.
Fill the pancakes with the chicken a la king and roll up tightly.
Place the filled pancakes in a greased baking dish and pour over the reserved white sauce. Finally, top the pancakes with mozzarella and place under a grill until warmed through and the top is bubbling and golden.
Finally, scatter the pancakes with freshly grated parmesan and parsley.
For all the sweet pancake fans, I'm sure these brown butter wholemeal pancakes are perfect for sweet fillings.