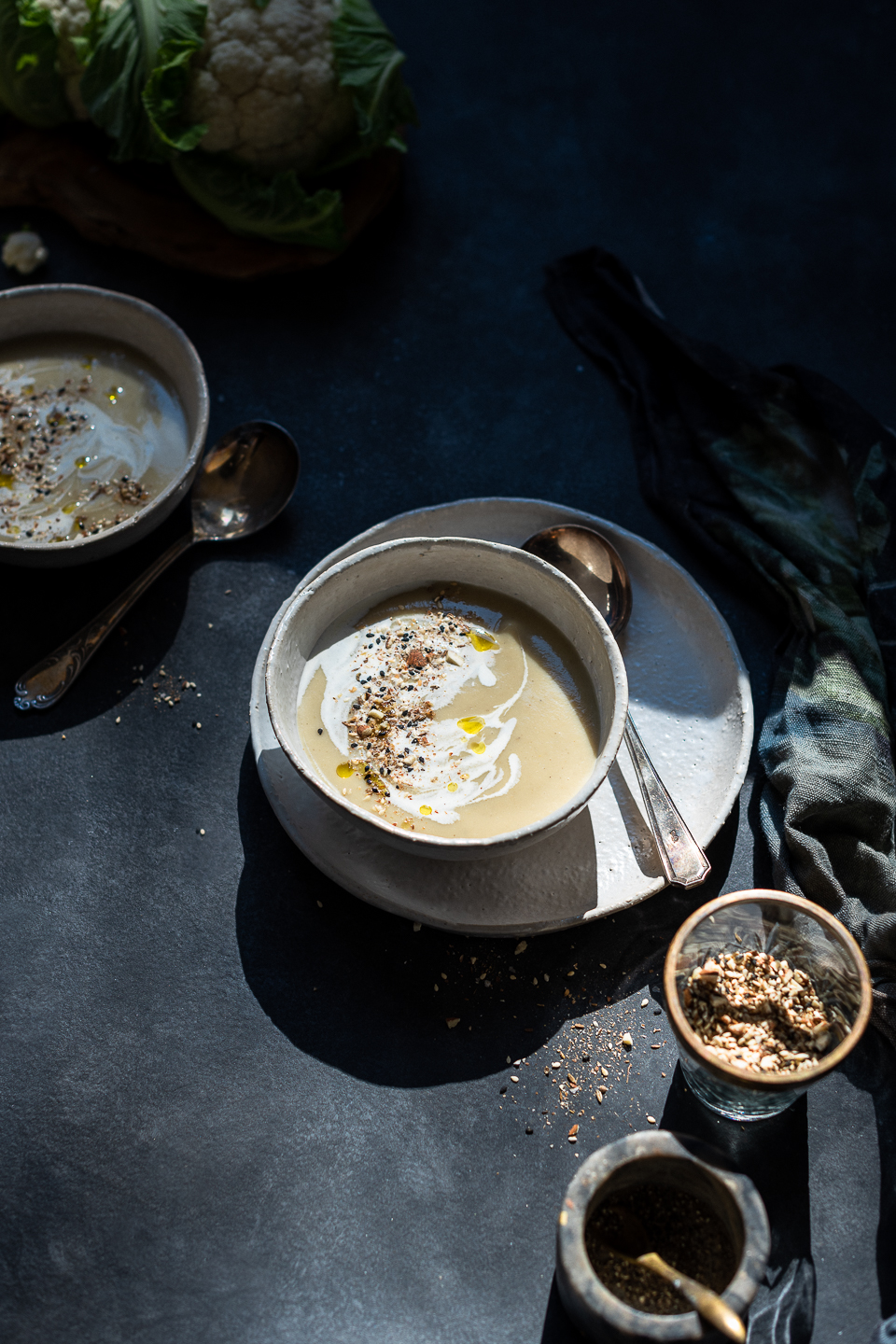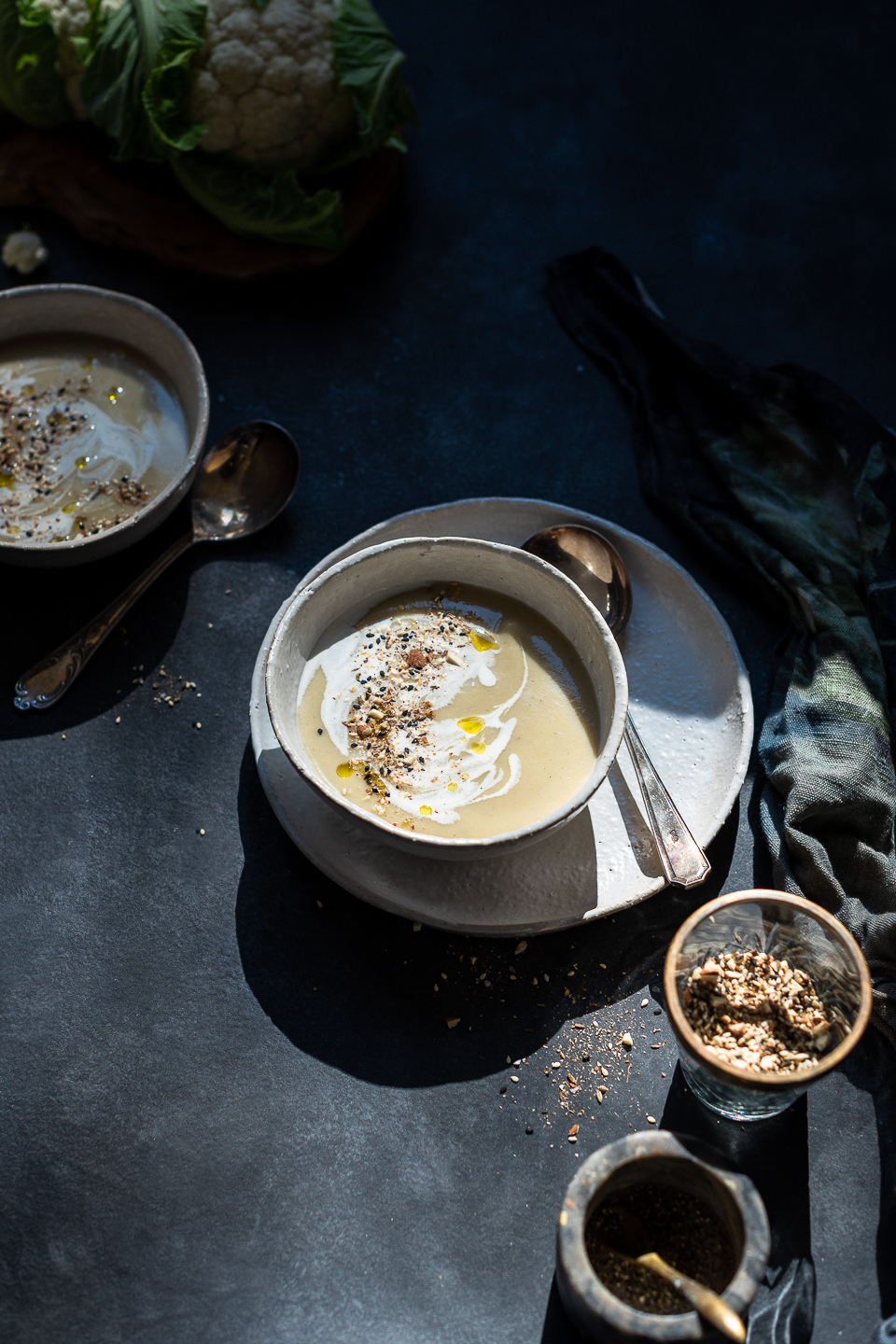 If you missed our Instagram Live Cook-along last night, we made this velvety Cauliflower and sweet potato soup. It applauds  uncomplicated midweek cooking that's every bit as delicious as it easy. A dusting of almond dukkah juxtaposes the creaminess of the soup beautifully.
When cold weather has me craving soul warming sustenance, soups are my go place for wholesome, hearty comfort. They're also a playground for the inclusion of fresh seasonal produce and pantry staples. The list of ingredients is minimal as is the method, thanks to kitchen workhorse, the multi functional Instant Pot. After the initial sautéing, the lid goes on and you're handsfree to set out the bowls and gather the family. Simplified midweek cooking doesn't get much easier.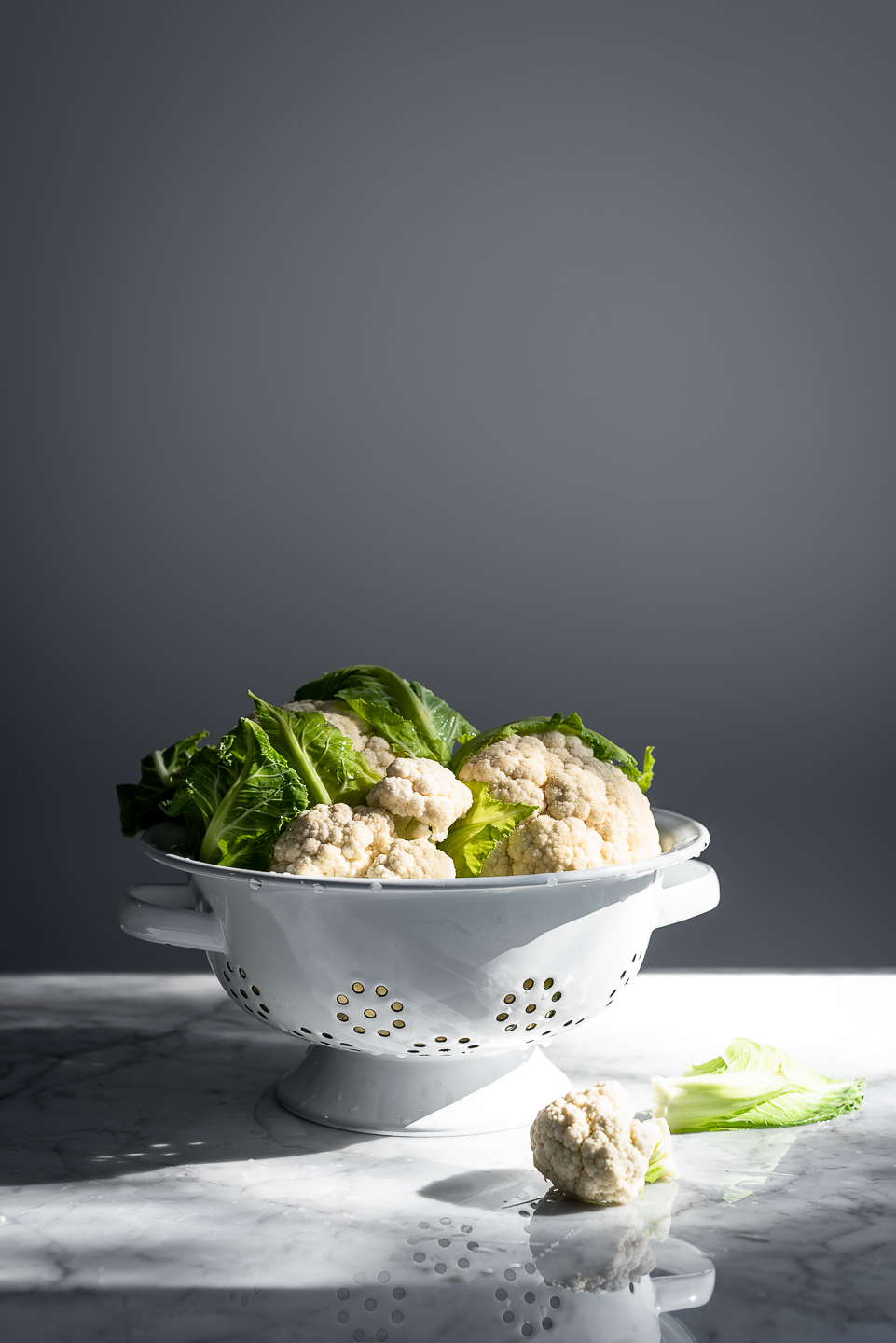 A smattering of cumin lends a mild earthiness to the soup that's warming rather than overpowering. When it comes to toppings, there are endless options other than plain croutons. Here, I've chosen an almond dukkah to mimic the earthiness of the cumin in the soup, which slants towards the Middle East, my habitual default. Most nuts or seeds are wonderful too. Toasted of course. The minty salsa we made for the Wild rice chicken soup will be excellent too. Greek yoghurt with a sprinkling of sumac offers a tangy and cooing contrast, Rather lovely. As far as bread goes, goat's cheese bruschetta with a liberal grinding of black pepper is delicious. For homemade cheesy croutons, roughly tear day old sourdough bread into bite size pieces. Drizzle with olive oil and season with a handful of grated Parmesan, half a teaspoon dried oregano, the zest of half a lemon, salt and black pepper. Toast in a 200 C oven for 10-15 minutes or until golden.
How to ensure your Cauliflower and sweet potato soup is deeply flavourful
Sauté the onion with a pinch of salt until deeply caramelised, soft and sweet
Allow sufficient time when sautéing the vegetables – colour means  flavour
Choose a good quality stock – either vegetable or chicken stock, if not making it purely vegetarian
A spritz of lemon juice lifts and clarifies flavours – use both the zest and juice
Fresh thyme is ideal – be relatively generous here
Check the seasoning once blended – adjust with salt, freshly ground black pepper or a spritz of lemon juice
You can watch the Instagram Live cook-along HERE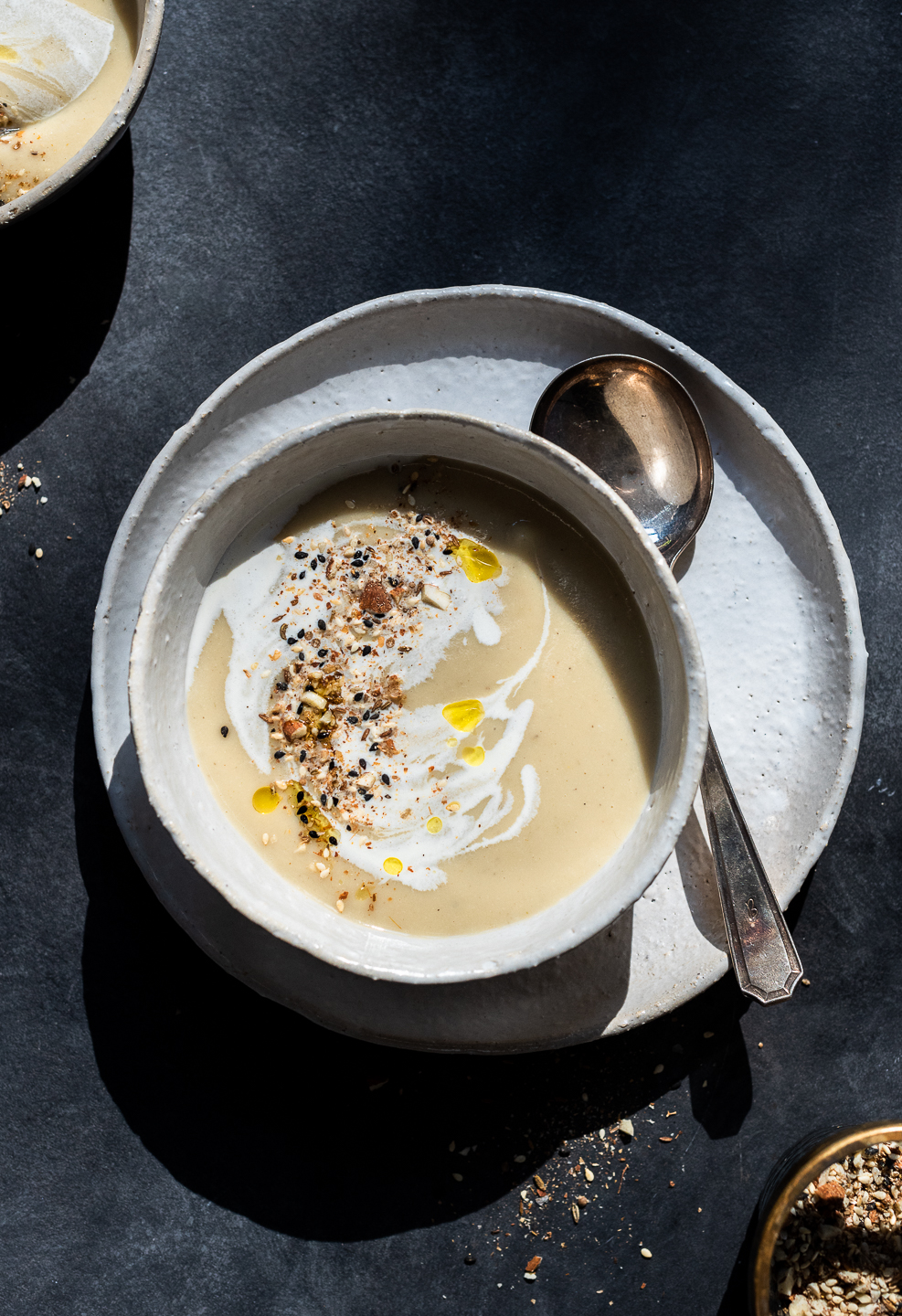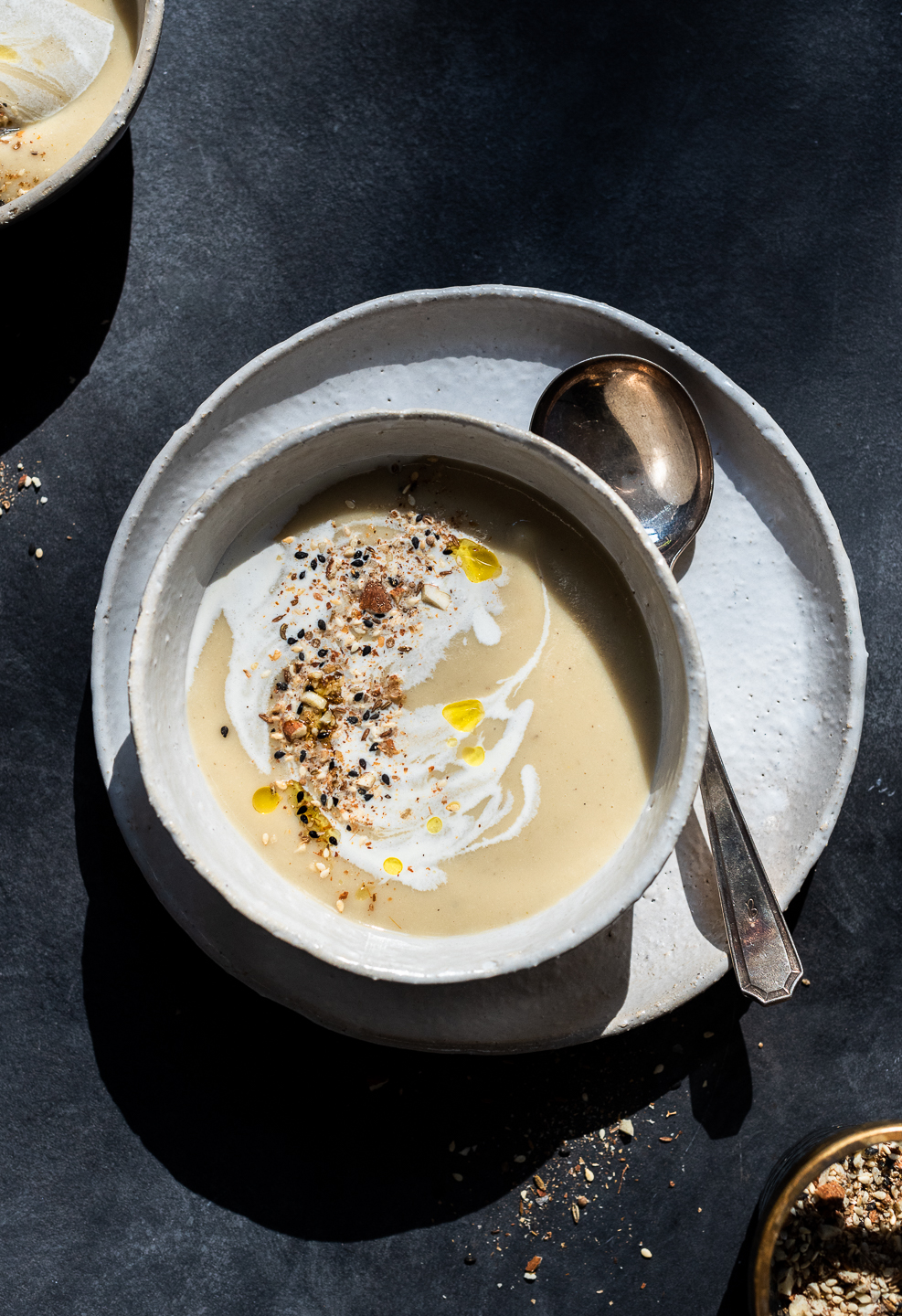 Cauliflower and Sweet Potato Soup
Serves 6
30ml (2 tablespoons) olive oil
1 brown onion, finely diced
2 cloves garlic, minced
1 large cauliflower, broken into florets
2 white fleshed sweet potatoes, peeled and diced
several sprigs fresh thyme or 5ml (1 teaspoon) dried thyme
zest of half a lemon
5ml (1 teaspoon) ground cumin
750ml (3 cups) vegetable or chicken stock
250ml (1 cup) full cream milk
15ml (1 tablespoon) lemon juice
salt and freshly cracked black pepper
60ml (1/4 cup) fresh cream, to serve
almond dukkah, to finish
Set the Instant Pot on the Sauté function.
Melt the butter and olive oil together, then add the onion and sauté until softened, about 5 -6 minutes. Add the cauliflower florets and sweet potato. Scatter over the thyme, lemon zest and cumin. Season lightly with salt and black pepper, then sauté until the vegetables have taken on some colour, about 3 -4 minutes.
Add the stock, then  cover with the lid and seal. Select the Pressure Cook function and set the timer for 15 minutes.
Use the Natural Pressure Release for 10 minutes, then the Steam Release Handle to release the remaining steam. Add the milk and lemon juice. Transfer the soup to a blender and blitz until smooth. Return to the Instant Pot and heat through.
Serve with a swirl of cream or Greek yoghurt and dukkah to finish.
I use this Pistachio, almond and black sesame dukkah recipe from my cookbook.