Well, hello there friends. It's been a while. Life is a hustle this end with many exciting new projects and adventures on the go. But more about that later. For now,  I want to share a Wild Rice Chicken Soup recipe with you. My eldest daughter Skylar, who happens to be the fussiest of eaters, declared it the best soup ever. With a winning ticket in hand, I've made it again and again, each time tinkering with the ingredients and flavourings until all the bells chimed in unison. An easy one pot supper imbued with wildly delicious flavours. The last addition was a minty almond salsa, a flavour elevator that elevates good to great. I'm using it on everything – salads, avo toast even grilled chicken. Lovely stuff!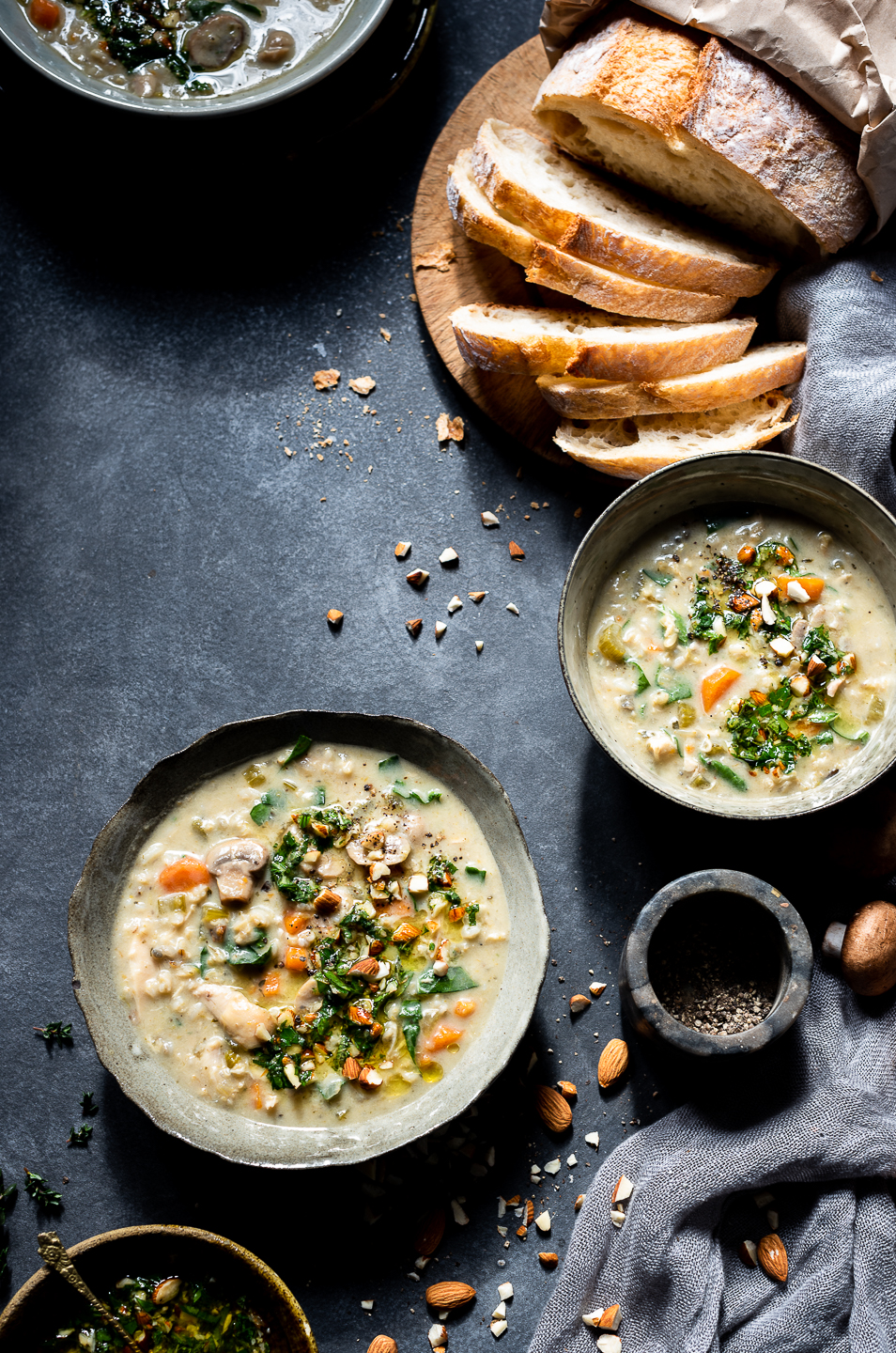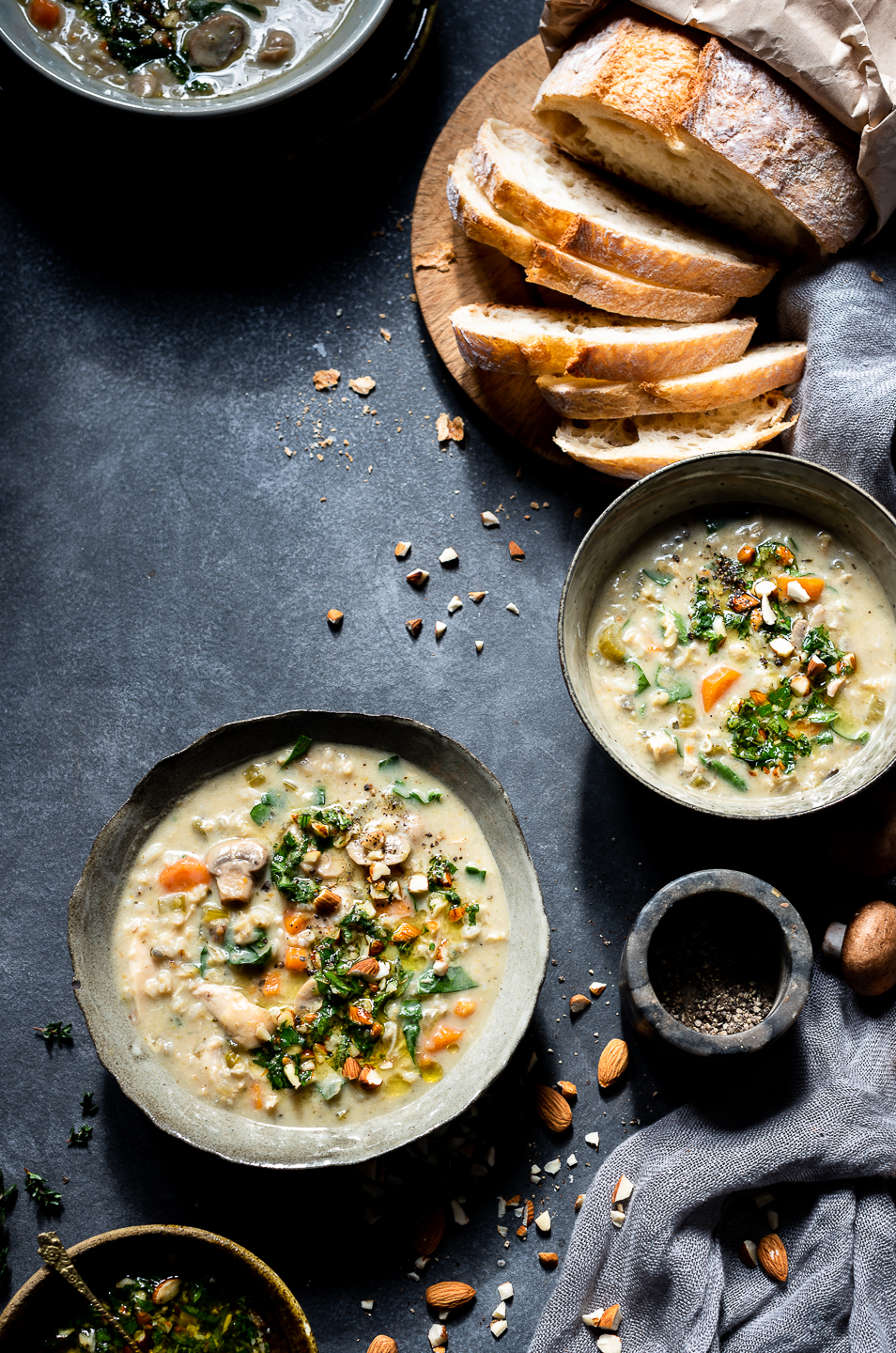 The thing I love most about one pot recipes is concentrating effort and ingredients in one place. Soups and casseroles fit this profile perfectly. In winter, there are few things that trump a hearty bowl of soup. To this end, Instant Pot is my go to kitchen appliance. Once you seal on the lid, it's hands-free cooking that makes midweek suppers a doddle.
The building blocks of most soups and casseroles are a basic but essential soffritto – onions, celery and carrots. When sautéing this trio, it's good to add a little extra time. Colour is flavour so allow for ample time for a golden tinge before adding the liquid. A generous grating of lemon zest and finely chopped rosemary compliments the chicken and mushrooms beautifully. Rosemary's bright woody character is subtle but assertive enough to make things interesting. The combination of mushrooms will determine the umaminess of the soup. Portobellini and button mushrooms are available year round. Alternately,  an exotic mix, porcini or oyster mushrooms will deliver an earthier flavour.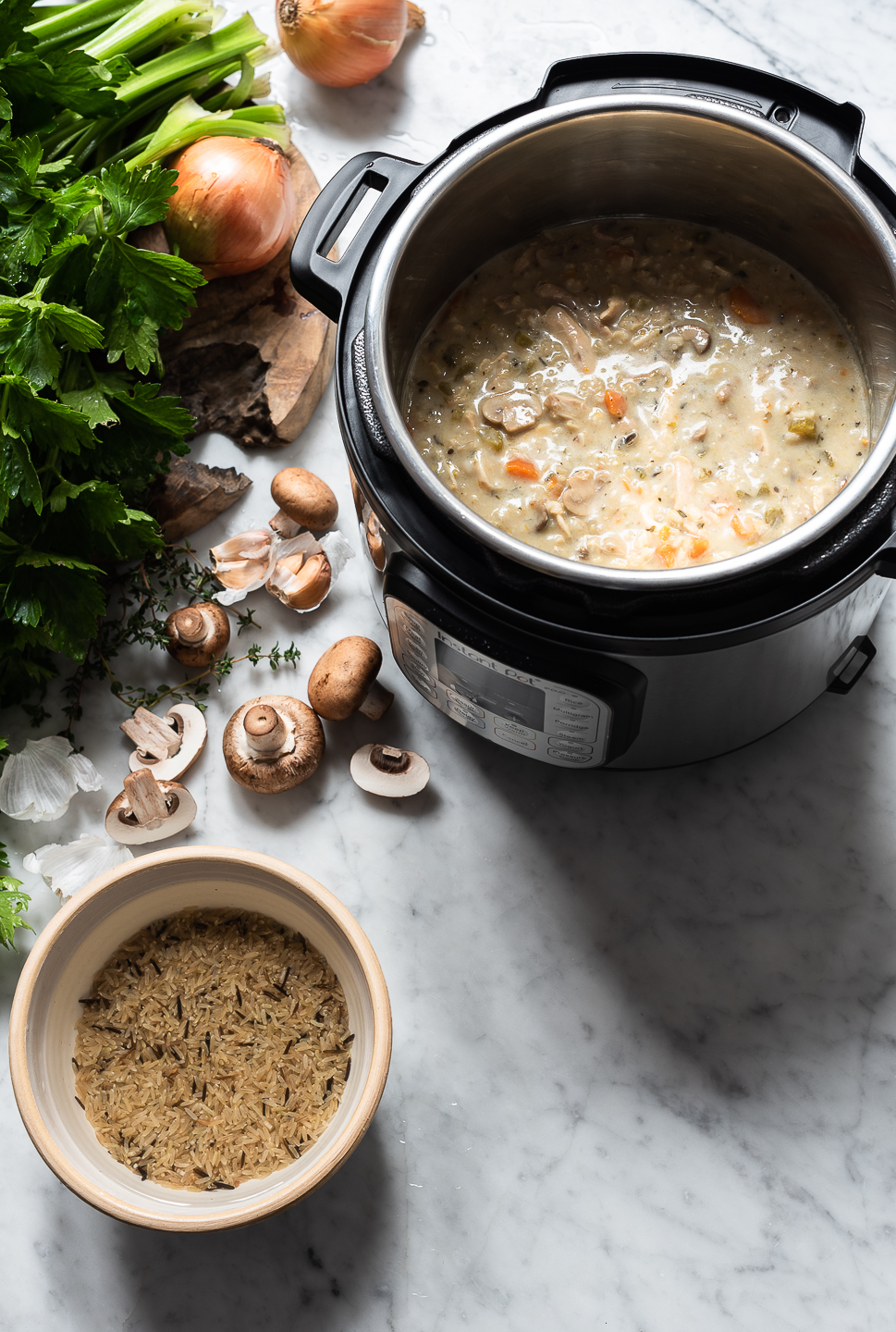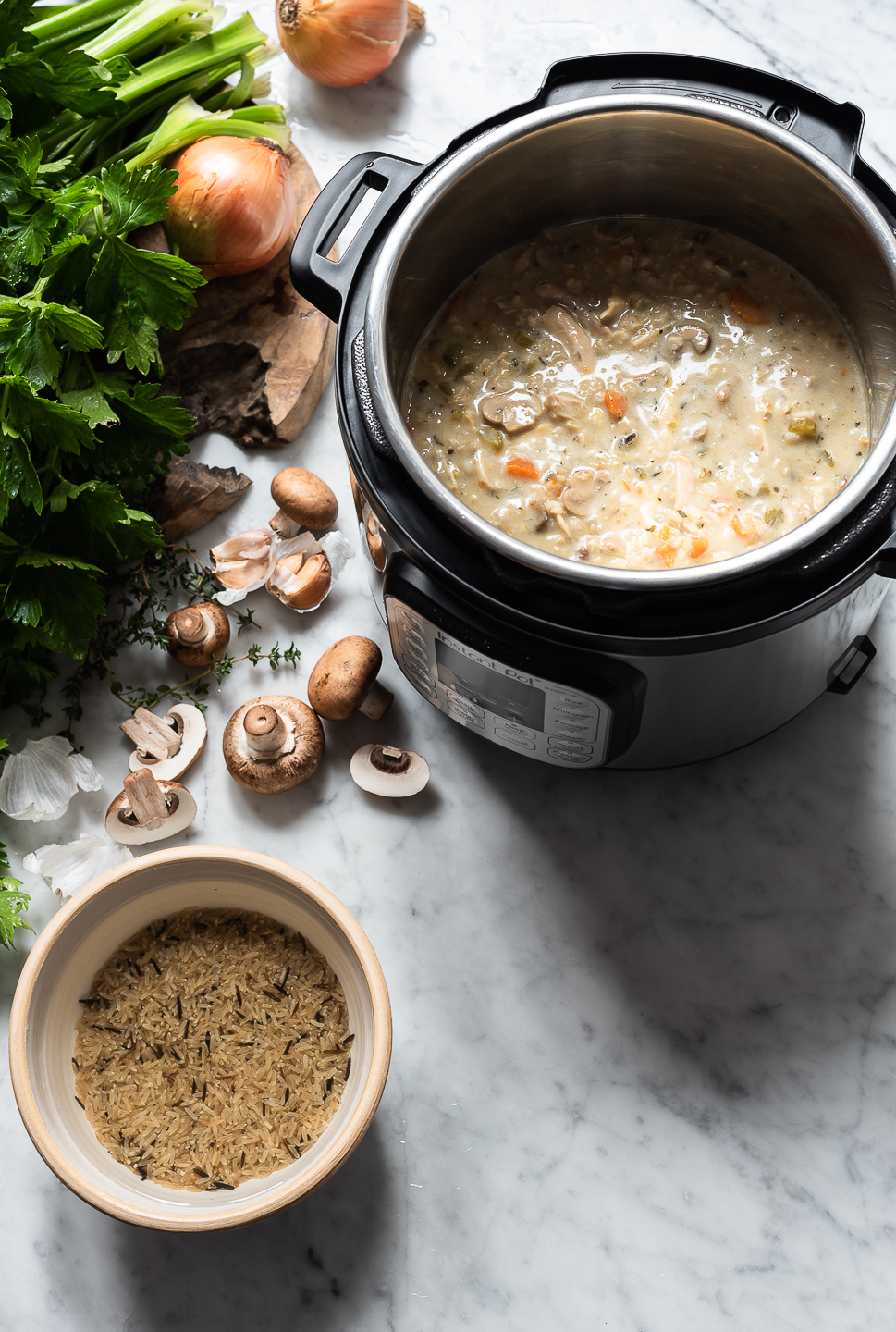 Long grain wild rice is dramatically black and beautiful. The wild rice available locally is usually a combination of wild and brown rice. It has a lovely chewy bite and nutty taste. It's worth noting that this wild rice chicken soup is more of a chowder than a brothy soup. I've also added Swiss chard and roast chicken, although it is equally good without the chicken, if you're after a vegetarian version.
Toppings for the Wild Rice Chicken Soup
Much like muffins, soup now comes with obligatory toppings, even sides. Here, I've made a chunky mint and almond salsa. It's zippy and bright with a lemony tartness that makes each mouthful awfully exciting. I think this soup recipes that will be well worn throughout winter. If you make it, do let us know by tagging #Bibbyskitchen and #Instantpotsa.

Wild Rice Chicken Soup with Minty Salsa
 Serves 8
15ml (1 tablespoon) olive oil
1 tablespoon butter
500g mixed mushrooms, sliced
1 brown onion, finely diced
3 stems celery, finely sliced
2 carrots, peeled and diced
2 cloves garlic, minced
zest of 1 small lemon
3 sprigs thyme, leaves picked
5ml (1 teaspoon) dried oregano
1 sprig rosemary, leaves picked and finely chopped
45ml (3 tablespoons) all-purpose flour
825ml (3 1/2 cups) chicken stock
5ml (1 teaspoon) Dijon mustard
(3/4 cup) wild rice, rinsed and drained
1 small bunch Swiss chard, centre rib removed and shredded
1 ½ cups roast chicken, shredded
250ml (1 cup) full cream milk
salt and freshly cracked black pepper
Fresh Herb Salsa
a generous handful of each, flat leaf parsley and mint roughly chopped
¼ cup almonds, toasted and finely chopped
zest of 1 lemon, plus juice of half
5ml (1 teaspoon) honey
60ml (¼ cup) extra virgin olive oil
salt and freshly ground black pepper
Set the Instant Pot on the Sauté function. Melt the butter and olive oil together, then add the onion and sauté until softened, about 5 minutes. Add the mixed mushrooms and cook until all the water is evaporated and the mushrooms have taken on some colour. Season lightly with salt and black pepper.
Add the celery, carrots, garlic, lemon zest, thyme, oregano and rosemary. Cook for 4-5 minutes. Scatter over the flour and mix through. Slowly add the stock, stirring all the while. Stir in the mustard, wild rice and Swiss Chard. Cover and seal. Select the Pressure Cook function and set the timer for 20 minutes.
Use the Natural Pressure Release for 10 minutes, then use the Steam Release Handle to release the remaining steam. Add the chicken and milk and heat through using the Sauté function. Ladle into warmed bowls and serve with the fresh herb salsa.
To make the salsa, place all the ingredients in a small bowl and mix to combine.Chill until ready to use