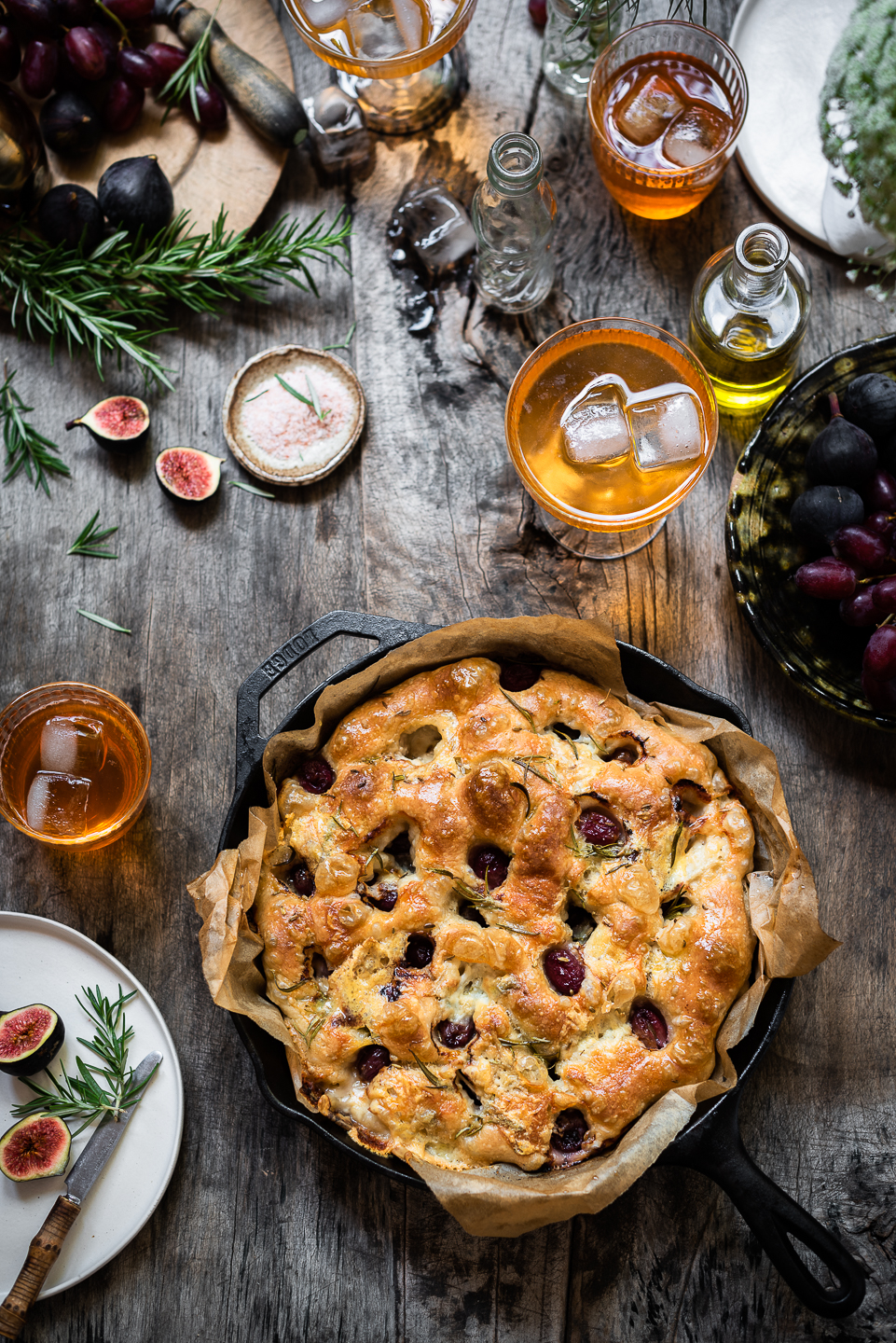 If opening the oven door to a gust of Italian air sounds like your kind of weekend, this grape and rosemary studded no knead Focaccia Bread is for you. A wildly delicious focaccia with extra virgin olive oil swanning  its way between vineyard fruits and the buttery ripeness of gorgonzola. I've paired it with Babylonstoren's quintessential thirst quencher, bitterlekker, for a splendid late summer sojourn, al fresco style.
Good bread is as much about the integrity of the ingredients as it is, repetition and patience. Anyone who knows their bread will tell you, the secret ingredient is intuition. Is it springy and easily dimpled?  Stretchable or perhaps too taught? The clues are everywhere. It's a tangible relationship, this bread affair.

What makes the Best no knead focaccia bread?
When it comes to 'best' categories, expectations are high. We're aiming for best flavour, aroma, colour and texture. The whole shebang. A slow overnight proofing in a chilly environment (the fridge), ensures supportive gluten strand structure and good flavour. Over-proofing the focaccia will weaken the gluten structure resulting in a bread that collapses when baked. Relegating the dough to the garage fridge for longer than the suggested one night stay is not advisable. We want the yeasted flavour to deepen without becoming  overly mature or pungent. When it comes to flavourings, focaccia is game for just about anything. Here, rosemary and the tempered liquorice notes of fennel mingle harmoniously with a gush of browned butter. Intoxicating! When greasing the base, butter and olive oil together ensure the bottom and top are buffed and bronzed.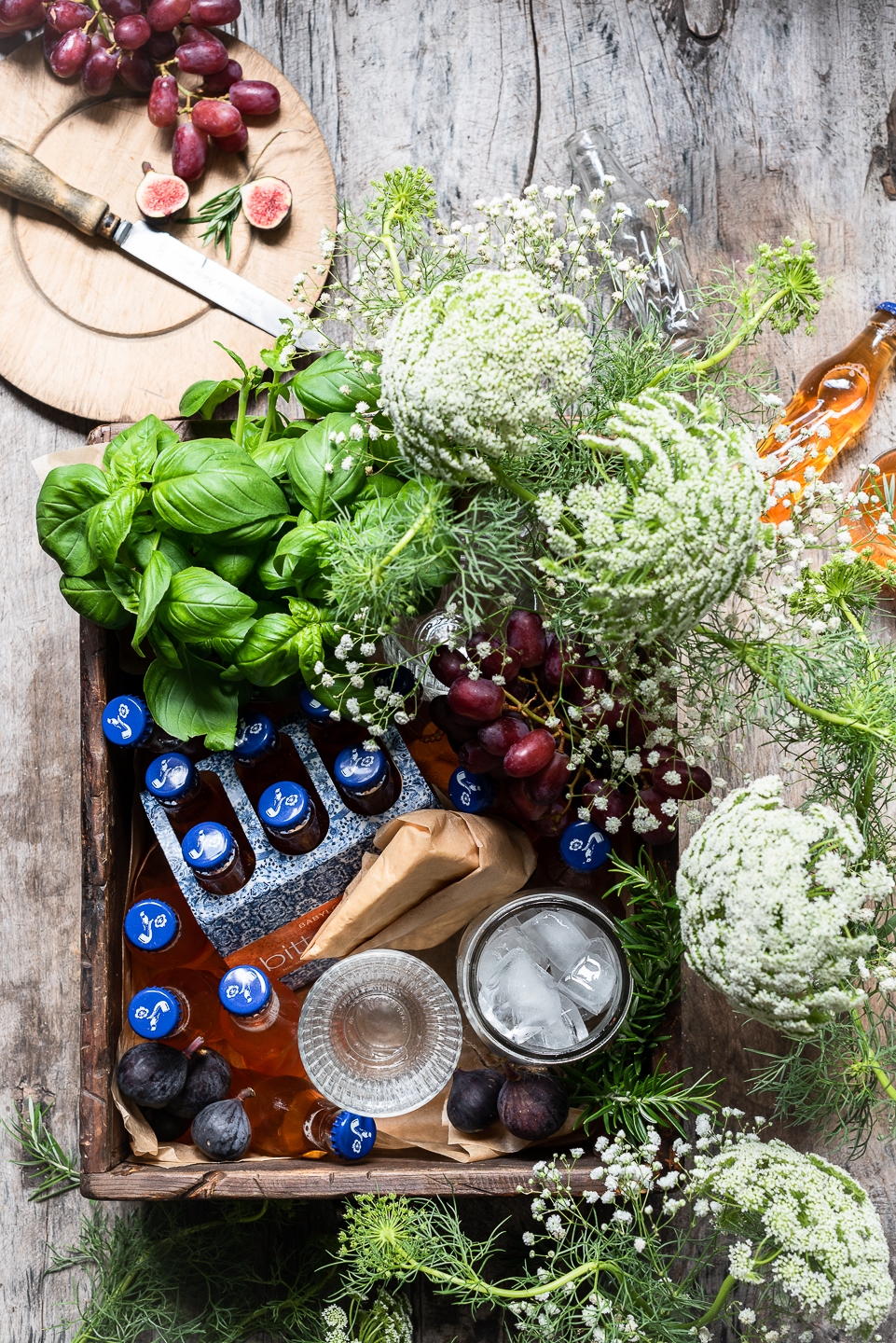 What is Salamoia and why is it essential to make the Best no knead focaccia bread?
The function of a salamoia is to moisten, crisp and flavour. It's similar to let's say,  a brining liquid, made up of water, some olive oil, salt and in this instance, herbaceous greenery. Once the focaccia dough has proofed in the roasting tin, the top is bathed with salamoia, then left to proof for a final 30 minutes before being ushered into a hot oven. Expect a soft and spongy interior and super crisp crust. Once baked, wait as long as you think appropriate (2 minutes), before tearing into the best blue-veined focaccia. Serve with ample, well-chilled dinky bottles of bitterlekker. Pure bliss!
Receive a free 6 – pack of bitterlekker for every 3 you buy onling, plus a gorgeous bitterlekker carrier bag. This offer is extends to the end of February only. Free delivery for all orders placed in February. While you're ordering your tipsy-free bitterlekker, I'd add a couple of tasty bits from their pantry to enjoy alongside – preserves, fresh figs, maybe some cheeses too. Click here to visit the Babylonstoren shop.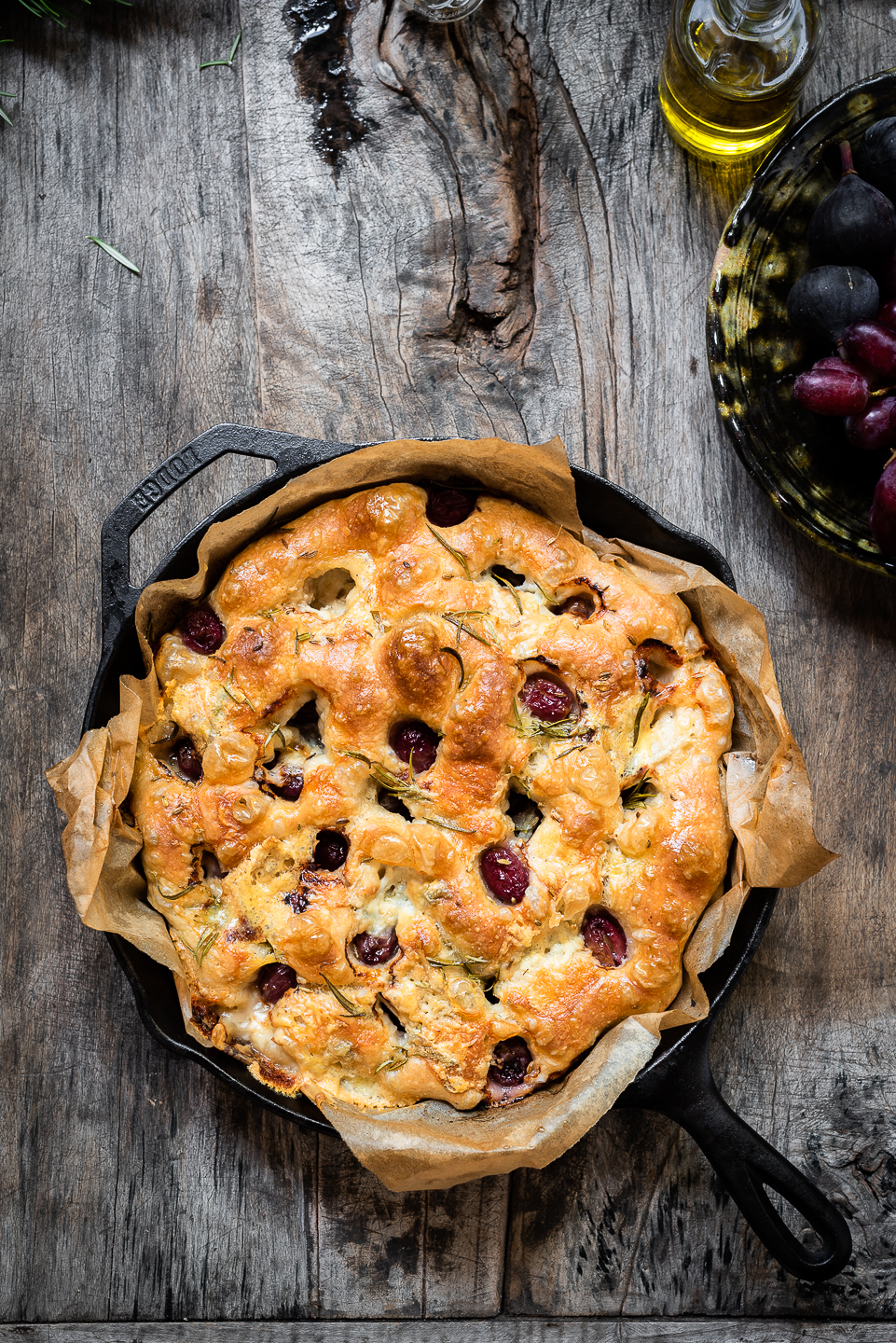 Best No Knead Focaccia Bread
Yields 1 large bread
300g stoneground white bread flour
200g Tipo 00 flour
1¾ teaspoons fine salt
500ml (2 cups) water, tepid
7g (2 1/4 teaspoons) Instant dry yeast
5ml (1 teaspoon) castor sugar
60ml (4 tablespoons) olive extra virgin olive oil, plus extra for drizzling
30ml (2 tablespoons) melted butter for finishing, plus extra for greasing
seedless grapes
125g gorgonzola cheese, crumbled
sea salt flakes
Salamoia
30ml (2 tablespoons) extra virgin olive oil
30ml (2 tablespoons) water, room temperature
2 -3 sprigs rosemary, leaves picked
1/2 teaspoon fennel seeds
Sift the bread flour, Tipo 00 flour and salt together in a large mixing bowl. Place the water, yeast and sugar in a jug. Whisk together then set aside for 10 minutes until creamy-looking. Add 1 tablespoon olive oil and whisk to combine. 
Add the wet ingredients to the flour and mix vigorously to incorporate. Drizzle 2 tablespoons olive oil into a large mixing bowl. Scrape the dough into a large bowl (with plenty room for growth), then turn gently to coat. Cover tightly with cling film and chill overnight. Bring the dough to room temperature before continuing.
Line and grease the base and sides of a 32 x 22 rectangular roasting tin or round cast iron pan, with butter.  Drizzle in 1 tablespoon olive oil and spread it over the butter.
Using a fork and working from the outer edges, scrape the dough upwards and over towards the centre. Turn the bowl slightly, then repeat the lift and folding action in increments of eight to complete a full circle. Cover and rest for 1 hour. With wet hands, scrape the dough into the roasting tin, stretching it gently into the corners, or to the sides of the pan. Cover with a tea towel and place in a warm spot to proof until doubled in size, 2 1/2 – 3 1/2 hours, depending on the ambient temperature.
Preheat the oven to 230°C. 
For the salamoia, place all the ingredients in a jam jar and shake to combine. Dimple the dough lightly with your fingertips. Pour the salamoia over the surface. Set aside for a further 25 minutes. Press the grapes lightly into the dough and crumble over the gorgonzola.  Scatter lightly with sea salt flakes. Bake for 35-40 minutes, covering the top with foil for the last 5 minutes of the cooking time.
Transfer to a wire rack to cool slightly. Brush with melted butter just before serving. 
More easy, foolproof bread recipes to try:
Overnight Ciabatta from Bibby's Kitchen Cookbook