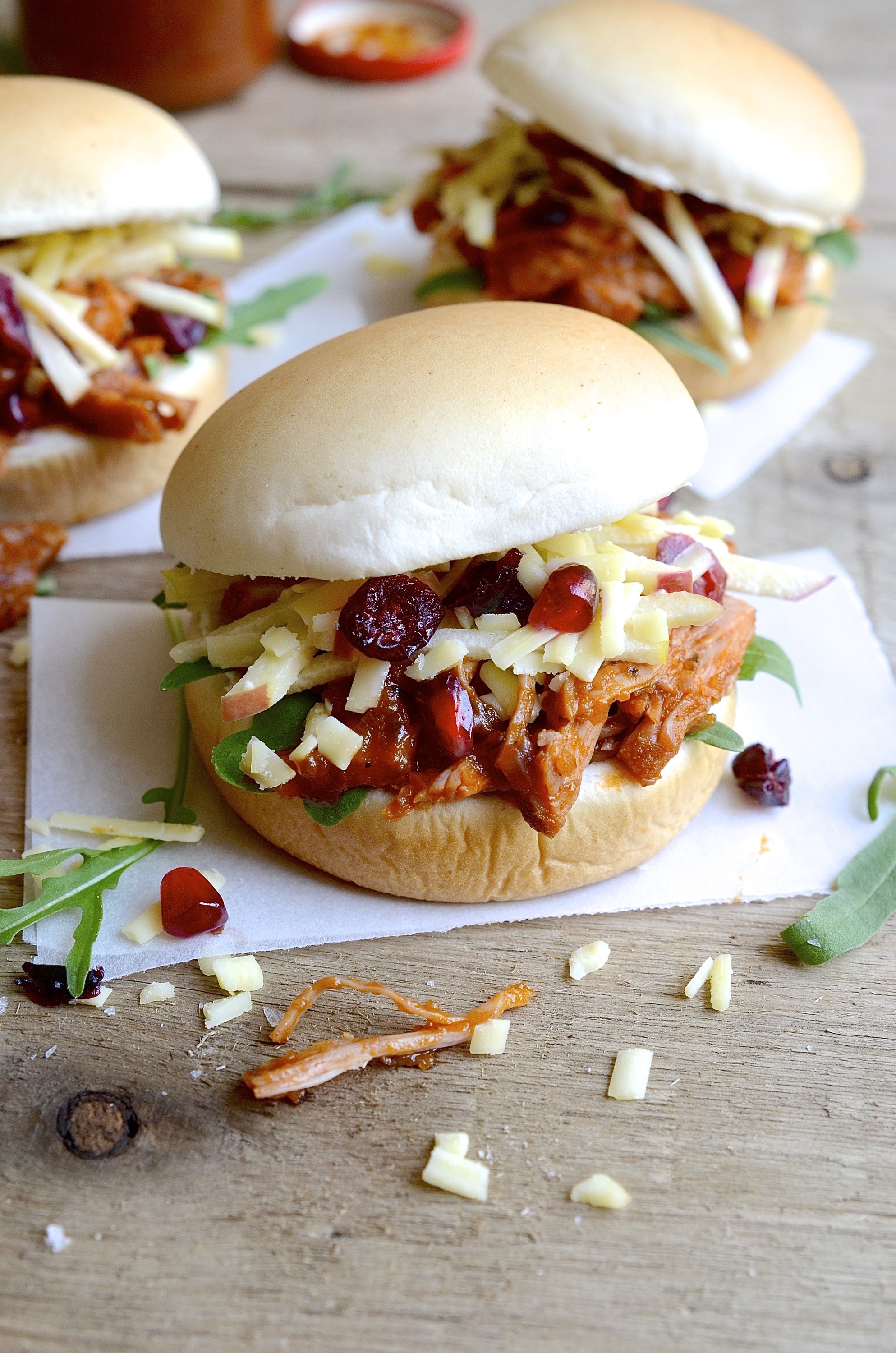 If you're making Christmas dinner, you might want to include a maple glazed gammon. Just so that you can have extra to make these Barbecued pulled-gammon buns. Soft buns, caramelized red onion spicy barbecued flavoured gammon. I love them sandwiched together with apple slaw and a sharp cheddar. So good!
The recipe is also a thrifty way to use up leftovers and transform Christmas day spoils into a super-tasty food. Based on the same idea of pulled-pork, these gammon buns are perfect to rustle together for casual get togethers. Crispy apple slaw is really delicious with the saltiness of barbecue-flavoured gammon. I've added some sharp cheddar and peppery rocket for contrast. The flavours are gutsy and bright. I think you're going to love them!
Barbecued pulled-gammon buns
Serves 4
1 tablespoon olive oil
1 small red onion, finely diced
several fresh sage leaves, finely chopped
a pinch of red chilli flakes
1 cup (200g) gammon, pulled into shreds
1/3 cup barbecue sauce
1/4 cup water
salt and pepper, to taste
For the slaw
1 crisp red apple, cut into matchsticks
a handful of dried cranberries
a spritz of fresh lemon juice
1 tablespoon thick mayonnaise
To finish
4 soft white buns, buttered
matured white cheddar, grated
wild rocket
pomegranate seeds
Heat the olive oil in a pan and sauté the onion until soft and translucent. Add the sage, chilli and gammon to the onion. Heat through and then stir in the barbecue sauce and water. Simmer for 2 minutes.
For the slaw, simply toss all the ingredients together in a bowl. To assemble the buns, start with a handful of rocket, followed by the gammon, slaw, cheddar and finally a scattering of pomegranate seeds. Place the bun lids on top and serve while the meat is still warm and the apple, cool and crunchy. Happiness is…..
In case you missed the recipe for the best Maple glazed gammon, here it is
Maple glazed gammon with plum sauce