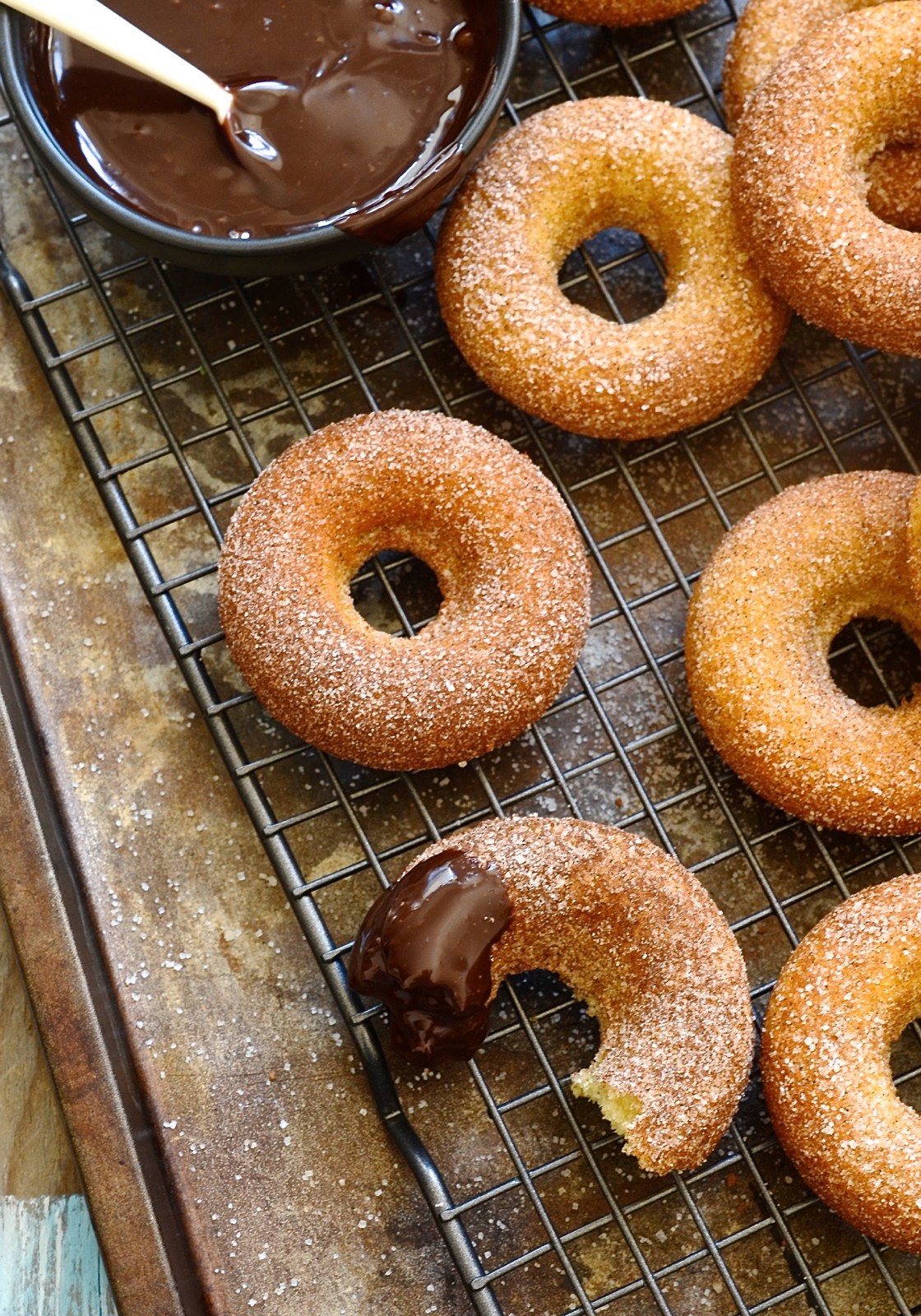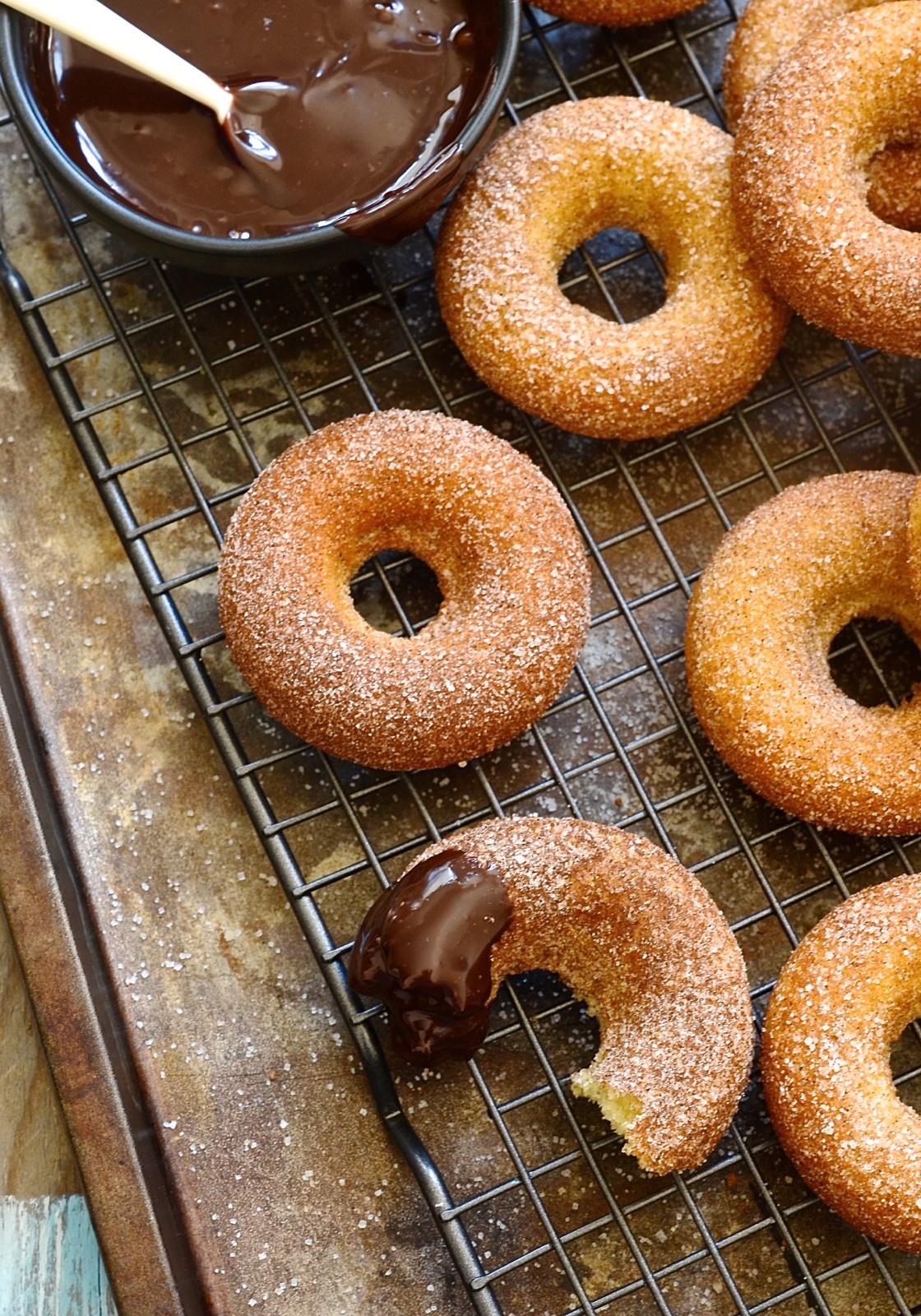 These fluffy baked donuts with cinnamon are light as air. I like to serve them with a bowl of warm cinnamon-chocolate glaze. They're much like Spanish churros.
Last week, one thousand donuts passed through my kitchen doors. In a single day! It was the work of 5 enthusiastic teenagers, churning out mini donuts en masse for their Big Business assignment. The donut marathon raged on for what felt like days, eventually pulling in extra volunteers and donut makers. I'm now the proud owner of 5 donut machines!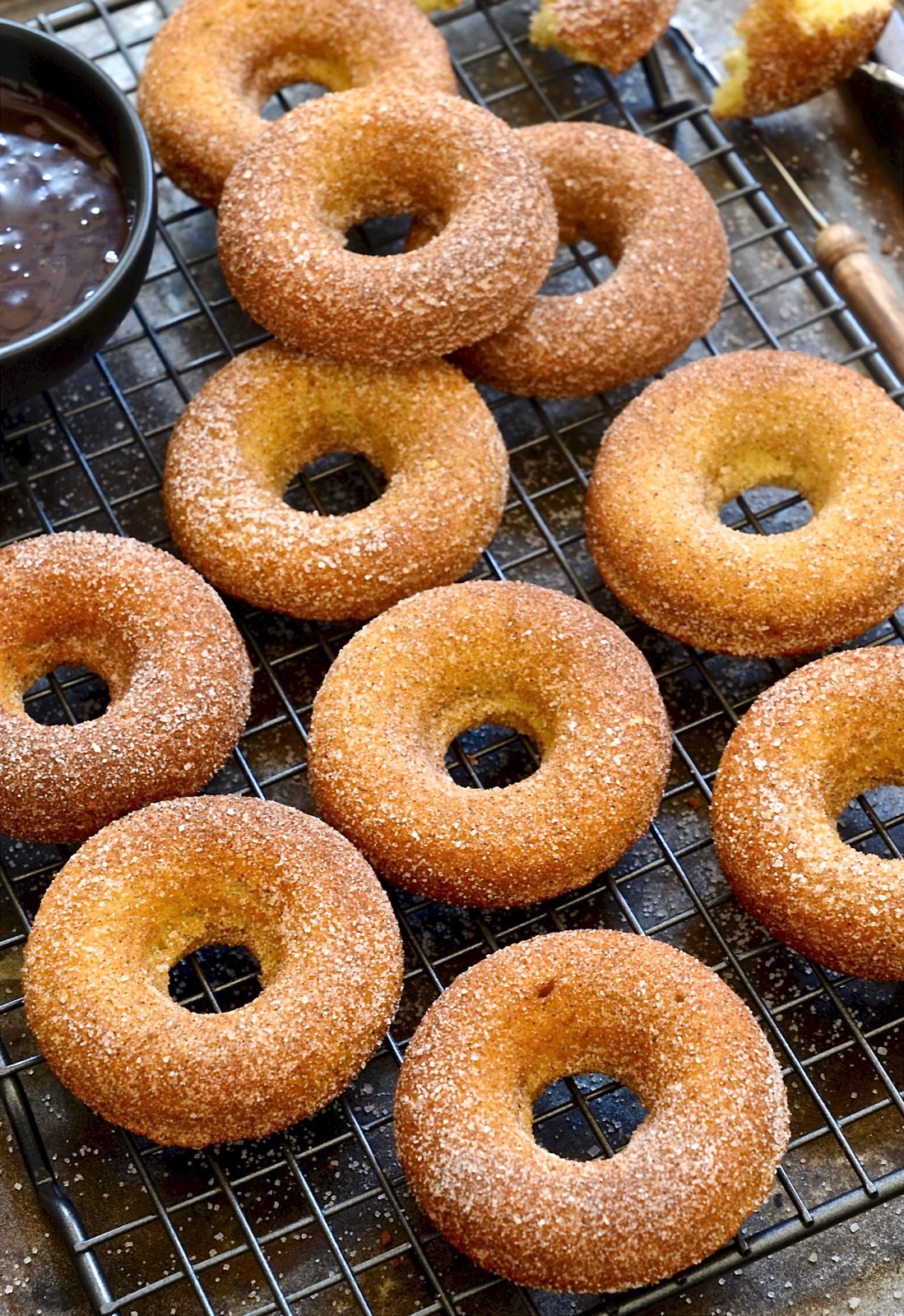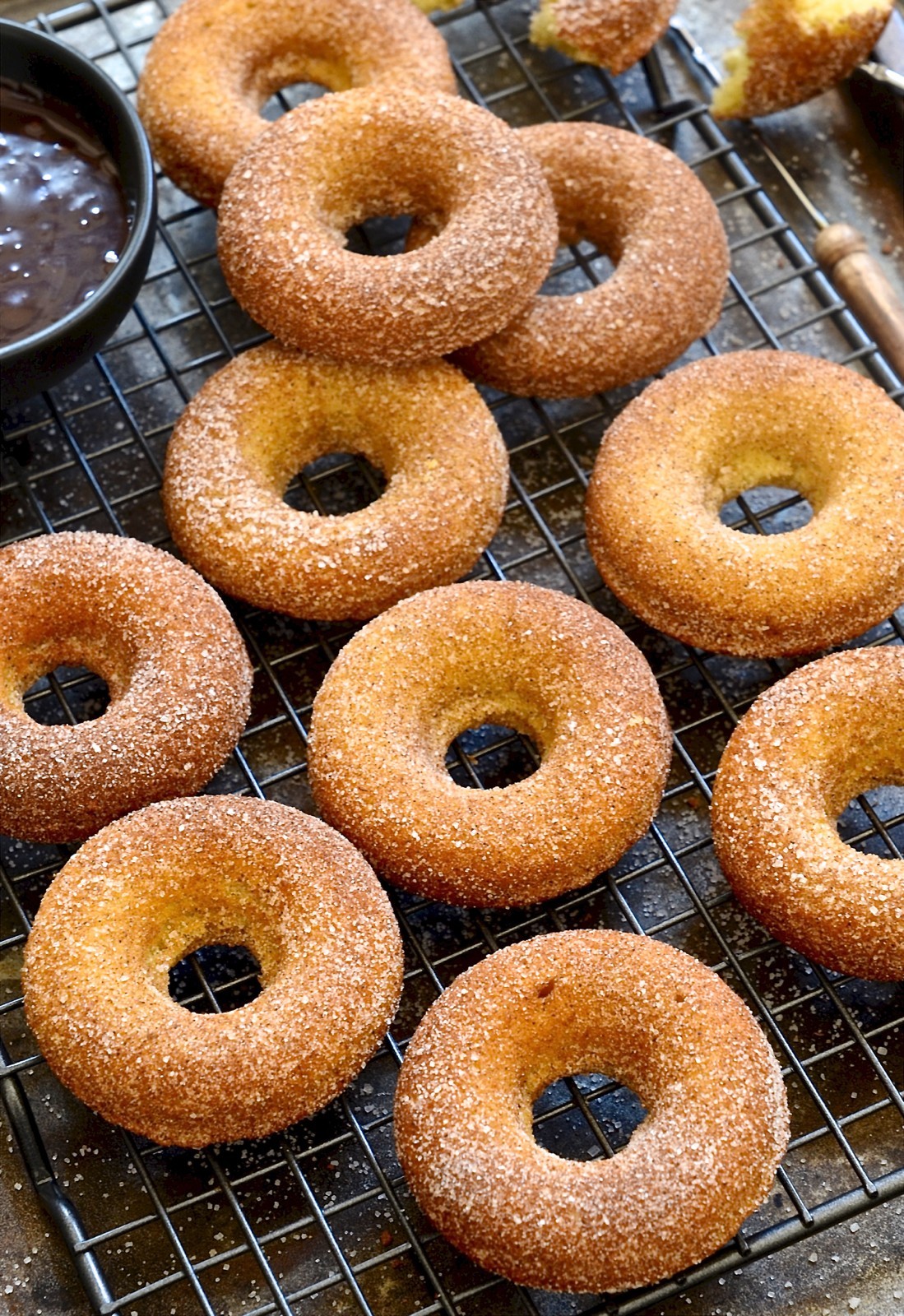 These baked donuts are a quick and fuss-free alternative to the deep-fried method and are made with a one-bowl batter mixture. There's no yeast dough or proofing involved. I've used a combination of butter and vegetable oil for this recipe. The butter adds a richness while the oil helps to keep the crumb moist for longer. You can use all butter if you prefer. Donuts are really good served fondue style or as a casual dessert with a bowl of warm chocolate sauce alongside. Donuts are always best eaten on the same day, so don't waste time here.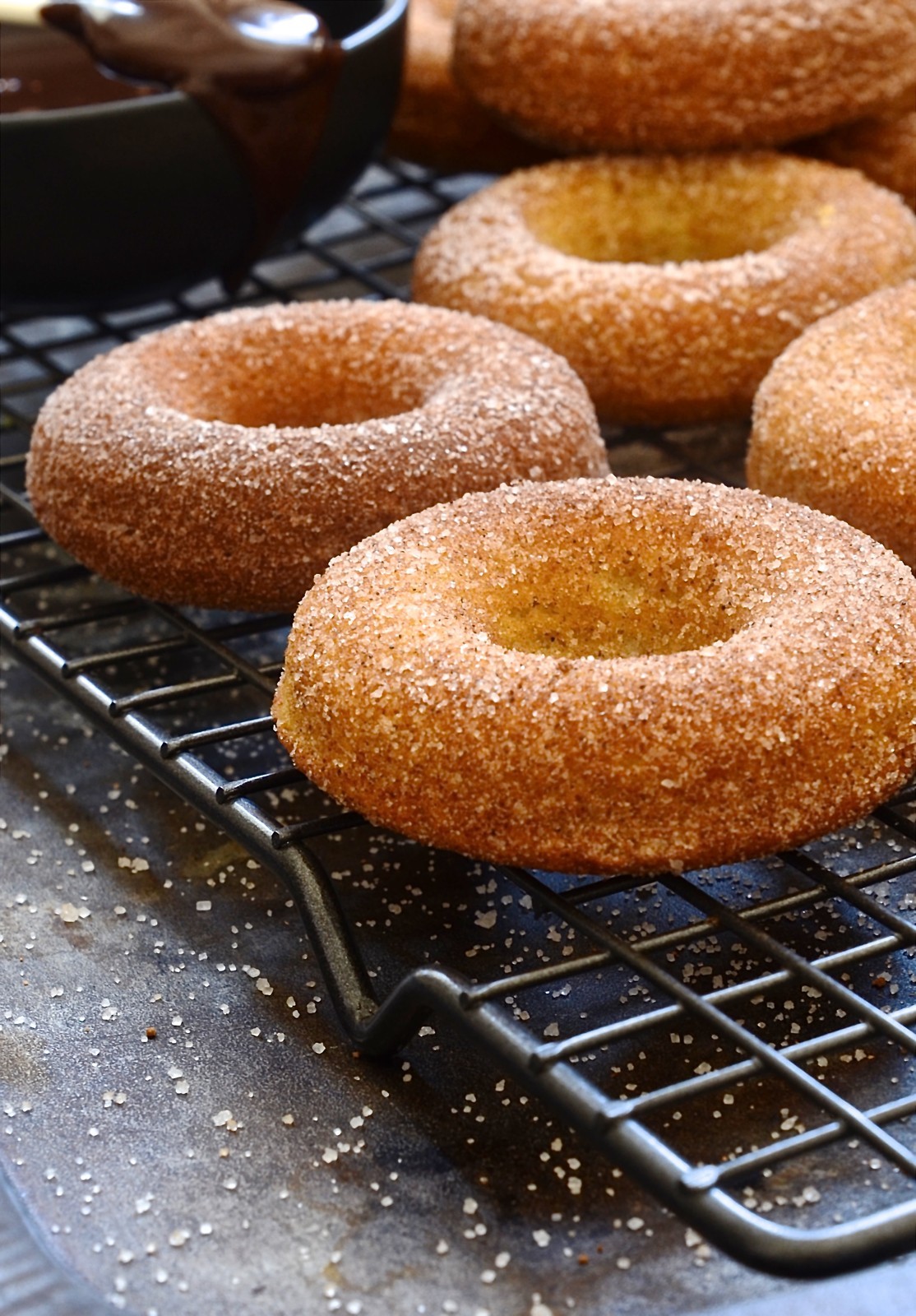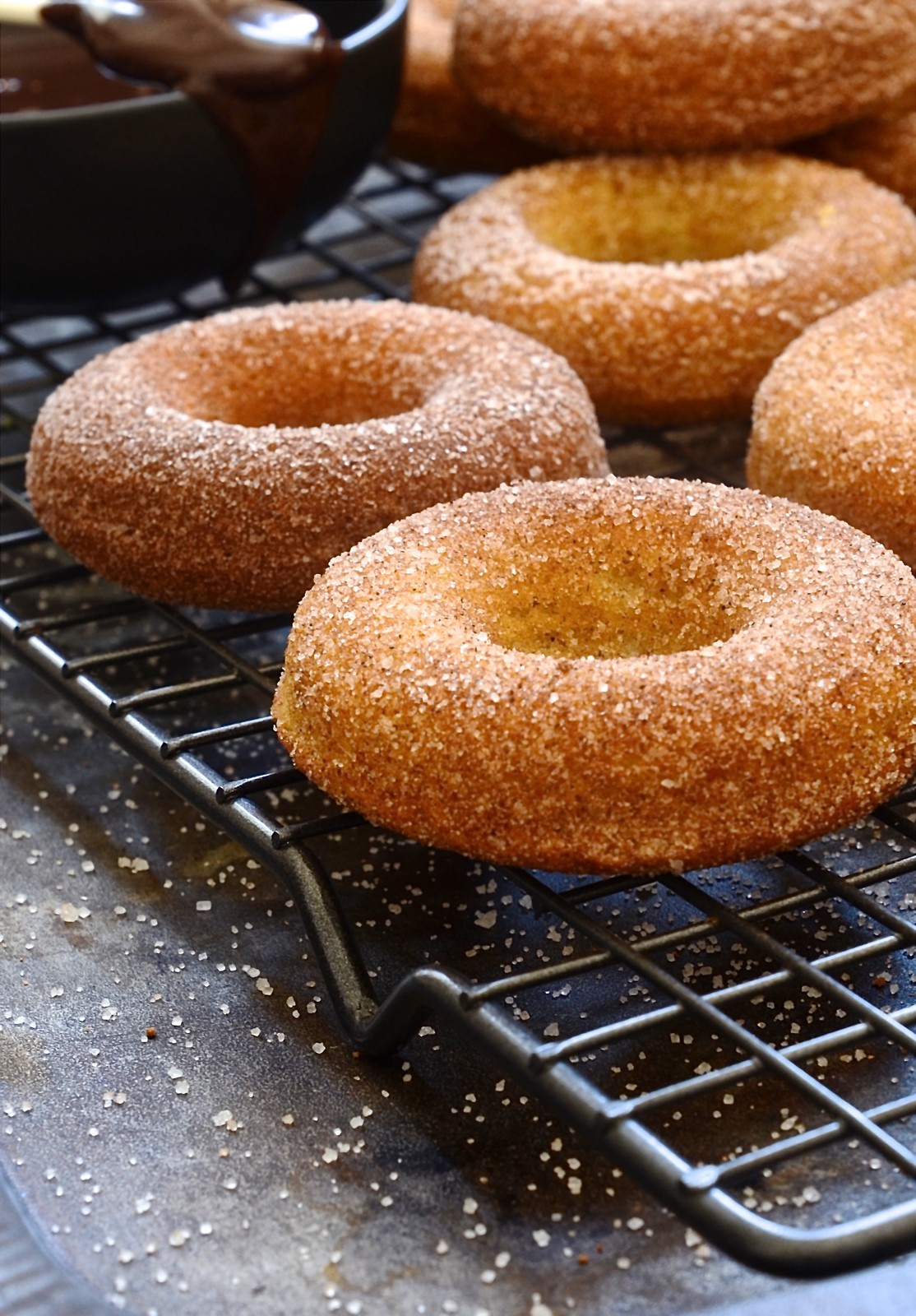 Baked donuts with cinnamon spiced chocolate glaze
Makes about 18
100g melted butter
45 ml vegetable oil
125g castor sugar
2 eggs, room temperature
100ml buttermilk
60ml milk
1 teaspoon vanilla extract
210g all purpose cake flour
1 teaspoon baking powder
1/2 teaspoon bicarbonate of soda
1/4 teaspoon ground nutmeg
pinch of salt
cinnamon sugar, for coating
For the cinnamon-chocolate ganache
80g dark chocolate, roughly chopped
60ml single cream
1/4 teaspoon ground cinnamon
Preheat the oven to 180° C.  Spray a doughnut pan with non-stick cooking spray. In a large jug, whisk together the butter, oil, castor sugar, eggs, buttermilk, milk and vanilla extract. In a mixing bowl, sift together the cake flour, baking powder, soda, nutmeg and salt. Pour the wet ingredients in the dry and mix with a balloon whisk until the batter is smooth and lump free.
Spoon or pipe the batter into the doughnut pan and tap lightly to spread evenly. Be careful not to overfill as they have a generous rise. Bake for about 15-18 minutes until cooked through. Leave to rest for 2 minutes before turning out and coating on both sides with the cinnamon sugar. I find it easiest to place the cinnamon sugar in a small bowl and toss each doughnut gently about to get an even coverage. Set aside on a wire rack to cool completely.
Place the chocolate, cream and cinnamon in a small heat-resisitant bowl and microwave for about 50 seconds. Whisk until glossy and smooth. Serve as a dipping sauce with the doughnuts or drizzle over.