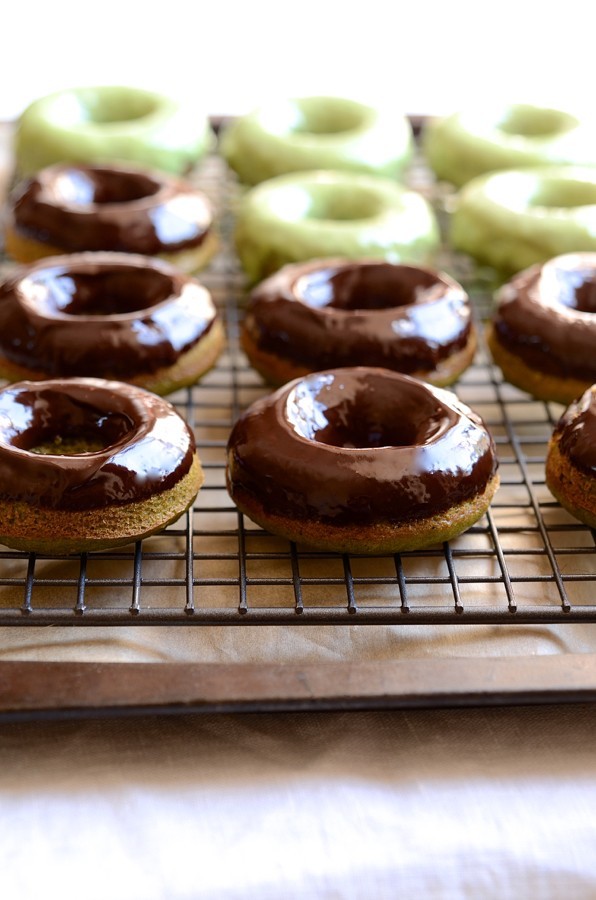 If you're looking for donuts without the guilt, these baked apple matcha donuts are just the ticket. With matcha green tea, almond meal, coconut oil and pureed apple, they're treats with benefits. And what's a donut without a decent dunking?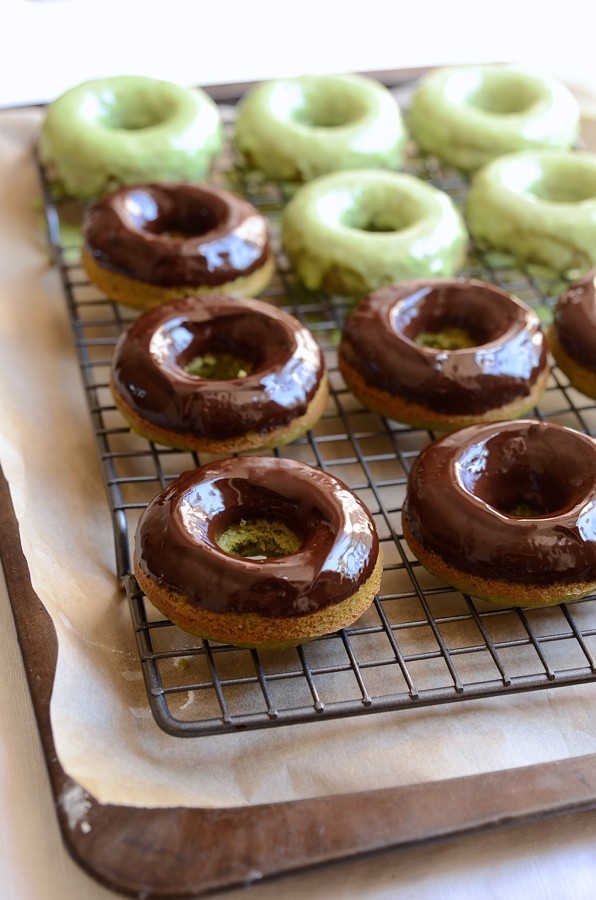 Each year we see new and exciting food trends emerging. Of course taste and flavour are equally important considerations as the true essence of food lies in the pleasure eating. Some of these trends rarely make it to the table, whereas others become firmly entrenched as modern day heroes. Today we're talking tea. Originating from Japan, Matcha green tea has the culinary world a-buzz with its extensive list of health boosting properties. Aiding detoxification, increased concentration and a host of other benefits, this antioxidant rich tea is clearly #theonetofollow.
Although I'm sure green tea was intended mostly for drinking, it can be woven into all manner of foods, savoury or sweet. Food is quite clever that way. In the hands of food alchemists, matcha adapts easily. Heston Blumenthal's snail porridge is evidence of unusual combinations and ingenious cooking. Today's recipe however is far less challenging and doable by most. We're going the rounded sweet route – donut style.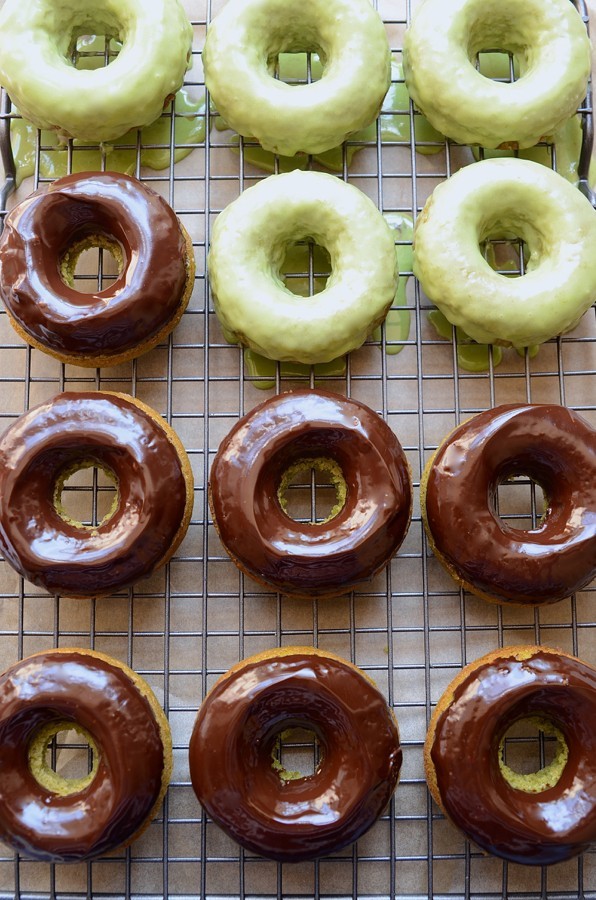 When offered the opportunity to develop a recipe for the passionate team at Just Matcha using this superior tea, I was excited to explore the possibilities. Aside from adding a cup of matcha to your morning tea ritual, this fine powdery green tea is also ideal to incorporate into bakes. The possibilities are endless. After much deliberation, I finally decided on these baked donuts. I also wanted to find a way of including fruit into the bake without large, chunky bits interfering with the texture. To keep the crumb light, as all good donuts should be, I pureed the apples in a processor along with all the wet ingredients. Quick, easy and simple.
If your stock pile of baking tins does not extend to a donut pan, a muffin tin is a good substitute. For the muffin version, remember to increase the cooking time to about 20 – 22 minutes. Incorporating the tea into the bake itself yields a pistachio coloured crumb. The taste is surprisingly subtle and pairs beautifully with the apple and ground almonds. As an alternative to dunking in chocolate, toss the warm donuts in matcha or cinnamon sugar if you prefer. I would however strongly recommend the chocolate ganache. It's dark, rich and decadently good.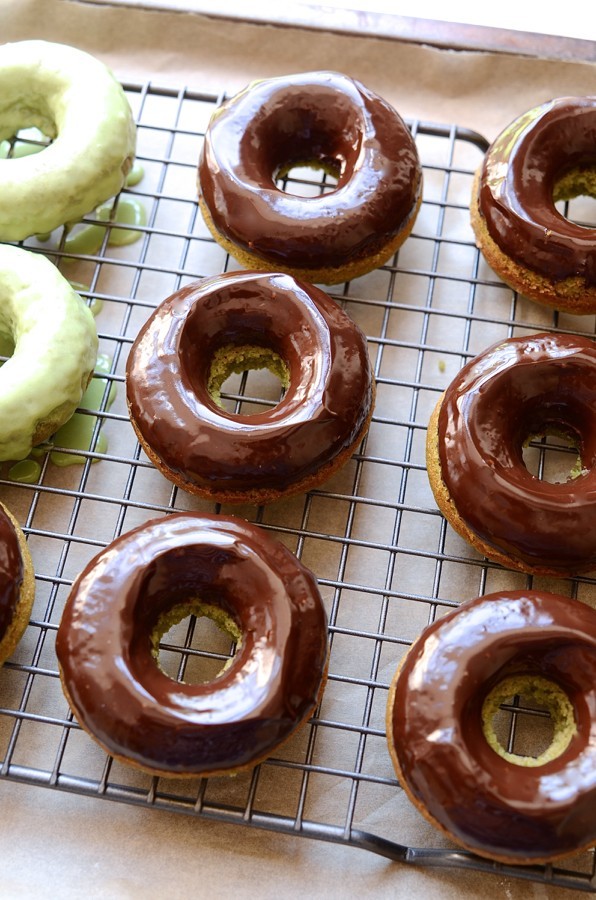 This post was sponsored by Just Matcha using Matcha superior grade green tea. Their easy on-line ordering makes life altogether simpler and will ensure you get your daily dose of green delivered directly to your door. Keep and eye on this space for next week's green success story with a Sticky Date and ginger matcha fudge. In the meanwhile, why not try this gluten-free matcha granola? It's a simple and addictively good way to add health benefits to your everyday diet.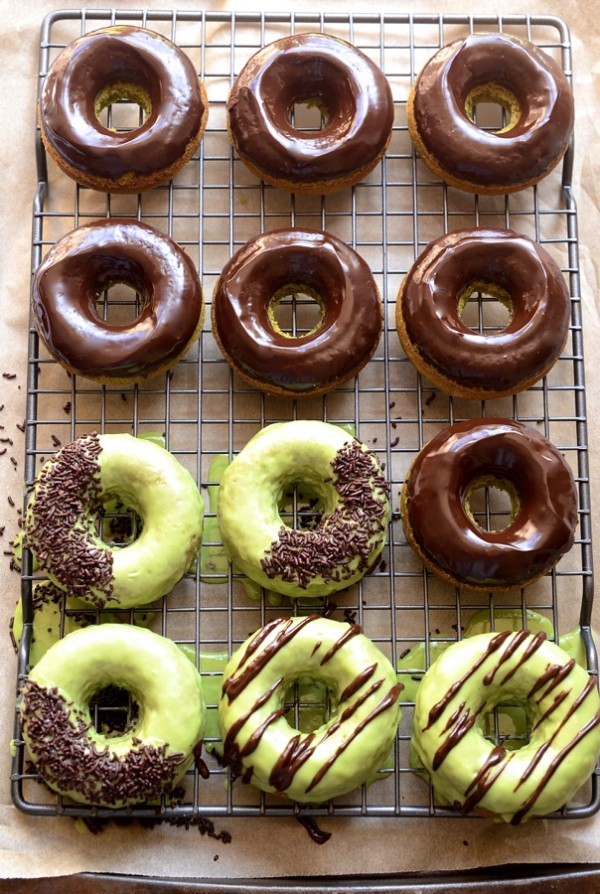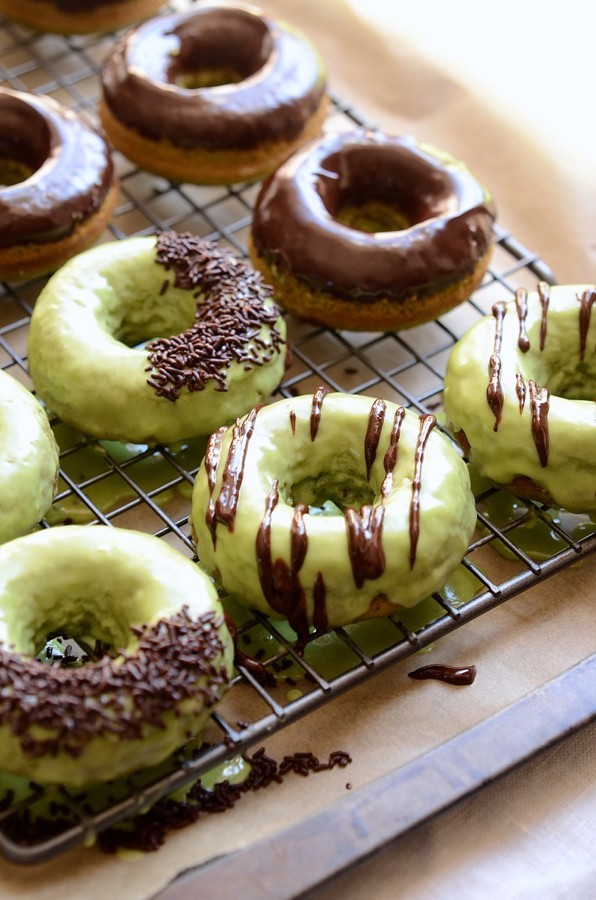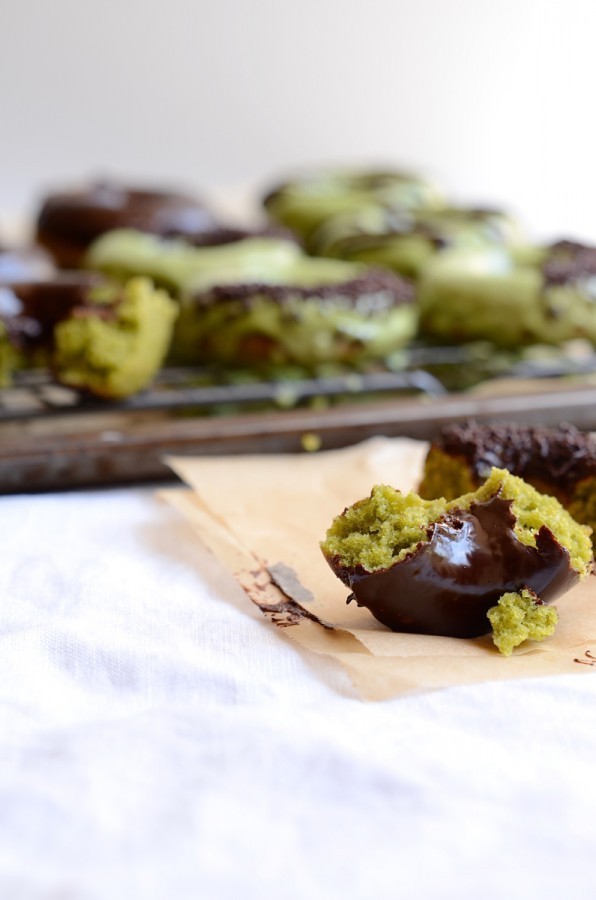 Baked apple matcha donuts
70g butter, melted
60ml coconut oil
2 eggs
1/4 cup buttermilk, room temperature
1/4 cup milk
1 teaspoon vanilla extract
2 eating apples, peeled and grated
160g all purpose or cake flour
80g finely, ground almonds
120g castor sugar
2 teaspoons Matcha green tea
1 teaspoon baking powder
1/2 teaspoon bicarbonate of soda
pinch of salt
Chocolate and coconut ganache
100g 70% dark chocolate
1/3 cup coconut milk
1 teaspoon coconut oil or glucose syrup
Matcha glaze
1 cup icing sugar, sifted
2 tablespoons warm water
1 teaspoon Matcha green tea
Preheat the oven to 180º C. Grease a donut pan or alternatively use a small muffin tin.
Place the butter, coconut oil, eggs, buttermilk, milk, vanilla and apples in a blender. Whizz until the mixture is completely smooth.
In a large bowl, sift together all the remaining dry ingredients. Add the pureed wet ingredients and mix until just combined.
Spoon the batter into the donut ring and tap down on the counter to even out the batter. Bake for 15 minutes.
Set aside for several minutes before turning out to cool completely on a wire rack.
To make the ganache, place all the ingredients in a small heatproof bowl and microwave for about 45 seconds. Stir until smooth and glossy.
Dunk the donuts into the warm ganache and place on a drip rack until the ganache is set.
For the Matcha glaze, stir together the icing sugar, water and Matcha tea. The consistency should be like that of double thick cream.
Dip the cooled donuts in the glaze and set aside for at least 10 minutes. Repeat the dipping a second time for even glaze coverage.